Microsoft wants you to reserve your free upgrade to Windows 10
Microsoft is rolling out a notification through which the software giant is asking Windows 7, 8 and 8.1 users to reserve their free upgrade to Windows 10.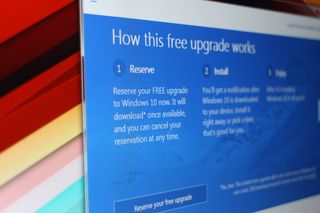 The dialog box highlights the salient features of Windows 10, including the redesigned Start Menu, Cortana integration, multitasking capabilities and enhanced security features. Microsoft's Edge browser, the new Windows Store also get a mention. You can also check if your PC is ready for Windows 10 through the dialog box.
Image 1 of 8
To reserve your upgrade, all you have to do is enter your e-mail address. Once Windows 10 is available to install, Microsoft will send you a notification indicating the same.
How many of you have received the notification to upgrade to Windows 10?
Thanks everyone for the tips!
Windows Central Newsletter
Get the best of Windows Central in in your inbox, every day!
Harish Jonnalagadda is a Senior Editor overseeing Asia for Android Central, Windows Central's sister site. When not reviewing phones, he's testing PC hardware, including video cards, motherboards, gaming accessories, and keyboards.
I didn't get any notification. Because I'm an insider?

Same here even on my wife's PC, though I'm an admin user on there too so maybe due to insider status? Posted via the Windows Central App for Android

Does anybody know what am I gonna miss out if I don't have professional version?

Group Policies, Hyper-V, Files Encryption, etc...

Group Policies can be downloaded from the Internet too. But you'll still be missing on other features.

Just joining a corp Domian, bit locker encryption and remote access to your laptop/desktop from another Windows device (phone, tablet, other PC). I've been able to solve the 3rd one using Spashtop Stream and Splashtop Personal which are free, now I'm able to access my home edition Windows device from my Windows phone device or another PC for free.

Remote Desktop. Good thing is, you can upgrade to professional in Settings. Based on "leaked" pricing it seems there might be a 20-40$ charge for that which is nothing if you require some of those features. Settings > About > Change Product Key or upgrade your edition of Windows. It's obviously not functional, yet. But it's there.

Insider here and I just got an invite.

Is it impossible to sign up for Insider now? I cannot find the Sign up link anymore on insider.windows.com.

Have you tried this? https://insider.windows.com/Home/Index

Yeah, tried the link, still no sign up. I just have to say: I am an Insider, so no worries for me! However, anyone else wanting to join could be having difficulties right now. Is no one else reporting sign up problems? I was thinking it was related to this news here about notifications being sent out to Windows 7 and 8.x users, telling them to reserve a Win 10 upgrade spot. This could mean they are stopping new sign ups? I do not know, since no one is reporting about it.

I see, you're right..The "GET STARTED" button is gone but I guess it's probably because my default browser is set to remember my id/password. Using another browser (which holds no personal data) allowed me to see it again though. I'm just hoping non-insiders might still have a chance to try.

No it's stopped enrollment now as far as I'm aware.

Hmm, yeah. However, I can confirm that you only need the ISO to install the OS. You do not need to be an insider to actually install the OS on a specific computer. So, as long as you can get hands on the ISO, it is fine. The insider login would presumably be necessary to leave feedback in the Insider Hub? Otherwise I see no difference.

ive just tried the link and it lets you become an insider ...

I'm an Insider and I just got the notification after restarting my PC.

What does being an insider mean? Sorry for being a noob

I'm an insider too but i didn't get the notification..... HELP.... or i just have to wait until they decide to send me the notification?

I installed the optional update kb 3055835 back in April which is what shown in the article but I don't get any notification how I am able to reserve my place if I don't reserve this time I am not able to update to win 10 In July the 29th i am currently using win 7 ultimate sp1 can someone please tell me how I reserve my place thankyou

Win 7, 8 , and 8.1 - Turn on windows update if you don't see the notification. Look atthe clocl in the taskbar, (usually bottom right corner) to the left of the clock is a white windows flaf logo. click it to see the notification. If you are an insider, just wait! you will be told what to do.

What about Windows 10 Technical/Insider Preview users??

I am an insider my ? Is if I don't reserve my place now than I won't be able to upgrade.I mean if I wait for 29 July I can't upgrade to win 10 ? Or any ISO file I am using win 7 ultimate geniune Can someone please help Thanks

Relax, they've already stated Insiders will receive a patch/ way to upgrade to RTM. You should logon to your other PCs, however, and ensure that you've signed up. Either way, this won't be the "only" way people can claim their prize. Undoubtedly, they'll have a link on their web site for Windows. This is just a marketing ploy to guage interest and see what kind of capacity they should plan for day 1 among other interesting things.

Hope you are fine Ray I have a ? If I wait till 29th of July how I am able to get win10 for my laptop are we getting some kind of ISO file like Microsoft offers for win7 sp1 can I am able to download an ISO image file for win10 can I get it free even if I didnt reserve my place or get a notification? Can you please help Thankyou

Hope you are fine Ray can you please tell me which version of win 10 i get when i update is it win 10 home or professional? i have installed win 7 ultimate sp1 64 bit.What happend if i got the update for first year what about the next year do i have to pay as well? can we get any ISO file of win 10 or its just an update ? please reply

No. It is because you didn't installed the latest updates. To install latest windows updates, go to control panel-> System and Security-> Windows update. Open windows update and click check for updates. After checking for updates, select the important upadtes and click install at the bottom right. Thank you.

i cant be sure but i think insiders will get it automaticly, im thought i heard that mentioned.

Can't wait for it to be released!

Trust me you can. And you will.

I have not, I'm in London with Windows 7 Pro...

Move to Cardiff, then you will
recieve

I have received month back

Just did it, windows logo showed up beside clock

Same here... freaked me out! Why haven't they said anything? Saw their Surface commercials at least a dozen times, just this evening! Never saw anything about this, and wondered if it was true. Gonna have to skype the mom and mom-in-law and tell them not to freak. LOL

Since last month. All uodates have failed. Guess MS are killing machines to forever is to take their latest failure

What you say makes no sense.
If you're having problems with updates, its your pc, not MS.

I've actually had a Windows update that has consistently failed to install for the last month. When I search for the error code, there are lots of other owners of my device with the same issue (Asus T100).
I don't believe in conspiracy theories though - so I'm sure it'll get fixed. But as things stand, I won't be able to install Windows 10 as Windows Update is not working correctly on my computer.

Use the stand alone Windows Defender to install the update. & not the the update in settings

I have been facing the same peoblem of 'error in upgrading windows 7' and now window 10 icon?

I also noticed the Windows Logo appear next to the clock icon on my desktop PC. I was puzzled by it & clicked on it - I did have a brief second of suspicion and wondered if it was potential malware. At any rate, it appeared legitimate so I entered my Microsoft ID email address to confirm my Windows 10 request.

Nothing received yet but that might be because insider?

Doesn't matter if you're an Insider or not. Try restarting your PC, that's what I did and it showed up in the notification area. I'm an Insider.

It can be burnable via ISO, right? It better be.

Should be like w8 upgrade but iso they make will be useless to users who like to customize like w8/8.1 is

I hope so. Cause i hate upgrading. Leaves a pile of file junk.

Just delete the .old files? I upgraded but opted for a fresh install and then deleted the .old files.

Question, are the .old files just the old windows directory? Out is it your entire c drive?

Does this apply to insiders?

Will I be able to get a notif even if I am using Windows 8.1?

Thanks. I haven't gotten any motif yet. Hopefully I could get it before the day ends.

Weird, I was also told that bluetooth would be a problem... wonder what thats about...

Hmmm I have the same "issue" with this...

it says the same on mine too

Yeah I got one the newer windows icon earlier was like interesting? Win7

Haven't seen it. Where do they send the message? Windows Update?

The executable file is in C:\Windows\System32\GWX

Yup Posted via the Windows Central App for Android

Bad time to not have my Pc. Great

Have not received it yet, but when I do I'll reserve it.

So now that I've reserved it, how do I get this damn icon out of my tray?

Waiting for an answer myself.

Haha. Me too. The icon is even bigger than my Start button (small icon).

Haha right. You can hide it but it will reappear upon login. Have to bear it with for 3 months or uninstall the update.

The tray icon is especially annoying for me as I will not be upgrading to Windows 10. There isn't even an option to decline reservation either.

Just move it inside the arrow and forget about it. I agree, though. They should have provided a way to remove it. Maybe under task bar settings like everything else?

You can open task manager and find the task called GWX and end it and itll go away. Not sure for how long but ti hasnt popped back up for me. A

This way only works for present logon sessions. Reboots, log offs reset it. I tried using Sysinternals but GWX is locked and can't modify it. This is a major bite. I hate 'hiding' things. I want it to go away. I don't like things NEVER to be used again running in the background REGARDLESS of resources used or not. Hopefully someone will find a way to get rid of this annoying program (and not just hide it)

Click the up arrow next to the icon, click customize , find GWX , and choose Hide icons and notifications

Will the notification will be shown for the insider preview users..??

Yes, I got it. I'm an Insider running Windows 8.1 Pro WMC.

Don't think it will show in any of the Windows 10 Technical/Insider Preview builds if that's what you're asking.

I didn't get it, is it an update you have to download?

It just shows up in your tray.

Nope, nothing here. Although I did install the preview on my old machine, so maybe that's why.

Nothing show up on my Notebook.

Where will I get it. The motivation in my email or in control panel windows update.

Those shots seems to be taken on Windows 7! Whoa!

Lol never thought someone on WC still have W7.

I still have 7. Had to keep as 8 crashes daily. Lol

What if I'd like to make a clean installation of the OS? Can I use my genuine windows 8 key to activate windows 10?

Thanks ill try when the rtm leaks out :)

Factory reset your pc and clean install Windows 7/8. Then upgrade to 10 and delete the Windows.old folder where you installed Windows 7/8. Clean and not a clean install.

Neat! I activated my win10 preview with my 8.0 product key though so I think im good

Hmm hope it works! V would just need an RTM copy. Else we have to reinstall our copy and secure our copy. Is it so that only registered users can get copy of win10 ?

I got it on my win 7. I am an insider.

I haven't received it from 2 of my PCs.

Got it on 8.1 but not on 7 or 10. Thought 7 was first. Looks like will come as update. Would rather have iso and keys myself.

Thinking it might be related to Computex event? A surprise? Too much false hope. Haha.

Got it and accepted on my desktop. Only noticed after a few Windows updates I installed tonight. Haven't checked yet on my laptop and tablet.

Ill have to check my Surface and another Lenovo desktop. I hope i do get the notification. If in case one doesnt for any technical reason. Can one go straight to the microsoft website and you know go somewhere and register ourselves?

I got it on my SP3, win8.1.

Damn waiting on my SP3 too. Ill check it again in a while.

Anyone know what the email heading for the notification is? I don't even recall getting one if at all...

It's together with Windows Update. So I think no email?

Yeah, I just saw it up in the taskbar. I'm all set with it now!

Noticed it one hour ago. I had not seen any news about it, so at first I thought it might be malware. After dismissing this idea, I wrote a post in my blog about it, 20 minutes before WCentral, hehe. First time I do that :-D. BTW, is there any way to dismiss this upgrade icon? I find this promotion method to be quite close to SPAM.

Surface RT 2. I wish but well...

Is it mandatory to reserve a copy? Won't b getting same without registration? If it is so I must get back my OEM copy installed on PC with WIN10?

I don't think it's required, just something to build up hype and remind people of what's about to come. Especially since it will email you once 10 is available.

Of course, it's also people those who "reserve" a copy of Windows 10 will also get priority access to upgrading to the new OS, seeing as I'm sure Microsoft's servers will be mega-busy that day.

I installed the optional update kb 3055835 back in April which is what shown in the article but I don't get any notification how I am able to reserve my place if I don't reserve this time I am not able to update to win 10 In July the 29th i am currently using win 7 ultimate sp1 can someone please tell me how I reserve my place thankyou

The notification shows up in the bottom right corner of the taskbar as a Windows logo. Just saw it 30 min's ago on my desktop pc and reserved. I'm running W10 build 10130 on my SP3 and liking it so much I'm thinking of installing it on my desktop.

Why would anyone "reserve" it? It's not like they're going to run out of copies.

Maybe to solve server issues? Like what has happened before. They can predict server load by sorting through reservation I suppose.

Might also be a way to let people keep their previous versions, and have updates published to those versions.

It's on my Surface Pro 3, but not seen on my Windows 8.1 (not Pro) laptop...

I got the notice. I check here to make sure it wasn't a scam.

i've got it but i dont know it is full version of windows or not please tell me

I got it... Win8.1 pro in Brazil...

I got it on one thus far, wonder is it cool for multiple with one email

If you didn't get this notification on your PC to sign up, if like you can do it manually to activate this sign up process: 1- Open registry editor (run RegEdit.exe) and navigate to HKEY_LOCAL_MACHINE>SOFTWARE>Microsoft>Windows NT> and click on Current version 2- Double click on Product name and change it to Windows 8.1 Professional 3- Double click EditionID and change it to Professional 4- Navigate to HKEY_LOCAL_MACHINE>SOFTWARE>WOW6432Node> Microsoft>Windows NT> and click on current version 5- Double click on Product name and change it to Windows 8.1 Professional 6- Double click EditionID and change it to Professional 7- Close RegEdit 8- Open Windows Update. Check for updates and install the KB3035583. 9- Run C:\Windows\System32\GWX\GWX.exe 10- After a while you will see a white Windows Icon on your system tray, click on it and enter your email to sign up. 11- Go back to the registry and change the values back to the original values.

8.1 64bit had no notification, but know I will wait for it :D

I run Windows Inside Preview so do I get a notification?

I'll reserve it, just because it's free, on the off chance that Windows 10 ever becomes any good. But today I gave up and rolled back to 8.1, which is superior in just about every way. I'll miss Cortana and notifications, but not enough to put up with the ugly, backwards mess that is Windows 10.

You are completely full of shit

8 superior.. Haha its worse than vista ever was ;)

Well for me Vista wasn't ever worse nor 8.. Infact we will miss many good features that made windows 8 unique!

He said 8.1 which does a lot of things better then 10 at the moment.

So, is this a one year free or unlimited one?

If you upgrade to Windows 10 within a year, you are good to go. No need to pay anything. That's why it said free for a year.

As far as we know and many times already covered there is no such a thing as One Year Free! From the day Microsoft officially release Windows 10 you have one year to upgrade your machine to Windows 10 from Windows 7/8/8.1 for free from that day. And once you upgrade to Windows 10 it will stay active forever on that PC and works like the way Windows 7/8/8.1 currently work on your machine and your Windows 10 key or license won't expire after one year. However if You don't upgrade within the first year then you have to pay to upgrade. Here is and example to make it even more clear: Let say Microsoft officially release Windows 10 on July 20, 2015. If you upgrade your system before July 20, 2016 it will be a free upgrade for you and Windows 10 will stay active and fully functional on your machine forever. However if you don't upgrade before July 20, 2016 and let say on July 21, 2016 you decide to upgrade it won't be free upgrade anymore and you have to pay for the license and key.

are you sure you get a new windows 10 dedicated license? I haven't found any clarification about this, what if your OS disk goes havoc after a year, or just want to make a clean re-installation (the reset function is not an option). Would be unfortunate if you have to go back to Windows 7 or 8.1.

Why we need to reserve it?

Has any french guy recieved the notification ??? :(

I will check tomorrow when I drink my coffee. I have lived in Windows 10 for weeks. A few bugs but I can handel it.

Hi guys. I run 8.1. Where can i see the message? Do i need to have the preview installed to get this notification?

A little Windows flag popped up beside my clock on the taskbar. If you don't see it try restarting.

I got it (NL, 8.1, Insider) They could have taken this quick oportunity to add an arrow (click for more information) in one of the slides that points to the new hamburger menu to make people unfamiliar with it familiar with it prior to windows 10 where it will be all over the place.

That's the beauty of the hamburger menu. Everyone knows what it does and will lead to great success for Windows... at least that's what some idiot said.

Just got it on Windows 8.1. I'm an insider.

Not yet on my windows 7 laptop ?

Not everyone got the update... I got the update too for windows 7.1 but I don't think I'll upgrade because I simply dislike windows 8/8.1/10. This is the small print Microsoft put at the bottom of their page: "*Windows Offer Details It is our intent that most of these devices will qualify, but some hardware/software requirements apply and feature availability may vary by device. The availability of the Windows Phone upgrade may vary by OEM, mobile operator, or carrier. Devices must be connected to the internet and have Windows Update enabled. ISP fees may apply. Windows 7 SP1 and Windows 8.1 Update required. Some editions are excluded: Windows 7 Enterprise, Windows 8/8.1 Enterprise, and Windows RT/RT 8.1. Active Software Assurance customers in volume licensing have the benefit to upgrade to Windows 10 enterprise offerings outside of this offer. We will be sharing more information and additional offer and support terms in coming months."

Opened Firefox on w7 and windows flag popped up in tray, now try my 8.1 laptop

i got the notification an hour ago, and given my mail id, also got a message "media centre doesnt work in w10".

On the get Windows10 icon says that my graphics is not fully compatible with windows 10. Will that be fixed in later updates?

Presumably in later upgrades of your PC, yep.

Yeah I got it....And resereved it

Okay, i clicked the "Get Windows 10" and i placed my g-mail account. Why did i not recieve any email?

I also entered g-mail account n i havn't received any mail

I entered gmail id and i haven't got confirmation mail??

I just got the notification while I read this article. :)

I have Windows 7 and didn't receive any notification.Is there a way to manually check?
EDIT:Restarted.And there came the Windows logo on the taskbar.

Received on my PC with windows 7 but no such luck on my laptop with windows 8.1

How do i turn off the notification in the taskbar!? I Don't Want it! ! !! free Windows 10 is a trap!!

What do you mean by trap?

What do you mean? A free upgrade is nothing to sniff at.

Oh come on. As if you are so amazed but scared at the same time and hard to believe that Windows 10 is actually free -.-

Strangely enough i haven't gotten a notification yet and even more strangely a customer of mine i visited this morning had the notification on his pirated win8.1 laptop bragging about it.

yes all windows 7/8 including the pirated ones are getting updates

Just got notification! :) first I was like "what the h*ll is this windowslogo on my task bar!?" Send from windowscentral app for Windowsphone.

It's already announced for July 29th

I just got it today for some reason.

If you still not recived the notification...restart your device.

nope didnt get the icon notification.is there any other way to get it ?

What's the point in reserving upgrade. Can't I just get the update when its released?

That's what I thought--I figure it's just a way to get people talking about Windows 10 and "engaging" users.

How does MS plan to make money with free Windows 10? Is it going to push advertisements to my desktop? Will I be charged fees for goodies like media player? WIll I still be able to use my non-ms recording software etc? Too many unanswered questions to sell me a free OS.

This is a limited timed offer probably similar to the heavily discounted Windows 8 offer. I would take the reservation I doubt you have to install and bide your time and install at your convenience. Lots of people thought the Windows 8 discounted price would be around a long time then realised to late it had gone. I think the aim is to get a serious momentum to Windows 10 and remove many of the legacy OS issues at the same time.

I didn't receive any invite! Even tried restarting my PC! how do i get it? A window will pop-up on its own?

I haven't yet received mine. But I'm also planning to wait 11 months and 29 days before I upgrade windows 10 on my daily driver after the 7/29 release. Still too many issues I see in the insiders program, and reaslistically I don't see them resolved by then. I'll first wait what the two major updates in the first 12 months will bring to fix.

I got the notification... but this free upgrade is for limited time or permanent??

From what I've read, the free upgrade promotion is set to last for one year from launch.

Reserved I can't not wait :-)

I got this but notify me before you start download.

On a dual boot with Windows 8 and 10 ( default). Got the notification after reboot.

Received the invite this morning (IST hrs). Also did a system check and great... my PC is fine to receive Win10 :)
btw... the Hamburger menu is already out.. its on the invite window .. so thats signs of time

I'll need to read the fine print, but since I need to keep Media Center on my main PC I don't want to risk somehow giving permission to install Windows 10. . . .

Yes! I want to keep Windows Media Center on several computers and a SurfacePro2 tablet computer, so, as I understand it, I cannot upgrade them to Windows 10.

Windows 7 Ultimate SP1 over here. Just got my free copy of Windows 10 reserved (country: Republic of Macedonia) :)))

Will it show up on tablets,I no see it...me cry.

this reserving causes my laptop to crash, so i need to refresh PC and reinstall windows 8.1 and everything. Again

So i have a genuine windows 8.1 pro licence with key (i bought windows online) If i need to format my pc after the first year of free windows 10 upgrade offer, will i have to pay for 10?

What if we don't reserve?

I got it yesterday the reservation request , already don't get it on my tablet the request

Haven't got the update yet.... I restarted my PC and checked for updates... No updates, and no Windows 10 button..... Can someone help me?

It's rolling out in waves, be patient...there's no immediate need to hurry for a notification. I'm sure you'll be notified in the coming days. Just make sure you're running an eligible version of Windows.

I've tried everything: Restart, running the .exe file, opening Mozilla Firefox. Still not working! Dell Inspiron 15 3537 Intel core i3 4gb of ram 64 bit

I'm a Windows insider and will be getting the RTM version so do I need to do this anyone know? Posted via the Windows Central App for Android

I notice it says it will download and be able to install at a later time. Will it be something I can copy to a USB drive and be able to install at a later date at my convenience once the first couple of rounds of patches come out to fix the little issues that alway happen with any softwares release?

Can I do this if I'm on a domain?

How the hell do you tun this invasion of privacy off? can we expect more invasive advertising in windows 10 ? This infuriates me that they decide to use my taskbar as an advertising campaign, and there is no option to turn it off. I suppose it is safe to assume now that one of Windows 10 main features will be is that uncle sam will have full control over your desktop now?

they want to know everything you do online and they will

Noticed the update in my task bar about 4 hours ago ----- waiting

If you want to call the notification, install the "KB3035583" update (it required a restart here) and run GWX.exe: 32-bit: C:\Windows\System32\GWX\GWX.exe
64-bit: C:\Windows\SysWOW64\GWX\GWX.exe The icon will appear in system's tray.

what if u want to get rid of it?

Yeah.. I got the notification.. Wuhuu!!

I hope it doesn't matter which email you reserve with, imo it's highly unlikely however you never know with MS lol.

Ok, so I know that the obvious answer to this question would be to back everything up but...will all my pics, files, and all the other stuff remain on my computer after upgrading to Windows 10? I've outgrown my external hard drive and need to buy a bigger one. I just don't want to buy one right now. Thanks in advance and sorry for being a little off topic

ok now i do hv that annoying notification how do i get rid off it i want it go win 10 is another ram eating crap... anyone?

how to turn the notification off?

I got no less than 5 texts from friends and family about this in the morning. Since it was before I had caught up on news or turned on my PC, I wasn't sure if it was legitimate, hehe. Interesting way that Microsoft pushed out this notification, I wonder how it was implemented--via Windows Update?

Hmm this is interesting. I knew there were going to be a couple upgrade paths for 7 - 8.1 users.. Surprised it's in the form of an ' E-Mail ' sign-up. I'd imagine this 'sign-up' period would extend the year of 'free up-grade' msft had lay'd out. Didn't read all the comments.. but oh wait, golly.. WC has a newer article on this, I see.. So see ya'! Ha.

Have anyone recieved the confirmation email for the reservation of windows 10 from microsoft?

i used windows 8.1 pro but didn't get the notification :|

I do not have the app for reserving windows 10 on my computer. I am using windows 7 wtih sp1 and I have automatic updates. What is the problem and how can I get the app?

I heard the upgrade is only good for a one-year subscription then you need to pay going forward???

I started to go through the process of reserving a copy of Windows 10, but noticed that you've got to register with an email address. I've got 3 devices that will require an update to Windows 10. I've got a desktop and laptop both running Windows 8.1 Professional. And I've recently got a Surface 8 which I want to upgrade to Windows 10. My question is, how do I do that with 1 email address? Or does that not matter?

i ididnt get any notification..What will ido? im having windows 8.1

I set up windows 7 pro, on both my moms computer and mine. She has the new windows 10 notification. I did not get it.. so what now? what are my options?

I heaven't the desktop icon on my taskbar! where can i find it?

What if I have 2 laptops that need to be reserve for the upcoming Win10 upgrade. Can I use the same email for both laptops?l

I just went to system and asked for updates ...the reservation ist just a klick and done. Very easy. Thanks ​
Windows Central Newsletter
Thank you for signing up to Windows Central. You will receive a verification email shortly.
There was a problem. Please refresh the page and try again.