Microsoft Windows Phone Photo Challenge: Happy Holidays!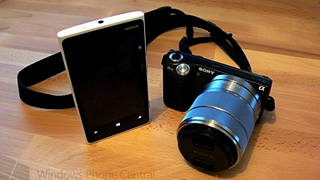 It's that time of the month again when Microsoft throws down the gauntlet to see who can produce the best photo using their Windows Phone camera.
Camera technology on our devices has been steadily improving and with the launch of Windows Phone 8 we now have some best in class hardware. The competition welcomes submissions from those using Windows Phone 7 and Windows Phone 8 hardware and this time the theme is Happy Holidays! Read on past the break to find out more.
When it comes to photos, beauty is in the eye of the beholder and composition and good fortune play a good part in determining a winning photo. We say that because the challenge is open to all Windows Phone users and those with older devices shouldn't be put off by going up against the likes of the Lumia 920 or the HTC 8X.
Festive Fun
Here's what you need to know
Rules you need to know
To enter, please e-mail your entry to http://windowsphone@microsoft.com.
In the subject line of your e-mail, please write "CHALLENGE: HAPPY HOLIDAYS".
The photo you send must have been taken with (and edited, if you prefer to edit) on a Windows Phone. Please attach the original JPEG file to your e-mail, with metadata included. If the photo has been edited, please let us know which apps/settings you used.
Please name your image file using your first and last name, followed by the theme of the contest (this month it's "Happy Holidays"). So, for instance, my e-mail would include a photograph named DavidChenHolidays.JPG or DavidChenHappyHolidays.JPG.
Please use the highest resolution possible when sending your photos.
One entry per person, please.
This challenge runs from now until 11:59 p.m. PDT on Sunday, January 6th, 2013.
After the contest deadline, we will look over all of your entries and choose our favorites. Entries will be judged on their creativity, resourcefulness, aesthetic beauty, and just the overall impression your photo makes on us.
Everyone here wishes those that are going to enter the best of luck, let us know if you're going for it!
Source: Microsoft
I don't understand why they'd have a rule about the filename of the submission... you can't rename images on Windows Phone. :)

Yeah, I agree. It would be more impressive if you had to do it all from your phone; including sending it. Renaming it is just an easy way for them to organize the submissions.

You can upload it to SkyDrive and then press and hold to rename. Download it and send it off!

True, but you missed the point of the comment... it would be easier and faster. :)

Just get PhotoShader, and use it to edit the photo and rename it :)
Best photo editing app in the store ;)
http://www.windowsphone.com/s?appid=544a0983-9d96-4770-80e1-ffddc0302dc0

So you have to take the photo with WP right?

Yes. Doesn't matter which version though.

should have probably read all the rules before sending the first one hopefully they disqualify it and use the second one i sent in instead. :|
Its an awesome christmas tree at my job :)

It also said to limit one picture per contestant... Hopefully they'll take another one.

Dunno, mine is pretty cool too, lol. I have a Chic-Fil-A Christmas Cow as a tree topper.

Sweet tree-topper. Where did you get it? Our Christmas star tree topper sucks, plus the power cord it comes with is too short.

Lol @ "happy holidays" :P

(Because it's an attempt by Americans (only) to be non-religious except "holidays" means "holy days" so it defeats the purpose... It's also ironic as the very same Americans say "vacation" instead of the typical "holiday" so it should really be "happy vacations" in the US vernacular)

The opposite, actually, it's to be inclusive of ALL holidays plus Thanksgiving and New Years... regardless of religion.

Personally, as a Christian, I'm more annoyed at people who take offense to showing compassion towards others (on either side of the argument). I only lack compassion towards idiots and morons... and that describes pretty much everyone (myself included at times).

And now back to our topic. :)


I guess that makes sense... I always thought it was to be non-religious, but being religiously neutral makes sense too. I just find the phrase "happy holidays" funny & strange.
I don't see why anyone would get offended over what the day is called... it's simply a day for people to spend time with their families, make an effort to see their extended families, exchange gifts, and eat & drink too much :P If people want to add in religion to it too, then to each their own.

Happy holidays, Merry Christmas, neither of these bother me and I wish people would stop making such a big deal about it. You shouldn't be made to feel guilty depending on which one you say. I have a family member on facebook that constantly posts stuff about how we should all be saying Merry Christmas instead of happy holidays. It makes me sick! Quit shoving religion down my throat!

There should be a Facebook code of conduct (yeah that'll happen, lol) so people can stop posting sh*t that annoys their friends. I got my share of friends whom I've unsubscribed from their posts but haven't gone as far as unfriend them, LOL.

Yeah, I've done the same thing. LOL I've actually thought of getting rid of Facebook all together. Seems like everytime I get on there someting pisses me off.


Oh, I don't think a week goes by without me thinking about dumping Facebook, but I then realize I can just stay away from it and go in when I want to share family pictures or whatever.

Till the time a person is not grabbing you by arm and taking you to church, you shouldn't be offended. Fb posts should not bother. Once you grow over that thought these feel like minor nuances where you should not bother yourself. Ignore what you don't like and move on. Fix things that are worthful in life. Enough for thought of the day. Cheers.

As a non-American I only find "Happy Holidays" to be funny & strange, not offensive. It's culturally accepted to call the day "Christmas" regardless of any religious affiliations. I used to call it "Xmas" in order to "take the Christ out of Christmas" but then I found out that the "X" means "Christ" in Greek, so it was a pointless exercise. I would get many strange looks if I said "happy holidays" instead.
It's a Pagan holiday anyway (hence Christmas trees, mistletoe, yule logs, wreaths, exchanging gifts etc) so it's as religious as each person wants to make it.

Oh relax. Goodness, just enjoy the season, life, whatever.

We should have some kind of photo contest here on wpcentral. Winner gets a can of Vienna sausages.

They have pre-wrapped sausages, but they don't have pre-wrapped bacon. :(

The worst photo "wins" a bag of jelly beans :P

2nd worst an "ice cream sandwich"

3rd prize, a rotten, bitten, apple

Should be fun...I'll give it a shot and yes a WPcentral photo contest would be supremely cool!

2nd motion..WPcentral photo contest.

So...a contest with no prize...interesting. I wonder how many people who went on a rage over the Instagram thing read the legal terms of this contest...If you didn't read them...do it. :P
Windows Central Newsletter
Get the best of Windows Central in in your inbox, every day!
Thank you for signing up to Windows Central. You will receive a verification email shortly.
There was a problem. Please refresh the page and try again.