Microsoft is working on a Google Assistant-like conversational UI for Cortana
Microsoft is working on a new conversational UI for Cortana, similar to Google's Assistant app on Android.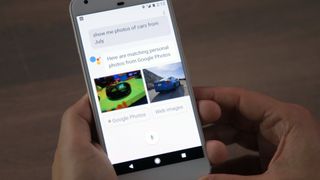 If you're a huge fan of how the Google Assistant looks on Android, we may have some good news for you. Several sources familiar with the matter have told Windows Central that Microsoft is working on a brand new UI for Cortana that will introduce a similar conversational UI that's found in Google's Assistant app on Android.
Conversational UI is designed in such a way to mimic a text conversation, as if you were texting a family member or friend. Instead of encouraging the user to use their voice, this takes a more familiar approach of encouraging typing, something we all do all the time on our phones and PCs. You'd simply type you query, hit send, and it'll popup in the UI just like a text message. Cortana will then respond back to you in the same way.
Of course, voice input will also be possible, just like on the Google Assistant. The user has the choice of using their voice, or typing, and the assistant understands that. The same goes here for the new Cortana. If you use your voice, your message will still show up as text, as will Cortana's, but Cortana will reply back with her voice in addition to the text.
A report from Thurrott appears to confirm similar hearings, with additional info which claims Microsoft may in fact be moving Cortana into the System Tray rather than next to the Start button. This move makes sense if Microsoft is bringing a conversational UI to the assistant, as the "search" bar would no longer make sense for an Assistant that uses a chat-based design.
It's unclear when or if this new design will be coming. I started hearing about a new Cortana design that's chat focused several weeks ago, but I'm yet to hear on a time frame for when this could be released. Are you interested in a potential redesign for Cortana? Let us know.
Get the Windows Central Newsletter
All the latest news, reviews, and guides for Windows and Xbox diehards.