Microsoft is working on a Google Assistant-like conversational UI for Cortana
Microsoft is working on a new conversational UI for Cortana, similar to Google's Assistant app on Android.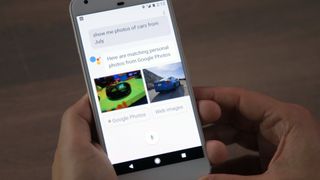 If you're a huge fan of how the Google Assistant looks on Android, we may have some good news for you. Several sources familiar with the matter have told Windows Central that Microsoft is working on a brand new UI for Cortana that will introduce a similar conversational UI that's found in Google's Assistant app on Android.
Conversational UI is designed in such a way to mimic a text conversation, as if you were texting a family member or friend. Instead of encouraging the user to use their voice, this takes a more familiar approach of encouraging typing, something we all do all the time on our phones and PCs. You'd simply type you query, hit send, and it'll popup in the UI just like a text message. Cortana will then respond back to you in the same way.
Of course, voice input will also be possible, just like on the Google Assistant. The user has the choice of using their voice, or typing, and the assistant understands that. The same goes here for the new Cortana. If you use your voice, your message will still show up as text, as will Cortana's, but Cortana will reply back with her voice in addition to the text.
A report from Thurrott appears to confirm similar hearings, with additional info which claims Microsoft may in fact be moving Cortana into the System Tray rather than next to the Start button. This move makes sense if Microsoft is bringing a conversational UI to the assistant, as the "search" bar would no longer make sense for an Assistant that uses a chat-based design.
It's unclear when or if this new design will be coming. I started hearing about a new Cortana design that's chat focused several weeks ago, but I'm yet to hear on a time frame for when this could be released. Are you interested in a potential redesign for Cortana? Let us know.
Windows Central Newsletter
Get the best of Windows Central in in your inbox, every day!
Zac Bowden is a Senior Editor at Windows Central. Bringing you exclusive coverage into the world of Windows on PCs, tablets, phones, and more. Also an avid collector of rare Microsoft prototype devices! Keep in touch on Twitter: @zacbowden.
Basically what they showed off in a Skype concept a while back

Oh yeah that's was bee " US only" and the "regional Cortana" first they need to put work Cortana with that regional inconvenience

I still don't understand why Microsoft releases everything based on region. Apple and google both release most of their products simultaneously worldwide.

Because when you are MS they can get slapped with antitrust lawsuits that Apple and Google are free of atm, or at least get overlooked.

Sadly when it comes to regional support of their services, Microsoft is still very slow in this area. Cortana could've grown to more countries by now but it seems like they forgotten that other countries exist, even countries where MS actually have the stronger foothold that includes where Windows Phones were even had a respectable market share. Cortana isn't really well known in most countries while Siri and especially Google are enjoying mindshare. Despite that Cortana is now on PC, they are really slow to non-existent growth outside US and few others. This renders the search bar on the Taskbar became unnecessary clutter for other people that they just want to disable it because it doesn't have other special functionality to begin with. What's worst is that there is a very useful feature that is only part of Cortana, thus for users not aware what Cortana is because it doesn't even exist won't take advantage of that feature, even they got it first Microsoft won't get much credit.

Country full of small Trumps.

He means the Taskbar Notification Area.

I like this idea, and hope they make it a reality. I like the idea of moving Cortana to the system tray if this becomes reality, but don't want to lose the functionality of pressing the start key on my keyboard and just being able to search for anything. And, let's get the "I can only assume this is coming to iOS and Android first, with Windows 10 coming later.: quote out there too.

Well, in theory it's quicker and easier to update Cortana on those platforms. On Windows 10 PC or Mobile it requires a full build AFAIK - On the others it's just an app

What we get, I think, more hangs in the balance of whether cshell/16xxx branch comes to existing mobile users. They'll be making desktop top priority for this... so, if we migrate to cshell/rs3 branch we'll benefit on mobile, faster.

Never really thought about this before. No need for the angst then, since there are different teams working in each OS version.

It's my understanding understanding that this changed with w10 and Cortana upgrades are done in the back end and that's why she needs an internet connection for everything unlike pre-w10 Cortana

true....Microsoft first releases its products for iOS and android and then they migrate it to windows....
Not fair

they need to get busy and make cortana go away on its own. having to click something to make it go away isnt so hands free to me

And the most interesting part is......Cortana redesigned for Android and iOS and this update will take months for Windows Phones...😆

It's easier to push an app update then a whole system update.

I guess that's easier to not develop OS then

First they should add support for many more languages

As long as Cortana remains available from the Start button on my PC, and I can type in commands still then it's all fine by me. If they assume everybody can use voice all the time and remove Cortana from the start button it'll be a shame - You can't use voice in an office really. I type into Cortana more than anything else after hitting start, second most common is launching an app

Did you read the article? It's about a new text-based conversational UI 😉

This is for Android right? 😇

Almost everything listed here were my wish list for Cortana. I can't express how happy I am now after reading this!

I would like Cortana to be redesigned to be walking around the screen and my house. The actual Cortana, not an icon. I want what Master Chief has.

Cortana walking around the hud...of your eyeballs!

I'll not concerned with presentation so much as I am with features and capabilities. I expect Cortana to continually grow in functionality and intelligence. If it doesn't, then Microsoft might a well license someone else's technology if have an AI presence at all.

I am actually impartial on this one. I use Cortana all the time via voice and the search box. My only concern is if i have to constantly launch the Action Center to get to her, that may be a bit annoying.

I imagine it will have its own button in the systray.

Good point, I didn't think about that.

This is all good, except moving her to the systray. The current location is way more convenient, and the system tray is already crowded, and will be even more so with MyPeople, and don't even mention that control center thing that was shown off here earlier. I don't want a system tray that takes up half of my screen, and feels like a Christmas tree full of stuff 😁

Yeah, moving to System Tray is a bad idea and just clutter up the area which Cortana doesn't even belong over there. The current position seems perfect already and even more logical since Cortana also do a search, and Windows Search is part of Start menu. They can just redesign Cortana and have chat-UI which should've been here from the start, after all Cortana should be a combination of Google Now information cards (old which replaced by Google Assistant) and Siri conversation and personality.

please don't move the searchbar and Cortana anywhere :o

I'm guessing this will be rolled out the Android and Apple first. WP will be put on the back burner as usual...

I just bought an android phone and tried Google assistant for the first time, and I really like it. So I'm waiting for it.

I really hope they don't move Cortana to tray area. She must have her own special place, not out there in the desert of system tray!

Hoping that this turns into something that allows for a user to have a 'conversation with her', rather than just bark commands. You maybe don't want her unnervingly real, but I feel like she'd be a bit more usable and useful if they did that - i.e. like a proper personal assistant, not a (admittedly polite) voice command function.

Like the conversational idea, as well as moving it to the system tray.

Let me know when I don't have to wait for the beep before I can start responding to Cortana.

You don't have to if you use "Hey Cortana"

Watch this come with CShell

Yeah, you do, if you are responding to Cortana then you have to wait for her to finish (like if she is reading out a text, or telling you where the nearest petrol station is). Obviously when you initially say "Hey Cortana" you don't have to, but that isn't a response.

Did anyone know that you can 'shazam' songs with Cortana? I really love that feature

seems like a step backwards

Is this type of thing for people who can not find anyone to talk to so they talk to their computer/phone/tablet instead? Crazy and that goes for Google as well,

Well it was about time even on android and ios the Cortana UI is more beautiful than the Windows Cortana...

Won't be long until someone does the Turing test on these AI systems

i love cortana in people area and search bar open just by start button... it will be more elegant and useful. i love cortana integration more and more in apps and OS

I can't wait to not see this on my Lumia!!

This is one of the only good features of Google Assistant, so I'm glad Cortana is getting it. Even Google can fail sometimes, too! The Assistant launched in October when the Pixels came out, and they've added pretty much no new features to it since, and third party apps are still not supporting it. So this is good 😊 Cortana will always have my heart.

Can't possibly imagine this coming to Windows 10 Mobile before Android nor even iOS.
Windows Central Newsletter
Thank you for signing up to Windows Central. You will receive a verification email shortly.
There was a problem. Please refresh the page and try again.