Microsoft's latest video highlights Xbox One accolades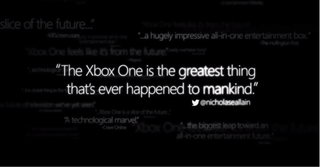 Microsoft has updated their Xbox One: Invitation ad to include quotes from the press and fans. If it feels like you've seen it before, that's because the new video uses the same music and some footage from the original video that has been viewed over 6 million times already on YouTube. Head past the break to watch Microsoft's latest accolades trailer.
The video highlights several quotes from the press. Fortune says the Xbox One is the console of the future. Entertainment Weekly describes it as "One box to rule the living room." The New York Daily News hails it as the most ambitious gaming machine yet. There were more quotes flying around in the background that were not read out loud by the narrator, but the last one was very cool.
The ad also highlights a tweet from Xbox One fan, @nicholaseallain. He says, "The Xbox One is the greatest thing that's ever happened to mankind."
What do we think of the Xbox One? Read all about it on our Xbox One review. How about you? Do you agree with the quotes in the video? Sound off in the comments!
Via Xbox Wire
Xbox One is awesome!!! Or so I've heard...

It is a great system, but MS needs to do a number of things to make it a successful device in the minds of everyday consumers. If they get the voice recognition to work better, and get the One Guide to work better with Cable companies' networks, they could end up forming partnerships with those services to provide subsidized Xbox Ones for $99 on a 2 year contract. Supposedly they are also working on a lower end Xbox TV device that also would have access to the all of the Xbox One's video, music, and app services for a relatively low price (I'm not sure about voice or Kinect integration for these or if its cost effective.) for $99 off the shelf or maybe $5/month on a 2 year contract with an HDMI in or built in tuner for other rooms. It would spread the ecosystem. They also could partner with a national Gym chain in the countries they have released the Xbox One in and provide a unique exercise program for those markets where not only do you get to have a personal trainer who could offer classes via group Skype, but provide feedback to users. The trainers could provide specialized classes via Group Skype or again look at your fitness data and offer tips and advice for your routine. They could even partner with a product like Fitbit for integration of that data to your routine when you go jogging. Again you could sign up for an annual contract with your gym and get a subsidized Xbox One for your home. They could even partner with a hospital to provide physical therapy and scheduled video calls to patients for doctor's visits when it is too difficult for those patients to leave their home. If there is a problem, they could Skype to a nurse or hospital near them through the program. MS could even partner with a school to provide lectures, training, or even distance learning through classes. The classes could be recorded and synced with Smartglass to your phone. You could even make it interactive for tutoring or even contact your proffessor durring non teaching hours when he/she is available. There's a lot of potential here to move the Xbox One beyond gaming and unfortunately I don't see MS doing any of this that would make the Xbox One part of mainstream culture. I just wish they would.

The voice commands are near perfect, even with my heavy accent.

Voice definitely needs improvement. If there is a second voice even whispering, Kinect won't understand anything. Every time we issue a command, the whole living room first has to go quiet.

lol.. i just imagined a guy asking is family to shut up and then saying Xbox sign out!!

You are right. I wish they would set it up so that if you plug in your headset, It would use the unidirectional mic there rather than listen to the Kinect's omnidirectional mic. That would solve a lot of the problems. They could even put one into a universal remote for the Xbox TV or an updated version of the Media Remote that was for the 360.

Maybe Xbox needs to lip read.

I don't know about the greatest thing that's ever happened to mankind... there may be a couple of things ahead on that list, but, it is a pretty awesome console :D.

OK, but just fire and the wheel!

Yup, the top 3 list goes: 1. Sliced bread 2. Xbox One 3. The wheel

What about delicious baked bread :P that should be first :D

i think electricity is the greatest thing that has ever happened.. after penicillin..

Surely the greatest thing is boobs...

I think we can clear up the mankind thing, it isn't. But it is pretty good. Although, missing the ability to stream movies from my pc or usb stick, which is shambolic. But I am enjoying Forza. I am hoping for a decent update soon that will add much to the abilities. Also hoping for some decent arcade and indie titles.

I think we can clear up the mankind thing. It's an opinion. Get over it.

It must be a day for these type of comments. You can't pull me up for having an opinion and use the argument that people are entitled to an opinion. If they are allowed one, then so am I. Although I think mine is closer to the truth. But hey ho.

Dude that's spot on! For now my xbox one is doing nothing. I played COD gosht and DR3 few days and that's it. Back on the 360 playing BO2, watching SKY GO, playing my acade games and few demos... all of which are missing on the xbox one. The potenial is there, but so for it's not going to replace my 360 yet, it's missing all the useful fucntions and feels like a step back for now (apart from the graphics bump) cheers

It should have had a minimum release requirement to do no less than the 360. I don't expect it to play 360 games, but the rest of the streaming features should have been a minimum. Some with the options. The graphics bump is nice though.

Well I've been streaming from my PC and tablet with just the press of a charm

I am aware of the play to function in Windows 8. I don't have Windows 8. I also can still stream effortlessly to my 360. The fact that the same is not possible on the One, is a poor show.

Playto on windows 8 works really well, except that you can only use one video format, so my ATV2 with XBMC still gets used for a lot of things. I would like to see it play all formats and more importantly play directly from my NAS with a guide, like I can do with XBMC on the ATV. As far as I am aware, play to works on Windows 7 as well, and windows phone 8.

The streaming works too well, some of my friends are skeptical even though I've shown them

They're all skeptical. If it doesn't have an apple or android logo on it, they won't accept it. I have a coworker who does scheduling for our department. I told her about w8 and WP and they could make her work much easier. She was awed by it. Low and behold the following day she went and got a nook. People are just silly.

It's awesome. I love it. Best thing that happened in 2013.

Easily the best thing that happened in 2013...and possibly mankind.

I love the Xbox One already, and the best hasn't even come yet. Looking forward to the future while enjoying the present.

I am really liking it a lot, but it is in serious need of some major updates. It's obvious that having to change direction on DRM/digital/etc so close to launch really slowed down progress on the OS as a whole, apps, etc... Bluray playback problems are epidemic, and MS is just ignoring them http://forums.xbox.com/xbox_forums/xbox_support/xbox_one_support/f/4274/t/1630530.aspx Lots of sound compatibility issues, no real dlna, no streaming, terrible os navigation for some things, missing info (hard drive space, controller battery status, etc)

With windows 8 u just sync as a device and u upload to Xbox and can control from that device as well

That is the rub, the requirement to use Windows 8. I, and the majority of the rest, don't have it. I may upgrade at some point, but I will need a new PC, so not a cheap thing.

Plex Media Server. Have Fun.

MS seem to have a penchant for wanting us to use as much electric as possible. This whole TV in business seems odd to me, they are wanting people to have two devices on. Maybe it is just me. But this business about having to have another piece of software running on my PC is annoying. The 360 just required me to turn the PC on, not log in, not have the monitor on. I could do it from another room, without having to faff about running back to the PC. The kids can access my files on the PC downstairs easier, on 5 year old equipment (360), than I can on my state of the art One. Not hating or trolling, but good lord, this is a step back for the consumer. I bought a £16 DVB-T Freeview digi box and media player that leaves the One standing. Media hog, One solution? Not yet, and I worry it will not come. There are certain things that I would expect to be baked in from the start, these are some of those.

Its odd saying this given it should be the other way around but Microsoft nailed the hardware and almost fell on their face with the software. Software is usable, but its not what it could have been. I am confident they will update it, but until then, there are lots of folks frustrated with the experience who will have a hard time convincing others to spend a extra $100 over the rival. My specific gripes are: The previously mentioned Blue-ray playback issues. Grouping with friends and playing a game with them is, at least to me, a big mess. Took a group of us nearly 30 minutes to get into a race of Forza 5 together. That shouldn't be the case for a paid service like Xbox live. Voice commands work great if you know them, would have been better if the system was more intuitive. Did I mention the pain it is to group up with friends and play a game with them, (with voice chat working). No ability to download movies/TV from XBOX Video. Why they took this away still eats at me. In fact, XBOX Video will not get any money from me until they add it back. I think its bad enough that they add a price premium for 1080p content, but not giving me a option to ensure I enjoy it in full quality is a rip off. My internet connection is not quite fast enough to ensure a 1080p playback for the duration of a feature. Thus they shouldn't be charging for quality they can not promise to deliver. ...yeesh, sorry for the ranting. Outside of that, I have really enjoyed the system and I am looking forward to the continued refinements on the software side.

I imagine they had to restrict the ability to download videos and other digital content when they lost the authentication requirement (i.e. always on the internet, checking in to MSFT every 24 hrs)... mostly b/c when you purchase digital content, you're really just licensing it for a time... I'm living the life with Plex Media Server right now... I don't think I've ever had a service work this well, have digital copies of your movies? put em' all in an organized directory then install Plex and basically have a personal Netflix interface to your library... for free... 3.99 a month for fancy cloud sync and user control options, but the free service is phenom...

Maybe, but they didn't have the "always on internet" requirment for the XBOX 360 or any Windows 8 device. You can download rented or purchased content from XBOX Video on both of those devices. (Disclaimer: Using XBOX Video, I am not 100% certain you can download HD content on Windows 8 devices, but you can on the 360.)

It is a fantastic system, that said its far from perfect. I don't see it ever living up to this kind of hype though. Can't wait for some updates and release of new games i.e titanfall!!

Got the Day One edition and I love mines deeply.

The xbox one is great, but there is not much point in buying one if you don't like the available games. So until Halo 5, Im sticking with my PS4 and Killzone shadow fall.

Killzone? Oy vey. The Xbox One 2013 game lineup was much better than PS4. Dear Rising 3, Killer Instinct, Forza 5, Peggle 2, Ryse, Max: Curse of Brotherhood, Halo: Spartan Assault. If you wanted a FPS fame, Call of Duty and Battlefield 4 were better than Killzone.

Killzone is an OK game but so are DR3 and Ryse... they are not that great ...(compared to games at the level of HAlo, GTA or LAst of us)... . i dont think there is any exclusive out there at present for both the system which is really worth buying next gen colse yet....however titanfall and uncharted will change that in coming months,,

I will be getting "One"..........hopefully next year they refresh the case for the thing, and get rid of the power brick. The media shelf above my TV wont realy work with the Brick.....does anyone know if the brick is mountable to a wall? Maybe i could hide it behind my TV.

Add external hard drive support already.

I'm really annoyed by the horrible streaming quality in the FIOS app. It's downright criminal. I got rid of my cable boxes so I could use the app instead. Presently, a terrible choice. No local channels in the app and the quality of the stream is awful. By contrast the FoxNOW, Amazon, and Netflix apps stream perfectly.

Smartest move I can see is Xbox One buying out Centon now you have no need for a cable box, and they already have media extenders that can handlet the xbox video content as well..... Just a thought if this comes to fruit I want a little money lol.
Windows Central Newsletter
Get the best of Windows Central in in your inbox, every day!
Thank you for signing up to Windows Central. You will receive a verification email shortly.
There was a problem. Please refresh the page and try again.