Microsoft's Activision acquisition finally gives it a mobile gaming foothold
Microsoft may instantly become a major player in the mobile space.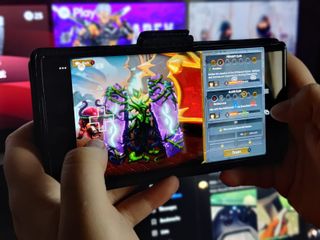 (Image credit: Windows Central)
When Microsoft recently announced plans to buy Activision Blizzard, online gaming communities were instantly flooded with discussions and debates about what it would mean for blockbuster flagship titles like Call of Duty, World of Warcraft, and more. These franchises are some of the biggest in the entire industry, and depending on what Microsoft chooses to do with them, there's a lot that can change. Will World of Warcraft come to Xbox consoles? Is Call of Duty going Xbox exclusive? Ultimately, only time will tell.
As huge as these games are, though, there's an even bigger element of Microsoft's $68.7 billion acquisition that not enough people are talking about — what it means for mobile gaming, and how Microsoft will instantly become a force to be reckoned with in that space if the deal closes in 2023.
Mobile gaming is bigger than many think
While many "hardcore" gamers who play on consoles or PC often laugh off mobile gaming and consider it less valid, the truth is that it's a part of the industry that isn't going away anytime soon. In fact, according to Newzoo, 59% of the $180 billion in revenue that the gaming industry brought in over the course of 2021 came from mobile games. That's a staggering amount of money for just one platform, and it puts into perspective just how big mobile gaming is.
Compared to the hundreds of millions of gamers who use consoles like the Xbox Series X|S or the PS5, there are billions of people who play mobile games globally. And between the widespread availability and abundance of smartphones and the fact that most games on mobile are free to play with microtransactions, it's easy to see why; it's the most accessible way to play games by an immeasurably wide margin.
It's an extremely lucrative market, but Microsoft has struggled to succeed in it for a variety of different reasons. That's where mobile game developer and publisher King, as well as its parent company Activision, come in.
Microsoft is getting much-needed help
Over the last several years, Microsoft has made several attempts to break into the mobile space. The mobile version of Minecraft: Bedrock Edition and Fallout Shelter have both done well, but releases like Gears Pop!, Forza Street, and Minecraft Earth were generally disliked due to their lackluster gameplay mechanics. The games also had overly aggressive paywalls and microtransactions too, which made it difficult to enjoy the game as a free-to-play player and even forced players to spend real-world money to make meaningful progress in some cases. The old Halo: Spartan Assault and Spartan Strike games fared better, but failed to truly succeed due to their initial exclusivity to Windows Phone and $4.99 upfront asking price.
Microsoft also marketed all of the aforementioned mobile games terribly, which was undoubtedly a factor in its struggle to keep dedicated and growing playerbases. Mobile game developers spend millions of dollars to make sure that players see their apps in advertisements, and because Microsoft wasn't willing to do the same, the only people who knew about games like Gears Pop! and Forza Street were folks who were already part of Microsoft's core Xbox following.
By acquiring King and Activision, Microsoft is finally getting what it needs to compete in the mobile space: developers and publishers who know how to both make and effectively advertise mobile games with satisfying gameplay loops and a good balance of free-to-play features and paid ones. Games like Candy Crush, Farm Heroes, and Bubble Witch have proven so popular that King made $652 million in revenue during the third quarter of 2021, and Activision Blizzard's Call of Duty Mobile has also remained a dominant title since its launch in 2019. Diablo Immortal, an upcoming mobile game version of Activision Blizzard's beloved action roleplaying series, has also been received positively during beta tests. Assuming the acquisition deal goes through, things are looking very good for Microsoft's future in this market.
Don't forget about Game Pass and cloud gaming
Of course, we can't forget about the impact that Microsoft's growing mobile presence will have on its gargantuan subscription-based gaming service, Xbox Game Pass. Will we see a special mobile branch of Game Pass that includes recurring rewards in the studio's mobile games? Will that branch of Game Pass also include access to Xbox Cloud Gaming, which gives players the ability to stream high-profile titles to their smartphones? We won't know for sure until Microsoft makes its plans publicly known, but there's no way that it isn't looking to bring Game Pass to the mobile market in some way.
Speaking of Xbox Cloud Gaming, Microsoft may also make use of Activision and King's expertise to improve the cloud gaming user experience on mobile. As my colleague Jez Corden has written about many times before, many cloud games (including the best Xbox games available) are difficult or downright impossible to play due to the fact that their UI elements are too small and will often clash with the touch controls overlay. If the talent from King is able to adapt cloud gaming titles to be more mobile-friendly, Microsoft's Xbox Cloud Gaming initiative — and by extension, Game Pass — will be even more attractive than it already is.
Final thoughts
While it's understandable that most are focusing on the big blockbuster franchises like Call of Duty that Microsoft gets its hands on with its Activision Blizzard acquisition plan, the value of seasoned mobile developers and publishers like King and Activision itself shouldn't be overlooked.
By bringing them under its wing, Microsoft has finally found a way to establish a foothold in the mobile gaming space. And between the potential for future best-selling mobile games, the strong possibility of a mobile-focused version of Xbox Game Pass, and the opportunity to make the Xbox Cloud Gaming experience better than ever on mobile, Microsoft will have everything it needs to succeed in the mobile market.
Get the Windows Central Newsletter
All the latest news, reviews, and guides for Windows and Xbox diehards.
Brendan Lowry is a Windows Central writer and Oakland University graduate with a burning passion for video games, of which he's been an avid fan since childhood. You'll find him doing reviews, editorials, and general coverage on everything Xbox and PC. Follow him on Twitter.