Microsoft's Arrow Launcher for Android nabs big update with new features in tow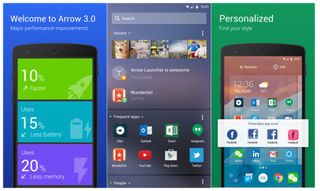 Arrow Launcher, an Android launcher from the experimental Microsoft Garage, has picked up a rather big update to version 3.0 (opens in new tab) with some handy new features and big performance gains in tow. Perhaps the biggest change is the addition of a new utility page that can serve up access to common productivity functions like recent activity and apps, reminders and documents, and more.
Of course, there's more included in this update as well. Here's a look at the full official changelog:
Ability to select VERTICAL or HORIZONTAL scrolling for apps page.
Brand-new utility page. Pin utility "cards" as individual pages, or customize to your heart's content.
Small changes to "Backup & Restore" feature.
Bug fixes.
In addition to the above, version 3.0 comes packed with a range of Bing wallpapers that are updated daily. On the performance front, Microsoft is also claiming Arrow Launcher is 10% faster, 20% more memory efficient and 15% more battery efficient.
If you happen to be a Microsoft junkie using an Android device, Arrow Launcher is definitely worth a look (our pals over at Android Central even gave it two thumbs up). To check out all of the latest features, be sure to grab Arrow Launcher 3.0 from Google Play now.
Download Arrow Launcher from Google Play (opens in new tab)
Windows Central Newsletter
Get the best of Windows Central in in your inbox, every day!
Dan Thorp-Lancaster is the former Editor-in-Chief of Windows Central. He began working with Windows Central, Android Central, and iMore as a news writer in 2014 and is obsessed with tech of all sorts. You can follow Dan on Twitter @DthorpL and Instagram @heyitsdtl.
I wish it would be same like Windows 10 theme, then Windows apps are on other os and Windows look also on other platform.

Yep if MS is going to let WM die the least they can do is make a WM themed app launcher for Android that acts just like WM. I tried out a couple of 3rd party themes that try and some are ok. I'd only ever swtich if MS killed off WM and Andoird had a way to run and look just like WM

The thing is they can mimik the layout but you won't have live tiles (unless you find supporting widgets). And that really is the key. I too really miss the layout of a vertical scroll screen. I hate the horizontal scroll homescreen so it would be nice to at least have that.

Take a look at revolauncher.com I am a long time WP user and since moving to Android I couldn't find a launcher that I liked so I decided to write my own... I should be dropping a beta in a few days! Doing "live tiles" by throwing notifications from the system onto app tiles (they scroll veritically just like WP) and the app drawer works just like WP too... really wish MS would step up and build something like WP's home screen for Andriod but I have been using this for a few months now and I feel it's stable enough for a beta release... hopefully it can help some WP transition to Android! Ugh... can't believe I just said that... :( Why couldn't MS just continue with the Android apps on WP thing...

You can try SquareHome 2 launcher. Tiles are "live" as they show notifications for their respective tiles and its really customizable too.

Absolutely love the arrow launcher. Just happy to support Microsoft on some mobile platform.

For me, Android Central prompts to download an HTM file in Edge... so they've screwed something up over there.

Any stats on adoption, percentage of Android users that use it daily?

Nope. Judging by number of downloads and reviews, the user base could be around 10% of Nova Launcher (which I believe to be the most popular 3rd party launcher). It's probably a lot less than that, because I downloaded it, tried it for a few minutes, and went back to Nova. Still, it's certainly among the Top 5 most popular launchers. What does that mean in terms of overall numbers though? Of the 5-10 million installs, even if every one of those people were using it daily, it's barely 1% of Android users, and probably less than that. The vast majority just use whatever launcher ships with their phone. Of the few who install a 3rd party launcher, Nova and Google's own launcher make up the majority, with everyone else far behind.

I using Nova launcher for my every Android devices. I did try this and that launcher for a few weeks than back to Nova. The problem is some launcher layout are too alien too me, other launcher are really good and i think that i would finally dump Nova only to realise there memory leak and stability issue. So back to Nova a trusted brand.

I've said it before, saying it again...The only way I would use Android as my daily driver would be if MS gives us an easy way to COMPLETELY wipe Google from the device and replace with all MS services and apps.

They are almost at that point. We just need a front end app launcher that simulates the WM experience.

Then you wouldn't be using an Android device since Android itself is Google. It's never gonna happen anyway. Google has Microsoft by the balls. There's 72 Microsoft apps in the Google Play Store yet Google refuses to let Microsoft run anything Google related on Windows 10 mobile.

thats false statement, since Android lets you disable all apps you want if they can't be uninstalled, it takes some time (about 3 mins to be done) but once you're free of Google my phone reminds me so much the apps I used in my former Windows Phone Lumia 625.

Technically, Google Play Services (GPS) is Google. Android is AOSP and can exist separate and independent from GPS - but access to a "store" would be needed. GPS, of course, makes the most sense as a "store" for Android. In a lot of ways, its too bad Microsoft and Amazon compete so hard on Cloud services, as they could have been (could be?) tremendous collaborators in the mobile arena.

"Google refuses to let Microsoft run anything Google related on Windows 10 mobile." What do you mean by this? Google doesn't control anything about W10M. They just don't develop for it because the platform has less than 1% of the world market.

That's true, but back in the 'golden age' of WP8/8.1 when marketshare was a little higher, MS made a YouTube app of their own and published it. Google demanded it was taken down only a few days after.
It wasn't even them spending any effort on it, for whatever reason they weren't happy with even Microsoft putting their services on Windows phone for them.

Google's stance towards Microsoft comes from Eric Schmidt and goes back to his days at Novell. I'm sure everyone was well indoctrinated to never, ever, ever let Micosoft's proverbial nose into the Google tent. Not providing any type of support, material or implicit, for Windows Phone would have been top of the list.

And the telecoms' stance towards microsoft comes from the decade MS have spent eroding their profits. Taking away telco revenue seems like a great thing to do, until you need them to sell your phones.

No, they don't develop for it because they know it would make it easy for many Android users to give it a try and make the switch if they preferred the UI - which many would.

You act at though Microsoft is doing google a favor by putting their apps in the Play Store. Microsoft is the one benefiting from the enormous popularity of Android, because no one would use their apps if they kept them on Windows phone only. As for Arrow Launcher, it's all I use. I love the verticle scrolling on my home screen, and arrow's app drawer scrolls vertically as well, with the same alphabetical search type as Windows Mobile. Arrow Launcher is actually more of an iOS copy than anything else, swipe up from the bottom and your system toggles will appear, swipe down in the middle of the screen and a "Spotlight" type of search appears. There are even "bounce back" visual cues that Google themselves aren't able to implement, because apple has a copyright on it. When Arrow was first launched, I tried it and it was extremely rough. Now, Microsoft has put a ton of time into polishing the launcher, and it is in a fantastic state. Now all we need is for Microsoft to release their own Android phone, and put all of this awesome software together into one package.

@Visa Declined, an Microsoft released android phone is not going to happen. It completely undermines everything they have done to unify the windows core across platforms. Then you have the work they are doing to get Windows on ARM.

You can do that, I have a Sony Xperia M4 Aqua and disabled all Google services, I installed Firefox browser, and my home button is tied with Cortana or Bing app. Below are the services that can be disabled and removed from the running apps when you boot your device. Replace Gmail with Outlook
Replace Maps with HERE
Replace GDrive with OneDrive
Replace Hangouts with Skype
Replace GoogleMusic with Groove
Replace Keep with OneNote
the only thing you need to keep is the ugly GooglePlayStore app since I use that to download games and other apps.

Just need the look and feel of the Windows Mobile OS and how all your data sync's between windows devices. Not far from being able to use Android as a plan B if Windows Mobile dies out

What do you use for a photos application? Or does Sony have their own set as the standard?

Sony has some of the best and most beautiful photo apps and music apps I've ever seen in a mobile device, they're 100% free of Google Photos or Google Music, nothing is shared to the cloud and if you configure OneDrive you can upload your photos and music to the cloud of Microsoft.

You could use any Android phone that is supported by something like LineageOS (or any other AOSP Rom of your choosing) and not install the GApps packages. then just sideload Cortana, Onedrive, Outlook for example. No Google. All MS.

Why would you not want any google apps?

Because you are the product when you use Google services. Their advertising partners are their customers. Everything you do with Google, makes you more attractive to people who want to sell you **** you don't need, thus boosting Google's bottom line. I was not put on this earth for a company to profit off me by giving me *free* stuff.

Good lord... you're just super paranoid.

I was. Seems like a good trade. I get services I like, they get money, I don't pay them. All good.

I've been happy to leave Google products behind for all of Microsoft's solutions, although YouTube is an exception.

I was out of Google camp for long time after deleting my old account. But now I'm entrenched in Google as much as in MS. Though the only Google products I use is Android, project fi (which is an excellent carrier) and YouTube.

Hmm there's no YouTube equivalent though and that requires Google Services or something.

Just made a push installation from my Windows 7 desktop and I love it, I think this is how Windows 10 Mobile should have been, app icons instead of those tiles.

Since I have my most used apps docked in bottom of screen, I have my phone, whatsapp, contacts and Outlook mail in that location since when I'm in a hurry I can find contacts or make phone call easily. In my former Windows Phone 8.1 phone I had to put the phone on top and most used apps on top but it isn't the same experience since when you scroll by mistake you can open another app by mistake.

I see, that's not really an issue for me. What stops you from puttning those apps at the bottom of the screen on a Windows phone?

Weird, I only have one screen of apps pinned. I do not scroll.

@deadonthefloor, same here. Everything I use daily is pinned and I don't need to scroll on my L930. I have show more tiles enabled and display scaling reduced to the lowest setting. So 35 small tiles, 4 medium and 1 wide tile. Time to time I change my lay out. But it's always one "page" so no need to scroll.

Same here. Taking advantage of folders makes that possible.

To each his / her own. For me, one of the quintessential dealbreakers of Android is the use of "old school" icons. As well, all that wasted space between them - it's such a dated user interface design. Windows Metro design language was the future, people just weren't ready for it, like heavy metal from Marty McFly in 1955. :p

I love this launcher and use it on my phone most of the time

We should have this with actionable Live Tiles on Windows as a replacement of Start and maybe even the Desktop.

Why Microsoft give so many effort to android os?? What about window mobile user? Please, focus your own window mobile platform and please read all feedback from user wm about enhanced the modern UI window mobile, fix the bug, and try make WM become more smooth same as Window Phone 8.1

Microsoft is a software company, and they're out to get as many customers as possible. It'd be a mistake not to target such a large group of users and push their software to them. Also, the team that made this would most likely be an entirely different team to those who built and update W10M.

IIRC, when I first tried it many months ago, The launcher had conflicts with my DND settings and allowed non-priority alerts after set hours. I'm not 100% sure if there was a direct correlation between the two or not, but it sure seemed like there was. Anyone else ever notice that? If so, was it ever resolved?

Still, you obviously need a Google account. So, no, thanks.

What's your reasoning for not having a google account? Just to be a "rebel"?

See Above. When YouTube approached me to advertise on the one video I uploaded once it got to 20k views, I deleted the video and re-uploaded it with a different, harder to find title. Less than 1000 views, three years later. Not participating in either side of the advertising coin.

You sure showed Google! They must have lost more money than you lost for that move! I swear some people are just.... nevermind. Carry on.

I use the arrow launcher and I have had the beta version of this for a little bit. I like that there is only 1 swipe to the left. I wish I could swipe the other way and get the app drawer instead of using the default android drawer...that would make it just like windows phone to me. I haven't installed cortana and I am ok with google maps. I honestly wish Waze was better but unfortunately it causes spotify and google play to keep randomly crashing. I have gotten used to android but honestly I don't think its better apart from developer/app support

This app is absolutely required if you are transitioning from WP to Android. I made the switch recently because WP hasn't come out with any new devices and no new features worth sticking around for. I hate Androids layout, but this app overlays on top and puts things in order the way they should be. It gives you access to things you commonly need and use. It may convince me to stick with Android if WP doesn't go anywhere.

I am a long time WP user and have recently moved to Andriod (Nexus 6P)... I have been working on a new launcher to try to get some live tile type support on Android using the notification stream... I will be dropping a alpha/beta release in a few days over at revolauncher.com... it has an app draw on the left swipe and it looks and feels alot like WP. I have been using it for a few months as my primary launcher without my issues. Here is a screenshot of the main screen and app draw... main screen scrolls vertically just like WP as does the app drawer: http://bit.ly/2lheA52

HEY!!! I use an Nexus 5X, formely a 950 user, and your screen shot looks great!! I have used Launcher 10 and SquareHome 2. Take a look at those for an idea of how the popular launchers for a Win10 skin work. I like the look of yours. Keep up the good work, I'd totally use this.

Windows Phone is on life support but Microsoft Phone runs on Android.

Ya, just like MS, lets make our stuff work on their platform.
We don't need to have anything work on ours.
And they say Win mobile aint dead. MS is doing everything in their power to make sure it is.
Whats wrong with this picture.

This update made me uninstall. Trash It was fine the way it was...we need more MS not more generic Android Lanunchers. Loved my widget home screen and now it's gone.

I have an Android phone and a Win10 phone. On my Nexus 6P I use Launcher 10. It's the only way that I can face Android. It gives me 80 of the look and feel of the Windows 10 Mobile home screen and the most recent update even includes a Live Tile-like experience without the need for widgets. It's actually pretty incredible. A total lifesaver for any Windows Mobile fans who have to use an Android device.

I was reading the comments on Android Central and so many of them were people who used to use WP and missed it. A lot of them still had WP and were still holding out hope of a WP return. This is going to be an interesting year for Mobile at MS. :)

Yep. I made a shift to Android because of apps. PayPal app being dropped, bank app sucking (was literally just a web wrapper on WP), eBay being dropped, that... thing Amazon released for their app on WP... Pokémon Go which took my city by storm and I couldn't properly play because I didn't have an Android or iPhone. I tolerate my Android because of apps, but if WP wasn't so down on apps I'd be using that as my primary device. Do miss apps like MyTube and MetroTube though, they were very well made Windows exclusive apps.

Same here. Most of my apps are unused in all honesty, but there are some that are extremely useful and do not exist in WP :( I want to make the switch back to WP but I do not want to get an expensive phone (the 950 is still expensive for me) and then realize I can give only a fraction of the use I am currently giving my android.

I had been a WP user for a while. Recently made the switch to Android. Arrow is an amazing launcher along with the rest of the Microsoft apps. Just waiting for word flow now

I'm using Arrow Launcher from my first day with Android

I used Nova launcher before, have recently switched to Arrow launcher and will probably stick with it. I prefer the general layout and use. All about personal preferences these launchers.

unstable release install then uninstalled

Does anyone know why Outlook does not provide a notification count with the arrow launcher? In fact, I never get a notification count on it....

I used it and I liked it a lot, but the performance was underwhelming and my phone lagged constantly. I think it's a good time to try it again.
Windows Central Newsletter
Thank you for signing up to Windows Central. You will receive a verification email shortly.
There was a problem. Please refresh the page and try again.