Microsoft's latest Cortana vs Siri commerical offers a memory challenge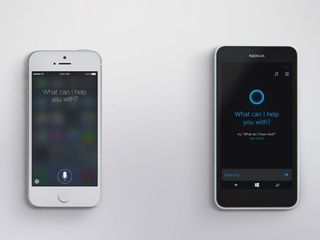 Apple may have revealed its new iPhone 6 models earlier today but during today's press conference in Cupertino, Microsoft decided to release a new Windows Phone TV commercial that once again pits its Cortana digital assistant on the Lumia 635 against Siri on the iPhone 5s.
In this new clip, posted on the Nokia YouTube channel, Siri seems to have a bit of a memory problem with remembering things like appointments, favorite restaurants and more. Of course, Cortana is shown as having no issues with remembering these topics. Siri admits the only thing she can remember is that she was once the only phone that talked.
What do you think of this latest commercial that pits Cortana against Siri?
Source: Nokia on YouTube
Windows Central Newsletter
Get the best of Windows Central in your inbox, every day!
That last line is amazing! Lol

They always get a good punch line in at the end!

Nice video and excellent ending.. Haha Siri is an air head just like all Apple air products.

Except that Siri is not as dumb as this commercial paints her out to be. She does most of the stuff Cortana said she doesn't. I, and most iPhone users, know this. And like me this would just sound desperate. Microsoft, want to make a dent? Take a lesson from Apple. iPhone announced today. Available to ALL the carriers in the USA and most of the world next week Friday. Multiple Lumias announced last week. Availability date? TBA. HTC One M8 announced. Availability date for rest of the world. TBA. Verizon exclusive. SMH. Stop with the carrier exclusive deals. Spend more time and resources synchronizing your release dates across countries. This would help WP more than commercials like this ever would. .

Apple may have better releasing times, though compare the amount of stock the Windows Phones pin against iPhones. 1 year or more in planning. Dealing with factories and retailers, then actually building the phone at the same time. Nokia did it alone and now with Microsoft, its doing everything a lot faster. Shipping near 5 different variant models per year to near 7 just for difference in some more models. Again. Needing to deal with factories, etc. So Apple has time on their side while MS/Nokia has to power forward. And ads like this is a ploy to make people eager to buy the phones once properly released.

Stop making excuses. Microsoft is literally buried in money, and they still can't get it right. Apple has to deal with factories, retailers, and building their phones too. Do you think they just miracled the phone into existence? And no, these commercials do not make people eager to buy Windows Phones. First they hear the name "Windows," which is a no go for most people who remember viruses, blue screens, and Microsoft's heavy handed policies that got them sued. Then, we don't get ads showing people actually using the OS. We get snark, and commeicals about the phone's camera. Microsoft's entire marketing division needs to be fired. Now. These commericals make Microsoft look like desperate assholes.

Are you really trying to compare exclusive deals and release dates for a platform that has several models from several manufacturers released every year to one that has just ONE release each year? I would certainly hope iPhone doesn't do exclusives considering they only put out one phone each year. (or two, with them being nearly identical except one ore two features).

Just want to say, i agree with you jbestman! By the time MS releases their phones a lot of people would have already forgotten that it was even announced and yhe hyped has died. Sadness... I just wish when they announce a phone they could release it ASAP. But I soooo love my lumia 1520! And great video!

You seem to conveniently forget Apple's four year exclusive with ATT.

And you seem to forget that during that exclusivity deal, there were no real iPhone competitors. The iPhone was the only "real" smartphone out there and everyone wanted the "new" kind of phone. That's why AT&T's network crashed so much, because everyone was leaving the other networks to come to AT&T to get the iPhone. It wasn't until Verizon caved in and allows full updates from Apple that Apple "allowed" Verizon to have the iPhone. However, those days are over. There are too many other phones out there (Android and now Windows Phone) that can easily compete with the iPhone. In fact, in comparing the specs after my Icon receives the new Lumia Denim update, I'd put my Icon up against the new iPhone 6 Plus anyday. Recent articles states that Apple has "increased battery life on the iPhone 6 and 6 Plus." However after recent tests, that only adds about 1 hour to web browsing from the iPhone 5s dispite Apple's claims of adding more. My Icon can already get at least 2 hours more in web browsing without the Lumia Denim update, which will also increase batter life on my Icon. Other specs in comparison: Icon has greater PPI then iPhone 6 Plus (441 to 401) Better camera (20MP vs 8 MP) with better appiture s/f 1.2 vs s/f 2.2) and better low light capabilities. Camera has a higher quality lens (Carl Zeiss) and enhanced optical image stablization. Icon has FM radio for listening to local radio stations (good for emergencies) Icon does not require proprietary accessories (lightning port vs standardized microUSB port) Icon is plug and play compatible with all PCs (so I don't need iTunes to move/copy my pictures, music, videos, documents, etc. to and from my devices). I could go on, but I think you get my point.

Which means absoutely nothing 7 years later.

So Pc Vs Mac wasnt desperate? or Iphone wasn't an At&T exclusive for years?

What difference does that make right now? Microsoft needs to focus on the positive and show ALL the features of the phone.

Totally agree with the announcement/availability part.

@jbestman Are you sure that Siri remembers things about a user. To my knowledge ONE of the advantages of the Neural Net Technology that powers Cortana (and GoogleNow) and Deep-Learning is the ability for an AI, Cortana, to learn and"remember" things about a user. Favorite places, interests etc. Siri, I believe is incapable of this. Apple has recently invested in Neural Net tech and we will see a greater challenge from her in a few months or more, but as of now, people based reminders, remembering interests, proactive alerts, context awareness are beyond her.

Truly incredible! Cortana is very smart :)

The ending was hilarious now only If cortana could talk like that

She talks a lot like that with about 90% of her responses.

loll, keep up the heat Microsoft

And along come the weird, bleeding-heart, sissy's with their, "oh microsoft shouldn't take shots at other company's" rubbish.

Those sissy's are doing the same without knowing it. Hating on companies. So yeah *Sissy's*

These "sissy's" have been brainwashed! Lol... In the words of the Grandfather (Mortal kombat 95) "American life has enfeebled his mind. Too much television", :P.

Yep, nothing wrong with these ads and I actually have an iPhone. The detestable ads are the type that Samsung releases which take shots at the users and not just the product..

How's that working out so far?

Aaaw siri. Love these commercials. I use these against those who love Siri and say nothing is better. WELL....... Can I have more please :)

I would not be going this kind of commercial when Cortana only works in 2-3 countries.
Still waiting for it in Europe Africa Asia...

Well they're not going to run the ads in those countries, are they?

Well no but then again the Nokia youtube channel isn't available in any other country is it? And the WPC story that we're commenting on is US only of course ;)

The fact of the matter is the commercial is targeted for American consumers. Posted via Windows Phone Central App for Android!

True but the point was that this means it's not going to be seen by others? Maybe don't post it on an international site ;)

I can confirm that these ads make iPhone 5S users bristle a good bit. They start making defensive iOS statements. Then pepper you with questions about your Lumia 1520. Just wait for it. Quite entertaining!

Haha great! Finally some ads that hit the right spots

I hope the clip is real and the Cortina will be doing that around the world.

Most likely, however it would most probably be in the regionalised accent.

MS should just release Cortana to everybode, since most of us allready use it (but need to have region settings etc. set to US), and it works just great! it connects to forthsquare and wiki... and for the people i often call i set nicknames, so that she understands when i say their Slovenian names just like they are pronounced here :) and of course, most of us speak english anyway :)

Cortana is out in the UK and China with a beta status whereas Aus, India, Canada under the alpha status. Other markets will follow.

Indeed she is although for me in the UK it's ironic that a week in she 'forgot' who I was and now only remembers to remind me about 70% of the time. Oh and those bing searches all the time, the total, and I mean total, lack of chat, the . . . so that's a success here MS ;)

"most of us already use it" You're referring to nerds like us I assume? The majority of users don't know they can just change the region to use the U.S. Cortana.

Does Microsoft have plans for Cortana vs Google Now ads?

Haha maybe in feature but google now can't fight with Cortana xD

It would be so super if "cortana" was not US only

Well phonetically speaking it is always best to use regional "accents" so people can relate and not feel awkward. However at least the option of being able to choose between the regionalised voice and the real voice of Cortana would be greatly appreciated.

iPhone 6. Would fail just as hard as the Sega Dreamcast. Is Siri thinking? Nope.

Ok Microsoft keep poking mean while all Apple has to do is drop a commercial displaying Office & outlook on Windows Phone and the inability to edit email forwards.

Yeah then WP8.1 will no market share dumbasses who the hell runs MS

The music is very ear-candy. It's very calm, laid back and relaxing. Now, everytime I hear this song I remember Cortana vs Siri ads by Microsoft. By the way, the ending lines by Siri in all these commercials are insanely hilarious. What a way to end your ads!!!

thats not how (cortana/siri) sounds.. dont BS.. i like WP but cmon guys

The point is it's not true. It's false advertising. And yes, I have Cortana.

How about adding useful functionality, like Formula 1 as a sport option or being able to add a team from any league in the world. Instead of tripe like this.

It might be tripe, however it is good for mindshare. MS as of late has rarely had a decent ad campaign for any product.

I like Cortana. She's the first voice control app I actually use. I don't have a use for the more afvanced features but I'm glad Siri doesn't have them just so ads like this can keep getting made.

Why is MS wasting all their resources on Cortana vs Siri when there are not enough WP in the market and very scanty ads?!

Or use their resources for high end flagship yeah why no flagship ms!

I think no flagship from MS now as a way of support to HTC One for Windows. For someone who bought a YELLOW 1520 in January 2014, this is good. But for all those who want a newer and better high end phone than 1520, the waiting game is not over... Patience.

The scanty ads like u say are the reason WP is not gaining good ground. MS is so tight when it comes to advertising.

It beats my reasoning. Sometimes I wonder if MS is really in the smartphone business. I was in Dubai last year, just when the 1020,was launched, and there was already one of the the galaxyS flagship, all the mighty ads on the streets were full of Samsung galaxies, I only found a 1020 in a Nokia shop in a mall. And they had just the white variance.

Its a shame we don't see these adverts where they matter the most, tv!

They need to maybe other comparisons besides Cortana.

Why couldn't Cortana sound like the halo persona

I know we could switch to US settings, but why can't MS just release it to UK and beyond? It's getting silly now!! L820, wp8.1 - UK.

Funny but siri isn't that inept. Go WP!

Neither were PCs vs Macs. But that didn't stop Apple from making commercials that showed them as virus filled nonfunctioning monsters that eat babies.

I like the marketing of the features of Cortana, it's just not a feature that interests me. I want a new device packing a Snapdragon 805 in orange on AT&T. I want an 830 with a faster SoC, that's all.

I wish Cortana would say "May I help you?"

Change your name to May I Help You.

As a Nokia 928 owner have yet to meet Cortana. The commercial is not so funny without that context.

What's really funny, is the comments on YouTube from butthurt ifans

Microsoft can pounce on iPhone, the door has opened for Microsoft / Nokia ! The end is near for Apple ! You can't keep releasing a new phone every 1-1.5 yrs when many are happy with their existing phone !

Give it a rest before it gets annoying. Too much ads of the same theme gets tiring and it will paint MS as an annoying jerk, just like what Mac vs PC finally did to Apple.

Funny. I hope Microsoft continue to use these kinds of commercial. It shows the strength of Cortana. I own an iPhone 5 and I don't like using siri especially when your in a hurry.

"I remember I was the only phone that can talk" Epic

I have a feeling this will become the next scroogle campaign, meaning they will milk the hell out of it.

Nice, Cortana is not that bad after all, in some aspects it's even better than Siri

iDiots will still buy this crap :D #GoLumia

These commercials are repetitive and all the same. Stop dissing on competition, Microsoft. Do you see Apple dissing on others or Android? Sigh...

Apparently you missed that whole I'm a PC, I'm a Mac campaign...

Which was ages ago. Why doesn't Microsoft take the high road, and also release a commercial that doesn't consist of snark or bragging about the camera? Showing someone actually using the OS might work better, don't you think?

Microsofts Cortana is being teased a lot in Europe, but only speaks English now. I have still not seen any proof that Cortana works smoothly with English in my country the Netherlands. When will Microsoft push forward other languages besides English and Chines?

I've still to see any proof that Cortana works in English in England so don't go holding your breath;)

Personally, I think this latest add campaign is really smart and well timed. I think many people are going to be looking for an alternative to iOS soon. They really have been playing catch-up lately and haven't really innovated anythign like they did in the past. The more they can get to try their phones instead of Android, the better.

How can I get Cortana to do that?

Seems that MS doesn't know where to hit,it keeps making stupid comparison's instead of making better quality products'

while i'm not going to argue about their products (830 is such a mixed bag of sunshine and poo), I would say these ads are timed well and have a good chance to get some people to try something other than the same phone they've had for the past 5 years.

Yes,but once they tried new phones they go back to the old ones as they realize that they switched for some features that they use in the beginning and they find its really useless,speaking to a phone on my modest opinion seems so Stupid !

Cause you wasted your money what do apples do eventually if they sit to long ROT!!!!!

When will we get to see the benefits of taunting Siri.

They show the 635 with three columns of the medium sized tiles, like you see on windows phones with large screens. Can the 635 actually have 3 medium tiles across?

Was well as the phone doesn't cost AS much AS an apple now who's getting played!!!!

I could not find Cortana in India could u please suggest me for this regard

"Let's make a commercial pitting the iphone's almost-never-used-at-all function against ours. That'll be great! Oh and don't mention the other good features on our OS at all those don't matter and won't help sell." Really MS just fire your advertising team already and learn. Commercials like this are ONLY liked by loyal WP fans and highly criticized by the public, mostly seen as desperate. Using a voice assistant as a selling point should be a HIGH MENTION in the commercial, not THE commercial. A good commercial would be a short one showing the phone's design, OS features, and a practical use showing of cortana. If apple dares to better siri and throws out a comeback commercial, MS WILL be laughed at, and the ONLY selling point you've shown will be useless as a selling point. Get your shit together MS and stop doing dumb 5-year old "Mine is better than yours" ads.

Y'all are crazy. I have a Lumia 928 with 8.1 curtousy the dev preview and an iPad mini. I just spent the last hour asking a series of 50 questions to both Siri and Cortana. I am here to tell you Siri smoked Cortana. Out of the 50 questions / tasks - the ONLY two tasks that Cortana proved surperior to Siri was with setting a reminder to "buy milk when I got to the store" and when asking her to "find chinese food" followed with "give me directions." Cortana blew Siri out of the water with those two tasks. Everything else? They either tied or Siri was far surperior. Couple of examples: I asked Siri "How old is Payton Manning?" She responded by TELLING me his age. Cortana? Just loaded up a bunch of web pages for me to select from. I asked Siri "How many ounces in a cup?" She TOLD me the answer. Cortana? Again just listed a few web pages. I asked Siri to read my email - she came back with a listing of the most recent 25 emails and then proceeded to start reading each. Cortana? Just gave me a web link to "reading emails." I asked Siri "Who was the first man on the moon" she came back with a wiki result - I asked her to read the first paragraph - she did. Cortana? Just gave me a link. I don't know how you actually use both and be intellectually honest and claim that Cortana is superior. She is far, far from superior. Don't get me wrong, I love Windows Phone - I love Apple too. I WANT Cortana and Windows Phone to be successful, but throwing out false commercials isn't going to help "the cause" of generating popularity or interest in Windows run devices. I do believe Cortana has the potential to eventually blow the doors off Siri - but as it stands right now? She's not even close. I love Cortana - but I'm not going to pretend or try to convince myself she's something she isn't. Given Microsofts tendencies of cutting off their nose to spite their collective faces... I don't have high expectations of Windows Phone "making it" in the long term. Combined with an app store that is riddled with crap. I am tired of people claiming "It's not about the apps!" Hell YES IT IS about the apps. What the hell good is a smart phone without the apps? 90% of the apps in the store are complete garbage rating 3 or less stars loaded with negative comments. Apple's apps are typically 4 stars or higher with positive apps. Windows Phone is awesome, but as of now: 1. Microsoft doesn't have the best reputation for quality support of its products. 2. The app store is a trash bin of second rate crapware apps. 3. Cortana - while having great protential isn't all that. 4. Microsoft can't make up their minds on an OS. Three different OS's - it's no wonder you can't sync have your data from the phone your tablet. 5. Microsoft is better off creating ads that promote their products by showing what they can do - not attempting to attack the largest tech company in the world. Most Apple users are NOT going to dump their iPhones for a Windows Phone. More than likely it'll be Android users who make the change. So, why are they trying to elbow Apple? They're just making themselves look despirate (as someone said earlier).

Good point Sir, but Apple products aren't so great either.It's just matter of choice I would say."Once a WP user, always a WP user." Same goes for Apple; "Once and iPhone user, always an iPhone user." So this rival betwen them could be sometimes ridiculous but also cool at the same time.Rivality sometimes is good and nesecary.That's how great products are born :)

They tried that with the 1020... This campaign is actually quite good, and the group therapy ones on the way are great as well. It's really well executed and well timed since Siri is basically lost and forgotten by most on IOS. If MS can get some people to think oh that looks useful I'll give it a try, then it's a win.

LOL, good one :) I can't hardly wait for Cortana for our conuntry :)