Microsoft's Mystery Monday revealed: Surface Tablets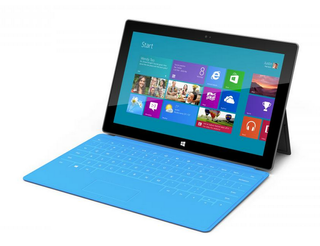 Microsoft this afternoon in California breathed new life into its Surface line, taking the table-top wonder and scaling it down into pair of Windows 8 (and Windows RT, but more on that in a minute) tablet/latop hybrids.
First things first: The new Surface is based on a 10.6-inch display. The Windows 8 Pro version is an Intel-powered beast, while the Windows RT version, as you'd expect, is powered by an ARM processor. The former squeezes things into a 13.6 mm-thick magnesium chassis, while the Windows RT version, with its more traditional mobile architecture, takes things down to a mere 9.6mm. Either way, these things are thin.
But addding a little bit of bulk -- 3 mm to be exact -- is the Touch Cover. Think iPad Smart Cover, only with a full multitouch keyboard built in.
Source: Microsoft (opens in new tab); More: Surface gallery
The physical specs vary slightly for each tablet and breaks down as follows.
Surface for Windows RT weighs in at 676 grams, and measures 9.3mm thick. The Surface Windows RT will be powered by a ARM processor and will sport a 10.6 ClearType HD Display protected by Corning Gorilla Glass. The Windows RT Surface will have a microSD card slot, USB 2.0 connection, Micro HD Video support and 2x2 MIMO antennae. It will be configured with 32gb or 64 gb models.
The Surface for Windows 8 Pro will weigh in at 903 grams and measure 13.5mm thick. The Surface for Windows 8 Pro will be powered by a third generation Intel Core processor and will also have a 10.6" ClearType Full HD Display protected by Corning Gorilla Glass. Windows Pro 8 will be fitted with a microSDXC slot, USB 3.0 connection, Mini DisplayPort Video and the 2x2 MIMO antennae. The Surface for Windows 8 Pro will be configured in either 64gb or 128gb models.
Both models will be equipped with a touch cover that has an integrated keyboard, VaporMG case and integrated stand. Pricing and availability of the Surface tablets was not released.
The Surface tablets will have access to all the Windows apps for music, movies and more. This is all a very exciting project that will expand the Microsoft ecosystem and play a major role with SmartGlass. We aren't sure exactly how our Windows Phone will fit into things and hopefully more light will be shed on Wednesday at the Windows Phone 8 event.
Regardless, the Surface tablets appear to be that game changer many wanted to see today.
George is the Reviews Editor at Windows Central, concentrating on Windows 10 PC and Mobile apps. He's been a supporter of the platform since the days of Windows CE and uses his current Windows 10 Mobile phone daily to keep up with life and enjoy a game during down time.
This looks utterly brilliant. Man I hope they don't screw up the pricing point because this could really put a dent in iPad sales if it's pitched at the right level.


All I wanted to know was price, and of course that was not mentioned. Sigh. Can be super awesome, but if I can't afford it who cares?

I don't care if you can afford it or not, so I'd guess only you care. :-)

Price is important. How it compares with iPad. How it compares with other Win8 tablets.

It mustn't be cheaper than partner OEM devices, that would kill the market that Microsoft has built over the last 30 years. Also, it doesn't really have to be cheaper than iPad, since it clearly offers a better value. It may even be priced higher and still outsell Apple's toys.

Higher wont outsell anyone. It has to be priced low to be even considered.

Not necessarily... All depends on what you get... Specially if you get pro version... Better than going with a mac air... Thiner and all....and you get full laptop functionality, instead of an oversize iphone(iPad)

I dont know if the pro version is better than macbook air, based on what? You can also run windows on the mba and has a lot more storage.

mba is not a tablet though, and mba costs hella lot $$$$ :)
apples and oranges?

And what if it was priced $5 higher than iPad?

Considering that Apple overprices all of their products, chances are this will be cheaper

If apple overprices, then this definetely needs to be less than $700.

My guess would be that the RT version will be around $400 for the 32gb one and $500 for the 64gb one. The Pro version is harder to price, but will probably be in the $700-$1000 range since they pretty much said it was an ultrabook in tablet form.

Multiple input multiple output

Have a look into Netgear router technology, they fell in love with MIMO a while back

Beautiful and fits everyone whether you want wndows 8 or the RT video. Now what will the haters say?

The haters said to sell their Microsoft stock it will be a flop, and my response to his/her statement is, stick an apple up is ASSSSSS. In youtube video comment!

It's going to destroy the crappy useless iPad. Just tell that to Steven Wozniak hahaha also Microsoft stock will go up when it sells millions of the tablets while apple stocks will start to turn sour hahahha

And no idea when it's coming either? Need details...

If the entry model ends up being priced at $399, this will be a killer device. Everything else looks fantastic so far.

Dude...make it a good price. PLEASE MICROSOFT! SUBSIDIZE IT TO START....like Xbox before it. It'll be worth your while!

They NEED to subsidize this. Nothing would be more of a buzz kill than a $799+ price tag. I feel like they can afford to do it by making up for lost profits with their upcoming music and video services.

299-499, cover should be 100.

I wonder if you will be able to play PC games on this device...
No details of gaming capabilities other than playing mobile games ...

You will be able to play PC games on Pro (x64) version, but not on RT (ARM) version. Both will also play games specifically built for Windows 8.

Yes! At last! When and where can I buy it :)

True innovation! That keyboard is bad ass!

Keyboard looks great, i wonder how good the trackpad is.

Want........ Want......... Want.......... Want...............

Want.. To know more about it.. Very vague information, on pricing, release, wireless support.. Carriers, bluetooth, nfc, some sort of connection to other devices...

I agree. Hardware looks slick but little vague on what It actually does in action and how it integrates into windows phone. Maybe there needs to be a windows 8 event

The liveblog I read of the event said that pricing would be on par with other devices (arm tablet or intel-based ultrabook) and availability would be with WIndows 8 launch for the RT, a few months after for the Pro

Very sexy. But i wanted more nokia lumia tablet :)

No one can make a better tablet for Windows 8 than Microsoft itself.

Dude seriously, stop drinking the Nokia koolaid. First party is the best way to go!

Dude, c'mon, face it. If this was called the lumia tab and had a Nokia logo you would buy this. ;-)

I'm officially blown away. Speachless at this engineering marvel. Truly.

I definitely want one, but what is the point of announcing a product 5-6 months before it's available????

Give you blue balls, that's why. I'm going to have to deal with them until this comes out. WinRT or bust, baby!

More like 3 months (for RT version).

This has been going on since the beginning of time, movies are even worse with it. Stop complaining

So we can save up $50 every month till it comes out. I am already planning to open up a separate piggy bank. THIS IS MY NEXT!!

I'm with you saving $50 every month till it comes out.

Holy Crap...this thing is amazing!!! Love the look!

So no 3G, 4G, LTE.. Anything on this big portable device?

Who cares about that when u can just WiFi tether.

i think a lot of people care. Tether is not really worth it. Too unreliable, not everyone has a phone like that or the plan to use it.

Hahaha I do have plan unlimited data and can't wait use tether from my phone for this tablet

Yes, not everyone has a phone that can tether. But most Android smartphone and iphone can tether. Even Windows Phone can tether now. It would be hardpressed to think that someone carrying this device does not have a smartphone that can tether.

OMG! That thing is sexy... Shut up and take my money! :)
http://motivpic.com/users-data/pics/1/17/shut-up-and-take-my-money-1f46.jpg

An Ultrabook is about $799~1k, if this Surface comes with this price tag, Microsoft gonna have a bad time.

Definitely. if it's not gonna have any cellular data, it should be priced $500 or less.

That looks like a pure vapor ware announcement. No details on shipping date, price and no chance for a quick hands on? This product must be VERY unfinished then. Even Apple allowed to play with the original iPad although it wasn't available for over 4 months after the announcement. And when Apple will really announce a cheap 7 inch iPad nano for the holiday season, then nobody will speak about the Surface RT anymore. MS should have actually waited until they really have something to show other than renders IMHO.

People at the event are getting to play with it now.

Well, people are getting a hands on as you type. This is more closer to the finish line than you would like to believe. Trust me, Josh (verge) just texted me.

Ok, good to know. when you follow the news here at WPC you get the impression that it is only renders and a nice video...

Ok, my vapor ware comment is still correct. Press wasn't allowed to use the RT device (Pro wasn't even ready for the demos), they only were shown a couple of demos at each booth. Touching and trying yourself: nope. You couldn't even try the cover/keyboard and MS demo staff only showed typing the same sentences all the time. Dictating other words/sentences? Nope. So that really IS all vaporware.

There were people using it at the event.

Anddd... Let the church say..AMEN! lol can't wait to get my hands on one of these!

I love the design but that's all they talked about. They needed this to be a windows 8/Surface event to be on par with Apple. btw it seemed very Apple like this presentation. I would've. Like to see it do something like integrate with windows phone. Maybe I just haven't been following the news enough. What's out there about windows 8 rt?

Yeah, if it would have stolen some of the touchpad ideas...

It looks quite amazing but I suspect some Microsoft partners are going to be miffed and Nokia will probalby be feeling downright betrayed as they have been splitting their time between developing WP8 phones and W8 tablets and it is not like they have the money to waste on R&D. Nokia may be regretting not going with Android now for sure. Though I also wouldn't rule out Nokia coming out with something that will make us forget all about Surface.

Well Nokia just announced a new Symbian phone for the US market because of that MS announcement. SCNR.

The 808 is an expensive, niche device that has been under development for 5 years. The best thing the 808 can do is promote PureView technology for the upcoming Lumia Apollo phones with PureView. Unless Nokia decides to save PureView for Android phones after today's betrayal.

This is in no way a betrayal to Nokia. It's not like Microsoft announced they will begin manufacturing their own Windows Phones. They're just starting to make tablets. We don't even know for sure that Nokia was planning a tablet anyway.

Nokia's top engineer and by extension many others stated months ago he's splitting his time 50/50 on Apollo phone and W8 tablets. Unless Microsoft tipped Nokia to not concentrate on high-end tablets at first because while surface looks unbeatable in the high-end, there will be lots of room in the the low/mid range.

+1...some people like to generate drama fast

Who said MS betrayed Nokia? Gosh what's wrong with people

I still firmly believe that simply because they have manufactured their own tablet, does not mean they aren't challenging their partners to do better. In all honesty I would hope that every single one of them SHOULD rise up to this challenge, if they hope to maintain any future in their business. No room for quitters if you ask me!

That Video has Brandon Foy's signature beats and signature written all over it to me! Anybody else agree?

iPad's cover is no longer "smart"! LOL

Will the cibers come with the surface? Or are they baught separately? Did I miss something?

if the 32gb is priced at $100 cheaper than the iPad, then MS has a winner for sure. Regardless, my Asus Transformer is going on eBay the second i can get one of these.

I'll scream bloody murder at the stock holders' meeting if this thing is cheaper than iPad of similar hardware by $100. This device has much more value than the iPad, and I have an iPad (on the way out to eBay auction). This is something I have been waiting for a long time.

I'll scream bloody murder at the stock holders' meeting if this thing is cheaper than iPad of similar hardware by $100. This device has much more value than the iPad, and I have an iPad (on the way out to eBay auction). This is something I have been waiting for a long time.

There will not be an available price point or date until windows 8 is made official. If they announced a date now that would undermine their partners. But, I'm with the others subsidizing could be a likely avenue. This does help Microsoft keep it's word on all their products being compatible, especially with smart glass on the horizon

They said in the keynote that it would be priced in line with ultrabooks, so probably up around the $800-900 range. A bit steep, but this is a full computer, not a watered down tablet version.

Its not a oversized iphone(iPad)...agreed

I guess I'll be getting the RT version. But I have to admit that I'm really disappointed that it won't be 1080P. 720P is just too average. The new iPad's resolution is just way too hi for this. The Intel version will be 1080P but it'll be too thick. I wanted an RT device with 1080P and thin design.

It really hurts my ego so much as everybody is talking about this badass surface of a tablet and nobody is saying anything about my sexy Lumia 900. Folks this is Windows Phone Central for Christ sake and we gotta be talking about the most sexy windows phone and not some surface(sarcasm). I wouldn't care paying a grand or more for this 'bad boy' with that romantic keyboard. MS please we have waited for far too long and the fanboys are now too anxious to welcome and worship our hero.

I can't wait to get my hands on an Intel version! I have no problem having it priced in line with ultrabooks. It is full Win 8 after all.

I hope Sony and Nokia take note of this tablet and come out with an even better design and with better looks and functionality (a playstation store and xbox in one tablet, wow). A true $800+ tablet PC. I want a true expensive but worth it tablet, one that not everyone can have but that it's very desirable. It will be battling on apple's turf. All the pc/android manufacturers are killing themselves on the sub $800-700 market, they make little and they never get going in the market.

Hopefully the cover is not like those rubber roll-up keyboards! Those are awful :P

Can someone explain every possible way this could be better than a Samsung Series 7 Slate? I was so sure I was gonna get one and now here comes Microsoft to mess up my plans though possibly gor the better... This, my friends, defines bittersweet... Lol..

I have the Samsung series 7 slate and trust me I'm getting one of these the minute they go on sale. You'll have to compare the Surface Pro with the Series 7 slate, they both have core i5 but Surface has the Ivy bridge while Series 7 has the Sandy bridge. Surface has USB 3.0 while Series 7 has 2.0, They both weigh about the same but I think the Surface is thinner (not sure), Surface has 1920 X 1080 (Full HD) while Series 7 has 1366 X 768, Surface has micro SDXC while Series 7 has micro SDHC. Surface has a kick stand, smart cover/keyboard, you get the drill. It just blows away the Series 7 period.

But, does the Surface Pro blend? :)
lol all jokes aside, thanks for the comparison but what I truly want to know at this point is if it has Bluetooth and if a dock with some extra ports (usb, ethernet, vga, hdmi, etc.) will be available...

Yes, there's gonna be bluetooth 4.0. That's one of the minimum hardware requirements for Windows 8 (RT) tablets. I don't know about docks ( I doubt there'll be hence the kick stand)

The keyboard is more valuable than what most of us think. It doubles as a cover. This is a killer feature for me. I currently have a netbook and I can tell you that Surface is my next device. It hits all the right bottons. Keyboard, Office (I'm a student), Xbox live, W8, It can stand on its own. Now all I need to know is battery life and price. If MS also hits the right note with those we have a winner.
This tablet will compete with the iPad feature for feature. Right now it already has the upper hand in terms of value proposition. It is not just for play. You can also work with it. For me that's the real killer.

I sure hope MSFT dont muck this up. So need to stick one in the eye to the fruits and robots

Exactly what kind of softwares aren't you able to run on Windows RT?

Say that - but How much more will you pay for the better specs?

$399.. They will sell a lot then $29 on the smart cover.. FTW
Windows Central Newsletter
Thank you for signing up to Windows Central. You will receive a verification email shortly.
There was a problem. Please refresh the page and try again.