Microsoft's Nokia Lumia 830 gets real with photos and certification in Brazil exposing all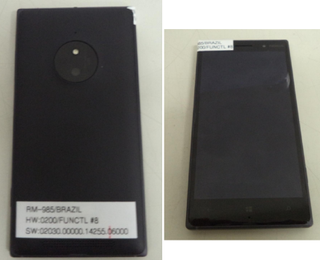 The Lumia 830 is the next upper mid-range devices to come from Nokia, now owned by Microsoft. The device is seen in alleged photos a few weeks ago, along with various bits of information including unique releases for US carriers and a global launch.
Now, the Lumia 830, complete with 'Microsoft Mobile' internal branding, gets caught passing through Brazil's Anatel certification (analogous to the FCC in the US). The phone is all but official now, and so far, it looks to be one interesting phone.
The Lumia 830 measures in at 139.4 mm x 70.7 mm x 8.5 mm, making it relatively thin compared to previous Lumia designs. From the images, we can also see the micro USB charging port is back on top again, near the headphone jack.
The model name is RM-985, though Lumia 830 is confirmed as the commercial release name.
A removal back cover, replaceable battery, and micro SD card are also visible in the accompanying manual.
Unfortunately, since Anatel is like the FCC, the documents do not reveal exact specifications, although there are a few other tidbits gleaned from the photos:
The Lumia 1020-like camera housing is present, suggesting the PureView camera rumor is accurate
'Microsoft Mobile' for the first time is seen on the phone label for Anatel/FCC certification; the phone is still branded 'Nokia' though on the front and presumably for marketing
The Lumia 830 has a dedicated camera button
The Nav bar is hardware based capacitive, not software or on-screen
The Lumia 830 obviously has LTE/4G
Rumored specs of the Lumia 830 include a 4.5 to 4.7 inch display that is at least 720P, though 1080P cannot be ruled out. A Snapdragon 800 or 801 is also likely, although the exact processor speed and on board memory are unknown, possibly dependent on carrier choices.
In the US, Verizon, AT&T, and T-Mobile are all expected to get either the Lumia 830 or some variation. The Lumia 830 may be revealed on September 4 when Microsoft is holds a press event in Berlin pre-IFA, signaling a global launch soon-thereafter. The Lumia 730 is likely to make an appearance in Berlin too.
The Anatel documents can be downloaded through our OneDrive below:
Special thanks to Guilherme M., for the Anatel documents!
Daniel Rubino is the Executive Editor of Windows Central, head reviewer, podcast co-host, and analyst. He has been covering Microsoft here since 2007, back when this site was called WMExperts (and later Windows Phone Central). His interests include Windows, Microsoft Surface, laptops, next-gen computing, and arguing with people on the internet.
Wtf ? A high end ? It's a 8xx series

His exact words were "upper mid range."

What is this steak? "I''ll take mine upper mid please."

Since we're talking steak, I guess a high range phone by Nokia/MM is rare.. I also think my pun was very well done

I usually hate these comments but: +Icon

Your steak joke had tickled me just a little pink. It wasn't to bloody fun which is to say rare.

Daniel says it has a 801 snapdragon that a high end processor

No he doesn't, he said it's possible. I'm pretty sure it won't be higher than an 800 though because it would be really weird if the 830 had a better processor than the 930.

True, but the 830 also comes out 5-6 months after the 930 was announced iirc. My upgrade is in January! Just get me a 20MP preview, a S800 or better, in a 5 inch or less display with all of the glance etc. Features intact. The Icon was almost there. I wonder if the 9xx range will be their >5inch line and the 8xx range will be

The sensor on the back suggest that it's a. 41 MP Camera , which make it really weird since its much better than the 930 camera ....

It's smaller then the camera on the 1020 so it's not 41mp. More like a 27mp Posted via Windows Phone Central App

It's been more than a year sine the 1020 has been launched. They could have figured a way to get the 1020 sensor smaller ( in shape ) but with the exact same specs.
But it's definitely bigger than the 930/1520 camera so I'm excepting this sensor to be better than the 930 sensor

I think the hold up is the co-processor .... A 800+ series with a coprocessor like the 808. and this would be fast and quick. Its really the only major area to improve it other than sensor tweaks.

830 seems to have capactive keys and a camera button im sold!! :D the only 30-series lumia to have impressed me(even if its a leak/rumour)

I dont see the problem with the 830 being the same or better processor than the 930 920 had the Camera, Wireless charging, 720p, large screen, none removable back 820 had the removable back for battery swap and SD card, 480p, slightly smaller screen. Also the 820 ran with the same processor and ram as the 920 If the 830 comes with a 800 and 720p then its a perfect upgrade for the 820. I'd say the pureview is probably going to be 8-13 Mp. That said i would love an 801... we'll have a new flagship by november i'd say anyway... its when the icon and 1520 were shown off so i wouldn't be surprised to see an 805 driven 1530 pop up... I'm also missing the variants that nokia used to do.... this year is a drought of Nokia phones compaired to the last year

I agree. I can't wait for this device since its perfectly balanced between budget friendly and higher end. I just hope AT&T picks it up. I really like the L820 so this phone with Pureview would be a worthy successor.

I would agree; apart from the stupid idea of putting the charging port on top. Makes it a pain when using as a SatNav in a cradle.

I personnally use SatNav in landscape orientation, so charging port on top or bottom does not make any difference to me...

Hope the 1530 has wireless charging, removable back, and a micro SD slot. This 830 is looking pretty good.

1520 have wireless charging and micro sd slot which works with 128 gb cards too. Why would anyone want removable back for a device which can last much longer than other phones on single charge.

Because of the well known battery flaw in Li-ion batteries. Overall battery life decreases over time, eventually making battery life dismal. Replacing the battery addresses this issue, and having a spare battery can be helpful.
Edit: AT&T refused to include wireless charging Qi, or a 32gb option.

I completely get that. I bought a spare battery for my 820 just in case my phone dies on me while I'm going out. and spares are cheap for the 820 ($12).

Get the dc 19 it has 3200 mAh power it charges your phone two times 19$ ! Or the dc 16 (2200) mAh 15$ , or dc 18 (1760) mAh 13$ not sure about the dc-18 price but the dc 19 is definitely worth the 19$

The 800 came out last year, for which the 801 is a drop in replacement. Including an 800 would be an utter failure at this point, not a technical failure, as the differences between both are pretty much neglibable, but a marketing failure. Devices with the 805 are mere weeks away. At that point the 801 will trickle down into mid range devices anyway. If the Lumia 830 is to have a shelf life of more than just a few months, it would be wise to set it on the right track now.

I wouldn't say is. Marketable failure because it might have the 800 processor. Most regular people don't know or care bout that. Posted via Windows Phone Central App

Just looking at smartphone sales numbers in the U.S. should make it obvious that you are wrong. While it is true that many people neither know or care about such things, those same people rarely make smartphone purchasing decisions on their own. Such people ask their techy friends or store reps for advice, and those people DO CARE. I'm the last person to care about the numbers on the spec sheet, but the majority DO, if not directly, then indirectly by listening to recommendations..

Exactly Posted via Windows Phone Central App

That's not what he said exactly. He said EITHER an 801 OR 800.

I think it should be at least a 3 minute delay from opening an article to commenting to allow people an opportunity to read. Reading comprehension is becoming a lost art.

ALpHA.Q.RoUgH, couldn't agree with you more tho :| ugh!

No amount of delay will fix the underlying problem.

You're being optimistic, they won't finish the article in 3 minutes :P

Lumia 820 and 920 also have same processor right? Then it is highly likely that the processor will be the same?

820 and 920 had the same hardware

820 was smaller, lower res screen, no gorilla glass, no qi charing, and less on board storage. So as you see they were quite different.

The 820 did NOT have Qi. It used a Qi shell for wireless charging. The phone did not have Qi out of the box.

In the UK at least, the 820 came with the qi shell out of the box...

820 had QI, micro SD, was smaller, lighter and cheaper. That's why it was a really good phone.

810 had Gorilla Glass oddly enough.

qi charging could be added by changing the 820's housing. and the screen isn't bad. frankly if this this phone had Pureview on the camera the 820 would curb stomp the 920 except in resolution.

Not really , 820 is 480p , 920 is 720p , they don't have the same camera sensor/lens . 820 is 8GB+ SD Card while 920 is 32GB non extensible. Also 820 has 1650 mAh while 920 has 2000 mAh , 820 is amoled , 920 is ips LCD.
They're really different

820 and 920 both had dual core 1.6 GHz processor with 1gb ram. 820 technically has more space its 8 gb internal + 128 gb expandable... Both had 8 mp camera 920 had 8.7 with pureview. Screen size were 4.5 and 4.3inches... So almost identical on hardware part..

Before this leak.. It was rumoured likely to be sd400.. Now sd800 or 801 is likely.. If this is true then it should be called lower high end phone.. Not an upper mid range one.. :P
20MP cam.. Sd800.. 720p/1080p..
I feel it should be having more than 1 gigs of ram..

I don't think so, because if MS release a 830 with those specifications they are killing the 930.

Going off of the 820/920, the 830 will most likely have a Snapdragon 800 but with a 720P screen as the 820/920 had the same processor yet different external components.

for me the 830 will have this specifications that make a difference with the 930: Snapdragon 800 with the same Ghz or less (dependent of each carrier) 720P in resolution 1GB of RAM Wireless charging (dependent of each carrier) A lower battery and of course the 830 haven't 5.1 Dolby Digital audio recording

from the user manual you can see that is has wireless charging.
Page 7 shows the wireless charging area

Mid or high, I've always loved the 800 series. A good combo of great features at a more attractive price. Removable covers and batteries, and SD cards. Arguably, a better phone for many people just due to these facts. I actually would love the USB on the top. I charge on my desk all the time, and the cord coming from the back of my computer always has to do a 180 degree u-turn to plug into the phone. And because of this, the phone rarely sits perpendicular to the bottom table edge. USB on top would totally solve this. I just wish it had headphones on the bottom. Works much better on a desk for the same reasons! Also, I don't know about you guys, but I always put my phone bottom-up in my pocket. Headphones on the bottom make it 1000 times better for plugging on the run for me.

This! USB port on the top and audio jack at the bottom seems so obvious but for some strange reason they are always inverse :/

What's the deal with micro USB on top? 925 was thinner than 920 and it was moved to the top as well. Why can't they be consistent?

I definitely prefer the bottom to the top. On the side was OK also like on the Quantum.

Just as my 822 was at the time, upper/mid-range. Spec wise, the only difference between the 822 & 920 were screen size & resolution I think.

HD screen and microSD make it higend. Lack of microSD makes 930 low end. Additionaly it isn't too large like HTC One. It has too large camera and I don't know if it has OLED or obsolete LCD like HTC.

Me too , its small to be a flagship ....

It is a matter of preference, the 1520 is a niche device not everyone wants a phone bigger than their head :P. Plus there alot of people who find 5" devices still to big, 4.5 to 4.7 is the sweet spot for most people. Hence why the new iPhone has a 4.7inch screen.

I want an 830! But, I want it to be 6 inches with an active stylus. The 830 looks great, though! Super thin. Expandable memory. Replaceable battery. Awesome.

Lol, that's a mini tablet and the 830 is supposed to be mid-high-end lol. It wouldn't make sense if it was better than the 930...

I got my parents 820's and their contract is nearly up... So if this proves almost right then my parents have a new phone.
They don't need a 5" mammoth or 41MP, but equally don't like being left behind with a 630 which wouldn't be an upgrade.
The 8xx really does meet their needs - reasonable specs with a reasonable price tag.

The other iPhone 6 is supposedly a 5.5 incher so I don't think you could use them as your point of reference in size. Besides, didn't Apple say the sweet spot is 3.5" and no bigger? Then they came out with a 4.0".? So don't take Apple's word at face value.

Lol true, i heard from my fellow apple friends "fanatics" cough ( i joked the iPhone 5s was delicate as a whoopee cushion and they didn't speak to me for weeks! Not to mention the looks i got Lol). That it would be no more than 4.7. I just looked into it and apparently there is evidence of a 4.7 phone (iPhone 6) as well as a 5.5" (iPhone air).

5.5" is about as large as I think I'd go next time (like a LG G3 size). If the 830 is 5" and there is an international version, I just might sell my 1520 and get this, I simply can't sit down with the 1520 in the pants pocket of some of my jeans. My wife won't let my whole wardrobe be made of cargo pants. ;)

Haha. The LG G3 running WP would be pretty sweet.

small as in size? i even think a 5" is possible. these are the 930 demensions: 137 mm x 71 mm x 9.8 mm the 830: 139.4 mm x 70.7 mm x 8.5 mm

Exactly! It features a 5 inch 720p display.

indeed, 720p 5" screen + 1gb of ram and snap 800 that is what i think is inside. and if so it will be my next phone, thanks to the removable battery, hardware buttons and micro sd card. also i think it wil be around €350 max €399 vat incl

Exactly, it's not as if they can sell it at €499 like the 820 now that they launched the 930 at that price in the Benelux. Though I would be surprised if it does indeed have an s800/801 since the only major difference with the 930 would be the screen resolution (and microSD...), just like 820-920. I thought the 820 didn't sell well because of this, but... (at least, it disappeared rather quickly from the stores)

I wouldn't pay more than €350 for a new phone

I hope the price is just between $350 and $400.

Even with the slightly longer body, if there are hardware buttons, a 5" screen would seem unlikely.

I measured, and the size is 5". Tk tech news admitted he had been fooled and the info he posted was wrong.

Nothing interesting about this phone

We don't know anything about it yet.

I'd claim the exact opposite. It's exactly what I've been hoping for! A high end SoC (800 or hopelly an 801) paired with a 720p display will make this the fastest and smoothest WP device around, while still consuming less battery power than it's 1080p bretheren. If the battery capacity is the same as the 930, this will be the perfect device.

The battery capacity may be higher than 2420 mAh.

1080p is really a fad on a small screen, you need at least 6" and that's just oversized for a phone, just under a tablet size, which is too big for a mobile

The perfect phone... ahh you can say that again. At least to me anyway, removable battery, SD card, and either a 13MP or 20MP camera. Call me crazy but that to me sounds like the things people complain about missing on high end Nokia phones. This one at 4.7 inches screen size completely accommodates most people. I don't care if they go with the snapdragon 800 or 801 because the difference in both is very very detailed spec that no user will notice. and as the screen is 720P it has much less pixels to carry :) I expect to line up at Tmobile for this baby sometime in for black Friday here in the states!

Gush (a.k.a. completely agree) I'd be perfectly fine with a Snapdragon 800 as well. However, if it does include an 800, many will ask why MS went with a SoC from 2013 instead of what is current. Despite the difference being almost negligable, you can bet we'll see many threads in the forums with people voicing their disapointment. I'd rather we just skip that part. ;-)

And if it's LED -display then 720p allows for Glance (at reasonable prices) as well.

Oh? Why, have you seen it already?

Great start Microsoft Mobile!
Finally well designed and balanced device. Sick of Nokia's bricks (high end) and plastic ugly design (low end).
Next phone: 925 style,with 5 " high resolution screen and SD card.
Ah, also sack most of Nokia's design team.

That's more like a mainstream design... nothing new or different.
At least to me, the "brick" design is one of the most interesting that I've seen since Nokia E71 days. If some designers need to be fired, would be unwise if they're the ones behind the Nokia N8, N9, Lumia 800 and Nokia 920. Or, maybe they deserve a better place to work.

Are you from the same planet as other Lumia users my friend.?? If you are sick of Nokia's design team, then please go n get the new HTC.. Who is stopping you from that???!!!
I should say from all those same looking android sammys, Nokia's Lumia designs looked far better... Thank you design team... You are doing an awesome job like you always do...

LOL Nokia's designs are a million times better than most phone manufacturers. Posted via Windows Phone Central App for Android!

I really need a high hand phone.

I really need a low hand phone.

I'm happy with my over hand phone for the moment.

This is why people come here.

REALLY?! Shit talking to your readers. And when you make a mistake and people point it out, you get all sorts of pissy! LOL

Get the 930 - high "hand"

Back hand phone is where its at

If this has a Snapdragon 800/801, there will be little to no incentive to choose a Lumia 930 over an 830

Maybe the 930 will go cheaper.

The 830 will have a 600 Qualcomm sd ..... U'll. C

S600 is dead brother.....

no qualcomm will release new 6xx cpu

Hyperakid , I it had a 800/801 then the 930/icon will be trash especially if it had a 801!

S600 wasn't ever really a mid range SoC. It was the high end option pre S800, and has been replaced by the latter. (The SGS4? and HTC One M7 used it back in the day)

If its smaller display is in fact 720p then it sort of a waste having a 20mp sensor on a phone thats got a tiny screen this looks like a bad design decision by an Android manufacture.

Are you aware the Lumia 1020 has a 720p 4.5" screen? Lol

That's like saying it's a waste to have a 3in display on my DSLR. ;)

Yes, I really wish my DSLR had a 20" 4K display built in so that the pictures it takes wont go to waste...
/s

This^ I wanna see it. Looks as bad as taking a picture with an iPad.

Since AT&T isn't actually selling the 930, that's fine with me ...

Looking good in black. I do hope its thin. Either this or 730 will be my next phone depending on if it has a dual sim version :)

Looking forward to the 730.

High-end phones don't have Dual-SIM variants.

Yes, they do. Galaxy S5, HTC one etc.

I'm referring to Nokia phones.
Samsung makes a hundred different variants of their newest Galaxy, they're fine to do that.

Very interesting if it has a 1080p 4.7" screen! AND hardware buttons. Looks like a killer to me :)

On screen buttons are bad, I agree, it's like the bottom of the phone is empty

Wow! This Phone looks really great. 20 MP camera!

So it will be a better option than my 930? That's what the rumoured specs' suggest to me :/

Sure looks that way...This phone would actually be a nice upgrade from my 920 if the specs hold up...Although I would prefer a 5 inch or larger screen...The SD card alone makes this an upgrade over the 930 if specs match up.

If the spec list is accurate: 5" 720p screen, SD800/801, 20MP pureview, much thinner, microSD card, removable battery. Even with the lower resolution screen, it seems better than the 930

Yeah that's what I'm thinking. I really like the idea of having a micro SD card and removable battery

It checks every column for me. For now. I just hope there aren't unpleasant surprises at reveal.

If it has a camera that's relatively close to the 102