Microsoft's Panos Panay calls predictions of ending Surface hardware 'tabloid rumor'
By Dan Thorp-Lancaster published
Surface boss Panos Panay smacked down rumors that Microsoft is looking to bow out of the Surface business.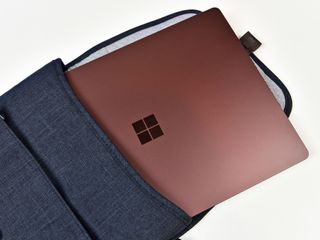 (Image credit: Windows Central)
A recent news story in The Register boldly proclaimed that Microsoft is planning an exit from the Surface business as soon as 2019 — a claim that the publications backed up by speculation from Canalys CEO Steve Brazier and Gianfranco Lanci, corporate president and chief operating officer at Lenovo. Essentially, both executives argued that the business isn't profitable for Microsoft, so they would expect Microsoft to make an exit.
We expressed our own reservations at the time, and now Microsoft's Surface boss, Panos Panay, has chimed in to say the Surface business isn't going anywhere. In a statement to Business Insider, Panay says that a Surface exit is "so far from the truth," calling it the "tabloid rumor of the week." From Business Insider:
An example of Microsoft's focus on the long-term can be seen in its troubles with Surface RT. After the device flopped hard, ending in a $900 million write off for unsold inventory, Microsoft just kept moving forward. "There was no loss of confidence," Panay told Business Insider. "There was a real belief in how we can change the world."
Dan Thorp-Lancaster is the Editor in Chief for Windows Central. He began working with Windows Central as a news writer in 2014 and is obsessed with tech of all sorts. You can follow Dan on Twitter @DthorpL and Instagram @heyitsdtl. Got a hot tip? Send it to daniel.thorp-lancaster@futurenet.com.
That is what I am talking about

Seriously do you guys believe what these guys say?

Lets say they are planning to end it, They most certainly wont say anything until inventory is cleared out and at that point, provide support until warranties expire.

I gave you a plus. Simply because everything they say is just not true indeed. E.g. Mobile first....... Yeah, they are dropping it

Did Panos lie before ? Do you remember when MS kill windows phone ? It is just 1 one month to kill it and they said straight.

I don't believe Panos. They really haven't given any reason to trust them. I've been burned way too many times. After having bought the Surface 1 & 2 and being burned on those, I would not buy another Surface.

I bought , Surface RT, 950XL, 640, Surface Pro 3, Surface Pro 4, Surface Pro 5(2017)......

Well, it is just too bad that you jumped right into first generation devices.... I know quite a few people that jumped too early to the Android vanwagon and got a bitter experience that pushed them to iPhone... I am, glad that I got my Surface Book last year, and YES it is a first generation product as well, but I waited a year to get the 2015 model, only after they fixed all of the early issues.... and after using an office Surface Pro 3 having a great experience with it, I love my Book, even if I have to deal with certain glitches and a very bad Store... I really hope the Surface line continues to exist because right now it is the hardware that is setting the example in innovation and design. They need to step up some aspects of it, but in general as a product, it is great, and what really pushed me into the Surface line, is actully the customer support for countries like mine (not US) because other OEMs are very deficient in that department.

The thing is, Surface devices sell well and other manufacturers follow MS example, when it comes to the Surface brand.

Seriously...dont down vote this guy! Its a legitamate question. I do not have one ounce of faith in what MS says period. The evidence is clear and the history is in plain site. I have pulled back my budget considerably for anything that MS puts out, the X1X included. I will wait and see because I, and many others have been burned before. So kenzibit, I am asking the same question.

TheRealBatman..... Hopefully, hopefully, hopefully, one of those industrial 3D printers Panos team has is printing out parts for a small Surface PC prototype as we speak. 🙏🏽🙏🏽🙏🏽🙏🏽🙏🏽🙏🏽🙏🏽🙏🏽🙏🏽🙏🏽🙏🏽🙏🏽🙏🏽🙏🏽🙏🏽🙏🏽🙏🏽🙏🏽🙏🏽🙏🏽🙏🏽🙏🏽🙏🏽🙏🏽🙏🏽🙏🏽🙏🏽🙏🏽🙏🏽

Good example with Surface RT. But that was Ballmer...

Lol, it was shortly after this article was put out that I got my Surface 2....because they were dedicated to support it. https://www.pcworld.com/article/2049054/microsoft-commits-to-many-more-w...

@BDBALL....don't forget all the bullshit that came from Nadella reagarding windows phone too....if they dont make it we will, Then we are going to make phones for the "fans", then we are going to make enterprise phones...to Yeah....we were lying all along and we are Screwing over our loyal users! I don't take anything that comes from the MS camp seriously.

I get why you wouldn't trust anything Microsoft says, but on the flip side why would you give any merit to the things that CEOs from other companies say about Microsoft? Do you really think those guys have seen the books for Microsoft? Do they know if the line is profitable or not? Has Microsoft made that public? Or do you think they just share that information with their competitors? It's in their best interest to cast doubt on the future of the Surface line, so it may be foolish to believe what Microsoft says but it's even more foolish to believe what the other guys say.

@vincentwansink, You responding to me? If so, the CEO of said company being HP, has considerable Merit. since, at this time, they were one of only two games in town for windows 10 mobile....Microsoft themselves, never spent any money in the past 18 months for devices for this, and "left it" to OEMS (HP). Then, HP has a very compelling device, with promise to continue to support windows 10 mobile....but MS decides to shitcann it. HP's CEO has LOTS of merit in this conversation.

If the CEO of HP has not seen Microsoft's financial statements then his statements are completely meaningless. That "very compelling" HP device does not give them a crystal ball to know whether or not MS is making money with the Surface line and that's what it comes down to.

And it was Ballmer's decision to continue forward and reiterate even after the write down.

They didn't continue forward with Windows RT though. They killed it.

It would seem that Windows RT is returning in the form of Windows on ARM and Windows10S. The big downsides to RT were no Modern Office (which crippled the app store) and lack of an option for legacy support. Many people might not have needed it or slowly worked away from it, but the option was needed (like in 10S) for those who have to have it.

Who cares what he says? They also said they would ALWAYS make devices for mobile. They have lied enough to not trust them in any word they say.

Well, the F5 button is always under Nadella's finger.

That's exactly what makes Microsoft a bad partner for consumers, enterprise and OEM's. And thus Microsoft is on its way to become irrelevant.

With all respect to Panos, if Nadella decides to kill the Surface brand it's done. Just like what happened to mobile, when terry reaffirmed the commitment to mobile.

It's not that simple. Satya can't just wave his hand and cut a product that is actually making money for MS. He still has to consult the Board, before decisions like that are made. I doubt the Board will look kindly at such a decision. As such, Satya would find himself without a job. Which brings up another point, The decision to stop development of Windows 10 Mobile and production of devices for that particular OS wasn't just his decision, either. He may have wanted or agreed that no further production should be done, but the Board had to be involved or at least informed of such decisions, with substantiated proof for the decision. The financial books showing sales and lack of developer interest was enough. The Surface /PC is another story. Windows 10 may still have a long way to go with UWP apps, but it's not losing a ton of support from developers in the way Mobile has/is.

calm down. microsoft is not going anywhere.

@onysi, NOPE....you are right, they are going NOWHERE. But just turning into the next version of IBM.

"I understand that you are hearing concerns from certain partners about Microsoft's commitment to the mobile space. Let me be very clear: We are committed to deliver Windows 10 on mobile devices with small screen running ARM processors. We are currently in development of our next generation products and I wanted to reconfirm our commitment to Windows 10 Mobile. We believe in this product's value to business customers and it is our intention to support the Windows 10 Mobile platform for many years. We have a device roadmap to support that from Microsoft as well as our OEM partners who will also be selling an expanded lineup of phone devices based on this platform." -Terry Myerson, April 27th 2016-

@remmo, this reaffirms windows 10 mobile more than what panos stated for surface. that was a strong statement.

@remmo you just absolutely nailed it.

I hate to admit it, but we have very many reasons to be skeptical.
.....
The correct thing for MS to do now is make it their mission to prove us, and the world, wrong.

With Surface Phone of course.

Lol. Yes, with a Surface Phone. Literally in my dreams.. But, I love dreaming, because sometimes they come true.. Actually, they come true more often than not, so that alone is hope enough for me.

i really, really want a Surface "Phone" with a foldable screen and an attachable keyboard, that can replace my 650, my Lenovo 2in1, and my iPad. I don't mind putting all these in my pocket / bag, but it'd be an innovative device, that could maybe convince some consumers and OEMs, that it's worth it to invest in these kind of Windows devices. In my wildest dreams, that device is also a smart watch, that I can just wrap around my wrist if I want to, but that part is still a thousand light years away 😁

Terry Myerson responds to remmo: LOL!!

I bet anything the next gen devices he was talking about in 2016 was the Surface Phone and Satya already killed that project.

We need someone to write an article that lists all of these broken promises. People in high spots in the media need to start calling MS out for their BS

What Nadella's brain not getting and Apple and Google are getting that with BYOD as more people use iPhone/Android, more will use MacBook/Chrome as they integrate better. So, next will be cortana which will be useless as mobile device inetegrate with Siri/Google Now. Next will be OneDrive as people will be using iCloud or Google drive. After after that it will be office as most of them will be OK with google doc and so on. In the end I see Microsoft will be backend compony selling servers cloud data to other large compony. I will give windows 10 - 10 years before it ends beging personal OS and will endup in server environment only.

Microsoft isn't running for the exits ? Seriously ? What about Windows Mobile 6 ? Windows Phone 7 ? Windows Phone 8 ? Windows RT ? Microsoft Bands ? Groove Music ? And finally Windows Mobile 10 ?

I don't think Windows Mobile 6,7, and 8 count as exits because those are older versions and they upgraded to a new version. It'd be like saying Windows 95 through Vista was an exit or that iOS 1-9 were exits for Apple.

@generalheed, Bad Comparison. The windows editions, and ios editions are progressions of the previous version. You could continue to use older hardware with the new Version. WIth windows 6.5, 7, 8 and then 10 you HAD to buy new hardware every time....thats 2 years device support each time.....TERRIBLE. That was the nail in the coffin for windows phone / mobile...each consecutive version, dropped more and more users because of BEING FORCED to buy new hardware. IOS has a 5 year support cycle. as well as any macbook computer. Even windows 10 (non mobile) is only less than two years since I noticed they are not supporting builds that are windows 10 builds...not even 2 years old. Talk about TRYING TO DRIVE USERS AWAY.

IPhone only has a five year policy if you want a ****** experience. Through my wife's iPhone I can tell you that any upgrade to iOS past two years pretty much tanks the phone. It "works" but the experience is degraded that you go upgrade anyway. Android phone rarely even make it two years with official OEM uogrades, so the support Google gives is moot if the OEM don't implement.

It's F u c king better than the crap windows put out...no apps, no wearable, no accessories..NOTHING...so try again! 5 years of support with all the apps, etc that you can do with iphone its worth ten times what crap you get with windoh's mobile.

I've never had an app issue, and in fact it is almost an identical load between my 950 and my Nexus 7 tablet... but that is a personal use scenario thing. As to wearables and accessories, um, okay. The industry standards are used. I can pick up any USB-C accessory and use it with my 950. I can use and Miracast device to stream media from it. Any bluetooth accessory work (headphones, headset, car, etc.). I can use any fitbit or Garmin than I want and get full use of them. You are right, I don't have a huge catalog of proprietary accessories that I get charged a fortune for, but I am hardly lacking in accessories. I use my 950 on a daily basis and have used Continuum quite a lot, scream all you want about your iPhone, but at least Cortana understands me when I ask for things.

well, Android do this normaly. Few phones get one new version, rare two and that's max. Even Google own stuff. So this is not issue for me as long as reasonable sw compatibility is there. And it was issue only between 6.5 and 7.

I'm not sure how you got abandoned by WP7-8, W10M, or Windows RT. All of those ran apps that are still useable on current hardware. Maybe you can grouse about a few nonUWP apps from WP era not going over to W10 (which will the backbone of any future cellular PC), but I would say that is a small minority. So far I got two years out of each of those generations of devices and never had to rebuild a library. The only "screw you, start over" moment (a la Apple going from System9-OSX) was WM6.5 to WP7.

WRONG @sporosarcina.....install windows 8 phone on a 900.....NOPE...can't, Install windows 10 mobile on a 1020...NOPE cant. WGAF if apps work (what few crappy apps there were), if you have to buy NEW HARDWARE just to use it....so WRONG there....

Never said the Os was updated, expecting a new OS on two year old hardware is fine, but most people change hardware that often or more. I said the apps have been consistent... But I know, reading is hard when you are screaming at the screen.

Yeah...I know...maybe you should try it sometime since you cannot comprehend what I am saying. stop fanboying out

No, you said I needed to buy new hardware. No, the apps have worked throughout the sequence since WP7 and W8 so the experience is consistent. If you are buying a new phone every couple of years, the transition was seamless. Yeah, if you bought a Lumia900 in the twilight of WP7 you might have felt screwed, but then again you were kind of dumb since everyone knew it wasn't upgrading. I bought a Focus, 920, 1020, and 950 and have never felt cheated, I get two years out of the phone (I replaced the 920 with a 1020 when I broke the 920 after a year and a half), buy a new one, the apps all load, they are the same apps on my W10 PCs and the experience is consistent. You don't like MS, fine, but the 525 I have at home still works fine. In contrast Apple forces upgrades to even keep basic functionality. I can still access new UWP on my older phones even with older OS versions.

Again when the 900 came out first..NO ONE knew windows 7 would be shitcanned for 8. stop talking out of your ass. please... I bought an HTC running 6.5....fair enough...that was not getting updated to 7 because of no touchscreen. but 3 in 4 years...TERRIBLE. JOKE of a company.. too bad your fanboy eyes cannot see it for what it really is! the 800 was released in late 2011, and not available in canada until 2012. so 2012, to 2016 when windows 10 was really shitcanned...fanboys will argue otherwise...but sorry...it was.....thats 4 reboots in 5 years really if you want to count 6.5. It's a JOKE....

Then you weren't paying attention when the Lumia 900 was released. It was painfully obvious to most early adopters that it was not upgrading. All of the tech discussions were about the change in kernel design between WP7 and WP8 at the time and low level kernel redesigns mean no upgrade. Every group reported WP8 to launch late 2012 and that was two years post launch WP7, right in line with the then normal two year upgrade cycle for the hardware. Of course Nokia wouldn't shoot itself in the foot and talk about the 900 lack of upgrade, but if you can't connect the dots that is more your issue. I don't know any WP7 early adopters who got burned.

In the US, the WP7 launch was November 2010. The launch of WP8 was November 2012. I got a Focus on launch and a 920 on launch right in a normal 2 year cycle. So you couldn't read the tech blogs, or connect a to b, that doesn't mean Microsoft was mean to you, you just weren't a savvy consumer. Everyone discussing the WP7 to WP8 transition at the time talked about how an upgrade would be impractical and the idea of WP7.8 was already floating by summer 2012.

On my HTC 8X I upgraded from WP8 to WP8.1, on my Lumia 830 I upgraded from WP8.1 to W10M. Of course there were breaks, WM6.x to WP7 was a no no, then WP7 devices couldn't upgrade to WP8, but most apps from WP7 ran on WP8. And on the upgrade/update path Android doesn't do better, on Android you might receive a few patches during the first two years of a device but rarely an upgrade to the new Android version. On Android, OEMs want you to buy a new phone, so they don't want to give everything for free on a phone they already made their money on.

In Surface business. You are in a wrong article. -_- The whole article is about Surface line of hardware.

Not sure... I think MS may be heading out of the business just my personal thoughts... The Surface Pro was a pretty weak refresh... But, I guess we'll see don't they have an event coming up later this month that Panos Panay is supposed to be speaking at? I guess maybe starting later this month/fall next year will probably tell you about MS's commitment to the Surface line...

Not sure...you have no clue..haha

It was a perfectly fine refresh of a very mature design.

For me increasing the battery life and getting rid of the fan on the i5 version is pretty darn good for a refresh.

Everyone was decrying the lack of USB-C and TB3 on it. This is such a red herring, most tablets with USB-C are not TB3 and Intel realized the error of their ways in TB3 implementation after the SP came out. I can almost guarentee the SP 2018 will have it (at least on the higher end, does an m3 need it).

The tip off should have been that the comments are coming from folks at Lenovo. Lenovo makes some nice products but they are shady as all get out and have been for the past few years.

Is every article going to be filled with whiny fanboys in the comments section?

Hopefully, yes. I love them!!

It's getting old really fast having to read through the whinefest and conspiracy theories

Yes. My comments will keep coming until WM returns... I been 110% positive and ultimately naively I hoping for the future that MS told us to expect... So yeah, you'll be seing A LOT fanboy comments

Nadella has converted me!!! from MS fan to whiny fanboy.

@SeeVuPlay, Nadella has converted me from LOYAL microsoft user, to VERY LOYAL APPLE USER. I am just waiting until after christmas to ditch my two dell laptops with two new macbooks and an Imac. I am not a big fan of MacOS, but you know what? At least it will be supported by Apple For YEARS....not months like this company of clowns!

Yet all these VERY LOYAL APPLE/android users feel the need to take the time to come over her and do nothing but complain or gush about their favorite toy.

YEP these NEW APPLE users were windows users until very recently since microsoft gives two flying ***** about consumer. Favorite, NOPE...but it works...more than I can say for this peice of **** windows consumer system that we have now!

Shocking how I have no problems in my day to day life both professionally and personally with my "dead" 950.

Indeed. Premature people looking for attention.

Then be sure to find an Apple site as well to spend your time.

Funny. A very similar statement was made about Windows Mobile. They said they were in it for the long haul and not the numbers.

Here is an article showing that claim to commitment. https://www.pcworld.com/article/2947705/windows-phone-os/nadella-microso...

What's the similarity with W10M? None. Get over it and move on.

Hoekie....I remember when I was that guy (you at present). You'll learn though....

How is Microsoft claiming to be dedicated to a product then killing it soon after related to Microsoft claiming to be dedicated to a product? How are they not similar?

Because Fanboys are blind and cannot see the truth for what it is. They are the "my way or the highway" type person. Apple and google are "evil" so I MUST DEFEND EVERYTHING MICROSOFT DOES. Very narrow minded and silly. What has MS done for you PERSONALLY? NOTHING....move on to a supported platform. Microsoft is just as, if not, MORE EVIL than the other two...They just go about the shade in private. I.E. we are enterprise focused so we will buy linked in to provide business focus to our users....The reality...they want to sell the PERSONAL DATA on LinkedIn.....If you think otherwise....i have nice beachfront property in the arctic with palm trees, warm waters, and no snow I will sell you.

Good lord, do you think Apple or Google are any different? You need to calm down, you'll have a coronary. You don't like MS, cool, don't use it. Why you feel the need to scream on a discussion about MS and nothing to do with Apple is beyond me. My wife has an iPhone, but she has never foamed at the mouth like you.

I am calm....after wasting as much ******* money as I have on microsoft....via devices, services, games etc....you would be like that too!

Dude I've had a personal PC since the early 90s and an iteration of the Windows Mobile idea since the PPC (Jornada 525). I don't just see any waste in my purchases. I have gotten years of use out of each device, and from PPC to WM6.5 then from WP7-now the apps and other things have carried from one iteration to the next, no waste IMO. I got service out of my Zune for a number of years and it only stopped working with Music Pass a year or so ago. My music is still there in my onedrive, the stuff I own, and it plays on my zune, any old WP7 device and devices before and after that. So they killed Groove, I didn't own those songs anyway, just rebuild (which they are providing a transition tool) to Spotify (but I decided I don't need an offline premium service so no big loss). My games from my first PC still work (with a few exceptions) on my current gaming rig... just not seeing the rampant waste.

Dude...my first PC's were a vic 20, a TRS 80 and a commadore 128. Point? I don't see waste in my purchases either...I am afraid if I do blow my cash on macbooks im going to regret it, but at the same time...I dont' want to HAVE to bail on MS since they are cutting back all the consumer focused items I found compelling with them. SIMPLE.

There you go. Panos Panay is a man I respect, a man with a vision, an ethic, and who brings results.

He does bring results.. He does.

Until the Nadella and the board says, "No more..."

yeah. Panos is solid. also authentic.

While nice, the problem, is that like with any team from Microsoft, they have no idea when cancellation can happen. For all know, Staya can wake up from the bad side of the bed one day, someone from Surface team he doesn't like says Hi to him, and he cancels Surface all together.

If they did, then why Groove released new features and improvements to Groove Music Pass a few weeks before being cancelled? Why did Windows 10 Mobile team worked on a multitude of features in the eraly days when the phone was not selling well? Why enterprise contract were signed if they knew it would be cancelled? Did you forget Microsoft comments on fully supporting Windows 10 Mobile? They weren't from anyone. And they got the surprised ressource cut, limiting to just basic support and security updates. Same here. Satya has all the reasons to cancel the Surface line with full support from the board of directors and investors. The only thread that holds Surface is the market potential, and potential return on investement being high (kinda like Tesla, where they burn money like crazy, but get mass amount of money from investors keeping the company operational, as they all see Tesla being the next GM, and bring billions in profits). Simialrly as Twitter and Facebook. All is based on potential. But it is just that, potential, and Microsoft can cancel it due to the financial impact of the devices.

Buzz, Glass, Ping, etc. All platforms have cancelled projects or services.

whoa! That's a relief. :) I am liking what's been happening in past two three days. Softies saying it out loud and clear. :) Belifiore saying its over for WM and accepting they failed. Panos saying, screw you, we are in for good. :)

If there are no Windows Phone from OEMs, we make them... Remember who said that? So it's very difficult to believe in MS in these days and the Surface getting canceled could be real...

To quote from Michael Allison from MSPU:
"From my perspective, it's just competitors ****-talking another competitor. Surface may shut down in 2019, or it may not, but that's neither here nor there. There's no special knowledge from the analysts etc. As per Windows phone, everyone knew it was dead by 2016,and the memo confirming it was circulated in 2017. So. Two different scenarios."
That sums it up.

You mean like you supported Windows Phone? Do anyone really believe anything coming Nadellasoft any more?

And Nadella said "Cloud first, mobile first" and "we are committed to mobile"...

To be fair, he didn't say Windows Mobile.

I would say he has actually followed this vision statement. The support by MS of all mobile platforms is there, which is very different than the days of WP7.

Monica Lewinski's blue dress was a "tabloid rumor" too. Then the DNA results came in. Panos is unlikely to confirm anything like that. They decided to abandon W10M development over a year ago, but only now acknowledged it.

Colour me sceptical, but this is the same company who were "firmly committed" to phones, kinect, wearables and groove....until they weren't. The problem Microsoft faces is a toxic mix of poor consumer confidence, a penchant for telling lies, a lack of trust and a broken belief system. The only have themselves to blame for this. We've been loyal. They haven't. Microsoft have literally zero staying power. Apple did not have an instant win with the watch, but they knew it was worth gritting in and powering on. Google stumbled frequently with Android but kept moving forward. Amazon crashed with the Fire range of hardware but knew it was worth sticking with it. The majority of people who visit sites like Windows Central on a frequent basis are the same people who have seen first hand how quickly MS will kill a product or service, even after publicly supporting it just weeks or months earlier. Panos wouldn't be the first MS exec to say "hey, we're all in on these products! You should keep buying them" and then kill the whole thing off 5 minutes later. I like Microsoft. I like the company, the devices and the software. I don't own a Chromebook or a Mac or an Android phone. I'm 100% all in on Microsoft. I just wish they were the same with me :(

It's just pathetic.. WP could've worked out fine if managed by another company.. Well said.

I have to agree. And as for mobile I'll hang out till 2019 and see what happens. Who know how the wind will blow by then....

I have to agree. And as for mobile I'll hang out till 2019 and see what happens. Who know how the wind will blow by then....

@TheRealBatman I'm in exactly the same boat as you. For better or worse I'm going to keep using my Lumia 950 until November 2019 (assuming it doesn't totally die on me). It'll be exactly 4 years old at that point. If MS don't have a single new thing to move onto by then I guess I'll be forced on to a new platform

Actually I'm in the market for an x3 and looking to spend no more than 200.00 for if not ill grab a 4s. The newer chip and battery should hold me over.

Also the new outlook features for android and ios have always been and still are on wm and Skype just got new not icons. So they are still getting updates mostly due to uwp

That's exactly why WP fail. Many people want it cheap. No offence bro.

I spent $20 on a new battery for my 950 and don't plan to change out anytime soon. No need to, only the flagships come close to the feature set on the 950 and only the Note offers anything new (but a pen on that screen is wasted). My UWP are fine and I don't have an app problem.

With 24 months since the surface book and band and 950 (same event). I expect new hardware to be a big event in the spring. Reintroducing mobile as a new category.

I agree here too....check my posting history! I have been defending MS up until last year when I started getting cautious, but I was one of those who always said "wish these whiners would just go somewhere else". and now, Im part of the whiny chorus....Why? for reasons you stated!!

Microsoft is not done making pocket devices running Windows. Stop with the bs already. They are rearanging Windows architecturaly to run on ARM with an appropriate UI for different screen resolutions and input types, then probably will release a Surface Hero device next year. Are you retarded that you just cannot stop talking bs about a W10M. Who gives two sh*ts about how the mobile version of Windows is called? Of course they will focus all their engineering power into this rearangement of Windows instead of pushing mobile ONLY OS that was W10M. Noone has abandoned you. Daniel, tell them, please, cause I am sick of noobs already!

Okay, I agree with you, that they are working on Mobile and at some point will release hardware.....but then I think, they'll just kill it in a year anyways so Im not going to bother.

How will this "hero" device fix the lack of apps? No way they will create another smartphone platform, unless they have something totally revolutionary. That ship has sailed. Didn't they constantly say W10M and W10 were the same thing? I know Daniel argued this constantly when it launched. Are you going to believe then this time?

I think they're more inclined to launch the Surface Dishwasher than a new mobile device. But hey, you keep drinking that koolaid man, maybe you're right.

MS made not be done making pockets devices but most user and OEM's are done.

All these rumors for about 2 years now of some magic device and nothing to show for it. I suspect Surface Phone was a thing but Satya has since killed it. Joe's stament was pretty clear about no new devices

Ok, let me ask you one question when "Joe's stament was pretty clear about no new devices". Because obviously you read, but cannot think: What exactly will Panos Panay and his HARDWARE team of HARDWARE engineers will do in the next 5-10 years with their careers? They are going to make incremental updates on their laptop and tablet? I don't think so.

Until Nadella rule in Microsoft and all HE did for last couple years, i cant already trust to they words...even its good words. I personally hope they support, develop and improve "Surface" products, devices

Hmmmm.... Yet, what private company (that happens to be an OEM) they could sell off to and doesn't have to answer to stock holders themselves? Just saying... Ending The Surface Division and Selling it off are 2 different things.

I have multiple point of views on the whole WP and Surface situation: 1- MS can't talk BS that they tried their best. They didn't. They cancelled devices with something innovative. Didn't release any new devices when desperately needed. Deliberatley cut off features on being released devices (check leaked ads of lumia 950). And worst, they totally cut off W10M development (nothing for over 2 years now on OS or apps). It's like only 1 developer is working on each app (on his free Sundays). Look at Movies & TV, To-Do, Outlook, Edge, File Explorer, Skype. Progress is EXTREMELY slow. Meanwhile they've developers hardly working on iOS and Android. Would the share of W10M increase if they had invested like they are on Windows 10, Cloud and XBOX? Obviously. But they didn't. 2- It's a fact that they were lacking in the OS for mobile. Though they could easily have invested on it, but maybe the heads had the idea that instead of investing on 5%, they should focus on first fixing the damn OS, so that they could decide freely about the device type without compromising features/rewriting everything. Is this bad? No. I think it's a totally fine strategy, only if the really want to do what they couldn't (release a 5" device with all the pending features we were expecting for W10M, and not just target tablets with Windows Core OS). 3- Is Surface important for MS? I think yes. Surface is actually important for Nadella. The purpose is to render a product, incorporating their research and demostrating a specific use of Windows. I'm almost certain MS will put McLaren's 3D touch in their phonish device (if they realse one), as that and the Reveal Highlight of Fluent Design are like made for oneanother. And if they don't, they'd be one of the biggest fools in tech. 4- So MS did/doing fine? No. They could've invested in W10M even if they had other plans. It would've: saved their repo; we wouldn't be frustrated right now; last 2 years would've been in peace; developers would still consider the platform for MS efforts; MS could've keep making CShell in the background for new devices. And even now, if they don't come up with a new device after achieving their goals of Windows Core OS, and don't put the mobile features we were waiting for (night light, fluent design, ink workspace, myPeople etc), then why did they bother with all the effort?

Hoe long did they deny killing windows phone/mobile, after they actually did it?

Hey what is that Surface case??? Forget these rumors. I want that denim case!!

...and ??? Does nobody remember Mr "Hit Refresh" talking about bringing new phone hardware if the OEM didn't build new Windows Mobile devices? or How he talked about bringing budget, enthsusiast and business mobile phone devices?

They might not be planning an exit, but the risk is that it becomes a selffulfilling prophecy now that people don't trust statements like this anymore. And MS can blame themselves. Is Windows Phone here to stay? Satya Nadella says 'Absolutely'

Kill me, but I don't trust him a single word he says. Anything's possible under Nutella.

I call BS on the debunk. Satya's annoying decisions only make sense if MS plans to eventually exit the consumer facing segment of their business. No one can be stupid enough in this day and age to think MS has a viable ecosystem to support future consumer endevours. Xbox is the closest and will probably be the last consumer dvision for MS but eventually Satya will can or sell it too.

If I were Panos, I'd be updating my LinkedIn profile and sending connection requests. The in-fighting at this company is insane and lays waste to so many great ideas! Microsoft having to kind of issue a statement to deny that a flagship product is about to be stopped, a mere couple of months after the launch of a brand new set of products is PR nightmare territory and is the most headlines that the Surface has gotten in some time since the dull Surface Pro 2017 and the weirdly targeted Surface Laptop. MS is spending big to promote the Surface laptop currently, going into the holiday season, even as it chops the legs off of Windows Mobile and Consumer services like Groove. There was also the incident were Nadella was evidently not told the whole truth about the Intel CPU issues affecting the Surface pro 4 by the product team, and was then embarassed in public in front of Lenovo's CEO. I doubt he's forgotten that. To me, the very obvious arc of strategy at MS is to stop embarassingly aping Apple in the consucmer space as they have tried to do these last few years with the MS Stores, phone and laptop strategies and get back to what they know, retrenching, which is business dominance and Cloud services which are device agnostic. These markets offer huge growth and make shareholders smile far more than tricky hardware markets with high R&D, huge marketing costs, high unpredictability (RROD, Surface return and failure rates, Xbox One Flops) and fickle, brand conscious consumers. The profits simply don't support that for MS as they don't enjoy the economies of scale that for example Apple do due to the lower volumes. Plus when you consider what people generally feel about Windows and Microsoft, outside of Microsoft itself not that many people care to want them to succeed. Developers certainly don't as MS keep upending the apple cart and altering their approach as each one fails to gather any momentum, which is a guaranteed way of ******* them off. How many people are buying the Surface Studio exactly? Apple has also been doing this far longer than MS and does have a full and total commitment to the market, they aren't going to exit it overnight. Microsoft has a history of dumping business and consumer stuff like a hot potato and at various times in the Surface's life, it has been open to speculation that it's about to be dropped. Xbox, although having a rabidly loyal support base lacks exclusive titles even for their new product launch and could quite easily just turn into a Windows gaming service which keeps the software side of things and dumps the dedicated hardware besides the iconic controllers. You can act surprised when it comes to pass, but in reality, this is perfectly obvious looking at MS's actions recently. The only thing which might change this is a new CEO.

When they are putting out statements they are not cancelling a product, You know its on the chopping block.

Sorry Panos, because of AWFUL communication from Microsoft, disrespectful communication, no communication and lack of empathy for your loyal customers, these rumours are being fueled. If you think that a minority cannot harm MS then think again. Treat customers right.

They all say this before shelving products.

Can't believe them anymore. To many abandoned services and devices in thier wake.

Nope, don't believe it. They said the same thing about W10M two years ago.

Yeah just like MS kept denying the W10M death rumors for years.

Microsoft isn't running for the exits, Panay said. Instead, the company is in hardware for the long haul(BUT COMPANY REFUSES TO BUILD A MOBILE DEVICE and let mobile bleed to death, a slow and painful death), and Surface isn't going anywhere, he said. In part that's because for Microsoft the Surface business is more important than selling hardware(YET THEY KILL A MOBILE DEVICE CITING LACK OF REASONABLE NUMBERS, DID PANOY FORGET HOW HE PRESENTED 950 AND THE NEGLECT SHOWN TO IT THEREAFTER), he said. Improvements Microsoft has made to the Surface devices have often led to similar improvements across the entire PC market, he said. For example, as Microsoft has improved the speed and accuracy of its stylus, Surface Pen, that code has made its way back into Windows 10, improving the experience of using a stylus on PCs from other manufacturers(SO WITH NO HARDWARE PLAY IN MOBILE, EVEN SOFTWARE ENHANCEMENTS RELATED TO MOBILE ARE NOT A FOCUS? OR ATLEAST SOFTWARE TO SUPPORT W10 BASED MOBILE HARDWARE IS NOT THERE, SO MS WILL BRING IN MORE N MORE SUPPORT FOR IOS AND ANDROID).

I agree with Panos when he said that the Surface line is very important for Microsoft. And I will add that also it was Windows Mobile. For the same reason they just killed Windows Mobile they will ended killing at least the Surface Pro: Lack of apps. Who wants a mobile device like the Surface Pro without essential and every day used apps? I work for a medical transportation business, and each vehicle has three different devices: an iPad, an Android phone and a cell phone/radio. Why? Because they are apps available for iOS and Android that can be used to run the business. Can the company that I work for replace the iPads for Surfaces? Never. The apps are not there.
Probably the other Surface products (Studio, Laptop) will survive longer, but I don't see the Surface Pro surviving. The way to revive the Windows Mobile or a Surface Mobile was allowing the Android subsystem in it and letting people install Android apps. And obviously MS was not going to allow that, so they killed Windows Mobile and they will have to do the same with Surface Pro.
I was waiting to the end of October to replace my 2 years old Lumia 950, depending on if MS would announce a Surface Phone/Mobile. But just now I am replacing my phone sooner. I am doing the same as Bill Gates. I will miss some Windows Mobile features, but it is nothing I can do.

A couple of years ago they were assuring that windows mobile is here to stay and will be supported.

I just posted this same comment. It was my first thought when I read the article. Having said that, I do NOT think they are abandoning Surface. However, I DO believe that the Microsoft Stores may be on the chopping block soon. With Nadella's desire to refocus the company and retreat a bit from consumer-facing products, stores make less and less sense. Especially since Online shopping and the Amazon phenomenon was born. Why are they wasting all this money on brick and mortar stores in malls? I'm sure they're asking themselves that question

If I was still on Windows 10 mobile, I would ditch right NOW. Because next week there will be an article here stating NO MORE SECRUITY patches, etc coming....why use an unsecure phone JUST because you have some personal vendetta against apple and google. that is a very narrow minded attitude.

Hell that would have been a year more of security patches than most Androids (which have to be updated by the OEM). However, I don't think this will happen and you can't show me anything out there in Android or Apple land with better features for less than $700-1000. Wireless charging, iris recognition, great camera, ultrahigh res AMOLED, continuum, etc. are already there, the UWP (most of my apps now) get updated regularly and I do get OS/firmware updates on a regular basis... go cry in your corner and spend a grand on the newest iPhone with features from three or five years ago.

I will spend a grand on a new iphone have all the apps of the present and future, unlike the crappy windows mobile system which is stuck sitting at a desk in continuum....whats the point of owning a PHONE if you can't use it on the move? continuum is a very DUMB feature.

What in the world are you apoplectic about now. Continuum can be used at a desk or wirelessly for a desktop like environment (keyboard and mouse entry) and then unplug it and it is a phone. Do you even know how Windows 10 works?

if microsoft abandons the surface line, they are abandoning one of the biggest things that raise brand awareness amongst the newer generation.

Didn't they say that about Windows Mobile just last year? Having said that, I do NOT think they are abandoning Surface. However, I DO believe that the Microsoft Stores may be on the chopping block soon. With Nadella's desire to refocus the company and retreat a bit from consumer-facing products, stores make less and less sense. Especially since Online shopping and the Amazon phenomenon was born. Why are they wasting all this money on brick and mortar stores in malls? I'm sure they're asking themselves that question

And we should believe anything that anyone at Microsoft says, exactly why?

This is NOTHING TO DO WITH WINDOWS MOBILE!!!! It doesn't matter if they leave hardware or not Windows 10 OS is ubiquitous across the planet!!! Use your Surface device till it breaks, then buy something else! Buying a Surface device is NOTHING LIKE buying into their mobile system Tablet/Laptop/Desktop OS isn't going anywhere.

Are you sure Jason Ross2? I am having a very hard time believing anything from them. I would hope so, but......YOU JUST DON'T know. I do love my dell, and I get hasty after reading all this crap about MS. I don't want to give up my dell devices...but They make it hard to stay on Windows.

Glad to here it. Now, when are we going to see surface phone?

Well that seals it then. A MS denial is a guarantee that the exact reverse will happen. If this fellow reckons that Surface hardware is assured can he have a word with Nutella and the offsider who just bought android phones? Seriously, these blokes are worse for MS than russian hackers were for US democracy.

It's off topic, but this comments section is buzzing about windows mobile and windows phone. So, I'm gonna share my thoughts. First, Microsoft started talking about windows mobile no longer being their focus, after, they started talking about pocket computers. Mobile computers(running full windows10) that also make phone calls. I think they are trying to create a new hardware category, that combines smart phones, tables and pc's into a single device. That approach would be consistent with Nadella's statement that consumers no longer respect tradition, only innovation. https://www.youtube.com/watch?v=m16032oJlM0.

That is where most people who aren't screaming their heads off think it is heading. W8RT is being reborn as WoA (with legacy support), Continuum is being reborn as CShell, and UWP are slowly taking over the legacy gap (honest, other than games I hardly use any Win32 programs anymore).

Ah, yes, the "refresh everything yet again" strategy.

would that not be WRT is windows 10S

Happy to hear that, but can we trust anything Microsoft says any more? "Mobile First", comes to mind.

Microsoft is no longer the giant it used to be, and apparently is digging its own grave. Recent statements made by high executives confirm the rumors were true. Now the global perception about the company has reached the lowest level. It seems the company is desperately looking to draw the attention of the audience without a defined plan of action. The company has focused its efforts in the future of the cloud and 3D business based on other platforms like android and iOS, leaving behind its own platform and what is trending in today business. Since the launch of Windows 10 I thought the good times for Microsoft were about to come, and I increased my faith with the idea of a promised Universal Windows Platform running on every device, including smartphones. The app-gap seemed to be coming to an end with the acquisition of Xamarin as a magic tool to gain developers attention. The Windows Community is shocked by recent announcements, and I think Microsoft should be more concerned about our expectations. I don't know why they seem concerned about our comments in the Windows Phone Platform, but do nothing to fix what we share. Microsoft must rethink its business looking for a leadership with strength in marketing to achieve strategic agreements that allow the company to recover its level of competition. They should consider knocking Nokia's door again to deal a place in their handsets. The worst enemy of Microsoft could be inside the company, and because of that is mandatory for all employees to be re-evaluated, to measure their degree of commitment with Microsoft's goals.

Like John Snow, ya'll know nothing. Stop prognosticating.

Everything's a rumor until it's not. They haven't really shown the product line to be stable enough to take them at their word, given their history with...well, just about every product they've released. Surface Book's not gotten a successor. Surface 3 hasn't gotten a successor. The latest Surface Pro was hypocritically iterative and uninspired, in addition to the stupid price hike and pen removal. It's been almost 5 years since the first Surface Pro launched, and the last 3 releases have been about as imaginative as an Apple product. Kinda sad to see Microsoft promote the Surface line as the leader in PC hardware innovation, only to watch it end up turning into a similar example of an inability to innovate and make waves in hardware.

"In part that's because for Microsoft the Surface business is more important than selling hardware..." So what he's saying is true - they will stick around. But they won't be building any more hardware.
Windows Central Newsletter
Get the best of Windows Central in in your inbox, every day!
Thank you for signing up to Windows Central. You will receive a verification email shortly.
There was a problem. Please refresh the page and try again.