Microsoft's President says company supports Apple in its iPhone encryption fight with FBI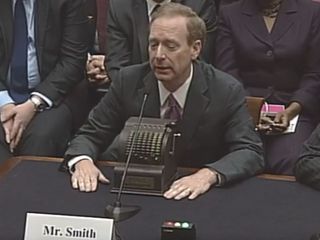 Microsoft has finally offered an official position on the current fight between Apple and the FBI over access to an encrypted iPhone used by one of the San Bernardino shooting suspects. Microsoft's president Brad Smith told members of the U.S House of Representatives Judiciary Committee that the company supports Apple and will in fact file an amicus brief supporting the company as it enters its court case against the FBI next week.
Smith was previously scheduled to appear before the Judiciary Committee on the subject of governments requesting that companies hand over data that are stored on servers outside those countries. Microsoft has been dealing with these kinds of issues for some time and currently in the middle of a criminal case in Brazil where the country's government has fined the company because Microsoft would not turn over data that was stored in the U.S.
During his testimony, Smith was asked about Microsoft's opinion on Apple's case. In stating the company's support on Apple's position, Smith said that the case is similar to the ones that Microsoft is dealing with. Smith added that the government is using laws written in 1911 to support its position, and he brought out an adding machine from that time period showing the kind of technology that was available in that year. Smith says that Microsoft does not believe the courts can resolve current technology conflicts with laws that were written and meant for a 1911 time period. He stated, "We need 21st-century laws to address 21st-century technology issues."
Source: U.S House of Representatives Judiciary Committee
Get the Windows Central Newsletter
All the latest news, reviews, and guides for Windows and Xbox diehards.