Microsoft's Surface 2 details begin to emerge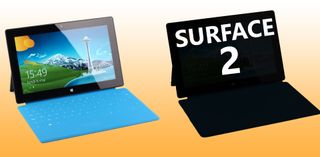 Details on Microsoft's latest Surface Pro device are beginning to… surface. New reports uncovered by Neowin have brought to light internal specifications of the new device and show a few substantial upgrades over the previous generation unit.
The new Surface 2 will be loaded with the latest generation Haswell based processor, an Intel Core i5, and the unit's internal memory will be doubled from the original 4 GB to a more impressive 8 GB. The internal boost should allow for longer battery life thanks to the new chipset architecture and faster multitasking. Those of you photographers who loved taking your Surface Pro on shoots will love the new doubled memory – making Photoshop a breeze to use.
Microsoft's previous generation Surface Pro device also featured an Intel processor, but with the company's previous generation technology. A battery boost is a much welcomed adition to a tablet that previously pulled in a sad five hours of battery life.
Neowin's sources have also stated that the Surface 2 will look extremely similar to the current generation Surface Pro, but will feature a "refined" kickstand. The refinements of the kickstand are currently unknown, but may include increased durability or support for use at multiple angles.
We are disappointed to hear that the unit won't be a large amount thinner, but those who felt the Surface Pro was a desirable size will enjoy this next device. Those who were wishing to get the thin feel of the ThinkPad Tablet 2 with a full powered process will be let down.
Microsoft will also be launching a new campaign to boost interest in its Surface device – hopefully this one won't including dubstep dancing. If Microsoft has learned anything from their recent commercials - going up close and person with hardware is much more effective then a snazzy dance routine.
Source: Neowin
Get the Windows Central Newsletter
All the latest news, reviews, and guides for Windows and Xbox diehards.