Microsoft's Sway gets Bing image search integration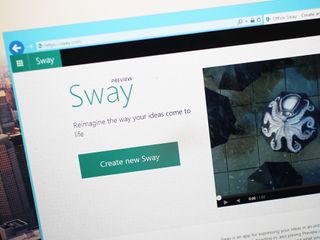 Microsoft announced today that its new entry into the presentation space, Sway, is picking up Bing image search integration in the first of many planned feature improvements.
Integrating Bing image search into Sway is also serving as a testbed for Microsoft's machine learning ambitions in the form of suggested searches. According to the company's blog post:
This news follows changes earlier this week that saw Bing image search replace Microsoft's traditional Office Clip Art for its Office applications.
Are you excited to get your Sway on with Bing image search?
Source: Microsoft (opens in new tab)
Dan Thorp-Lancaster is the former Editor-in-Chief of Windows Central. He began working with Windows Central, Android Central, and iMore as a news writer in 2014 and is obsessed with tech of all sorts. You can follow Dan on Twitter @DthorpL and Instagram @heyitsdtl.
To answer your question, I am oh so excited. Anyway, it's interesting to see how this new image search is tied to Microsoft's decision to drop its clip art in Office programs.

Awesome! I love SWAY! I've been using it for a few weeks now. It's VERY VERSATILE. It can be used to create virtually anything.
1. Short Stories: I've used it to create a Halo Fan Fiction piece called CORTANA LIVES. It's a story that connects the end of Halo 4, Cortana's, apparent death, to how she arrived on Windows Phone.
https://sway.com/wP9d0imRcx-p2oW6
2. Poetry, Prose...I've used it to combine prose and poetry pieces I created in the past into a single piece combining Video, Images, Prose and Social media into a Sway called, FADE TO BLACK, THANKSGIVING AT RISK. An appeal to value Thanksgiving,(God and Family), over the commercialism of Black Friday sales on the Thanksgiving holiday.
https://sway.com/JhVhHywVLBiYV-wq
3. Articles: I've used ( and will continue to "Sway")it to convert blog posts into Sways. "Who Want's a Smartwatch? Not Me. Microsoft's Betting You Don't Either. (Jump on the Bandwagon)
https://sway.com/sDiEWitI9fXlUL3y
4. "MMS" - I have to Pit Bulls I have to place in a new home. A gentleman was interested and asked that I MMS him some pics. Instead I made a SWAY of my dogs and sent the link. "Mans Best Friend"
https://sway.com/uzeBkpYbiU5em62N
5. I'm working on some other implementations, a ResuSway(Resume Sway) and a few other Sway ideas are in the queue.
I know that SWAY is really new, and not many of us have access to it right now. There may or may not be a WHOLE lot of excitement about it quite yet here at Windows Central. But maybe some of the ways I and many others have used it follow @Sway, and Nathan Freier @nfreier(Program Manager for Office and the Sway Team) and Chris Pratley @chrispr( Partner Director Engineer for Office) to see other great examples of Sway in action. I really think Sway is going to be a Game Changer. The possibilities are VAST. Bound virtually only by ones imagination.:-)

I have been trying out Sway for some weeks now. It's really great and it's nice to see that Microsoft is adding new features. What I miss is an app for Windows Phone. It's a bit awkward to make sways on the phone compared to PC. Right now you have to make them in desktop mode on IE.

I miss an app for windows phone too... IPhone got one already, right?

They are searching for people who want to test the iPhone app in this week.

Replacing Clipart with online pictures? What about copyright infringement...? If an option to search for "Public domain" images is available, it will be fantastic, so I'm crossing my fingers! (I have never heard about Sway until just now, by the way... Will investigate!) ​ ​ ​ ​ ​ ​ ​ ​ ​

@toffys:
The search filters for creative commons licensing, either private or commercial use.

You should try it. It's an easy way to present content on the web in a way that look great on different devices. Check out @sway on twitter. They are often giving invitations to join sway preview.

The only time I Sway right now is when I've had too many Pints!!!

They're needs to be an app for this.

And auto correct on phones needs to be better!

this is the way to increase market share of bing. bing images are really better than google images.
Windows Central Newsletter
Thank you for signing up to Windows Central. You will receive a verification email shortly.
There was a problem. Please refresh the page and try again.