Office users can now access clip art from Bing's search engine results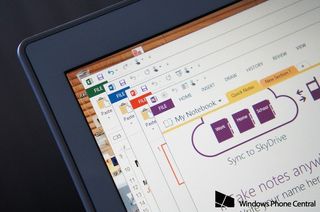 Users of Microsoft's Office desktop applications such as Word and PowerPoint will now have a new way to find and use clip art in their documents. The company revealed that their Office Clip Art website has been shut down, but Office users can now access similar images from Microsoft's Bing search engine.
Microsoft said that it has seen the use of their Office Clip Art site decline over the past few years as users have moved onto finding their images on Internet search engines. Now those same desktop programs can access Bing image search results more directly to locate their clip art. Microsoft says:
Have you already been using search engines for finding clip art to insert in your Office documents?
Source: Microsoft (opens in new tab)
"old-school bricks"
Lol! I have one of those.

I have a VoiceStream branded Nokia 3390b in the closet, everything still works, using the T-mo based Straight Talk SIM from this Lumia 521, but the battery didn't age very well. It gets drained as fast as finishes charging. (less than 30 minutes)

My mum is still using my old Nokia 3310, the battery lasts for days!

Saw an ad for a brick yesterday. It said "up to 30 days battery life". I was like "whaaat!". We celebrate for 2/3 days battery life.

What is "Office clip art"?

Cool. Awesome! I never use it, but yay! .......... Sorry, please excuse my excitement.

I think many have been using Google or Bing to locate their clipart images to source their graphics, without the first thought about copyright status. Now, if MS via Bing can legitimise those images with some sort of copyright filter then that's great. If MS get the copyright status wrong, who's to blame?

Well most of us aren't making PowerPoints that enough people would see to get checked for copyright anyway.

What would be actually useful would be to be able to use these pictures and photos in Office Mobile; who cares where the images comes from if we can't use it on our mobile devices anyway...?!?

I'm confused, hasnt this been an option for a long time. I just used this this weekend. You have two options, from Office Clip Art or Bing.

Well now you only have one option, Bing. They removed the Clip Art gallery because it wasn't being used enough.

Still there for me http://i.imgur.com/40RLK5O.jpg

Ummm....isn't a violation of individuals copyright ownership? Isn't this what us at the heart of the Getty Images lawsuit??

They just lost some K-5 students. It's safe to search Clip Art (my youngest does that at least a few times per presentation), but Bing even with safe search on cannot always be trusted. It'll be curious to see how schools handle this disruptive change.

Good Idea.... I love Bing!

Will since google failed me? Bing is the best I have

This is good news, especially if it means that MS is updating its images database, as so many of the current images are dated. Will be nice to access these from the browser instead of having to open a blank document, then hit insert, etc.

What a sneaky way to spin this... the Bing search has been part of 365 since day one. Really, all they did is remove a feature. I agree with others, most of the clipart was old and dated, but some of the photos were usable. Regardless of how lame the clipart was, it is definitely not cool for Microsoft to remove features on an existing version of the software. They should have waited at least until Office 2016. What happens if they decide to remove a more important feature with no notice?

I tried for hours today to use this method. I would search for the right image; find it; and then hit 'insert' and nothing happened. It used to be so easy to create a flyer or notice for work when clip art was part of Office. Why make things more complex for everyone. Any instructions out there?
Windows Central Newsletter
Thank you for signing up to Windows Central. You will receive a verification email shortly.
There was a problem. Please refresh the page and try again.