Microsoft's Windows 10 Mobile phones in India to support both of its 4G bands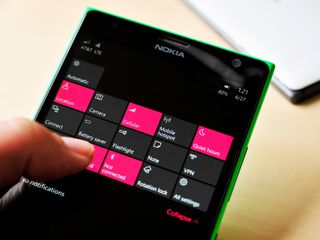 Microsoft is expected to reveal two Windows 10 Mobile smartphones, which will likely be branded as the Lumia 950 and 950 XL, later this year. A new report says that future phones from Microsoft will support both of India's current 4G bands.
The report, from the Economic Times of India, states that at the moment, seven Lumia devices support just one 4G band in India, FDDLTE on 1800 Mhz, while just one phone, the Lumia 638, supports both that band and TDD with 2300 Mhz. That will change soon, according to Ajey Mehta, India's manager for Microsoft Mobile Devices:
The story points out that Microsoft's share of the smartphone market in India declined from 4.1% in the second quarter of 2014 to 3.2% in the same quarter in 2015. Mehta told the Economic Times that feature phones in India "continue to bring high volumes for the company and play an important role" but that Windows 10 Mobile will better serve customers in the enterprise space.
Source: Economic Times of India
Windows Central Newsletter
Get the best of Windows Central in in your inbox, every day!
There's an app very popular in Indonesia which never get any update for a year, Path. WP was too slow to create an mobile apps ecosystem...

I thought it's a new build, where is the new BUILD?

Well hopefully sometimes this week.. unlikely today since it is monday.

No build on monday but coming this week. Gabe's not replying to the tweet since 3 days.

Whats up with my calls dropping (sometimes go straight to voicemail) when my 640xl is on 4g? Has anyone ever experienced this or know a fix. The coverage is good but still they drop. It stops only when i switch it to 3g

call droping - issue with mobile telecom operator

Call dropping has nothing to do with 4G. Very few 4G networks actually support voice calls (known as VoLTE or "Voice over LTE") as of today (2015), a 4G mobile phone currently falls back to a 2G (GSM, CDMA) or 3G (UMTS) network to handle voice calls if needed (--> 2G/3G voice call)

In a nut shell you should look at your 3G/LTE bands and see if they are supported on your telecom network

I will buy Lumia 950 XL - if in b/w I will not spend money on some other big stuff

I would like to see this happen with the US release of the 950/xl : Full support of all of our bands, including Cdma, now that Verizon is supposedly more open to people bringing their own phones.

I hope that the market share increases with the advent of Windows 10!

Instead of launching lumia 640 xl lte,microsoft should launch 735 in india Posted via the Windows Central App for Android

2300mhz is considered as not efficient compared to 1800.and mostly operators are going to shift to 1800 and 2100...am at loss anyway currently as my 1520 &my operator Airtel in Bangalore is operating at 2300mhz..

Less efficient how? Lower spectrum bands travel farther and penetrate buildings better. Higher spectrum bands generally offer better speeds and more capacity. How is one more efficient than the other?

airtel will soon add one of these spectrums in Blr.. cant wait since that gets my 930 onto the LTE bandwagon! :)

Lets bring stable build for tested device :)

Another pointless article. What it has to do with W10M? 638 is already supporting both bands.

Not because you didn't get the point renders it pointless.

Title is misleading. "All of our future 4G devices will support all types of 4G services in India" doesn't mean every W10M device that is going to lauch will support that band.

I had a dream that the WP 8.1 phone app was updated to be like the one on W10M :(

Wait...India doesn't have 4G?!? Posted via the Windows Central App for Android

India has 4G. Sorry to disappoint you. Only operating bands are odd.

India has LTE-Advanced carrier aggregation? That's the true minimum 4G spec. Even LTE doesn't meet it, let alone HSPA+. 4G is a meaningless term now that it's been bastardised to mean things as show as HSPA+. I only refer to the underlying technology now (HSPA+, LTE, LTE-A). That's the only truly accurate way now.

Oh, so it's like the US with all carriers using different bands? Posted via the Windows Central App for Android

When Windows 10 mobile available for Lumia 620?

If even in a fast growing price conscious market like India, MSFT's share is declining after launching numerous budget devices, then there is little hope.

U know.. The Nokia name matters in India... !

Nokia is gone bro. The name remains but now its Microsoft. Nothing Microsoft can do with nokia.

I think he meant to say Indians are still used to Nokia and many even don't know about its acquisition. My mom still uses a Nokia touch and type phone. She loves it and resists any request from me to buy a new one.

Isn't "both of her 4g bands" - the right way to address a nation? Genuine English query here.

It's not consistent across the English-speaking world. What you suggest is common in the UK I believe, but not at all common in North America.

Every Budget smartphones in India from Microsoft Lumia has the ugly Dual-SIM. I hope they won't do the same with High-end models.

On the other hand, i am looking foward a new dual-sim flagship like lumia 950 and 950xl. Especially for vietnam market! I find it is very convenient with this function!

My Lumia 830 does not support Airtel's 2300 MHz band :'(

My Lumia 830 is locked to Airtel 4G and is working great.

How is that possible! Airtel's customer care person had sent me an email with list of phones that support its 4G. It clearly did not list the Lumia 830.

When a Lumia the supports 28/7 bands in LTE for apac?

in case anyones wondering which are those handsets that are already LTE capable.... Lumia 625 Lumia 830 Lumia 920 Lumia 925 Lumia 930 Lumia 1020 Lumia 1320 Lumia 1520 i'm wondering if the 640 twins / 730 have LTE that's waiting to be activated by firmware..

I thinking 730 will not, because it is coming with snapdragon 400 which does not support 4g

Snapdragon 400 not supporting lte ? Lol? How come lumia 830, Lumia640 and the xl all have lte ? Check your statement bro

Lumia 820 is also capable for LTE waiting for firmware update

When they will give 4G support for Lumia 820 in India, no option to choose highest speed connection as 4G/LTE for Lumia 820 in India

So my lumia 830 will support?? 4g

I'm just waiting for a decent current gen hardware mid range phone with w10. Tired of my 520. Make Faster...
Windows Central Newsletter
Thank you for signing up to Windows Central. You will receive a verification email shortly.
There was a problem. Please refresh the page and try again.