Microtransactions and cross-platform multiplayer in Haypi Kingdom, two firsts on Windows Phone 7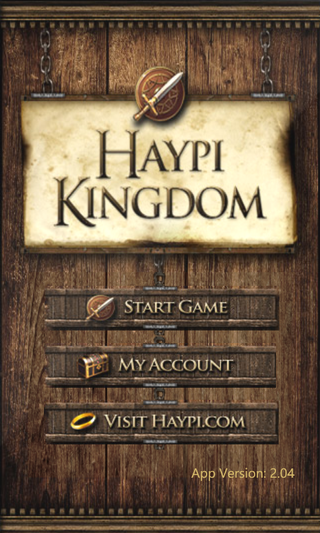 Remember when we discussed the debut of Haypi Kingdom, the first MMO for Windows Phone 7? We were surprised to see a free to play game that is supported by microtransactions make it onto Microsoft's mobile platform. After all, doesn't Microsoft prohibit microtransactions in Windows Phone 7 games?
Developer Haypi Inc. kindly straightened out the matter for us. As it turns out, microtransactions are indeed forbidden on the platform. That's why games like The Sims 3 that have lots of optional purchasable content on iPhone don't offer the same downloadable content on WP7.
So how does Haypi Kingdom manage to sell players in-game coins for real life money? PayPal! You see, coins aren't purchased through the client itself. When a player decides to make an optional coin purchase, the game launches an external web browser. Purchases are made through PayPal's site, not the actual game, so Haypi Kingdom isn't breaking any rules. UPDATE: The workaround has been removed - currently there's no in-game method for purchasing coins.
Haypi Kingdom's payment model works the same way on Google's Android platform, where microtransactions are also prohibited. Before coming to Windows Phone 7, Haypi Kingdom had already made a name for itself on Android and iPhone.
To read more on this ground breaking game and the Press Release from Haypi, follow the break.
Building bridges across platforms
Wouldn't it be cool if WP7 gamers could join gamers from the other mobile platforms in the same game? They can! Haypi Kingdom is the first Windows Phone 7 game we know of to feature true cross-platform online multiplayer. Multiplayer games are more fun when, you know, there are plenty of other people to play with, and so mixing it up with iPhone and Android users insures a healthy online experience. Then again, players on competing platforms have a head start, so WP7 users have their work cut out for them if they want to be competitive in Haypi Kingdom's Player Versus Player competitions.
Peer to peer interaction
PVP challenges are only one of several ways that players can interact with one another. There's also chatting, trading, and collaborating in Alliances, Haypi Kingdom's version of guilds. In order for a WP7 game to use peer-to-peer functions like these, the game is required to verify that players are 13 years of age or older. This keeps the little ones out of trouble, at least in theory.
It keeps growing...
We've learned that an update to Haypi Kingdom will introduce an enhancement system and new treasures to the game very soon. Visit the official site to learn more, and stay tuned for the official WPCentral review. You can download the game for free right now here (Zune link) in the Windows Phone 7 Marketplace.
Press Release
Haypi Kingdom: Top notch MMOG on your mobile device
Haypi Kingdom has enjoyed an increasing popularity over the first year. It remains among the Top 30 in App Store's USA Top Grossing ranking. The game is now available on iPhone, iTouch, iPad, Android and Windows phone 7 in 10 different languages. Thanks to the excellent interactive capability, this MMOG has achieved an amazing success. In an elaborately organized friendly environment, a significant number of players chat, collaborate, compete and interact.
Mobile device users have yearned for a good MMOG for a long time and now this thirst for adventure can be quenched while playing Haypi Kingdom; characterized by elaborate battle strategy, management of city resources and a wide variety of tasks to complete. It also features in-game chat, an offline messaging system and great administrative support.
Assuming roles of strategists, leaders, negotiators and entrepreneurs who live in the ancient world, players strive to make their kingdom prosperous, strong and well-protected. Therefore the same character traits must be demonstrated in the game as in daily life in order to succeed: business acumen, sociability, diligence and courage.
The game is hailed as a huge success because in the modern industrial world everyone wants to be a hero and accomplish some noble feat. Dreams can be fulfilled in the virtual world of Haypi Kingdom where gamers gear up their own army and wage wars, attack and repel enemy attacks, form alliances and contribute to the welfare of their kingdom.
Furthermore, PVP Competitions have been held continuously by Haypi Inc. As of December 24th, 2010, nine PVP competitions have been successfully held with an iPad, iPods and other prizes awarded for each competition. Given the popularity of the game and an ever-growing number of its fans, the competition has proven to be an exciting struggle and popular contest.
The tutorial, forum, and magazine provided by Haypi Inc. will help answer most questions but administrators are available for assistance if needed. Given all these advantages, the fact that the game is available for FREE makes it a "must have" for any mobile device user.
About Haypi Inc.
Haypi Inc. has become a champion software producer due to its commitment to a main core principle: "Never give up until the most entertaining product has been created".
Our Product: http://haypi.com
App store link: http://itunes.apple.com/us/app/haypi-kingdom/id341043140?mt=8
Windows Phone 7 Marketplace link: http://social.zune.net/redirect?type=phoneApp&id=09b75428-561c-e011-9264-00237de2db9e
Contact: Thomas Ren
Haypiinc@gmail.com
Get the Windows Central Newsletter
All the latest news, reviews, and guides for Windows and Xbox diehards.
Paul Acevedo is the Games Editor at Windows Central. A lifelong gamer, he has written about videogames for over 15 years and reviewed over 350 games for our site. Follow him on Twitter @PaulRAcevedo. Don't hate. Appreciate!