List of all Minecraft Earth mobs
By Matt Brown published
Check out all the Minecraft Earth mobs at launch.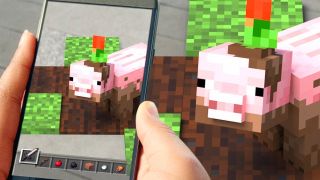 (Image credit: Microsoft)
Resources are a crucial pillar of Minecraft Earth, harvesting blocks and items from the virtual world. Players can also collect a variety of Minecraft mobs via these Tappables and Build Plates, leveraging its sandbox of brimming fauna and exciting new augmentations. To help you track creatures as you explore, we've wrapped up all Minecraft Earth mobs at launch.
Complete list of Minecraft Earth Mobs
Mobs will surface throughout your Minecraft Earth journeys, with each creature assigned a rarity tier, indicative of its scarcity in the world. While ordinary animals will be assigned lower tiers, expect bizarre and bred augmentations to sport higher rankings.
Epic
Muddy Pig

Debuting as Minecraft Earth's rarest find, the mud-caked mob is hidden among Tappables and the "Sleepy Village" buildplate. This playful variant loves getting dirty, guaranteed to find a home in the new mud block.
Rare
Moobloom

This dandelion-infused cow roams the world, scattering floral droppings in its path. They're a dazzling freak of nature, but a lovable addition to any Minecraft Earth build.
Rare
Cluckshroom

Mushrooms meet poultry with the Cluckshroom, a fungal mutation hidden among the Tappables pool. Characterized by reddish tones, with sprouting toadstools on its rear, the mob leaves a trial of mushrooms to harvest.
Rare
Mob of Me

Place your character directly in creations with Mob of Me, exclusive to Minecraft Earth. The placeable human figure inherits your personal player skin, interacting with fellow mobs on the buildplate.
Common
Chicken

Your feathered friends cluck around all corners of the Minecraft Earth globe, both via Tappables and buildplates. When they're not wandering your creations, they're a reliable source of eggs and feathers.
Common
Cow

Cattle are another staple of Minecraft Earth, widespread among Tappables and buildplates. They'll provide leather and meat – or simply roam your virtual fields.
Common
Creeper

The icon of Minecraft for over a decade, you'll want to keep your distance from this aggressive fiend. One wrong step, boom. Creepers hide among Tappables, although they are extremely uncommon.
Common
Ocelot

While a fierce feline than a home-friendly kitten, the Ocelot is a cute Minecraft Earth find. They're best picked up via jungle-based buildplates from the store.
Common
Parrot

The best friend of any pirate adventurer, these birds take flight among jungle buildplates, imitating sounds of nearby hostile mobs.
Common
Pig

Among the most common creatures, Minecraft Earth's classic porky pal is found via Tappables and buildplates.
Common
Rabbit

These lovable creatures are seen hopping around Minecraft Earth. They're native to the scorching desert, currently tied to sand-based buildplates.
Common
Salmon

Best found splashing among buildplates, salmon are a highly situational pickup. This underwater mob stays submerged for survival, spicing up ponds and rivers.
Common
Skeleton

Skeletons are hostile to the bone, bringing a dash of arrow-slinging action. They're discovered via Tappables, although currently an uncommon find.
Common
Spider

These eight-legged beasts hide in the shadows, with a unique capability to climb walls. Currently tied to Tappables, they're an uncommon find in Minecraft Earth.
Common
Sheep

Another primary Minecraft Earth mob for Tappables, sheep bring a generous helping of wool. With the aid of dye, they also come in over one dozen extra colors.
Common
Zombie

Beware of the undead, packing a heavy punch within an arm's reach. Unearth walking corpses via Tappables, despite considerable rarity.
As new Minecraft Earth mobs are added, expect this list to update in the months ahead. In the meantime, Microsoft is preparing to launch into Early Access, offering an early foundation for the experience.
AR awesomeness
(opens in new tab)
Matt Brown is Windows Central's Senior Games Editor, Xbox & PC, at Future. Following over seven years of professional consumer technology and gaming coverage, he's focused on the world of Microsoft's gaming efforts. You can follow him on Twitter @mattjbrown.
Ender dolphins sounds positively frightening.
Pyjamallamas... Hm... Is that a regular llama with a pyjamas on?

Teased via the Minecraft Earth Twitter... only have a name, but one would assume :P
Windows Central Newsletter
Get the best of Windows Central in in your inbox, every day!
Thank you for signing up to Windows Central. You will receive a verification email shortly.
There was a problem. Please refresh the page and try again.