Minecraft: Windows 10 Edition Beta updated with some tweaks and bug fixes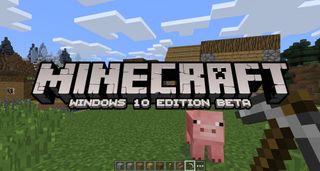 Fans of the Windows 10 beta version of Minecraft can download a new update to version 0.12.3 from the Windows Store. The same update is being offered to Minecraft: Pocket Edition owners and has a number of tweaks and bug fixes for the popular sandbox game from Mojang.
Here's a look at what's new and improved in this new version:
[JIRA 9985] Tooltip position was incorrect and visibility time was too short
Sneaking (Crouching) animation is now visible from First Person View
Fixed so controller doesn't lose its functionality on the death screen
Prevented Mojang logo from appearing sideways on iPhone 6+
Stopped so mining strength doesn't passively grow, allowing one-hit breaks
Item from 1st slot of hotbar got duplicated when placed on different hotbar slot from inventory
Fixed so saving doesn't corrupt Monster Rooms
Controller tooltip ("[X] Tab") doesn't overlap in the hotbar in Inventory Menu
Player couldn't use controller's D-pad to navigate through Inventory Menu
Download Minecraft Windows 10 Edition Beta (opens in new tab) ($9.99)
Source: Mojang
Windows Central Newsletter
Get the best of Windows Central in your inbox, every day!
Windows 10 on iPhone 6.
@ _@

According to the source this update has been rolled out to both the Minecraft: Pocket Edition and the Minecraft: Windows 10 Edition. That's the reason why iPhone 6 is mentioned. Though it confused me for a while too :)

I'm not sure you understand what an epic fail is. That would imply that the game isn't selling, which it is.

The regular PC version is $27.99. How is nearly 1/3 the price for a version that does new things an "epic fail [sic]"?

This is the current lower price. I would grab it now if you were wanting to play this it will only get bigger and better from here, and then if you don't grab it now and want it down the line you will be paying alot more.

Who even uses that term anymore? Are you 12?
So cringe worthy.

Lol at the controller becoming useless at the death screen!

They should have kept that lol

I actually enjoyed that bug where mining strength increased after breaking the first block. Mine a tough block then the rest is as soft as glass.

Yea wasn't so great when mining around lava though.

now add full redstone support o.O

Cool I noticed this update last night and was wondering what was fixed.

We still can't trade with Villagers

You want a use case for Continuum? Put Minecraft Windows 10 edition on Windows Phone so I can plug in keyboard, mouse, monitor and get another gaming station for my kids.

That's what pocket edition is with windows 10. I already use my 1520 this way.

what's the different between w10 edition and pocket edition? why w10 ed cost more money?