Miracast and Windows Phone 8.1 hands-on video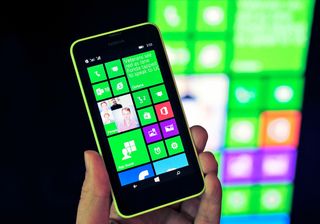 When the proper Windows Phone 8.1 update rolls out in the coming weeks, it will be bundled with new firmware. For Nokia devices this firmware is dubbed 'Lumia Cyan' and it will enable some advanced features, including Miracast support.
Miracast is a well-received standard for mirroring the contents of one device onto another. If you have a newer TV or have purchased a Miracast USB dongle, you can display your Windows 8.1 device onto a larger screen, which is great for sharing or demonstrating software and media. Prior to Windows Phone 8.1, this support was not present but Microsoft has since added to the latest update.*
If you're running Windows Phone 8.1 Preview for Developers, you can find the 'Project my screen' option under Settings. However, you'll notice the warning about not being able to project your screen with a wireless connection, and that's due to the missing drivers, which will be supplied by your phone's manufacturer.
The Nokia Lumia 630 is already shipping with Windows Phone 8.1 and the Lumia Cyan firmware, so it stands to reason that support for Miracast is present. As you can see from our hands on video, it certainly is, and it works quite well. Users will have separate volume control for the audio portion of the mirroring, and the lag is quite minimal. Whether you want to show off your photos, play a video game or watch a video, you'll soon be able to do so from your Windows Phone.
Check out our above video and let us know what you think in comments. Is Miracast something you're excited about and if so, how are you planning to use it?
*Note: only some devices with newer chipsets will have Miracast support due to certain hardware requirements. The Lumia 1520, Lumia Icon, Lumia 930 and Lumia 63x should be receiving support with the Lumia Cyan update.
Daniel Rubino is the Editor-in-chief of Windows Central, head reviewer, podcast co-host, and analyst. He has been here covering Microsoft since 2007 when this site was called WMExperts (and later Windows Phone Central). His interests include Windows, Microsoft Surface, laptops, next-gen computing, and for some reason, watches. Before all this tech stuff, he worked on a Ph.D. in linguistics and ran the projectors at movie theaters, which has done absolutely nothing for his career.
Still waiting on Miracast for Xbox One...

Ikr? They need to do something like that like how Apple does AirPlay with Apple TV.

i didnt know AirPlay did screen sharing... thought it was for media playback, like PlayTo.

Yes, AirPlay does screen sharing as well - but as far as I know it only works for iOS, not OS X. Wheras miracast works universally across Windows, WP, and Android.

No, it works from OSX as well.

Even cheaper then buying an Xbox One just for Miracast is Netgear PTV3000 for $50. This little guy has allowed me to stream anything (HBOGo, Shotime Anytime, MaxGo, MKV movies, etc) to by big screen TV in my living room and bedroom. I convinced the office to get one for wireless presentations. And now, I'll probably be bringing it along with me to hotels, so that I can stream movies to the hotel TV.

THIS! Does WPCentral have any word on when it will come?

http://i1.wp.com/www.istartedsomething.com/wp-content/uploads/2014/05/miracast.png?zoom=3&resize=651%2C481

Hahaha! This should be sent to XB folks.. Twitter!

So, definitely there is no support for Miracast on 920, shame.

Doesn't the Samsung galaxy s3 have Miracast its the same chip as the Lumia 920.

Not exactly the same, but according to Wikipedia does Xperia V and Xperia TL support Miracast http://en.wikipedia.org/wiki/Miracast and at the second link you can see that they have SOC as Lumia 820, 920 and 925 (MSM8960) http://en.wikipedia.org/wiki/Snapdragon_29#Snapdragon_S4 and the same amout of RAM http://en.wikipedia.org/wiki/Xperia . The once again Nokia stated this on their blog " "Adreno 225 GPU for Graphics Processing The Adreno 225 GPU ensures smooth gameplay, high frame rates, and enhanced scenes with jaw-dropping effects. But it's not just games that benefit. Augmented reality such as that used by Nokia City Lenses, 2D to 3D conversion, and Miracast (Wireless Display) all gain, too." "http://conversations.nokia.com/2012/12/11/how-qualcomm-cooks-up-the-noki... So it is probably not a hardware limitation for the Lumia 920.

I will be greatly disappointed to see the 920/925 having the required hardware but but the support. I invested in a nest receiver to replace my Chromecast since my phone doesn't work with it.

Such disgusting moves keep the economy not (yet) collapsing: vendors can force you to buy new phone every year if you need a new feature. Fullfill your civic duty, and be an obedient consumer: consume!

Yes. If the device and OS has capability, they shouldn't disable it. hate those greedy goons in industry promoting consumerism. The demand is not to keep the devices up to date eternally. Its just a matter of fairness! One or two years old device is not old enough to get this heinous bastard-child treatment..

Dude, you're not alone. I also have a 920. I guess I'll have to get a new smartphone!

It's getting to be about time my 920 was upgraded anyway. I like the look of the 930. Could sell the 920 to pay off the rest of my contract and get a 930.

Sadly here in Canada we won't have that option... So what's one to do? Buy unlocked from U S of A or downgrade to 630. It feels like we're forced to choose between two sucky options... kinda like party choices during elections over here...

I also trust/wait for update software from MS/Nokia wp8.1. I really tried to be calm waiting to use L920 at full capacity/hardware since 2012. But, very disepointed, Miracast on 920, shame. 1000$ payed for L920 (end of 2012) and very big mistake to trust in MS. Pe romaneste, dezamagit si cu siguranta nu mai cumpar wp. Rusine MS.

The Nokia Play To app is doing quite well to stream photos and videos to DLNA TV. But it doesn't do mirroring as Miracast would.

If only PlayTo showed collection as folders than one giant list. My whatsapp videos ruin its usage.

I think Microsoft is just lazying around and throwing dusts in our eyes just to blind us and not give existing flagships support off miracast. The Lumia 920 and above phones I know can support miracast but Microsoft just don't want us to have it. Too bad cuz similar flagships in android are supported.

The 920 is yep years old now or just under two.... Are you one of those people who want phones to get every upgrade forever?

So is the galaxy s3. Around the same age but it sure supports it. It's better later then never. If the hardware shorts it, then shame on them if they don't do it.

Samsung is its own OEM, however Microsoft is dependent on others which I'd long after the s3.

Uhhh, Microsoft owns Lumias now.

And which phone would you recommend those of us on AT&T with a 920 upgrade to? Our options are the 1520 and, um, that's it.

There's always the 1020. Love the screensize of the 1520 but the 1020's camera is still second to none and I don't see Oy replacing it with a better device anytime soon...

1020 doesn't support Miracast either and is basically the same internals as the 920, just with a better camera and more RAM. So that doesn't help.

930, you've been patient this long. But since you mentioned the 1520, I put my hands on s trees one and I'd an excellent device

930 isn't coming to the US. Even if I had $600 to plunk down up front, as far as I know I'd be limited to HSPA data speeds on it and that's a deal breaker at this point.

Nokia was involved in this process and I'm sure they didn't include mirror cast a ability in this phone. Microsoft just took control of Nokia devices/services two months ago.

I don't think it's a hardware issue! If my old N9 can do miracast, the L920 should also do it! I think it's more like a marketing strategy for us to upgrade...

Who the hell will buy a new phone to get miracast? Seriously how often would you project your screen? I have never felt the need. For music I just use bluetooth.

Its probably processors/gpus & ram that aren't good enough to handle it as far as creating a consistent experience to the quality that ms wants people to see

But I just got my 920.....:(

Welcome to my world. -810

The problem lies with the display driver for the Snapdragon S4 chipset on Windows Phone. It's up to Qualcomm to make those drivers compatible with all of the features of the updated Windows Display Driver Model in WP8.1. It's a similar situation with people who have laptops with the 2nd Gen Intel Core processors (Sandy Bridge). These drivers, though they are still being updated, don't support all the features of WDDM 1.3 in Windows 8.1, so I don't have Miracast support on my laptop even though it supports Intel WiDi.

That makes a little more sense at least.

Shouldn't the Lumia 820(and above) also support Miracast as the hardware used on those devices, despite being old, is still more powerful than Lumia 630.

It's not about how powerful it is, it's about dedicated hardware support for Miracast.

Which the 820 and above actually have.

For one, it's not about speed but rather the chipset. Number two, you'd be surprised at what a Snapdragon quad-core can do, even at 1.2 GHz, for benchmarks ;)

What does the end of the article say? Hmmm...

i guess not :( i have 1020 too :/

well that's a shame! I thought of my 1020 as a kind of newish model! doh! I can't convince myself to upgrade to anything with less than 41 mega pixels, even if it gives me Miracast.

Newish model but an olderish chipset :/

Nokia themselves confirmed the S4 chipset supports Miracast http://conversations.nokia.com/2012/12/11/how-qualcomm-cooks-up-the-nokia-lumia-920s-processor-chip/. Not going to argue as I know Microsoft wont support it but the chipset definitely supports Miracast.

Oh I'm sure it does, but there's probably some reason that MS didn't enable this on older devices, including performance issues and writing the drivers for it. As cool as Miracast is, especially for developers who want to show off their work, I don't know a single person who uses it. In other words, I think stuff like Cortana and the Notification Center are of higher priority for backwards development. Just guesses on my part.

I could see that theres a licensing cost to it that the oems pay to Qualcomm like they do for fm radio.
Well if they dont yet natively support it on x86 RT why should they bother with wp aside from supplementing lack of mhl. I couldn't justify the price to use it on my WiDi laptop the receivers are to expensive

I used it! Many people use it too. The Netgear PTV3000 is selling a lot. People with Android phones and newer PCs (like the Surface) all support it. I bought the Netgear as a replacement to Chromescast because my 925 didn't work with it but my Surface does. I had expectations that the phone will work as well since it has a comparable hardware to Galaxy S3. I really hope they change that decision especially that close to 95% of thr user base now have phones that don't support it.

That's all well and good until you consider that the 820 and other devices have a WiFi direct module with no use whatsoever. The hardware inside these phones will go unused because wp8 doesn't have any other function involving WiFi direct, and I'm willing to bet it's all about marketing the newer phones.

'Older' devices? My L1020 is not even 12 months old!

Hope MSFT change their mind and support 1020

They wont. Period. If you manage to get some 50-100.000 votes on usersvoice forum from angry consumers, AND if you have some good connections in the media so the news picks up this topic in order to spread negative marketing of WP so it hurts MS in the guts, they may re-think that. Otherwise start accepting the inevitable: no miracast for outdated prehistoric -not-even-1,5yrs-old-phones. Ps: if didnt realize, the majority of the post was fueled by sarcasm.

Um, 1020 isn't even 1yr old yet...sad...

+920 ... My old N9 with it's TI OMAP 3630 chipset and 1 GHz Cortex A8 CPU supports Miracast so yeah, no doupt about the S4 chipset supporting it too

I still waiting Miracast on Lumia 920 and 1020.
'How Qualcomm cooks up the Nokia Lumia 920's processor chip'
http://nokia.ly/1nIXSvk

The Project My Screen in settings works on my 1020 with the cable (USB), so I would assume it would work over WiFi once we get Cyan firmware and the drivers for it? Am I wrong?

It would be a good time to roll out that promised Miracast support in the Xbox one. July update, perhaps?

Such a shame the 1020 doesn't support.

Well, I've had the "Project my Screen" function in settings on my 1020 work fine with the USB cable, so I was assuming once we get the Cyan firmware, and the drivers, it would work over WiFi? Isn't "Project my Screen" and "Miracast" the same thing?

False. Miracast is a peer to peer connection formed over Wi-Fi, not wired. What I wrote in the article is the truth, as of now no Miracsat for the 1020.

But Please tell us that is it possible somehow or just impossible?
Bcoz, I am thinking about this equation-
"Project My Screen" + "Play To" = "MiraCast"
(fingers crossed)

But Please tell us that is it possible somehow or just impossible?
Bcoz, I am thinking about this equation-
"Project My Screen" + "Play To" = "MiraCast"
(fingers crossed)

we are slowly but surely getting there - another feature we have longed for - cheers to MS WP8.1 team

Hmm this for Xbox One? Ps how do i delete songs of my phone? Whatever I do. The songs just wont delete. (Cortana is being annoying)

Yeah, I tried that. Song gets duplicated when hit delete. And that's amazingly Weird to me. Getting a new SD card and swap the whole damn thing. But thanks anyways.

Is it possible to get the support by buying some hardware from outside?
Wish so...(finger crossed)

We'd better hope Microsoft (or Nokia) adds MHL support. My Nokia N8 or 808 had a hdmi out (and a tv out btw). Besides, a wired link would be more universal (when I go to hotels, TV are always HDMI)

I know @ least for WiDi receivers they have hdmi unlike mhl which you'd still need a way to convert to hdmi

Miracast works now with my 1020 with the new update, mine now will search for one when before the update it would not

Really? the article says only the latest models will support it!

It works with a usb cable i think

My 1020 works with the USB cable

But that's not Miracast, which is what this article is concerned with.

Yeah it says searching but it means searching the USB connect

My 920 says the same - connect by usb, and "searching"

I intend to get the dongle and use this from my surface 3 to 70 inch. Getting rid of cable and only using online tv. Not sure how many uses id find using my 1520 and miracast but its a nice-to-have

Can we please stop using the word dongle? They're called adapters.

No Posted via Windows Phone Central App

Dongle http://en.wikipedia.org/wiki/Dongle

I've never heard a word of dongle until today but adapters I've heard of

The reason I called it a dongle, is that is what it's name is ;) 'Asus Miracast Wireless Display Dongle (90XB01F0-BEX000)' Look in the video, you can even see it on the TV screen before I connect to it. I'm not a fan of the word either, but in this case, I'm just being true to the product's name.

Hi there are several models 90XB01F0-BEX030, 90XB01F0-BEX040 .. Anyone knows the differences?

I've been saying dongle for 8 years and will continue to until I die.

Great hands-on. My Netgear PTV3000 is waiting.

Just make sure you have the latest firmware on it. I had some lag when using it with my Dell Venue 11 Pro and the latest update pretty much eliminated it.

Thx. I have. The combo Surface 2 and PTV3000 allready working great. And yes it needed the latest firmware (back then) to work great.

Will this work for Netflix in HD?

The 630 has a better chipset than my 920. Oh...

Xbox One has Miracast already but, it's limited to Xbox Video when connecting through my Dell Venue 11 Pro. But, it works smoothly when it connects. Similar to Google's Chromecast device.

That's called DLNA you can also use it with apps like MetroTube for YouTube on the big screen. This was also supported by the Xbox 360.

Wow! The video demo was really faster refresh rate than the Nokia PlayTo. I wish they could add it to 1020s model too

I'm still trying to figure out the value of this over the Play To capability I already have on the Lumia 1020. I can send music, videos and pictures just fine now. I'd be silly to play on a big screen a game formatted for my phone...plus I'd rather play it on my full-blown computer anyway. I don't even use my Xbox One for games because they suck so badly compared to my PC. So...is there another use-case for Miracast capability that would be awesome?

not sure about your experience of Nokia PlayTo with videos... mine seems to suffer from a low cache transfer and have to wait for good 5-10 seconds for each 5-10 seconds of playback. that is with a more than decent wifi. for photos, it seems to be just fine, but videos, no. Miracast has (or is) becoming a globaly accepted medium for device image sharing. that is why MS Surface and newer Android tablets have them. so if you were to do any presentation that needed screen sharing at work, lets say powerpoint etc, then it is ideal. or if you were to use a big monitor with a surface tablet wirelessly, then you can extend/mirror or fully project onto the external monitor.

Actually practically any centrino N adapter paired with the correct intel cpu can do it in windows 7 & above

I think DLNA has been around longer and is also "globally accepted". It's been in every home theater device I've purchased so far. And, as I said, I've had zero issues with it on either my Lumia 920 or my 1020. It's been very convenient when I've taken video of our theater performances (LOVE the camera shell for the Lumia 1020 on a tripod!!!!) to simply throw them to our TV when friends are over.

Play To only streams local videos for which an app has interoperability. So no DRM streaming of HBOGo, Hulu, no ability to use Play To with certain media players like GOM or VLC, etc. - just lots of limitations overal. Mircacast shares your entire screen. There are no limits on what you can stream to your TV.

Use it with third party apps for YouTube

cool, but bummed it won't work with my 1020. Still way too much lag to play an action game with. But I wouldn't use this for games, TBH.

Hey Dan, does that Lumia 630 runs on official/final release of 8.1?

There really is no "final" release of 8.1. There's feature-locked and then everything else. For instance, the Preview version you got today is newer than the version on the 630. And there's like 5 versions of the 'Update 3' release. It's more about the proper firmware than OS version, as OS versions at this stage are device/carrier specific changes and minor fixes.

Rumor has it that Microsoft may be announcing their own Miracast dongle: http://wmpoweruser.com/tag/surface/

yup, old news. you can buy a generic quite cheap at amazon http://www.amazon.co.uk/atdoshop-Miracast-Dongle-Chromecast-Adapter/dp/B00IMW4DKG/ref=pd_sim_sbs_ce_1?ie=UTF8&refRID=0YN1CQ0P0E9GGD46X41X and that will work with most OSes

Mostly for newer PCs and Android users.

Daniel, Thanks for the great article & demonstration. Can you post which Asus Miracast dongle you were using? Thanks in advance. Cheers, Justin

Sure: Asus Miracast Wireless Display Dongle (90XB01F0-BEX000)

Great! Thanks! That was the one I've been eyeballing at Amazon.

Guys , can anyone tell me how to project my Lumia 820 to the screen ?? , what do I need for this ?? , is my USB cable enough???

Sounds like for the 820, Miracast (wireless projection) won't work for you, even if you had the Miracast dongle/adapter/capable receiver. For wired with USB, I believe you need 8.1 Dev preview installed and a PC with the app also installed. Then you should be able to project your screen to the PC. http://www.microsoft.com/en-us/download/details.aspx?id=42536 I had to follow these troubleshooting instructions to get it working on my 1020 and 928. http://www.monkeyslaps.com/projecting-your-windows-phone-screen-to-a-pc

Grrr No support for the 925?? thats unfair!!!

when will the cyan update releases in India please reply.

No one knows, but soon it will be released world wide

The word "Soon" can literally mean anything between 3 and 6 months in the windows phone universe. I nominate the word "soon" as the official curse word of the windows phone ecosystem.

Daniel, how does it perform when playing video? Is the video and audio perfectly matched/synced?

We want miracast for wp7.8!

Thanks for getting back to me folks. All I can say is Microsoft should really support all the windows 8 products with everything they can throw at it.
Lets face windows has a long way to go still

Nice job listing the chipset compatible caveat there at the end. Hopefully it will head off all the "But you said......" whining when Cyan comes down and some people don't have that functionality. Then again, knowing how well people (don't) read around here it's still gonna happen to some degree, regardless.

Lol, can't agreed more. Good luck Dan!

I want at least to be able to share my screen thru an HDMI cable on my NL920 but I know Microsoft it's not listening to me. :(

Will you do a Lumia Cyan review since you have the L630? What features do we get?