Missing album art on Windows Phone 8? Then you must get this app and kill the grey.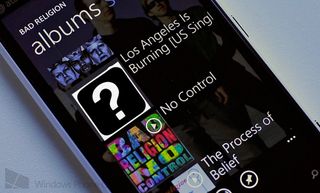 We've lamented numerous times here at Windows Phone Central on the sorry state of Xbox Music on current Windows Phone 8 devices. When it comes to management, features or in one particular case, missing album art, it can be quite frustrating to use and it's quite the downgrade from the Zune days..
We touched on this topic recently on the last podcast where ripping a CD (via Zune) and transferring to our device using the Windows Phone App (RT) caused our album art to magically disappear, leaving a hideous gray box in its place.
Luckily for us we now have a solution. Best of all it's simple, free and called MPAtool.
The app, now available for Windows Phone 8 devices is to the point, well laid out and clear as a bell. Launching the app gives you a menu of five items, including manual attach, auto download, albums, settings and about.
The manual attach lets you select images of your favorite band to be used as background artwork during album play. The bad news is if you already have exiting artwork, you can't replace it. Instead you need remove all the music first of that artist, change the artist image then re-add music. Certainly a pain but this is not the developer's fault. Regardless, if you have a low resolution image that is really bothering you, you can now replace it (seriously, what's up with that?). Heck, you can even specify your own image if the selection is not to your liking.
Auto download will go through all your artists and download the latest images from Last.fm.
Albums – this is the good stuff. Here you can auto download album images from Last.fm and have them added to your device library. Depending on how many albums you have missing artwork, it can take a few moments over Wi-Fi. After fetching the images it then shows you the new choices and lets you one-touch update everything. This is what will fix all your missing artwork and it works brilliantly.
Settings has a few features including low or high quality image previews, notifications (for process completion) and backing up your custom artwork to SkyDrive—a nice touch.
There's not much else to say about this app. It works well, it's laid out nicely and has no ads. Sure, it's a shame that Xbox Music even has this issue with no built in way to fix but we glad a developer like hppDev has stepped up with such a great app.
Grab MPAtool right now here in the Store and get fixin'.
Windows Central Newsletter
Get the best of Windows Central in in your inbox, every day!
Daniel Rubino is the Editor-in-chief of Windows Central, head reviewer, podcast co-host, and analyst. He has been covering Microsoft since 2007 when this site was called WMExperts (and later Windows Phone Central). His interests include Windows, laptops, next-gen computing, and for some reason, watches. Before all this tech stuff, he worked on a Ph.D. in linguistics, watched people sleep (for medical purposes!), and ran the projectors at movie theaters because it was fun.
Omgersh. This is exactly what I have been wanting. Tried it. Works perfectly. Thanks devs+wpc!!

It's fucking stupid that MS doesn't care enough to had fixed this issue.
Let alone have someone come up with an app to save their ass. Big plus for the app developer, but an uber fail for ms.

Fixed what issue? I've never had a problem with album art on my music. It's probably your audio files not having the correct embedded info.

Try reading the article again to find out wht issue.

this app is brilliant. been using it since day 1 of wp8. lets you change all the lock screen images for the now playing artist. really awesome, almost wish this was baked into the os.

it is. its just really bad. Its something to do with the region of your music and the ID3 tags! This app pushes all that aside though!


If you upload your mp3s onto Windows Phone from a Windows PC, you might as well use the free app Taghycardia prior to the uploading. The program automatically downloads and embeds album artwork into mp3s that miss it while preserving all existing id3 metadata. In addition, it fixes various tag faults like missing or inconsistent info.

This is great, hats off to the developer. But anyone else agree that in 2013, when we have phones that do so ruddy much, wd shouldn't be having to do this?

I use this for my missing artists.

Sweet, just what I needed. :D
Now the problem with garbled characters on artist/album/track names is still to be solved..

I used it before and it is great. But the thing that baffles me, is that if some guy in his family room can do this, why the hell can't 50 guys making 6+ figures get Xbox Music to do this? LMAO Update: sorry...saw one of the first comments said something similar..but what the hell? This is so true.

It'd be illegal for MS to pull images from last.FM so...

Can someone tell me the difference between the picture that appears in the small box and the main background in the now playing?

There is album art(small box) and then there is artist art(shows on lockscreen). The reason your screen is grey is because there is no artist art. Personally, I think this is ridiculous. I don't need to see the artist; I want to see the album artwork. I can't believe there isn't an option for this.

I've never seen 'artist artwork' in any media player before. This is the first I'm hearing of it.

HAHA! I sort of know how you feel! I found out about it last month, when I got Justin Bieber's new album!

Wow, can't believe this app got published into the WP8 Store. Loved this tool in WP7. Glad it's now available for WP8.

Link for wp7 app please...

It's only for dev unlocked phones - http://forum.xda-developers.com/showthread.php?t=1377210

Yes, this makes me want to chew glass. When I xferred all of my wife's music from her Andrhoid, where there once was album art, became NO album art. You've got to be kidding me. I just upgraded from a 1965 Chevy to a 2013 Bently and I can't get no freakin' album art??? "I cain't get no, satisfaction". Hopefully, this gets fixed along with the other shortcomings. But hey, even iOs couldn't do "cut and paste" when it first arrived which left people with a permanent question mark above their heads. Ok, WP8 is still cutting teeth but in this day and age, you better sprout a full set of molars and start eating with the grownups pretty damned quick or you go hungry.

Well if you edit the files in Zune, you won't need for wp7, that's why it is made for wp8. Zune was perfect for wp7.

can we get this on wp7.8!!!

Any idea on when MS will fix this Xbox Music issue?

Like the tool but it adds a "MPAtool Dummy.mp3" file to the end of each album. Not that hard to get rid of, but a pain none the less.


Yeah noticed that, what's the best way to get rid of that?

In the 7.x version there is a ...dummy album created and all you need is delete that. Any chance this would work in WP8 version? If not try pinging the dev

The only way is to go in each album directory and delete the file. 200 directorys = 200 files to delete. Pain in the butt!

I found that if you go to 'songs', press # or one of the letters, and then go to the globe icon at the very end of the list you can see all the dummy files there and then delete them without having to go into each directory individually. Still a little bit annoying, but not as bad.

+1 that works, but that was 10 mins of my life that I cant get back, great app dev, just a shame that it has to create those annoying files :/ its a catch 22 probably :?

As a developer of mobile software I'd have to say that must have been an oversight on their part. I know why they needed the dummy file but I'd think after they download the album art and update the audio file's tag to reference it, they should just delete the dummy (temp) file at that point. Hopefully in a newer version they will.

The real problem with Xbox Music is the fact that it changes the data. I spent an hour rearranging my music library to make it accurate and the next morning, it was as inaccurate as before I even changed it, that's outrageous. I have songs that are in non-existing albums. I'm going to try this app though, to see if it can fix some of my issues.

I agree. I have copied music files that already have all of the tag data in them onto my phone only for it to replace all the info (artist, album, artwork) apparently based on a common track title. You can stop it by going to settings and switching off "Connect with Xbox Music" (before copying the files!) but then you don't get any artist pictures, etc, at all. At least this app allows you to make the artist picture connection.

How do I add a background vía Zune in 7x?

Zune does this automatically for WP7 as long as it recognizes the artist. If it is not populating for you, you need to fix all your metadata. Zune can do that for you too, but you have to go through each album and select download info.

MP3Tag is a good program to use for this with Zune.

I need this!!! Thank you for bringing it to my attention.

So sad that Microsoft can't get this right, but this app at least represent a very serviceable workaround.

now we need and id3 editor for wp8, I have stuff labled right on my zune player and when I transfer some stuff in it changes to unknown wtf...

Love this app and have been using for a while now. Only 2 issues still occur though. Firstly, connecting your phone with Xbox Music will auto sync album art to your phone with really crappy art and this cannot be overwritten using this app. To avoid this you must turn off this feature, wipe the music from your phone and re-sync it THEN use this app.
Secondly, I have a lot of songs that refuse to show up in the app. Even if I play a song that won't show up using the option to apply art to the "now playing song" fails. I assume some data is missing from the id3 tag that needs to be fixed for it to show up. But regardless this works for about 80% of my music which is still awesome.

This app is a dream come true. I listen to a lot of Japanese/Korean music and this solves the problem of Xbox Music not having any album/background art. Along with ScrobbleMe I'm now happy on the music front. It's a shame MS doesn't natively plug into last.fm like this.

A little off topic but if anyone is looking for a better way to manage their music from their PC to WP8 give MusicBee a twirl, it has a simple and easy to use interface similar to Zune with great meta tagging features that will make it easy to find/add missing album artwork.

Or you can use windows media player to sync your music and it will have all of your album art like it should. No need for another app.

That fails too for a few of us--we mention it on the Podcast. And TBH, this app I think is even easier. It literally took 20 seconds to "fix" my missing album art.

Excellent..just what I needed!!!!

Does this work for podcasts? I actually really hate that I don't get Podcast "art" when syncing podcasts from iTunes (BLAH bring back zune damnit!!) through Windows Phone Connector to my Lumia 920

So,if i get all the album artwork delete all music on my pc,then transfer the music in my mobile to my pc will i be able to see it on my Windows 8 also?

. The artist art on Xbox music is fuzzy and usually duplicate my album.

This app is soooooo godly thank you so much guys!!!!

Can't believe I got this app so long before WPCentral introduced it formally. Amazing app and dev keeps updating too, looking good!

It always leaves dummy things in my playlist and I have to manually remove them or erase the device. In my opinion, a crap app

This seems to be the technique the app uses to trick Windows Phone into using the artist picture. It creates a dummy file with the artist and associated artist picture, which Windows Phone then uses for all tracks by the same artist. The files are easy enough to delete.

Easy yes, time consuming also a HUGE yes. It even alters some of your music. I can live without this app until MS fixes.

i need this app for WP7.8...

I recently became a member of WPCentral and have received so many good tips such as limited time free games and deals!! I couldn't wait to see the new articles for the week and saw this and soon as I got home, got the app and received 95% metadata that was missing from my 920 since switching. Love the site and keep up the good work.

Does this also work with cloud stored music or just the local one?

This app worked only once, did not open again after. Even restarted my phone. Lumia 920 Developer pls resolve cause thus app is the bomb. Lovely

Does this store the images on the phone or the SD card? My little remaining memory took a 100mb hit.

This is the best app. I listen to music all the time and I was slightly pissed at the dark grey backgrounds while playing music. This app changes everything!!! WOW!!!!

Thanks, just what I needed and have been waiting for as well!

Yes! Finally, an application to customize! I love this app and Wpcentral!

I don't think anyone will see my posts but thank you very much for this.

For those who want an easy fix for the dummy files on WP8: - Let the app attach all the art you want on your phone
- When you are done, hook up your phone to the computer
- Go directly to your phone through Windows Explorer
- Go to Phone; Music; Album (hidden folder)
- Search the MPAdummy file
- Click and delete This will delete all the dummy files on your phone, but the art remains.
Cheers. ;)

If you want to make sure that your mp3s downloaded on a pc always have album art when put on a phone, process them with the free app taghycardia (http://taghycardia.info). It scans your mp3 folders and uses artwork found both locally and online to embed into the files that miss it. In addition, the program corrects other mp3 tag faults like missing album, artist or track names, and more.

I have this problem where I get wrong album covers. I tried deleting everything from my music library and putting everything back but instead now it comes back threefold - almost ALL of my music with no album cobers have this cover of a Korean pop group! Unfortunately this app doesn't really remedy that problem but it's nice to have some background for my music... Can someone suggest a way to deal with the wrong album cover?

This problem has definitely gotten worse for me after the gdr2 update.

Daniel, you're the man. Thanks a lot for sharing this info. I so badly wanted this and I absolutely love my music experience on my phone now, I was expecting GDR2 to automatically fix this for me, but unfortunately Nokia Music does not download Artist Background which is the only thing that sucks about Nokia Music and Xbox Music hasn't released yet in India. Thanks again!!!

this is the most beautiful and helpful article i have ever read. thanks so much

Yeah really sucks. I had no album art issues at first with 8.1, now after adding a 128gb SD card and moving all the music onto that, about 15% of my music has borked album art. Cant even fix it with this app, just hoping for an update as I am not holding my breath for MS to fix anything related to album art, they have a proven track record of failing to get to grips with this subject.

It's not working on 8.1 :(

Yes, unfortunately it doesn't work on 8.1

Windows Central Newsletter
Thank you for signing up to Windows Central. You will receive a verification email shortly.
There was a problem. Please refresh the page and try again.