Mixer is getting a complete overhaul on Android and iOS
By Dan Thorp-Lancaster published
The Mixer app for Android and iOS is getting a complete overhaul.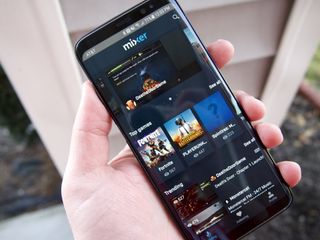 Mixer has announced a revamped version of its mobile app is now rolling out to beta testers on Android and iOS. The new experience sees the Mixer app rebuilt from the ground up with a new codebase, interface, and more.
Mixer says its primary motivation to overhaul the app was to get on a footing where it could accommodate rapid development and deployment of new features. To that end, the app has been rebuilt with a new code base to be "faster and more reliable," Mixer says. The code tweaks should also result in a more stable experience while on the go as well.
On top of the new code base, the app's interface has been revamped as well. Now, Mixer features a carousel across the top of the trending section that shifts through featured broadcasts. Just below, you'll find a list of top games currently being viewed on Mixer, with trending streams just below that. Tapping on one of the top games will take you to a hub that shows every broadcast for that game.
All of that is in addition to improved filters and a new following section, where you can see broadcasters you're following and get recommendations for other streamers to check out. The Mixer team says that, as of right now, most of the features that were available in the previous iteration of the Mixer app are now available to test, but some have yet to become available with the initial beta. Here's a look at what's available now:
Top level home carousel shared with Mixer.com with always playing previews
Games now on your home page instead of in a filter tab
Search with search history
Following with LIVE streams ordered first
Recommended streams bubbled up to the top
Iconography to visually indicate streams with Interactive, Co-streaming and FTL
An improved Profile page with links to your channel, your level and your sparks
Improved filtering for Trending broadcasts
Chat with Viewer list, whispers, and basic mod features
And here's what's coming soon:
Reliable push notifications for Android and iOS
Further chat parity features with Mixer.com
Co-streaming playback experience improvements
The revamped Mixer experience is up for testing in beta for Android and iOS now. If you're on Android, you can easily sign up to be a tester (opens in new tab) to try the experience before it rolls out to everyone. If you're on iOS, space for testers is limited, but you can sign up for a spot (opens in new tab) now.
Dan Thorp-Lancaster is the Editor in Chief for Windows Central. He began working with Windows Central as a news writer in 2014 and is obsessed with tech of all sorts. You can follow Dan on Twitter @DthorpL and Instagram @heyitsdtl. Got a hot tip? Send it to daniel.thorp-lancaster@futurenet.com.
I wouldn't be. Now they are following their same strategy for Windows Phone...boost the competitor and destory their own. Poor windows store...they can't even build for their own platform.

Why build for a platform you are going to reboot in the not too distant future?

You lot don't get it, any future device will rely on UWP. Mixed reality apps are also UWP apps, UWP is not just for phones. It is just at current form of computational behaviour smartphones are the defacto form of interaction and displaying information (cloud end node).

Maybe. I am sure people said that about all the other platforms Microsoft launched, largely ignored and ultimately abandoned. Microsoft doesn't seem too committed to me. Seems quite the opposite actually. If Microsoft was committed to UWP, every app and service they offered would be premiered on UWP. That isn't the case at all. It is actually rare for them to even offer a UWP option for their services.

Do you think MS will drop UWP of PC (including the S and ARM), Xbox, IOT, AR/MR?
For what reason? Is there any viable alternatives for consumers & devs? Do you want to write your application the old-fashion *exe way? Code your own mechanism to install, update, crack-proof, uninstall? Write your own system for subscription or IAP? Are you eager to do your own advertisement? Can I trust your no-name *.exe to do no harm to my system? Will you remove rubbish in the registry during uninstallation? What'll happen to BC/FC/XPA if they drop UWP? What about GamePass? Does GamePass have a competitor?
Can Apple Google or Sony come out with something like console (all games & peripherals can run on newer iteration) + pc + arm PlayAnywhere / GamePass combo? Is this the wrong direction? Would you drop UWP? Why would you? what sense is that?

Has nothing to do with UWP. All those things can continue to exist in there own worlds and become specialized for their respective functions. Trying to fit them all in the same bucket is just going to create mediocre experiences.

When I get my xb1x, I'll...
a) Play Middle Earth, Anthem, AC-O on xb1x@gome, on xb1 in the office, (some) on Alienware NB on the plane / train.
b) Play Luckys' Tale, Ori2, Ashen on xb1x@gome, on xb1 in the office, on Surface Pro during coffee break.
c) Play Enter the Gungeon, Cuphead on xb1x@gome, on xb1 in the office, on win10arm docking on a gamepad on the train.
d) Cross Play Anthem on xb1x and xb1 with my GF.
XPA and cloud sync cost you nothing, what's the downside?

We've said this before, but I'll fill you in again. There is no Mixer app for Windows 10 on the roadmap.

It's very disappointing that it's not even on the road map. Yet Microsoft wants developers to pick up on UWP. It's easier to get funding for development when you can display evidence that the platform is being wholeheartedly being supported by Microsoft. However, since that appears not to be the case, it makes it harder to rationalise investing on windows / uwp developers. As there is nothing to placate any doubts and risks. Therefore it's become seen as a high risk, low reward investment. If businesses cannot rationalise or find a ideal trajectory for their ROI, they are just going to pull out of the platform altogether and there has been many high profile examples of that.

This is probably the least Windows/MS related article I have seen yet on WC. :(

Mixer isn't a Microsoft service?

Which is used/linked to Xbox as well no?

I stand corrected, but you wouldn't know it from the article. Maybe a mention of "Microsoft's video streaming service previously known as Beam" would have helped.

That would be an awful headline. We've covered Beam/Mixer since day one of the acquisition and will continue to cover it as long as it remains part of Microsoft's core Xbox/gaming plans.

I hate automatically playing videos. If there is no option to disable it then I will make sure I don't install this update.

Better still would be feedback to the developers. Lots of people don't like autoplaying videos. So tell them you want an option to turn it off :)

MS should release an app for Windows 10

I want to like Mixer... the tech seems good. But it doesn't seem to matter what I want to do in the Xbox app, it's just either not possible or just really hard to discover. To even get full screen gameplay you have to first maximize the window, then press X, making it impossible to do with just a remote. I still haven't figure out how to follow a game (as opposed to a broadcaster). It's just a big giant mess. Twitch is slow (often REALLY slow to respond), but everything I could want to do seems easily available and easy to understand.

This is the kind of comment that we should be able to give gold to. Here, take my one like / upvote.

Yeah, sadly the Xbox app is dire. Which is sad. I agree on the Twitch front, too.

Of course no windows phone support. I'm glad that I left windows mobile and moved on to Android. Everything works and run so much better including the windows central app.

Just because Windows 10 Mobile won't get a Mixer app, doesn't mean Windows 10 shouldn't. Although, the streaming element of Mixer is built into the OS anyway so any app would be a viewer only which would defeat the purpose of having an app.

The mobile website is excellent

I installed windows 10 now my Lumia 640 won't work right
Windows Central Newsletter
Get the best of Windows Central in in your inbox, every day!
Thank you for signing up to Windows Central. You will receive a verification email shortly.
There was a problem. Please refresh the page and try again.