Add some Windows 8.1 tiles to your New Tab page in Chrome Browser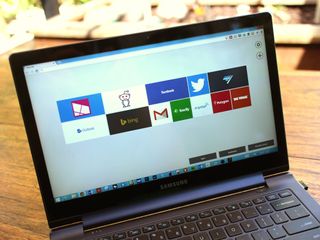 Don't worry, I won't tell the Internet Explorer team you're using Chrome. I use Chrome; Daniel uses Chrome, and you probably use Chrome too. Don't get us wrong, we love Internet Explorer, but there are some Chrome extensions that make life a lot easier if you spend all day on the internet. Here's one that comes recommended from the Windows Phone Central team to make your Chrome browser a little more like Windows 8.1.
The extension is called Modern New Tab Page, and you should check it out. Modern New Tab Page is an extension that replaces your traditional new tab page in Chrome with one that looks and acts like your Windows 8.1 Start screen. You gain Live tiles that you can customize.
Here are all the features of Modern New Tab Page:
Create and edit tiles.
Change the background and font colors, display name, and icon of each tile.
Upload tile's icon from your computer or select an icon from a list of famous website icons or use a link to use any image on the internet.
Display the latest news of your favorite web sites by using RSS.
Click on any news to open it.
Drag and drop to organize the tiles the way you like.
Change the tiles' size to fit more tiles on the screens or to display larger tiles.
26 color themes ready for you to personalize your page.
Make your own color theme using color pickers.
Upload your favorite image to use as background.
Change the background image opacity.
View and reopen your recently closed tabs.
View and open your bookmarks.
Export and import your tiles and configurations
Why use Modern New Tab Page over the traditional new tab page in Chrome? I like the ability to pin whatever website I want to a new tab page as a Live tile. And depending on the site, you might see the latest articles flip up on the live tile. For example, when you add Windows Phone Central you'll see the most recent story from our RSS feed flip as you open the tab page. You can even click it to go directly to that article. Nifty.
Modern New Tab Page will automatically fill in the icon for any website you pin, but you're able to use custom images too. This is handy if Modern New Tab Page pulls up a low-resolution image and you want something a little crisper. The ability to set a custom background behind your tiles is a cool feature and one that just adds to the various customization options available with this extension.
Best part? Modern New Tab Page is a free extension, so you have no excuse not to at least try it out.
Grab Modern New Tab Page for Chrome at the link below and let us know what you think of this extension!
Get the Windows Central Newsletter
All the latest news, reviews, and guides for Windows and Xbox diehards.