Molome and Tile Me! pick up small updates for Windows Phone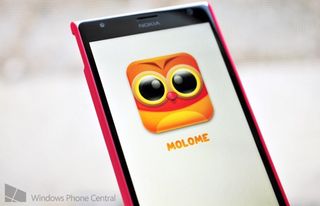 Molome is picking up another update today for Windows Phone. The popular social network and photo editing app launched last month, but was a little buggy at launch. Since then it has seen a handful of updates that didn't just fix any bugs, but also brought some new features. Tile Me! is another popular Windows Phone app that was updated today. Let's see what's new in Molome and Tile Me!
Molome
The last update for Molome brought a ton of new features and fixes. Most notable of those was the addition of push notifications, improved performance, Mission System enabled and plenty more. Today we're looking at version 0.9.1 of Molome in the Windows Phone Store with the following changes:
Fix "Black Filter" bug happened on Windows Phone 7
Fix duplicated Push Notifications confirmation alert
MOLOME is now appeared in Photos' Apps Hub
You can now share photo to MOLOME from Gallery
The push notifications that were enabled in the last update might have caused a few headaches for you. Some users would experience duplicate notification alerts, which have been fixed in this recent update. You also have a fix a Windows Phone 7 specific bug that caused issues when using the "black filter" in Molome.
Some general usage improvements to Molome include the addition of the app in the Photo Hub and the ability to share a photo to Molome.
Grab Molome for free in the Windows Phone Store.
Tile Me!
Tile Me! isn't picking up a major update today, instead it's adding some new handsets to the background creator. Tile Me! is a useful app for generating images to show your Windows Phone loyalty on various social networks. The latest update adds the Lumia Icon, Lumia 1320, Lumia 525 and Samsung ATIV S to the background creator so you can show support for your new Windows Phone.
Grab Tile Me! for free today in the Windows Phone Store. If you don't want to look at ads, you can also pick up the ad-free version of Tile Me! in the Windows Phone Store for $0.99. But remember, the free version doesn't support GIF or background outputs.
Thanks for the tips everyone!
Get the Windows Central Newsletter
All the latest news, reviews, and guides for Windows and Xbox diehards.