Molome photo sharing is indeed coming to Windows Phone 8 and not just Nokia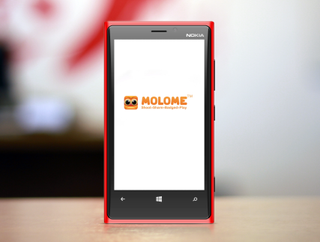 It was less than 24 hours ago we clued you guys in about an app called Molome potentially coming to Windows Phone. Molome is basically like Instagram, but some could argue a bit better because of the gamification for collecting badges for certain tasks. Anyways, we spoke with the founder of Molome and are pleased to let you guys know the app is indeed coming to Windows Phone.
It's fairly popular on Symbian and MeeGo devices - with over 1 million downloads just from the Nokia Store alone. It's available for Android and BlackBerry, so by adding Windows Phone devices to the mix that user base could grow substantially. Now let's talk about the Windows Phone app.
The Molome app for Windows Phone will be full-featured and available for Windows Phone 8 devices. Molome is looking into making a version for Windows Phone 7.x, but are focusing their resources on the newest version first. There are a few technical reasons for developing for Windows Phone 8 first:
HLSL (Shader support) is available on Windows Phone 8 and needed to instantly apply filters to photographs
Lens support
Windows 8 support with the same code
In-app purchasing
Yesterday we speculated that it might be an exclusive app for Nokia Lumia devices before joining the rest of the fray. It was easy to think when the founder, Sittiphol Phanvilai, shared a picture that he had just met with the CEO of Nokia. However, when the app is available in the Windows Phone Store it will be accessible to all devices – regardless of manufacturer.
We would still love for Instagram to come to Windows Phone – One, so you can stop asking about it and two, because it is an essential app to help close the gap with iOS and Android. But we welcome Molome with open arms and can't wait to take it for a spin. No ETA on when it will be available, but we'll keep you posted. But, we will have a beta version of Molome soon and will share our experience with you guys.
Windows Central Newsletter
Get the best of Windows Central in in your inbox, every day!
Not familiar with it but will definitely check it out

Store reps need to know about this and tell people that its better than Instagram, and is the "new" thing.. That would be nice.... Dreaming...

They teased it on 7.x, I believe back in September and now it's coming after wp8, smh.

i heard this app can upload photos to instagram as well.....is it true?

I use both Instagram and Molome on my iPhone; I cannot see any way to upload photos to Instagram from Molome. So the answer to paras chugh is "Prolly not."
If they need more beta testers, I'll be happy to give it a shot. Will it be a public or closed beta?

Why would you have an option to upload to instagram? Malome is a competitor app

yeah...i heard it in this comment: www.wpcentral.com/comment/307301#comment-307301

How do you have it on your iPhone if it isn't available for iOS?

It is available for iOS, its in the app store. Just not in Molone's site.

Ooohh. I'll deffo be downloading.

Oh the irony of when instagram finally comes out and everyone bitches about how terrible it is.

But its not instagram. . . Cry

nokia needs a cinemagraph-like molome. Gifs!!!

Gifagram...ggogogogoogogoagoaogaogoaoogoaogoo!

I have a dream, that one day Windows Phone will live in a world where it is not judged by the lack of over hyped apps, but by the content of its innovative features and beauty of its UI.

Comment of the day haha :D +1
The words of Microsoft Lumia King Jr

"Microsoft Lumia King Jr."

That's rad. :D

Those days died with flip phones & feature phones, sadly. Now, & probably throughout our lifetimes, it will be all about the overhyped apps.

It is judged by its innovative features and beautiful UI. But if the apps most users want aren't available on the platform, innovative features and beautiful UIs don't mean jack.

You win the internet for that comment.

I think the upload to Instagram functionality is coming in V3; which is what is coming to WP8. http://molo.me/p/4Bl13n

Nice, thanks for the link.

That would be so amazing if it's true, but Instagram hasn't changed its API and isn't showing any signs of doing so. But this is from molome's website so it looks legit! Fingers crossed :)

Cool. I'll give it a shot. :)

Is WP8 missing other wonderful apps from Symbian and Meego?
It is a great way to attract Symbian and Meego users to WP8 if we can get more apps from Symbian and Meego...

I think that's where Nokia fits into the picture. They have solid relationships with devs of both Symbian and MeeGo. so its only natural for them to court those devs into making Windows Phone apps.

Need Instagram and Snapchat...but this beats nothing.

Got that impression to from my email response from them...looking forward to it!

Is there solid evidence on why instagram is still not available on wp8? I'm glad this app is coming but we still need to get the most popular apps when everyone else does.

Anyone else noticed that this dev has just ignored ios for a change? Lol

He hasn't ignored iOS. It's just not on their site is all.

He didn't make an app for ios, not saying why, he didn't mention it on his website, therefore the dev has effectively ignored ios, unusual for a developer. That is what i said, i find that hard to argue with.

...what?
He *did* make an app for iOS. I downloaded and installed it from the App Store just yesterday. The fact he doesn't mention it on his website is inconsequential; iOS users don't install apps from websites, nor do they normally search the web for iOS apps. They go to the App Store.
You can't say that a developer is ignoring iOS when they have, in fact, developed an app for iOS.

Ok i thought he didn't make an app because the ios version wasn't mentioned in this article, no need to get heated ;)

they should release it both WP7 and WP8 at the SAME DAMN TIME!!

Well let them know if they need more beta testers I volunteer!

Kinda got tired of waiting for the Official Instagram app for Windows Phone, it's been more than a year since some third party apps were released. Can't wait to try this one though, never heard of it yet but I bet it'll be pretty neat especially on Windows Phone! :D
Windows Central Newsletter
Thank you for signing up to Windows Central. You will receive a verification email shortly.
There was a problem. Please refresh the page and try again.