More evidence of a Touch Pro 2 world edition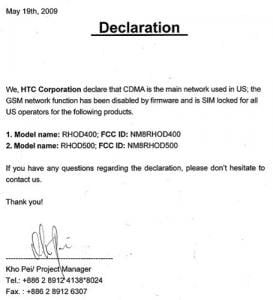 We'd seen rumors that two of HTC's soon-to-be-released phones, the Touch Pro 2 and Snap, could well be sporting CDMA and GSM radios for some worldwide fun, and now we've got some official evidence to go with it.
Engadget spied a document in FCC testing of the Touch Pro 2 (aka Rhodium) that states there are in fact two radios on board, and that the GSM side "has been disabled by firmware and is SIM locked for all US operators."
So what's that mean? It's a world phone all right, but don't expect to be rocking dual CDMA/GSM in the land of the free and the home of the brave.
Another item of note here is that there are two FCC IDs, the Rhodium 400 and the Rhodium 500, which very likely means versions for Sprint (which we just saw) and Verizon (which we don't expect to see anytime soon - see VZW Touch Diamond). Stay tuned.
George is the Reviews Editor at Windows Central, concentrating on Windows 10 PC and Mobile apps. He's been a supporter of the platform since the days of Windows CE and uses his current Windows 10 Mobile phone daily to keep up with life and enjoy a game during down time.
Im getting it with either T-Mobile or AT&T. i got Verizone and i hate it. service sucks here in the Bay Area CA

you must out your mind that so false I am from bay area and I had Verizon for 10 years not single drop calls

I am also waiting for them to put this phone out on AT&T since that is the 3G that we have here. Hurry up already... I'm dying here with my current Samsung Blackjack, I need a WM6 Pro phone but don't wanna waste my contract upgrade on a phone that will be replace in 2 months like the HTC Touch Pro, I want the Touch Pro 2 already.

Thanks for keeping up on the news. But still no hints of US gsm 3G bands! Tmo, sprint and verizon are all set but all of us ATT users are out of luck!

Why in hell would you wait for At&T??????????????? They suck, bad customer service, charge way to much money for what they offer, Departments are disconnected and stupid acting making people do the work and still don't get what they want. No Loyalty program, that is one of the things that pisses me off most about them. No appreciation for paying for fucking 12 years. Yeah, we really appreciate your business, but all we want is for you to pay our wrong and high bills and shut up. We don't offer discounts for people who have been here for 12 years and paid over $50k. No but we really appreciate you. FUCK YOU!!!!!!! People, check your bills, mine were wrong and overcharged for the last 9 month and every month I had to call in and have them fix it. WATCH IT!!!!!!! I am switching to sprint. Better and cheaper service plans. Loyalty program, all you can eat for $99, Yes, all you can eat. Unlimited minutes, unlimited data, GPS (Turn by Turn directions), Music, TV, and so much more ... You have any idea what this costs on AT&T or T-Mobile??????? Check it out. Check out also the palm pre ... Mahalo The Dark Lord

I love the useless (and somewhat misleading comment) about Verizon's TP2 "which we don't expect to see anytime soon". Maybe Phil needs to do a little more looking before throwing random statements out there: http://d474rpr.com/wp-content/uploads/2009/05/imga5492.jpg

>> . . . the GSM side "has been disabled by firmware and is SIM locked for all US operators." Gee, remember the olden days when we used to spend all of our time and effort trying to make the features work to help the customer, instead of figuring out how to block the features in order to screw the customer over. And we wonder why American corporations have trouble competing in a world market.
Windows Central Newsletter
Thank you for signing up to Windows Central. You will receive a verification email shortly.
There was a problem. Please refresh the page and try again.