More images of the Huawei Ascend W1 emerge, reminds us of another Windows Phone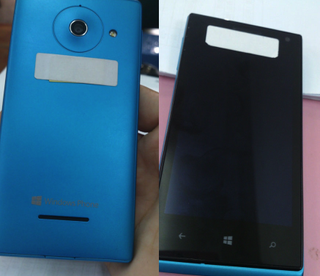 If people thought that HTC took some liberties with design and colors with the 8X and 8S from Nokia, wait until you see these prototype images of the Huawei Ascend W1.
We first saw the bezel part leak last night and now full images of the device have appeared on the same social network. And maybe it's because of that cyan color or the 2D curved glass, but the device looks quite sharp.
We now also have specs to go along with the images:
4.0 screen WVGA
1.2 GHz cpu + 512MB RAM
5MP rear camera 3MP front (?)
2000 mAh battery
A variety of color
Not a bad mid-range device by the sound of it. It will of course be curious to see of this device ever lands in the US, something for which we're not optimistic. But for the rest of the world, you may have a shot.
Source: Sina Weibo; Thanks, Talan1314, for the images
Daniel Rubino is the Editor-in-chief of Windows Central, head reviewer, podcast co-host, and analyst. He has been here covering Microsoft since 2007 when this site was called WMExperts (and later Windows Phone Central). His interests include Windows, Microsoft Surface, laptops, next-gen computing, and for some reason, watches. Before all this tech stuff, he worked on a Ph.D. in linguistics and ran the projectors at movie theaters, which has done absolutely nothing for his career.
To me it seems like they completely copied the design of HTC One X and dipped it in Nokia's favorite color.

This looks more like a Lumia body design and a One X camera bulge at the back.
Who started the use of polycarbonate unibody chasis in phones anyway? Yep it's Nokia.

HTC's been making polycarbonate unibody phones for years, WAY before Nokia. What Nokia did bring to the table however is a new spin on it, with a new interesting design and colours.

So link your source then.



Its just a material. Anyone can use it.. So nothing great about who first implemented polycarbonate.. But the design is very important.. So I feel Nokia's design and build quality has set the standard for devices made from the same material.

HTC one series was the first design of polycarbonate unibody for HTC but Nokia started it

Well someone put in a comment on YouTube that apple pays Nokia for patents

yes apple and many other companies pay nokia for several patents ... let me give you an example : when you type on a virtual keyboard on your phone and the keyboard buttons on which you tap pops out .... well nokia has a patent for that and every company pays nokia for this

You use Nokia patents on every gadget you ever use. Every cell phone manufacturer licenses Nokia patents.
Nokia owns essential WiFi patents, it own patent for cheramic antenna and it owns 60% of all GSM patents out there, over 50% of all LTE patents. Last year alone it it made

Nokia is by far the industries largest patent holder. That's kind of a natural for a company that was once Europea's largest company and spend over 10 years 4 billion euros yearly on R&D. Also the inventor of GSM standard, txt messages, WAP and thousands of other things.

Just out of curiosity. How many of you guys think Apple is the most innovative company. Yep at least 75% of you do. Apple brainwash you with there ads an oh. thinner, faster, lighter. hahaha. Apple pays Nokia more than $500 million a year for using there patents and that's nearing to $750 million a year. No company in the world receives so much from patents. Nokia has one of biggest patent portfolios. They are the most innovative. Just not recognized.----- this was the comment

Oh pizza... +9999999999999999999999999999999999999999999999999 Better grammar and spelling please next time.

That's what he put I just copied it and reposted it ;)

Correction. MS receives $12 to $15 for every android device sold. Per Google they activate 1.3 m per day so that's $18m or so per day from Android activations. MS and NOK have 2 of the largest portfolios in the world,but MS is tops here.

Looks better than 810...ten times better than 822, maybe they took some cues from Lumia 920, but Nokia can take some cues from this phone for their mid range designes!

Only 10 times better than the 822? Not 20, 100? Maybe Verizon should get this instead, right and throw all the other features you get with the 822 out the window. That would rock.....

I would say it looks 822 times better... See what I did there?

Funny why Nokia should take some cues if they had already these kind of designs for their N9/L800/L900?
I really won't consider 810/820/822 as a mid range phone because specwise it's almost the same as 920, it just lacks other features and innovation like the supersensitive screen and OIS pureview cam.
If you would compare this one to the HTC 8X the only notable difference is the screen resolution but 820 packs with expandable memory whilst 8x do not.

820 has supersensitive touchscreen but not PureMotion i.e. you can use 820 with the gloves on but the pixels wont run as fast as the 920 :p dont know about the US specific models but i'm sure 810 and 822 will also feature super sensitive touch screen

820 will be having super senstive touch as well? Then that's really nice to hear, more new features the better. :)

I thought all WP8 devices had micro USB centered at the bottom of the phone, but after seeing this photos I doubt this will be a mandatory feature.

If not in the middle, accessories that will allow mounting/plugging-in won't work with this phone as many would be designed for Nokia, HTC, etc.

I noticed the same thing... Early prototype maybe?

May not be an issue if it's only intended for the Chinese market.

Nice looking phone. Hopefully they can flood the Chinese market with this. Good for wp8.

Honestly, I hope this does make it stateside. I'd love to have more options in the low to midrange, and I'm looking for a good 4" secondary device to compliment by upcoming Lumia 920.

It looks like they stole from Nokia and HTC One x

Lol! But isn't this SOP for KIRF oems? Looks like they even 'lifted' elements of the camera housing from the HTC One X.

These designs will 'dilute' the uniqueness of the Lumia, in my opinion, and I'm not talking about the color. If Nokia did decide to gently talk to Huawei about using a different design, I wouldn't begrudge them.

Hopefully yellow color will be unique to Nokia. That or red is what I am going to get.

Are you guy sure it's a huawei phone you

Yes. Positive. That white sticker on the front? It's covering Huawei's name--you can match it to the leaked bezel image 1:1.

I would never buy Huawei products. Would not support this company who is known for reverse engineering and copy-cat.
Ask Cisco employees or other tech companies. They will tell you what Huawei has done.

I think everyone should look at the argument of OEMs stealing Nokias color schemes from a different perspective. It wouldnt be too far fetched of an idea to believe that Microsoft has been encouraging the OEMs to include these colorful options on their devices to compliment windows phone 7/8's array of themed tiles. The colors should be a staple of all windows phones. And also, hasnt everyone been demanding for square shaped devices since the onset of windows phone? Why? Because again, it compliments the windows phone ui. Samsung pulled it off with the omnia's and dell with its venue, I think its about time everyone jumps on the bangwagon because round devices have a tendency of clashing with the square tiles.

Nokia had the same colors they are using in WP products in their Symbian devices. Also the N9 had those colors.

Looks like a cheap copy of lumia. Actually it is a cheap copy.

Bevelled edges, not rounded or tapered ones. Metallic blue, not matte or glossy blue. I think it's distinct enough not to be a copy.

Is Microsoft making it mandatory for OEMs to make new Windows Phones with only "funky" colours

Yes. That's why the ATIV S only comes in orange

2000 mAh battery for a 4.0" phone is pretty massive! That thing (if true) must run for atleast two days on a charge. I'd like to see manufacturers start to add in more battery life into their phones, in the same vein as the Razr Maxx.

That color choice is quite the burn though, as well as the familiar design. Looks like they took the liberty off adding in their favorite designs into a single phone.

Looks like the htc one x from behind. Same camera hump thing too.

Well all I got to say is that I can't decide which phone to get, all of these look so good and the specs are amazing. I hope WP8 fly's off the shelf's this time around. Finally looks like WP is hitting the market hard this year.
Windows Central Newsletter
Thank you for signing up to Windows Central. You will receive a verification email shortly.
There was a problem. Please refresh the page and try again.