Motorola Releases Q9e - the "e" is for EDGE Only?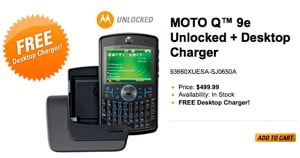 Mike shot us an email and let us know that Motorola has released yet another Q9, this time the Q9e. It's essentially an unbranded Motorola Q9h that's also unlocked and set to go with Quad-band EDGE (they don't list 3G?). If you're in the US, you might be better off just getting the AT&T branded version and unlocking it yourself, because in addition to not listing the 3G bands, it also doesn't list GPS either. That makes it smell like the European version of the Q9h, which lacks GPS and has the Euro 3G bands but not AT&T's 850/1900 3G bands ...but they're not listing 3G bands anyway.
Motorola Q9e, "the e is for EDGE, no 3G for you!" maybe? For $499 you lose GPS and 3G connectivity and there's no WiFi to make up the difference? We're thinking this one's a pass.
In other words, the big news here is that Motorola is addicted to the alphabet. Today's Motorola Q9 is brought to you by the letter "e" and all that.
Motorola Q9e + Desktop Charger Combo (opens in new tab)
Thanks, Mike (and Anthony and Chris)!
Windows Central Newsletter
Get the best of Windows Central in your inbox, every day!