Taking your kids to Disneyland? Stay sane with MouseWait, now on Windows Phone 8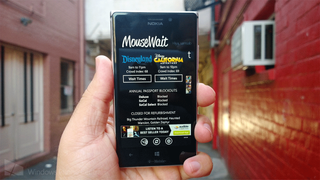 Summer may be unofficially ending this weekend in the United States with Labor Day, but that doesn't mean families won't stop flocking to southern California for Disneyland. While Disney World in Florida may be larger, Disneyland still boasts 16.14 million visitors per year. If you find yourself going to Disneyland sometime soon make sure you download MouseWait for Windows Phone.
MouseWait is a very popular app on both Android and iOS. It's been around since 2009 and has appeared on many app lists centered on Disney. You can basically think of it as the unofficial guide to your Disney stay. It's most useful feature is knowing at any given moment the estimated wait for a line to an attraction. But it does do more.
Let's get this out of the way: MouseWait isn't winning any awards for its design anytime soon, but it does the job when it comes to what you'd want from an app for Disneyland. Launch the app and you'll be presented with some important info at a glance. You'll quickly see the hours for both Disneyland and California Adventure, as well as a crowd index. The crowd index basically rates how busy the parks are using their internal metrics.
You can then check the wait times for various attractions inside either park. When you're checking out the wait times you can sort attractions by either their name or what "land" they're in. You can also help the community by updating the wait times if you're in line and it changes.
You can also check out what attractions are closed, different events in the park, and whether or not you have a blackout date as an Annual Passport holder.
The other side to MouseWait is the social network centered on the parks. You can share pictures, review food, and post various messages to "the lounge". This social network aspect is fairly basic on Windows Phone compared to the iOS or Android versions. But it's there if you're into that sort of thing.
So I mentioned that the design of the app is a bit blah. But another little mark against the app is the inability to remove the ads. It's a free app, but I'd like to see the option to remove it. Especially if I was someone who would use this app often. It's still nice to see MouseWait join the Windows Phone platform.
MouseWait is available for Windows Phone 8 devices. It's free and ad-supported. You can grab it in the Store, use the QR code below, or swipe to the right in our app.
Thanks for the tip Bordon!
Just in time. Heading there next month w/ the family. I'll give it a try.

Going to Disneyland in late September, this is going to be awesome!

Im taking NIST mom to Six Flag over Texas tomorrow... That's after I show her my huge 6inch "Bandit"...

Cool. Your mom might still be a lil woozy from riding my foot long baloney pony all day. She's a sweetie but she said you bought her a Droid.

Ohhh❗ That's hitting below the belt NIST❕❕... Lol. You win once again... Damn you❕... Bought her a Droid❔You had to go there.. Lol❕

Lol that made my morning.. Thanks :P

Funny. I was about to go today?!

My wife has been hinting for 6 months about going there (again).

I want to go back to Disneyland but it's expensive! I guess I'll be saving my pennies.

Downloaded and Paid! Can't wait to use next month!!!!!! Nicely done!

Pity it doesn't work for EuroDisney...=\

I came for the articles, stayed for the crazy comments.

Pointless with magic bands being rolled out next year to Disneyland along with the windows phone version of my Disney experience due for release on November.

I believe Magic Bands have been cancelled for Disneyland for the time being they will only be used at Walt Disney World.

i used this app when i had my iphone. Very glad to see that its made its way to WP8.

About 2 months late for me :( Oh well, hope it enhances others' trips!

Just used this app all weekend, it did the job in the parks. Pinned to start. Now unistalled...

Didn't work on my UK Nokia 920 errors , unrecognized date and time string, maybe I need to change the local to USA

Disney is such a sad shadow of its former self

Firing all of their animators and switching to cgi was a start. Then there was what they did to Jim Henson. They are a ruthless company who has lost sight of Walts vision.

Found this app a month ago and have uses it a lot! My only problem is that you can't update the fast-pass return times like you can the line wait times.

This site needs some moderation. Getting too juvenile.

Is there any app for Disney World?!

Search the store I found about 5, not sure if any good.

Lets get a comparison going!!! I just was looking yesterday
.. Used Lines for droid

Don't understand you ripping on the UI. It carries over the iOS version layout into a metro look.
Ad free platinum version is coming with Disney Insiders Guide, just like iOS.
Fast Pass return time submission coming.
More social things to even up with iOS version also coming. It will be feature complete with iOS soon.
Thanks for the heads up about UK bug, Billy Curry. Its been fixed and will be uploaded to store soon. Changing to US temporarily would fix the issue though.

This makes me happy. I love this app on Android and web based. I hope the WP8 version is as good. I'm downloading it now.
Windows Central Newsletter
Get the best of Windows Central in in your inbox, every day!
Thank you for signing up to Windows Central. You will receive a verification email shortly.
There was a problem. Please refresh the page and try again.