Movies, TV, music and books we're into this week
We have another roundup of movies, TV shows, books and music, directly from the writers and editors of Windows Central to YOU.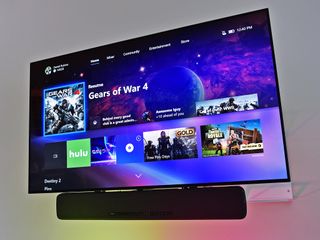 (Image credit: Daniel Rubino / Windows Central)
Another week in the books. That's means we're getting ready to wind down with a good movie, show, read or listen.
This week's batch of recommendations from Team Windows Central features a film about an alien invasion of epic proportions, an animated series that's a favorite of multiple writers and editors, and a psychedelic pop album ... whatever that is.
If nothing grabs you, we have plenty more where those came from at the link below.
More media recommendations from Windows Central
Movies
They're back
Independence Day Resurgence
Recommended by Richard Devine, reviews editor

When I was a kid, Independence Day was my favorite movie, and to this day it's still in my top five. I've owned it on just about every format it's ever been released on, including a VHS with a hologram on the cover!Why, then, it took so long to watch the sequel I'll never know, but I finally got round to it this week. It's not as good as the original, that was never going to happen, but I think it's still better than many give it credit for.It looks on the world 20 years after the events of July 4 and the alien invasion that almost wiped out mankind. Two decades on, Earth has infused alien tech into its defences, but even that might not be enough to save the planet when they come back. Time for Jeff Goldblum to save the world. Again.
TV
See What's Out There
Recommended by Rich Edmonds, staff reviewer

It has been almost a decade since I last watched Stagate SG-1. I'm a big fan of the TV series (including Atlantis) and the film that kick-started everything. It's great light-hearted fun with some well-executed humor and adventures that don't feel rushed in each episode.Starring Richard Dean Anderson, Michael Shanks, Christopher Judge, and Amanda Tapping, the SG-1 squad are tasked with a whole manner of missions, all of which are easy to follow, allowing you to watch an episode or few and return back to the series some months later. If you're a sci-fi fan, you should totally check out Stargate.
Change and balance
Recommended by Sean Endicott, news writer

I absolutely adore Avatar the Last Airbender and The Legend of Korra. They're two of my favorite series thanks to their humor, animation style, deep lore, and loveable characters. I'm currently in a rewatch of the Legend of Korra. This weekend I'm finishing up Book 3: Change which has avatar Korra responding the extreme changes that happened following harmonic convergence in Book 2's finale. Spirits are living among humans. Mysterious enemies have appeared. And Korra is in the middle of a journey of growth and maturity. This is one of my favorite seasons thanks to its villain, who I won't spoil here. Fun fact, the villain is also a favorite of our Executive Editor Daniel Rubino.
Music
Take Me Back
Eternal by DJ Ten and By an Ion
Recommended by Rich Edmonds, staff reviewer

Just when I thought DJ Ten couldn't release a track that was any better than what's already out there, he outdid himself by teaming up with By an Ion. Eternal is simply a beautiful listening experience, taking you back to the 80s down a highway you've yet to explore on a warm summer's night.The melody is silky smooth, vocals are pure bliss, and it all comes together perfectly. This is a must-listen for anyone who's a fan of synthwave, which seems to be really taking off lately.
Psychedelic pop … or something
The End of Comedy — Drugdealer
Recommended by Cale Hunt, staff writer

Michael Collins has operated under plenty of names putting out psychedelic pop music, and his latest project, Drugdealer, has now a couple of records available for your listening pleasure.The End of Comedy, released in 2016, is full of talented musicians and singers creating dreamy tunes, ideal for a sunny afternoon in the backyard or at the lake. Check out "Easy t Forget," "The Real World," and the title track "The End of Comedy" for some seriously laid-back vibes.
Books
A decades' old crime
Redemption — David Baldacci
Recommended by Al Sacco, managing editor

David Baldacci is one of those authors with an uncanny ability to bang out bestsellers like a New York deli does bagels. I've been reading his books for years, and for the most part, they're all decent, if a bit formulaic and not exactly … advanced. One of his most popular series featured Amos Decker, an investigator with a freakish ability to remember everything in crystal clarity, following an accident that injured his brain.Redemption is the fifth book in the Amos Decker collection, and it centers around a crime Deck solved decades ago when he was a fledgling detective, which comes back to bite him when the man he helped convict is released from prison and confronts Decker with evidence that he was framed. It's all twisty and turns from there, as he unravels the mystery.The latest Decker book definitely isn't the best one. And you're better off starting with the first book in the series, Memory Man, which is better overall. But if this sounds like it's up your alley, the book and series are worth a look.
Get the Windows Central Newsletter
All the latest news, reviews, and guides for Windows and Xbox diehards.