Movies & TV update brings support for SRT subtitle files and more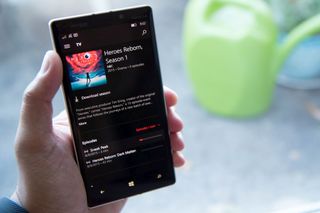 A new update to the Movies & TV app for Windows 10 and Windows 10 Mobile is rolling out tonight, bringing along a few interesting changes including SRT subtitle file support and more. Here's the full breakdown of what today's update brings to the table:
Support for SRT subtitle files
An improved offline experience helps you quickly find your downloaded content for offline viewing
Personal video folders now show thumbnails of content within the folder
If you're interested in version numbers, the latest update bumps things up to version 3.6.1508.0. You should be able to snag the update now, so hit up the Windows Store at the link below, or check for updates in your store app.
Download Movies & TV from the Windows Store (opens in new tab)
Source: Microsoft (opens in new tab)
Windows Central Newsletter
Get the best of Windows Central in your inbox, every day!
Dan Thorp-Lancaster is the former Editor-in-Chief of Windows Central. He began working with Windows Central, Android Central, and iMore as a news writer in 2014 and is obsessed with tech of all sorts. You can follow Dan on Twitter @DthorpL and Instagram @heyitsdtl.
One thing I never understood... Why would someone download a show through the store when a monthly subscription for Netflix costs the same or less for unlimited viewing of a whole lot of shows and movies?

Well, for one, Netflix doesn't have all the latest movies or TV shows. Another reason, there's no guarantee that the movies and TV shows Netflix does have will always be there. Plus, no offline viewing. ​A kind of general header over all of that is, why wouldn't people just rent everything? Well sometimes you want to own it. You want to own your car, your house, your phone, your music, your movies. Sometimes renting is better (like the first time you watch it), but sometimes you just want to have it for your own. It's convenient and makes your favorite movies just a little bit more...personal? Sure.

First, I'm not criticizing anything. My question was just to understand, because I honestly don't know why people would do that. Regarding your answer... Netflix doesn't have all movies an TV shows, but neither does the Store. And Netflix has most movies and TV shows. And Netflix disappearing is a rather weak argument. And even then, you could easily switch to whatever new service is available (Netflix is not disappearing) Also, the car analogy, in both of your examples doesn't work, at any level. It's a completely different situation. People don't buy a movie every couple of years like they do cars. A closer analogy, which is still shitty, is buying cars every month and you get to keep it (or more than once a month) Vs. a flat fee (equivalent to one car payment or less) for the ability to drive many different ones. Let's not even talk about the option to rent the movie that's in the Store, which is only $2-$3 less than a whole month fo Netflix unlimited And these questions are just general actually. It applies to people paying for movies on Amazon instant Video

Netflix doesn't get the latest episodes/seasons of shows until a lot later. I watch The Walking Dead, and Netflix didn't even get season 5 until more than half a year after the entire season had finished airing. The Windows Store usually has them pretty immediately.

Ok, thanks for the clarification. That's what I wanted to know ;)

Look no further than discovery shows that were on Netflix then off Netflix =(. I still miss them..

Ah that sucks, I understand then

I wasn't saying you were criticizing anyone, I was only trying to answer your questions. ​The Store has more of the latest movies and TV shows, while it can take months or even a year for Netflix to get a hold of them (and there's a chance they never will). And you misunderstand. I know Netflix won't disappear, but I know for a fact that when contracts run out, shows and movies disappear from Netflix. A great example is Nickelodeon for the kids. The contract ran out and wasn't renewed, so shows like Spongebob and Avatar: The Last Airbender were no longer available. This happens more than you know on Netflix, you just don't see it. You also misunderstand my use of the car analogy. You took a different angle on it. My meaning was that people just want to own these things. Yes, renting them may be better for the short term but for the long term anything is typically more efficient when owned. Yes, you could rent your favorite movie every time you wanted to watch it (and that is, essentially, what you're doing with Netflix) but buy it once and it's yours wherever and whenever. I could rent music through a music service but owning the music myself is both more convenient and gives me more ease of mind. It's not about what you're renting, be it a car, a house, or a silly movie.

Ok I understand. It was a misuderstanding on my levels :) And shows and movies disappearing from Netflix is something I didn't know happened, thanks for the info To be honest, I'm not getting movies through either of those services right now, but through that other way

I'm glad you understand. Some people can be downright horrid when someone goes against their original saying, even if they know it's wrong. I'm glad we cleared it up.
I have a Netflix that I really just use to watch silly, unique movies that I never would've been exposed to otherwise. I've found some good ones.

Not all movies and show are in Netflix.

Neither are they all in the store. Also, while Netflix does not have all movies and shows, it has most.

Usually not the latest season is on Netflix. I cancelled my Dish Network service and pay for Walking Dead episodes. Save money, watch less tv. Refuse to pirate.

Ok, that's a good point. Didn't know that Is it the same with movies?

MANY shows and especially movies are not on Netflix. Just because the programs you like to watch are on Netflix does not mean the titles everyone wants to watch are on Netflix. Not only that, but a show being on Netflix this month definitely does not mean it will be there next month. They remove things all the time. And what does other movie stores not having everything have to do with anything? Clearly if another store has it and Netflix does not, the person would buy it on the other store with no other option. You seem to think anyone who does things differently or has different tastes than you doesn't know what they're doing.

Waw, you put A LOT of words in my mouth. I don't even have Netflix hahaha I didn't say anything about people not wanting the stuff I do are making the right or wrong choice. I just really didn't know and my question was just because I was curious. I thought most movies and shows on the Store are on Netflix too. I guess I was wrong, but you're getting all worked up and creating stories in your head. The guy above you gave me an example of why he got a tv show from the Store instead, and I said he had a good point because i didn't know that.

Another point is offline viewing. Some people aren't connected to internet 24/7. When we're home or at a place with Wi-Fi, we download stocks of movies & series for later viewing at places where we can only be online through limited mobile data. Same goes to music.

Netflix = shit on every aspect

Nice! It's coming along nicely :)

Will the Windows Media Player eventually be discontinued? I still use it often, so I'd not like for that to happen even though I use Movies & TV and Groove

I think maybe, but I hope not.

Well if they manage to make Groove Music and Movies & TV apps better than WMP then maybe. For now doing that is a bad move since these apps lacks several features, flexibility, and even UI is still pretty much on the early stages. If Groove Music can do smart playlist, device syncing to compatible devices and Windows phones, CD features like Burn, RIP and Playback. Then maybe Groove will started to get ready to replace WMP.

I'm pretty sure rip and burn of CDs won't be coming. It's a very small percentage of the population that is still doing it, and I'm part of it right now, even though I'm slowly starting to download everything digitally.

Burning CDs??? LOL Why not VHS? XD

Stop using it or return to Windows 8. Your choice.

Will it support subtitles within mkv files?

Great! I'm sure it doesn't support vob subs, but this is a start

Exactly. Call me when it supports vobsubs, PGS and ASS stylings. They could add support for libass or VSfilter but like most other proprietary crappy players, they won't.

At last! That was one big piece of missing functionality.

Well that was about time! Let's see how it competes against Media player classic HC then. So far my favorite.

Well, I can assure you that none of us will be alive when that happens, if it ever happens. MPC is light years ahead of this app.

Well, I was just thinking of changing MPC for Movies & TV hehe. MY laptop has been experiencing serious problems with MPC, freezing and needing a hard restart.

necessary feature actually.

That was about time. First thing i noticed, is that subtitles are way too small and are missing an outline that is gonna make the text more visible. Please make an option to resize as we please. I also believe that text needs to be thicker as well. As for MPC HC, it has the best sub font-style i've ever seen on any player.

AWESOME! I've been waiting for SRT support. Now it's pretty much perfect.

Your Download link never work on phone..

The Store gives you direct access :)

this app stops playing when minimized sometimes on my desktop. Anyone else has this problem? same with Groove...

It's supposed to have been fixed in the last build or two, are you on the last one? It was a real problem and Microsoft was aware of it
Ive had it happen one time since I upgraded to the last build, then it didn't happen again. So I know it's not fixed 100%

Thanks for listening. Where the heck is metadata editing and ability to put our movies in movies and our tv shows in tv shows. "We are listening" my ***.

Does srt also work on Xbox One? And does the movies and tv app support as many formats as the media player app (which still doesn't support srt)?

I am pretty sure Windows media player supports srt. Only thing is you have to rename the srt to the same name as the video file,then it detects it. Can't just open it as a separate file like VLC for example

Unfortunately not, yet. Had to hardcode subtitles for Akira into an mp4, as I will never be able to bring myself to watched a dubbed version of it, but the Xbox doesn't presently support srt. Going off topic slightly, neither does it seem to support thumbnails for video files - I used to have it so that when my portable hard drive was hooked up to my 360, it would show the movie poster as the thumbnail for each file. I so need that to happen and soon!

Still moli player is the best for mkv muvi experience. No zoom option in movies and tv

Doesn't work with mp4 files

Wow!! Best media player!!

It always shows the WRONG srt file. FAIL.

Yeah update broke netflix :(

I'm not a huge fan of the folder previews. It would be nice to have it as an option. Nice update though. Off to the feedback app :)

First time I started an app and play movie (mkv, mp4 or avi) with srt subtites works. Second time subtitles stop working...WTF? Anyone with the same problem?

We were having a big presentation at work and Movies & TV failed to open, it did nothing when the presenter tried to launch a video. Also Edge failed to play a YouTube video. They had to use Chrome. Embarrassing… Windows 10 apps need to be more reliable.

How do u select the srt file?? I cannot get this working, does it only work with MKV files that have the srt file embedded?