Mozilla Firefox for Windows 8 finally moves into open beta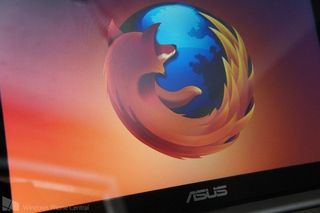 Mozilla has today unveiled that its Firefox for Windows 8 Touch Beta is available for download and testing. The touch-friendly version of the popular web browser has been in development for some time, but finally we're beginning to see the app take shape.
Should you be currently using a Windows 8 tablet or laptop with touch-screen support, we urge you to check out the Firefox beta and see what you think.
When launching the browser, you're greeted by a tile-inspired start screen with one-top access to your top visited websites, bookmarks and history. Some friendly hints are thrown in to get you familiarised with how everything is laid out. If you're used to the "Awesome Bar," you can also continue using this feature over the new additions.
The Firefox for Windows 8 Touch Beta comes with support for both touch and swipe gestures, including pinch to zoom and swipe transitions. The team have also attempted to add some minor UI elements and functionality to make general browsing easier.
Here are some more highlighted features packed into this small package:
Full, Snapped and Fill views – snap Firefox to the side of your screen or opt for the full experience.
Visual Navigation –​ reorganise the start screen to how you wish to be greeted each time you fire up Firefox. The tiles utilised also help make browsing more convenient from the get go.
Windows Share integration – share a Web page or a piece of content from any web page to any of connected social network.
The Firefox team have so far done a superb job bringing the popular web browser to Windows 8, implementing touch support while retaining ease-of-use for mice and keyboard users.
Ready to get started and download the beta? Head on over to the Mozilla website for more details and download links. Be sure to leave feedback and whatnot when beta testing to further support development prior to its gold release.
Source: Mozilla; thanks, David, for the tip!
Windows Central Newsletter
Get the best of Windows Central in in your inbox, every day!
Rich Edmonds was formerly a Senior Editor of PC hardware at Windows Central, covering everything related to PC components and NAS. He's been involved in technology for more than a decade and knows a thing or two about the magic inside a PC chassis. You can follow him on Twitter at @RichEdmonds.
Do u think that Microsoft will allow another popular browser to launch on WP..As firefox is more popular on PCs also..ppl will immidiately switch to it..And IE will be stranded as it is on Desktops already.. From My Lumia 929

IE is by far the most popular PC browser. It may not be the best, but is used by more than any other. Also the way WP is architected there is no option for another native browser.


Am a wp user since nov 2012..an am nt criticizin it..Bt d thing is that..We noe that ie is awesome on wp,,bt a new user on wp wont noe that..an is more likely to be attractd to an much popular name..#I luv ie on wp..its awesome..jst tellin if ur thinkin of me as an f~~kdroid user.. From My Lumia 929

Read 'Lance_WpCentral' s comment below.....he's waitin fr firefox cause its his fav. Browser on pc..#nw did ye got my point?? From My Lumia 929

Sorry bro..but whatsapp is the cause..texting on the go..will write full words from now on..ok??? From My Lumia 929

Even if English is not your native language perhaps you might want to give it a shot. It will generally allow more effective communication than (misspelled) gibberish.

There is nothing in the architecture that is stopping another native browser except for the fact that you can't bind the app to http(s) links. Everything else is fully open, it's just that no one has done it yet.

Check your facts, IE is actually the most popular PC browser, by quite a way. http://thenextweb.com/insider/2014/02/01/ie11-passes-ie10-market-share-f...

Firefox is popular thn IE...u weren't serious, right?

Incorrect ... IE 8 on its own actually has more users than all versions of Firefox. IE 10/11 more than Chrome. http://netmarketshare.com (this team is the most accurate because they don't count any kind of pre-fetching that makes some browsers seem more popular on other market share trackers).

wait.....you have a Lumia 929????

Havnt u heard of a 'signature' section in d WpCentral apps? 8-) From My Lumia 929

You can't take a joke? :P

Hahahaaa....taken ur joke From My Lumia 929

IE is 3X more popular than Firefox. It has close to 60% browser share compared to 18% of Firefox and 16% of Chrome.

Whos Maxthon?? From My Lumia 929

One hopes. But I really like Explorer 11. Works flawless for me.

The current version on WP is IE10, right?

Yes. Not IE11. I do hope that WP8.1 will get IE12 though, as GDR3 didn't get IE11.

They have worked very well on IE12 it might be successful on wp afterwards

I wouldn't say flawless...What about when browsing sites that have sub menus that need a mouse?
http://www.youtube.com/watch?v=eE9UurQvzho reply back if I'm wrong but the IE team needs to fix this.

I responded to the youtube video. In IE you press and hold to open submenus, because often the button/link that expands a submenu is a link in and of itself, so honestly pressing the link makes no sense to expect it to open a submenu.

Imo it does make sense...If you use a PC it does make sense. Would you rather go to computers/entertainment (let that page load) look for Xbox (let that page load) then shop?
or computers/entertainment --> sub menu to Xbox...and your done. IE should try and make things work as easy and with as few steps as possible. Not to mention then you touch and hold on the desktop side of win RT/8 it also brings up the right click menu

You used to be able to tap and hold to move the pointer in Windows Phone 7. Sad they got rid of it in WP8.

Good question I think we should definitely ask more after they finish with the x86 browser lol!

Really hope so. Especially AddOn Support would be awesome.

Nah, Mozilla got all petty over some stupid thing and decided that was more important than its users. Hate to say it but...Dicks!

I wish it had flash support too bad it doesn't work lime the desktop where the browser accesses flash normally I wish microsoft would fix that instead of restricting growers on x86 windows!

Can you even get a computer with x86 these days? The lack of adoption of x64 among developers really irks me. "This program won't have noticeable improvements under x64", so fucking what!? Release an x64 build before your crummy program gets abandoned, and then in the future x128 computers will be able to run it with WOW128. Or even today PE x64 environments without WOW64. Furthermore since when do we throw away improvements because the average user wont notice them? Like the devs of sumatrapdf- great program. "We won't build for x64 because it would confuse our users". What the flying fuck, who are you, apple? How about a simple "if you don't know which to get, get the x86"?

Better than IE11 ? And in what? =P

Where did ye got that news frm?? U work fr EvLeaks?? From My Lumia 929

Shame this isn't downloadable to test on the Surface 2 :( Looking forward to it hitting.

What a shame! I happily went over to there website and only to find out my surface rt does not support it.

Its cause its not in the app store

Dows this win8 version use a different engine than IE?

No flash ugh that's all it needs flash support then bring it to the windows phone for sure!

Sshhhh only html5 now Flash needs to die.

IE11 modern works great IMO. The desktop one is where I run into issues. I'll give it a try

Ridiculous that it's taken this long, almost as bad as VLC. Apparently VLC's latest submission to the windows store was rejected for even more bugs. All they've said is they'll submit it again "soon". I'm starting to think they just pocketed the $80k in kickstarter funds and are now just trolling Windows users lol.

Gonna support this. Downloading otw

So how does this differ from Aurora?

Probably just a name change.

Aurora is alpha. This is beta. More stable I'd guess.

Will this be coming to RT ever?

I wonder if once it is out of Beta it may be available through the store??? Seems like the best way to launch on Win8.

I can't even get it to work. No matter if I make it the default browser or not, it always opens as a desktop browser instead of a modern app. What the heck am I doing wrong?

I've been having the same problem, and I was able to get it to work a few months ago when it was in the Aurora phase

I think you may have to set it as your default browser to get the metro part to work. Otherwise, it will always open in desktop mode.

Did you read his comment?

Apparently not well enough.

When it launches in the Desktop mode, open the menu and click on 'Relaunch in Firefox for Windows 8 touch'. After that it'll always open in touch mode.

I'm having the same problem here and I can't even find that command in the menu. It's nowhere to be found!!! Help!!

When the desktop browser opens up, click on the Firefox menu, and select Relaunch in Windows 8 Style... or whatever it is. The only problem is that, unlike IE, it's one view or the other.

I tried that too, but nothing happens.

I'm getting the same thing. Tried setting default and selecting Relaunch in W8, but nothing.

U bettr contact firefox support rather than d talentd forum members of WpCentral.. From My Lumia 929

Seriously? Your mixture of english and 'txt' speak is making my eyes bleed.

Sorry..But dont cry man From My Lumia 929

I don't see anyone crying, just complaining about the fact you insist on posting in unintelligible gibberish. It is difficult to even follow whether you really trying to be insulting given the threshold of blather....

Just chill man..Will write full words from now on..And are your eyes also bleedin cause of me?? From My Lumia 929

When it is coming to windows phone.

The only reason I user Chrome is because it allows add ons in Metro mode.

using chrome in "metro" mode is such a gimped experience - no pinch to zoom, scrolling is jittery, its generally a not great experience - your much better off with IE11

Chrome doesn't even have worthwhile addons to boot

Dang! I thought I read "for windows 8 mobile devices". Disappointed.

I can't launch it in modern mode even if I have already set it as the default browser.

I hoped for an arm version :/

I thought this would work on my Surface 2 since Windows RT is the one that needs a Metro/Modern version of Mozilla most... Is there no way to do Betas through the Marketplace? I remember Jay Bennett mentioning that a little on the last podcast...

I like better IE11.. Full touch experience

I'll be glad if at all Firefox came out for Windows Phone some day because its my favourite browser on the PC.

It's good that its there finally but does need a ton of work still.... prefer the gesture navigation on ie11 and there are no advantages like addons yet for the metro mode. If I can ever install my lastpass addon in firefox I will switch immidately but not until then.

What's the difference between this and aurora?

I was wondering that too. I have been using the Windows 8 version of Aurora for a few weeks as it was the only browser that seems to support QHD+ resolutions properly (IE and Chrome are too flakey at that res).

Prob the real metro app? Meaning not the fake way by making the auto default browser and what not to make it run metro like and all that fun stuff.

I just installed this on my Dell Venue 8 pro and it doesn't seem so touch friendly to me. This site isn't so friendly to touch so

Aurora is jst like a beta version of firefox wid a differnt make..used fr developmnt purposes..i use it on mah pc an it works smoothly From My Lumia 929

Try selecting "Relaunch in Firefox for Windows 8 Touch" if you haven't already. After installing I was stuck on the desktop version, but it seems to work pretty nice once I found that menu option.

Jst a color chng-unstoppablekem..Didnt ye notice?? From My Lumia 929

I for one am holding out for the Netscape Navigator browser.

An am fr Chrome and Opera browsers.... From My Lumia 929

LMFAO Best comment I have seen all week!

Waiting for Opera mini since I bought this phone!

55% - Chrome
26.9% - Firefox
10.2% - IE
3.9% - Safari
1.8% - Opera w3schools.com

Aint there an option for-Others?? Like Aurora From My Lumia 929

Waiting for the Windows Phone release

I can't install it on my Surface RT. I thought this can be used on Windows 8 tablets, well how come I can't. Any help or clarification please.

I want Opera for WP, was excellent in Symbian

Does this support Windows RT tablets such as the Surface, too?

Damn I thought it had been on windows phone!!!

That only took them nearly two years. Seriously, Windows 8 has been available to developers since late 2011 and Mozilla is just NOW getting around to a beta. That doesn't install through the store. Doesn't run on Windows RT. And didn't work at all for me. I never could make it start in Metro. Come on guys, you're gonna have to do better than that.

I love my FireFox on desktop mode, but this version does not support add ons.. is it in the pipeline?

Mozilla, please bring Firefox to WP ASAP, so that we, the WP users, can enjoy the world's best browser on the world's best mobile phone OS.

Windows Central Newsletter
Thank you for signing up to Windows Central. You will receive a verification email shortly.
There was a problem. Please refresh the page and try again.