My Friend Spooner, a comic book adventure for Windows Phone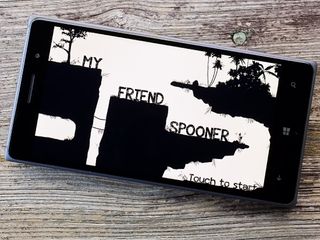 My Friend Spooner is a Windows Phone game that fuses the storyline of a comic book with a platform video game. You join three amigos, Husk, Tent and Spooner, on an adventure searching for hidden treasure and avoid dangers along the way.
Graphics are nicely drawn up and reminds me a little of the popular Windows Phone game Dark Lands. Gaming controls consists of a series of screen gestures and each of the fifty-two levels of play are full of challenges to discover the path to get all your characters to the exit.
Available for low-memory devices, My Friend Spooner is another project supported by Microsoft's App Campus and an entertaining title to add to your Windows Phone gaming library.
When you first launch My Friend Spooner, you will be greeted by mature game rating notice. The game receives this rating for the violence and use of drugs in the storyline. It also has some strong language in the story as well. Needless to say, My Friend Spooner may not be suitable for our younger Windows Phone gamers.
The menu for My Friend Spooner includes the customary options to access the game's settings, visit the game's store and jump into game play. Options are minimal with settings to adjust the sound and music (just slide the bird on the wire for your audio levels) and access the About screen.
The game store offers you an opportunity to support the developer and buy the full game ($2.99).
Game Play
Game play is spread out across 52 levels of play and four different worlds. With each level, you will need to navigate Spooner and his friends across the platform to the exit. Each character has special abilities and you will face situations where the characters will have to work together to navigate through parts of the level. Character icons are positioned in the upper left corner of the game screen and you can move from character to character by swiping at these icons.
Spooner has monkey-like climbing and crawling skills, Husk has rhino-like strength and Tent has horse-like abilities to kick Spooner across large spaces. The first handful of game play levels are tutorial in nature and walks you through game mechanics nicely.
Controlling these characters is done in simple fashion through a series of screen gestures. Swipe and hold to the left or right and your character will move in that direction. Swipe up, down, left or right and the characters will climb up/down, crawl under, push objects, lift objects and other tasks. As new abilities become available, My Friend Spooner does a nice job of tossing out on-screen instructions to help get you through game play.
Each level is a puzzle to solve in that you will need to use each character's ability to find your way to the exit. For example, some levels Spooner will need to climb his way across a canyon and drop a board across so the other characters can cross. In most cases, it takes a collective effort by all three characters to solve the puzzle and safely make it to the exit.
Throughout the game, the graphic novel will play out with series of story boards appearing between levels and worlds. You can tap to advance through the story or tap the screen with three fingers to skip it entirely.
Overall Impression
My Friend Spooner joins the ranks of some of the better drawn-up games. The silhouetted game play looks nice and the story boards are equally nice. If you are a fan of black & white illustrations, you should find My Friend Spooner an appealing game.
If you are into puzzle platformers, you will also find My Friend Spooner an appealing Windows Phone title. I like the multi-character game play that calls for a cooperative effort to solve the puzzles and how the twists in the story are reflected in the gaming levels.
The only nit I can find in playing My Friend Spooner over the past few days is that at times the screen gestures could be a little stubborn. Hopefully this is something that can be ironed out with an update but it isn't so bad to make you pull your hair out.
Overall, My Friend Spooner has a certain level of appeal and grows on you the more time you spend with the game. Currently the game is pulling down a 4.5 Star rating after a handful of reviews. We think the 4.5 Stars is about where this game should be and if you do take My Friend Spooner out for a spin, remember to rate the game in the Store to give the developer a little constructive feedback.
Windows Central Newsletter
Get the best of Windows Central in your inbox, every day!
George is the Reviews Editor at Windows Central, concentrating on Windows 10 PC and Mobile apps. He's been a supporter of the platform since the days of Windows CE and uses his current Windows 10 Mobile phone daily to keep up with life and enjoy a game during down time.
Spooning lol.
Anyways nice drawn, weirdo characters (which is good), I like the idea.

It looks interesting... I'm gonna give it a try!

Magic jack needs to make app for window phones Coolest Man Alive

Text me needs to update their so I can make and receive calls. Coolest Man Alive

Why does it say "Free", then when you go to play it, it says purchase full game? Smh

@Deejay Ron1: We chose this business model, so anyone can first play the game (12 levels and 4 comic book scenes), and then decide if it's worth your money. Frankly, I don't believe in free games + advertisement (to make any money on those, you have to develop your game with a low budget, which means your game won't be special) or Free 2 Play games (which either cost a lot, or force you to do meaningless game-loops over and over). We'd rather make games that are fun from A to Z, and charge a small amount for it. I'm pretty sure you're gonna feel like you got your 3 bucks worth of fun, when you finish this game :-) Have fun, and remember to NOT put this in your nephew's hands ;-)

In my opinion you should then but a price on it in the store and have a trial option. This is exactly what that function is for. Looks like a great game btw.

The Trial option is handy, but we became aware of it too late in development cycle. My Friend Spooner should come to other platforms later on, and to save costs, a dev has to try and standardise as much of the development as possible. I do have a question however: Many of us developers don't really get the whole 'we want amazing games but don't want them free' craze on the mobile app stores. As guys who want to make high end games, it's kinda frustrating and you have to be pretty confident to not just jump on the Free 2 Play bandwagon. How do you as a consumer look at this? Is including the Trial thing a big step up? Or what else are triggers for you guys to give a paid game a chance? (trailers with lots of gameplay maybe?)

I personally like this model. Play a small part of the game then pay for the rest if one likes the game. Thanks

In my opinion, the trial mode is a huge step up. If a game requires money up front, I may not take a chance on it. If it's listed as free, I'll assume it's either loaded with ads or microtransactions. In this case, downloading a "free" game only to find out it costs money to complete may seem like a bait-and-switch. Trial mode lets me know exactly what I'm getting up front and, from experience, I'm much more likely to buy a game after having had a chance to play it first. This game looks great and I look forward to trying it.

Noted. We'll look into how we can maybe make the switch in a future update.

It is worth the money Sven. For the record. I hope development continues.

Coolest game ever. I'm surprised to see this get a review on the front pages since we talked about this game in the forums. Usually the kiss of death for headlines. But cool game.

Thanks for the kind words guys. Feel free to also put them in a review on the Windows Phone store ;-)

It was done days ago. Love this game.

Trine 2 gameplay with inverted Limbo graphics? Sold.