My Talking Tom launches on Windows Phone 8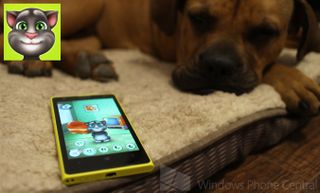 My Talking Tom just launched worldwide on all platforms including Windows Phone 8. You might recognize the name because Talking Tom is part of the Talking Friends franchise that boasts 1.2 billion downloads to date. This new app lets users see Tom grow from kitten to adulthood, customizing his appearance as they go, with the introduction of animations powered in real-time 3D for the first time.
You can play games with him, feed him his favorite foods, and tuck him into bed. Poke, stroke and tickle him, and watch how he responds. There are 9 different stages and 50 levels to unlock. Watch the trailer after the break to see if this is for you.
Talking Tom has grown a huge fan base since launched three years ago. Will Tom's fans love this app? My Talking Tom is a free download from the Windows Phone Store with available in-app purchases. Are you playing this game? Let us know in the comments!
The annoying cat from youtubes has finally found us

And may the rest of them found us too

Lol no "First" comments aloud. I got my gf to download this but she hasn't said what she thinks yet. I'm still on tiny stars wars.

Star wars... THAT MAKES TWO OF US

This is not 9gag nor youtube, you can pack your grammar and stick it into your ass.

This isn't 9gag or YouTube, you can take your grammar and enjoy it while raising a cat.*

Raising a cat doesn't stop him to stick it into his ass, it's more like a bonus

My wife's hooked on that game and she's not even a star wars fan

Tiny Deathstar is wonderfull! Im in!

What is happening..... Windows phone on a roll. Keep on coming. Has been a busy week. Want to get more busy.:D:P

Agreed! This is a big one to me. It's important that we get these titles because people look for them.

I prefer apps like Snapchat, but I'll take what I can get. Go windows phone! :D

In for a Snapchat app as well.

Bèta testing Snapback right now. Official snapchat app is suppose to come with GDR3.

I doubt it at this point. GDR3 is already officially available on a few handsets and I don't think it contains the necessary changes the Snapchat people need to bring an app that has parity with the versions on iOS and Android.

As far as I've heard, only HTC has officially released GDR3 to the public, and Snapshot may be good for HTC and Samsung handsets. Probably not Nokia ones though, hah.

Does anyone actually download this. Totally useless and non functional app. Sorry but what the hell is the point of this app? It's amazing how little it takes to amuse a small mind, and I don't want to hear it's for kids. Kids aren't even going to use it.

Well, kids are probably the largest userbase for this app. Think of it like Nintendogs, or Tamagochi, or Neopets. Those are all virtual pet franchises that have had success.This app has a special niche. Not for those with small minds, but those looking for something particular.

I was going to make a comment about how this sounds like the 2013 version of a tamagochi. Those were the good old days....

lol. No need to insult others just because a game doesn't conform to your standards. I'm pretty sure you don't speak for every kid on the planet. Besides, don't we all just want more and more well-established developers to jump on board the WP ship? I.e., can't we all just get along? :)

I didn't know someone could get so mad over an app

Personally I think the cat looks ugly and it bothers me haha

You could simply ignore it and move on to the next app that is more to your liking.

You probably don't have kids that like to grab your phone to play games. Although stupid, this is the kind of game they can enjoy for a few minutes and leave dad alone for a while.

I'm so happy . Now , waiting for Instagram . If the app is lame , I'll stick with 6tag .

I'm only going to download Instagram to thank them but I am staying with 6tag.

Hope you rate them: So we waited 1 Year for this?

is that Google on the BG @mark? :D

Great to have the developer support. Windows Phone get this app before iOS and Android. Everyone download it now :)

This application is available for Android already and I suppose iOS too.

Don't think it is. There are plenty of Talking Tom apps but can't find My Talking Tom in the Play Store.

I can assure you that it is available for Android phones. What you need to do to find it is search for My talking Tom then tap on More from Outfit7. Then scroll down the full list of apps right down to the bottom and you will find this particular version. This is how it is on my Samsung Galaxy S 3 at least

Apps notifications are annoying!

microsoft needs to update kinectimals. it had so much potentials.

After the game closed, the following sentence notified on the screen with the sound every 5 minutes: "Yawn, I'm sleepy! Turn off the light!" It's unable to be fixed. Who could help me with this issue?

you should probably turn off the light!

Might need to uninstall and reinstall it.

keep the apps rolling! im hoping the next one is instagram

Just turn off the notification or uninstall it if you don't really like it.

Let me finish Asphalt 8 first please :D

Every day a new app release...well,i lyk it...waiting for TR2 and Instagram :)

http://ThepaidWork.com/?id=Talbot690

Still need plants vs zombies 2

The reason i got a windows phone was that this app did not exist in the app store!

Just zipper your pants back up and stop looking at it. :)

yaaaaa window phone store is surprising.....every two days.....gud to goooooo ..keep the apps coming and yess lumia rockssssssss :0

I don"T get this app?¿ pointless

If u don't get it alot others does, just check similar game like mou on windows phone store, an copy from very popular app from other oses pou, its one of the most downloaded and almost everyone asks for pou on the reviews,. these kind of apps is actually the thing that makes or breaks for children and girls, just imagine all of those child with their Lumia 520 enjoying this

Weird after install i find it in games menu ? Is this a game?

Yes it is. It is like a virtual pet.

Sigh... Every post you read is about people not using instagram over 6tag.

Finally I can show off my phone to my daughter. She likes this game but can only play on her mum's iPhone.

I want talking Angela ;_;

Where are the settings for this game? I cannot find any button. I need to turn off the sound but can't find any way to do so. Can someone please help me out.

I just made my cat take a poo in the terlit L0L
Windows Central Newsletter
Thank you for signing up to Windows Central. You will receive a verification email shortly.
There was a problem. Please refresh the page and try again.