My Top Windows Phone Weather Apps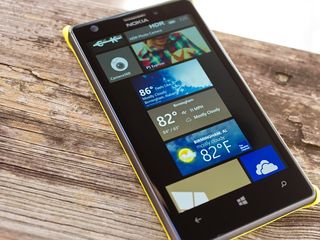 Windows Phone Central App Roundup: Weather Apps
Weather apps seem to multiply faster than a burrow full of rabbits and are one of the more populated genres of apps in the Windows Phone Store. You have feature rich apps that not only deliver the current and extended forecasts but also live weather radar, weather videos and the ability to track the weather for a friend's location. Some can add your current weather conditions to photos and others are more minimal in nature.
The choice as to which likely boils down to personal preference and for this week's roundup, I'll toss out my top Windows Phone weather apps. Now before you break out the pitchforks, light the torches and begin posting "How could you miss (insert weather app title here)!", these are titles that I find myself relying on in my day to day activities. There is a huge selection of quality weather apps available in the Windows Phone Store and if I don't mention your favorite, there's nothing nefarious afoot.
Before we dive into things, I have a host of weather apps installed on my Windows Phone. The three main weather apps in this week's roundup are the ones I use on a regular basis either as a Live Tile source for weather, a Lockscreen source for weather or an app to get detailed information on the weather. The honorable mentions are the weather apps I use from time to time.
Amazing Weather HD
Amazing Weather HD is my source for lockscreen weather information. It's a fantastic and popular weather app that presents your forecast information in a no nonsense fashion.
The main page displays your current conditions along with your forecast conditions for a five day period. Control buttons are present to pull up an hourly forecast and non-animated radar/satellite images.
Additional features with Amazing Weather HD include:
Support for five Live Tiles
Auto location feature using your Windows Phone GPS
Weather alerts
Access to personal weather stations using GPS location
I choose Amazing Weather HD to provide weather information to my lockscreen because of the level of customization the app offers. Not only do you have several styles of Live Tiles to use (supports up to five) but you can choose the weather layout for your lockscreen, the forecast city and the background image (Amazing Weather, Bing Daily, Custom Image or Album).
I like using my own images often as lockscreen wallpapers and Amazing Weather HD gives me that option.
If I had to pick one thing I don't like about Amazing Weather HD it would be the lack of animated radar. Not a deal breaker but it would be a feature to help bolster the app's popularity.
Personal reasons aside, after 9100 reviews Amazing Weather HD nails a 4.5 Star review in the Windows Phone Store. It's a great option to consider if you are looking for a more than basic weather app for your Windows Phone.
Atmosphere Weather
Atmosphere Weather is one of the best looking, nicely laid out weather apps available for our Windows Phone. The interface is simple and delivers a wealth of weather information to your phone. While Amazing Weather HD takes care of my Windows Phone lockscreen needs, I rely on Atmosphere for my Live Tile weather information.
Sure, Amazing Weather HD has more customization options for its Live Tiles but I just like the looks of Atmosphere Weather's Live Tile a little better.
Atmosphere Weather's main page covers your current weather conditions with hourly and extended forecasts only a side swipe away. Key features of Atmosphere Weather include:
Multiple location support
Storm tracking
Non-animated HD Radar (US only)
Moon/Astronomy data
Sunrise/Sunset times with graphs
Lockscreen and Live Tile support
Four themes to choose from
The main page offers a nice snapshot of your current conditions that includes the chance for rain, wind speeds, humidity levels, visibility and barometric pressure.
Live Tile support delivers the current temperature, forecast high/low, wind speeds and an icon illustrating the current weather conditions on the front side of the tile. The back side of the Live Tile displays a five day extended forecast on the back side. Atmosphere's Live Tile is a bit on the minimal side but, again, I just like the looks of it.
While the severe weather tracking feature is nice and tells you how close the nearest storm is to your location and the general direction of the storm's movement.
If I could change two things about Atmosphere Weather it would be to add weather alert notifications and animated radar to the mix.
Of the three weather apps I use with the most regularity, Atmosphere Weather is the youngest of the bunch but still manages to score a 4 Star rating in the Windows Phone Store, which isn't too far from the mark.
In addition to the Windows Phone version, you also have a Windows 8 version of Atmosphere Weather for those needing a weather app for your larger screened devices.
The Weather Channel
While I consider both Atmosphere Weather and Amazing Weather HD a more than basic weather app, The Weather Channel app would be a full-featured weather app for your Windows Phone.
The Weather Channel app delivers the following to your Windows Phone.
The current weather information for you location
An hourly breakdown of the forecast
A 36 hour forecast
A ten day forecast
Animated weather radar
Weather alerts
Local video forecasts
The app also offers you the ability to view the weather at your friend's location and has an informative severe weather center. The latter is why I keep The Weather Channel app install on my Windows Phone. It becomes a staple source of information during the severe weather months of the Spring and unpredictable months during the Winter.
The Weather Channel app is a very capable and informative Windows Phone weather app but I like the Live Tile of Atmosphere and the lockscreen options from Amazing Weather HD. It is my go to app for when I need to dig a little deep into what is going on outside.
The Weather Channel only pulls down 3.5 Stars in the Windows Phone Store with one of the more common complaints involving the ad banner (which is rather annoying). If The Weather Channel would offer a reasonably priced in-app option to remove the ad banners, we think the rating could rise to at least the 4.5 Star level.
Honorable Mentions
While the three apps above are my daily drivers, I also have a small collection of weather apps that I will use from time to time and are worth mentioning.
Weather
MSN Weather (formerly known as Bing Weather) is a fantastic weather app for both Windows Phone and Windows 8 devices. The app delivers the current conditions to your Windows Phone along with daily forecasts, an hourly breakdown of the forecast, a small collection of weather maps including a non-animated radar image and multiple location support. MSN Weather also has what may be the best background images of all the Windows Phone weather apps.
The Glance support that was recently added helps sustain MSN Weather's appeal. Now if it could only offer the ability to use your own images as the lockscreen wallpaper.
Accuweather
It was a bit of a coin toss between Accuweather and The Weather Channel as to which would be my heavy weight weather app. Accuweather offers detail forecast information, weather alerts, Live Tile and lockscreen support.
I do like the Lifestyle forecast section that shows how the weather is expected to impact outdoor activities such as running, golf, hiking, star gazing and more. The app's weakness, much like the Weather Channel, is an annoying ad banner that really ruins the aesthetics of the Accuweather app.
What gave The Weather Channel app the nod for me was its severe weather center.
4castr
4castr (pronounced forecaster) is a feature healthy Windows Phone weather app that may get the award for the most unique UI. While most of the weather apps deal with pages laid out in panoramic fashion, 4castr uses a series of panels that can be accessed through a series of swipes.
For example to view tomorrow's forecast, you swipe down for the daily forecasts and swipe to the left to view the next day's forecast. Panels include current conditions, extended forecast, hourly forecast and animated weather radar. Navigation does take a little time to get accustomed to but once you get a handle on things, you can zip through the app rather efficiently with one hand.
A recent update to 4caster has bumped the app's appeal significantly by adding multiple location support, customizable weather icons, weather alerts and more.
RAD Now! / MyRadar Weather Radar
If all you need is a weather app to deliver animated weather radar to your Windows Phone, there are a few choices in the Windows Phone Store worth trying. The two front runners will be RAD Now! and MyRadar Weather Radar.
Both are quality apps and personally, I use RAD Now! for its simple interface. You have options to set the radar image to your current location or scroll around the map by touch. You can set the opacity, frames per minute and choose between hybrid and road views.
If you want a little more meat on the bone, MyRadar Weather Radar might be your cup of tea. It also offers a simple interface but also provides temperature readings with weather warnings/alerts and hurricane tracking available through in-app purchases.
Again, both are quality apps with the only real downside to either being that the radar services only cover the United States. Also, please note that there is not a trial version available for the Ad-free version of MyRadar Weather Radar. There is a free, ad-supported version of MyRadar Weather Radar though.
If I only could choose one?
Considering the hypothetical where Microsoft limited Windows Phones to only one weather app, which one would I choose? It would be a tough decision but right now, I would likely lean towards Atmosphere simply because it is a well designed weather app that covers the basics and then some.
I do like Amazing Weather HD and there is a lot to be said for MSN Weather (really like the Glance support). You also have the recent update to 4castr that increases that app's appeal, but Atmosphere is the one catching my eye of late.
It's easy to see that we have a large selection of weather apps in the Windows Phone Store and while there are a few that should never have left the drawing table, most are quality options to consider. The key issue is finding the weather app or apps that suit your tastes and needs the best.
Having said that, we now turn the tables on our readers. What is your top weather app or do you have a collection installed on your Windows Phone to rely on? Sound off below in the comments and keep in mind, if we overlooked mentioning your favorite weather app, it wasn't by design.
Get the Windows Central Newsletter
All the latest news, reviews, and guides for Windows and Xbox diehards.
George is the Reviews Editor at Windows Central, concentrating on Windows 10 PC and Mobile apps. He's been a supporter of the platform since the days of Windows CE and uses his current Windows 10 Mobile phone daily to keep up with life and enjoy a game during down time.