My Top Windows Phone Weather Apps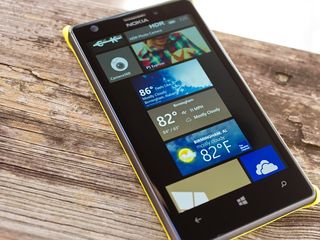 Windows Phone Central App Roundup: Weather Apps
Weather apps seem to multiply faster than a burrow full of rabbits and are one of the more populated genres of apps in the Windows Phone Store. You have feature rich apps that not only deliver the current and extended forecasts but also live weather radar, weather videos and the ability to track the weather for a friend's location. Some can add your current weather conditions to photos and others are more minimal in nature.
The choice as to which likely boils down to personal preference and for this week's roundup, I'll toss out my top Windows Phone weather apps. Now before you break out the pitchforks, light the torches and begin posting "How could you miss (insert weather app title here)!", these are titles that I find myself relying on in my day to day activities. There is a huge selection of quality weather apps available in the Windows Phone Store and if I don't mention your favorite, there's nothing nefarious afoot.
Before we dive into things, I have a host of weather apps installed on my Windows Phone. The three main weather apps in this week's roundup are the ones I use on a regular basis either as a Live Tile source for weather, a Lockscreen source for weather or an app to get detailed information on the weather. The honorable mentions are the weather apps I use from time to time.
Amazing Weather HD
Amazing Weather HD is my source for lockscreen weather information. It's a fantastic and popular weather app that presents your forecast information in a no nonsense fashion.
The main page displays your current conditions along with your forecast conditions for a five day period. Control buttons are present to pull up an hourly forecast and non-animated radar/satellite images.
Additional features with Amazing Weather HD include:
Support for five Live Tiles
Auto location feature using your Windows Phone GPS
Weather alerts
Access to personal weather stations using GPS location
I choose Amazing Weather HD to provide weather information to my lockscreen because of the level of customization the app offers. Not only do you have several styles of Live Tiles to use (supports up to five) but you can choose the weather layout for your lockscreen, the forecast city and the background image (Amazing Weather, Bing Daily, Custom Image or Album).
I like using my own images often as lockscreen wallpapers and Amazing Weather HD gives me that option.
If I had to pick one thing I don't like about Amazing Weather HD it would be the lack of animated radar. Not a deal breaker but it would be a feature to help bolster the app's popularity.
Personal reasons aside, after 9100 reviews Amazing Weather HD nails a 4.5 Star review in the Windows Phone Store. It's a great option to consider if you are looking for a more than basic weather app for your Windows Phone.
Atmosphere Weather
Atmosphere Weather is one of the best looking, nicely laid out weather apps available for our Windows Phone. The interface is simple and delivers a wealth of weather information to your phone. While Amazing Weather HD takes care of my Windows Phone lockscreen needs, I rely on Atmosphere for my Live Tile weather information.
Sure, Amazing Weather HD has more customization options for its Live Tiles but I just like the looks of Atmosphere Weather's Live Tile a little better.
Atmosphere Weather's main page covers your current weather conditions with hourly and extended forecasts only a side swipe away. Key features of Atmosphere Weather include:
Multiple location support
Storm tracking
Non-animated HD Radar (US only)
Moon/Astronomy data
Sunrise/Sunset times with graphs
Lockscreen and Live Tile support
Four themes to choose from
The main page offers a nice snapshot of your current conditions that includes the chance for rain, wind speeds, humidity levels, visibility and barometric pressure.
Live Tile support delivers the current temperature, forecast high/low, wind speeds and an icon illustrating the current weather conditions on the front side of the tile. The back side of the Live Tile displays a five day extended forecast on the back side. Atmosphere's Live Tile is a bit on the minimal side but, again, I just like the looks of it.
While the severe weather tracking feature is nice and tells you how close the nearest storm is to your location and the general direction of the storm's movement.
If I could change two things about Atmosphere Weather it would be to add weather alert notifications and animated radar to the mix.
Of the three weather apps I use with the most regularity, Atmosphere Weather is the youngest of the bunch but still manages to score a 4 Star rating in the Windows Phone Store, which isn't too far from the mark.
In addition to the Windows Phone version, you also have a Windows 8 version of Atmosphere Weather for those needing a weather app for your larger screened devices.
The Weather Channel
While I consider both Atmosphere Weather and Amazing Weather HD a more than basic weather app, The Weather Channel app would be a full-featured weather app for your Windows Phone.
The Weather Channel app delivers the following to your Windows Phone.
The current weather information for you location
An hourly breakdown of the forecast
A 36 hour forecast
A ten day forecast
Animated weather radar
Weather alerts
Local video forecasts
The app also offers you the ability to view the weather at your friend's location and has an informative severe weather center. The latter is why I keep The Weather Channel app install on my Windows Phone. It becomes a staple source of information during the severe weather months of the Spring and unpredictable months during the Winter.
The Weather Channel app is a very capable and informative Windows Phone weather app but I like the Live Tile of Atmosphere and the lockscreen options from Amazing Weather HD. It is my go to app for when I need to dig a little deep into what is going on outside.
The Weather Channel only pulls down 3.5 Stars in the Windows Phone Store with one of the more common complaints involving the ad banner (which is rather annoying). If The Weather Channel would offer a reasonably priced in-app option to remove the ad banners, we think the rating could rise to at least the 4.5 Star level.
Honorable Mentions
While the three apps above are my daily drivers, I also have a small collection of weather apps that I will use from time to time and are worth mentioning.
Weather
MSN Weather (formerly known as Bing Weather) is a fantastic weather app for both Windows Phone and Windows 8 devices. The app delivers the current conditions to your Windows Phone along with daily forecasts, an hourly breakdown of the forecast, a small collection of weather maps including a non-animated radar image and multiple location support. MSN Weather also has what may be the best background images of all the Windows Phone weather apps.
The Glance support that was recently added helps sustain MSN Weather's appeal. Now if it could only offer the ability to use your own images as the lockscreen wallpaper.
Accuweather
It was a bit of a coin toss between Accuweather and The Weather Channel as to which would be my heavy weight weather app. Accuweather offers detail forecast information, weather alerts, Live Tile and lockscreen support.
I do like the Lifestyle forecast section that shows how the weather is expected to impact outdoor activities such as running, golf, hiking, star gazing and more. The app's weakness, much like the Weather Channel, is an annoying ad banner that really ruins the aesthetics of the Accuweather app.
What gave The Weather Channel app the nod for me was its severe weather center.
4castr
4castr (pronounced forecaster) is a feature healthy Windows Phone weather app that may get the award for the most unique UI. While most of the weather apps deal with pages laid out in panoramic fashion, 4castr uses a series of panels that can be accessed through a series of swipes.
For example to view tomorrow's forecast, you swipe down for the daily forecasts and swipe to the left to view the next day's forecast. Panels include current conditions, extended forecast, hourly forecast and animated weather radar. Navigation does take a little time to get accustomed to but once you get a handle on things, you can zip through the app rather efficiently with one hand.
A recent update to 4caster has bumped the app's appeal significantly by adding multiple location support, customizable weather icons, weather alerts and more.
RAD Now! / MyRadar Weather Radar
If all you need is a weather app to deliver animated weather radar to your Windows Phone, there are a few choices in the Windows Phone Store worth trying. The two front runners will be RAD Now! and MyRadar Weather Radar.
Both are quality apps and personally, I use RAD Now! for its simple interface. You have options to set the radar image to your current location or scroll around the map by touch. You can set the opacity, frames per minute and choose between hybrid and road views.
If you want a little more meat on the bone, MyRadar Weather Radar might be your cup of tea. It also offers a simple interface but also provides temperature readings with weather warnings/alerts and hurricane tracking available through in-app purchases.
Again, both are quality apps with the only real downside to either being that the radar services only cover the United States. Also, please note that there is not a trial version available for the Ad-free version of MyRadar Weather Radar. There is a free, ad-supported version of MyRadar Weather Radar though.
If I only could choose one?
Considering the hypothetical where Microsoft limited Windows Phones to only one weather app, which one would I choose? It would be a tough decision but right now, I would likely lean towards Atmosphere simply because it is a well designed weather app that covers the basics and then some.
I do like Amazing Weather HD and there is a lot to be said for MSN Weather (really like the Glance support). You also have the recent update to 4castr that increases that app's appeal, but Atmosphere is the one catching my eye of late.
It's easy to see that we have a large selection of weather apps in the Windows Phone Store and while there are a few that should never have left the drawing table, most are quality options to consider. The key issue is finding the weather app or apps that suit your tastes and needs the best.
Having said that, we now turn the tables on our readers. What is your top weather app or do you have a collection installed on your Windows Phone to rely on? Sound off below in the comments and keep in mind, if we overlooked mentioning your favorite weather app, it wasn't by design.
Windows Central Newsletter
Get the best of Windows Central in your inbox, every day!
George is the Reviews Editor at Windows Central, concentrating on Windows 10 PC and Mobile apps. He's been a supporter of the platform since the days of Windows CE and uses his current Windows 10 Mobile phone daily to keep up with life and enjoy a game during down time.
I love the look of vieather. Very modern

I love Blue Skies..the only thing it's missing is lockscreen support. the interface is clean, gets me the information I need and has a great live tile.

I am actually waiting for Microsoft to open up the new lockscreen features to devs before I look into it. Hopefully soon!

Blue Skies' lack of lock screen support is really crippling. Ever since Glance supported lock screen apps, MSN does the job just fine for me. I rarely see the live tile now.

George, excellent comparison article! Note: The MSN Weather maps *are* animated on both Windows and Windows Phone.

Glad to hear you like Blue Skies! If you have any suggestions on features you want to see, just shoot me an email through the app!

I tweeted you Rohit some back asking to add more animations and the moon size is too small!! And even Daniel likes Blue Skies!! :P:P

You'll be happy to know then that the moon graphic has been changed for the next update. Could you explain what you mean by more animations?

Blue Skies is my go to weather app! Only thing that makes me keep around others is the radar. There's issues with Open Weather Maps and I feel as though the Weather Underground radar is too zoomed out to really dig into what is around. If we could get a better radar I wouldn't hesitate to delete my other weather apps. I purchased both add-on's and do enjoy using the app, thanks for making a great app!

Thanks for the feedback! I'll look into what I can do about that.

Blue skies for me, seems to be the most accurate and is really clear and clean, especially the live tile, it would be great if they could come with an awesome lock screen with appointments, bing images and user selectable topic based news. Plus international radar images that would be great... if they could work with glance, that would be a standout update worth paying for. Still they seem progressive so I am anticipating all these features one day, then they will really be number one.

Glad to hear you like the app! Thanks for the suggestions! I was actually waiting on Microsoft to open up the new dynamic lockscreen features to devs before I look into it. The radar actually works globally with Open Weather Maps set as the source and in select countries with Weather Underground set as the source.

I love Blue Skies and i am using it, and Rohit I would like you to implement a full black theme of the app. I mean, it has gorgeous white and grey theme, but full (clear) black would be nice, especially for those with AMOLED displays, i think you know what i am talking about :) Keep up the awesome work buddy :)

Thanks for the suggestion! I'll look into adding that as an option for a future update.

I like blue skies too, but I keep it as backup app, in case my other fave - Appy Weather should screwup their updates. I'm amazed that in such a compact code you managed to add voice command support. Handy when you driving...

Looks like people already beat me too it. Since it was updated to be crisper text on the wide live tile, it really looks beautiful on a 1080p screen, fantastic work! One of my favorite apps for sure.

I also like Blue Skie's layout, but refreshing data seems to take sugnificantly longer than other apps. There are even humorous "wait" screens implemented (e.g., "genrating random numbers")

If you use manually set locations, you'll find faster load times. It takes so long because it has to first get your current location and then get the weather data.

Blue Skies is the Best for transparent tiles. Very informative with a clean look. Also very accurate. Posted via Windows Phone Central App

Thanks! Glad to hear you like the app. If you have any suggesitons or ever experience any problems just shoot me an email through the app.

I just love love Blue Skies.

Glad to see you like the app! If you have any suggestions on how to make the app even better, just send me an email through the app!

If I'll have something on my mind I'll sure mail you :D

Yes blue skies! Simple and elegant!

Thanks! Appreciate the support! If you have any suggestions on how to improve the app, I'd love to hear any ideas.

Vieather says, "Sunny Cloudy" when sunny, and has an irritating ad when trying to exit the app. Other than that I like it.

Vieather is one of the best you can get and it has a very small size of 3MB only

Vieather! It's the only forecast app I currently use, I've tried MANY others. Although I do like Atmosphere Weather and Blue Skies.

I am using Weather to go (paid version) and Appyweather (also paid for version). I've tried many of the others but these two suit my needs best.

I use Viether for the transparent live tile :-)

Accuwhether my favourite.

Seriously vieather is an osum app. You missed it. It has an awesome live tile. Main thing is its for free

For Australian Windows Phone owners, there are no weather apps that provide accurate Australian Bureau of Meteorology data. Fortunately the BOM has developed a handy mobile weather page that Australian WP users can access and pin to their home screens Point your browser at m.bom.gov.au then enter your postcode and then pin the site to your homescreen. This gives the most accurate weather forecast for your postcode in Australia, and you can now access that data with a single press of the pined tile. You also get access to a live weather RADAR.

Accuweather is pretty good here for Australia, though the live tile doesn't work. The Weather Channel is good too. MSN Weather is the worst, always says it is cloudy no matter what!!!

Does Gismeteo work in Australia?

You obviously don't live somewhere with wind chill in winter. Air Temp means nothing to me, it's all about apparent temp/feels like, which Accuweather can't do in Australia within 10 degrees celcius.

+1020 / +930
I use Accuweather as well and the Live tile works for me. It does everything I want in a weather app and unlike MSN Weather it actually forecasts based on the proper date rather than what seems to be based on an American timezone.

@dechah That is not true. I suggest you actually search for BOM in the store. http://www.windowsphone.com/en-au/search?q=bom There is: Fine and Sunny - http://www.windowsphone.com/en-au/store/app/fine-and-sunny/5649473f-003a... Weather and Surf Australia - http://www.windowsphone.com/en-au/store/app/weather-and-surf-australia/3... AU Weather Pro - http://www.windowsphone.com/en-au/store/app/au-weather-pro/f62d746d-9819... and about half a dozen others... Sorry but I am tired of people posting "there is no app for Windows Phone for *****" without even searching for it when there are apps.

Does Fine and Sunny have adaptive location? Sick of having to set my location manually in AU Weather Pro and Surf and Weather AU. It doesn't look any less ugly from the preview shot, so not really willing to pay to check it out myself.

Don't AU Weather Pro and Surf an Weather AU both get data from BOM? Mind you AU Weather Pro is getting VERY clunky, as the app hasn't been updated since March 2003, but has quite nice livetile icons, and Surf and Weather AU has an awkward interface and the ugliest live tiles I've ever seen.

So where is the most expensive weather app? What's the name again? Glad it didn't make it to the list.

Appy Weather is 3.99. Totally unjustified in my opinion.

Why is everyone so upset about the price? If it's too high then don't buy it. You obviously wish you had it though or you wouldn't be complaining. ;P (thankfully I managed to rifle enough through my couch cushions and got it)

Same here. I was more than happy to pay for Appyweather. And I certainly don't consider it to be too expensive. If memory serves it was only £2.59 which is less than a large cappuccino from my local Costa Coffee.

Good for you! We have our own weapon of choice, don't you think? :-)

it' s worth it. Most informative livetile, 7-days weather graph and precipitation push-notification that sends alerts (I made myself a thunder sound for event to hear when its about to rain) and its reliable for the Northern Europe.

I never bought it. I had tried it, but Amazing Weather HD has already had all that I need from a weather app. So I don't think I'll ever wish it was installed on my phone. :-)

Appy Weather is great! I hope it get lock screen support, this is the only thing I miss when using it.

lock screen support has started ! on twitter the developer said he is starting to work on it ..

AppyWeather, hands down (for me! :), has the most pleasing, readily absorbed display format. There may well be a few "missing" features, but nothing so important for me.

I use blue skies. Give it a try guys.

Thanks! Glad youre liking Blue Skies! If you have any suggestions on how to improve the app, don't hesitate to shoot me an email through the app!

this app is so simple, i use this app too..

Accuweather, it's fast, easy to navigate and has great radar

accuweather crashed from the moment I purchased paid version. contacted support and still waiting for their response. That was about the time last update to instagram beta was released - March 22nd, 2014.

I've been using Amazing Weather HD since WP7.5 on my HTC Trophy. It ran on two of those, and now a Lumia 520, 928, and 929. Never any problems with tiles updating, the large tile is gorgeous, the full screen looks beautiful, and the weather (pulled from wunderground) is as accurate as can be.

That's my main concern. A live tile that actually works. Atmosphere Weather's tile keeps losing my location.

Have you updated to the latest version? I fixed most of the tile problems.

Kevin, I find Atmosphere Weather takes too long to load on my 8X. Noticeably longer than Weatherbug or MSN Weather.

Blue Skies is my favourite. Also the most accurate I've found for my area.

Glad to hear you like the app! If you have any suggestions on how to improve it, don't hesitate to shoot me an email through the app

Appy Weather. Nothing else comes even close.

Except it is an overpriced 3.99.

I don't mind spending some money for something that's so very well done. And considering the time development took, it's ridiculously cheap.

I totally agree with tou dKp1977, 3.99 U$ is nothing, I mean cmon guys, for paying for the app you actually support the developer and obligate him to work for better version of the app. Not everything is for free. Try and make an app, pour your soul into it, and your precious time and then give it for free. I don't think so. Don't drink one coffee and there you go, you buy the app and have it forever. Support the developers, don't be cheap. You want everything for free and then you complain that there is no enough apps in the WP Store? Well, nothing is for free, deal with that.

I don't want everything for free. I bought amazing weather hd. I don't feel reading in data from a public API and displaying it is worth that much money. Games take more time and skill to make than this did and cost the same price.

Have you ever develop any kind of app? doesn't matter if it's app or game! App developing is hard enough as to develop an indie game too. Games are usually developed by game studios, so they have more resources on disposal. App developers are usualy one or two persons doing all the work. No disregarding of the game developers, you guys rock. I was a developer back in the days for Windows mobile 6, and i know exactly how much app developing is a time consumption. And what do you mean "reading data from public API"? Where do you want the app to read data from? It's own satellite? Do you know how exactly a news app is working? They all use public data. Public data servers (in this case weather servers) are public with a reason. Other thing is how the developer will implement that data in its app. And very good from your side that you purchase the Amazing Weather HD, you supported the developer, kudos for that. :) How much will a developer value his app it's his own thing, it is not a matter of discusion for us. If you think that is too pricey for you, then just go to the next app, you don't have to tell the developer bad comments cuz his app was too pricey. I am not talking specifically to you, but i am talking in general for all of us. Hope you udnerstand. :)

Good, then you understand. btw, whats your app? or it is still in development? just asking.

Still in development. It will be my first one, but I have a couple app ideas. I'm a .NET developer and I mostly do MVC web pages and SharePoint, and am finally getting a chance to branch out and do a phone app.
And since we are talking about prices, both will be free and ad-less. One pulling from a public API and one from a private API that isn't technically open to public use. Lol

Good congrats, keep us posted about your app, i am curious now to see what you gonna bring on the WP table :) And it's your first app, first apps are most of the time free, that way a developer can introduce him/herself to the audience, good strategy, keep it going, :)

Yeah, concise info and most reliable live tile updates

Appy Weather is the best!!!

MSN weather. :) I miss my WP. Android apps have terrible UI and I miss cool stuff like MetroTube, 6tag, fantasia painter... This is my first and last Android device. xD Posted via the WPC App for Android using LG G2

If only MSNBINGMICROSOFT weather would allow the Bing background on my lock screen with weather report over it, so I can have it on glance and still enjoy the Bing backgrounds...

I used to use viether but now I use weather quote

Looks like Weather Flow has fallen from grace in these parts, but it is still in my top 3. Having said that, I still have Amazon Weather as my top choice and you cannot go wrong with any of the apps listed here. Posted via Princely Purple Z Ultra

Weather Flow here as well

I agree, weather flow is my go to. I love the live tile for it.

Weather Flow is my choice as the top weather app.

It is just the best, as it is the only app that uses bing wallpaper + weather info

I like amazing weather but Weather Flow is also a beautiful.

I use Vieather for its gourgeous live tile, but I hope they will add lockscreen support in the future. MSN Weather would be perfect if they added a transparent live tile with a modern design!

Ive been satisfied with just using the wp7 weather app

I can't enable the glance support for msn weather. Lumia 1020

You must set MSN Weather as lockscreen, then click in the lockscreen settings on the button Open App, also glance must be enabled with the option: Background app

My favorite weather app is the Weather Flow.

Is it possible to keep having the bing lock screen wallpaper while using msn weather? From what I found it only put the weather images as lock screen..

Is the only feature I miss.

If only MSN weather offered Bing backgrounds on the lock screen.

And you'd think that be a given since it was formerly called "Bing Weather"

Why is this a post almost every week?

For the UK you can't go wrong with the official Met Office app. It's not the prettiest out there but its forecasts are usually spot on, something that can't be said for the Weather Channel.

I use the Weather View by Mobwerk for the same reasons. Weather Channel is no good in Europe, but the Norwegian Met Office (yr.no) is spot on also here in Germany. And judging from the brief weeks visit in London a couple of weeks ago, also in the UK. I recommend.

vieather for me, great app.

In the UK ? Why not use the met office's own app! "straight from the horses mouth" so to speak.

Amazing Weather! Hoping to get glance support.

Call me whatever you want, but I use Microsoft's one and I am completely happy with it

Try Weather and Surf Australia. Nice to see BOM has updated their mobile site though.

Weather Hound for me. Works well and good feature set so haven't seen the need to try anything else

Msn weather works fine for me. Simple and accurate.

Amazing Weather Hd all The way

MSN Weather for me. It has live, animated radar and Glance Screen support. I personally can't ask for much more.

Blue skies is also very nice...

Thanks! Glad you like the app! If you have any suggestions on features you want to see, just shoot me an email through the app!

Thank you. I like to hear people still use it in the U.S. :)

I've tried several but always go back to MSN Weather app. Here in New Orleans it is always the most accurate. Just wish the radar was better or rather more current. Showing me the past few hours up to almost current isn't that helpful.

TIP: Amazing Weather has a 10 day forecast in the main page, just swipe left

Weather Flow would be my go to app but it's missing radar.

I'm a fan of the simplicity of Blue Skies...

Thanks! Glad to hear you like the app. If you have any suggestions on how to improve it, just shoot me an email through the app.

Frost is the ONLY weather app to work and give correct information in Sweden and in Swedish.
There might be a ton of weather apps but 98% of en are US centric.

Try Forecast... It's great in the Swedish towns I spend a lot of time in, you can set it to Swedish and it's pretty configurable. Pulls it's weather from Yr.no for the Scandinavian countries and that's some of the most accurate data I've had.

Thnx for the tip, looks promesing. But its not listing the right place for where i am. Seems to be a common problem with yr.no and WP apps thou.

I've tried both but the wide live tile of Forecast looks crappy (same with the lock screen), so I'm using Frost. And MSN Weather for the Glance feature.

The new weather glance function is really nice. But SMHI NEVER, gets the forecast right (1 of 20?), so I got mad and uninstalled it all :) Don't know what happened to SMHI, its like there guessing, and guessing really bad. Or maybe its one guy up in Stockholm who sits in a tower and uses binoculars trying to see the red of the weather in the country.

Can believe no one has mentioned Weather Master. It is by far the best and I have used them all... very fast load times, great live tile, single screen hourly breakdown of multiple days. Radar is decent. Only thing it lacks is a written description.... Which can be important in the NE in the winter when you want to know snowfall amounts.

Big thing to be missing...

I don't. Just helping you understand why no one mentioned it.

It also hasn't been updated since 2013. All the ones mentioned here get pretty frequent updates.

Wow, it got a update in 2013!? Used to be the best of em for Scandinavian's but I believe it didn't get updated once since the release on good old WP7.0.

Prognoza? It is one of the most accurate weather app in store

Agree, it's insane, I'd say it has like 95% of precision.

Vieater is perfect for UI and live tile

Have atmosphere and blu skies, along with my weather radar for live tile. Works . Especially in Orlando. Never know when rain is coming

Atmosphere weather, for real?!? I paid for that laggy, ugly piece of crap! I can't beleive that Appy is not even on the list, despice it's probably the best, besides lockscreen support, wich is coming. For that purpose, Weather hound is still the best. I don't understand your favorizing Atmosphere since it came out... Not with so many better weather apps.

glad someone said atmosphere weather was a miss match in house mess ! started of good and went down hill fast, developer lost direction and the design.. (sorry). Appy weather for me is the best weather app about and well worth the price. works well and metro looks with rich features pop up cards and alerts.

i used lockmix, thats not bad

I just watch the weather on tv

not v. useful when there's no tv handy and no broadcast currenty showing.

Having purchased and used most of the ones George mentions, I have settled on Appy Weather because it literally gives the weather and forecast that I interpret from the data the other apps present and, it seems like, everytime you touch the screen you get another level of detail. Very cool. And, very importantly, the Live Tile is great.

Appy weather has the best transparent live tiles!

Color Weather has a better one

if there is one category in WP store full of great apps, it's weather. I still think Weather Hound should have been on the list.

i use to like Prognoza...but now it doesnt even install.....it has been like this for last 2 months.....

This store bug still exist?! Please contact me and i will help you on this. Email me from within the app or message me here. :)

MSN Weather finally picks up my location with the update! Unfortunately now, it bombs out when I open it up. Doesn't even work on my glance screen due to it not loading properly before exiting prematurely.

Blue skies, I like its live tile, especially the back tile which includes a great message

Thanks glad to hear you like the app! If you have any suggestions on different tile designs that you would like to see, just shoot me an email trough the app.

Best I have found are; Weather Flow, Satellite Pro, Chart Explorer, Hurricane Tracker, Live Aviation Weather, Tides, Barometer, and Weather Radar Live. Been in Weather for 37 years and these I find give me the best results.

If you've been in weather for 37 years, you should seriously consider MRLevel3. You can load all your color tables for the various products, and it's the prettiest Windows Phone application I've personally seen. Even with my laptop and GRLevel2 by my side, I find myself actually using MRLevel3 more. I used MRLevel3 alone for two chases last year!

Nice. You should do one on calendars. I've seen Daniel have a calendar app that looks awesome in many screenshots. I'd love to know what it is

The app is called "Simple Calendar".

Vieather is horrible. It doesn't even have a radar. If I wanted to know current weather conditions, I'd look outside. You need radar to see what's coming. Every weather app should have a fully functional radar.

Weather To-Go is my favourite

Regenmeter. The only one with really accurate predictions for The Netherlands in a excellent looking app.

AppyWeather is accurate for the Netherlands too and has a nice live tile. I use Regenmeter for the radar and AppyWeather for predictions. All other apps are way off when it comes to predictions in this region.

Where's the mention of Blue Skies? It's a fantastic app with customisable Live Tiles though there's no lockscreen yet.

Thanks for the support! I was actually waiting on Microsoft to open up the new lockscreen features to devs before I look into it.

I'm not too picky, and I like to support Microsoft with all of their efforts, so I just use the Bing/MSN weather app. It works awesome.

I've used Weatherbug since the early windows mobile days. Still gives me what I need and the radar is live and easy to access. Not as screen pretty but quite functional.

When you guys do these comparisons, why not do a matrix so that the users can quickly see what each app provides?

Frost. For us in northern Europe forecasts from yr.no is great!

Im addicted to weather apps

Try weather hd is one of mine

Yeah,I also liked and is using Atmosphere Weather. UI is clean nice and adorable but Vieather takes the throne incase of live tile. I also loved Blue Skies. Nice work Rohit.

MSN Weather for me - esp as it syncs across the Win 8.1 app for all your settings. That's a big feature for me

Amazing Weather HD works great love the animation.,

I live on the ocean and i rely HEAVILY on the hourly wind direction, velocity indicator. ONLY the Weather Channel app has this and it's very accurate. That one screen is all I need. I have been bugging the Bing guys non-stop to include this feature, and I get nothing from them.

If you live by the ocean try NOAA BUOY. There should be live a buoy close. I live 4 blocks from the ocean and have continuous live weather conditions from the buoy at our harbor that includes wind direction, speed, and gusts. It also provides the temperature of the water.

Amazing weather gets my vote , cool app

Forecast all the way. Live tiles, lock screen with own pictures. And a ton of other features.

+800 & +930 & +1520 & +Ativ S :P.

you may want to check out Vieather in my opinion it's better than all of these.

Forecast is by far the best looking... Plus very accurate information

Funny how the most mentioned apps in the comments aren't even on this dude's top 5.

Blue skies for me, seems to be the most accurate and is really clear and clean, especially the live tile, it would be great if they could come with an awesome lock screen with appointments, bing images and user selectable topic based news. Plus international radar images that would be great... if they could work with glance, that would be a standout update worth paying for. Still they seem progressive so I am anticipating all these features one day, then they will really be number one.

msn weather for me is the best free weather app...end of........

Or just look out the window

I used to own PROGNOZA, damn it's sexy. Best one in my opinion.

Viather.... is free and good looking with nice live tile... works without any flaw

Appy, Atmosphere and Color Weather.

Accuweather is the best. Amazing weather consumes 56mb of your storage, making me think they syphone your data while running in the background.

I've been using "The Weather Channel" since I got my Windows Phone, but I need to find a new weather app. IMO, all of these look rather underwhelming. They all seem to be copying the same template of filling the screen with as little info as possible, requiring much work to navigate to a full forecast. I suppose the closest looks to be Amazing Weather HD, though even that one only gives you 5 days, and the stacked High/Low/%rain numbers could be laid out better graphically. I generally don't use weather apps to see the current weather, but rather to know what to expect for the day or for the week. I'd like to find a weather app with a clean 7-day+ forecast when opened, with an hourly option if you click on any day, and support for several regions if you want to check other areas. It would be great if the live tile had the 7-day+ forecast as well (as apparently Atmosphere Weather has for 5-days). Anyone have any insight into an app like this?

There is a slightly unknown app named Prognoza and it is gorgeous:
Supports transparency tiles and is the most accurate weather app I've ever had.
Also the developer is very active in your forums giving support and listening to suggestions.

Weather view, frost, man, vieather, blue skies, prognoza, bright weather view are some of the ones I have used. I like accuweather's live tile but it has difficulty with some locations for me.

So whats the diffetence between weather channel for wp and for lumia phone only?

What about Space Weather?

I would like to win more advice which app is the most accurate. I notice the accuracy of weather forecast can vary a lot between weather apps. Thus for me it is not the fanciful UI that counts, but the accuracy. I believe most weather apps use different weather servers and data sources to gather data for their app. It would be nice if WPCentral could do a backstory on this.

MSN and Blue Skies for me. Seem to be most accurate.

Atmosphere weather is disaster. Others I tried; good but not as good as Appy Weather. Without radar map it sends push notifications each time rain approaches your location. And look at this livetile. Frontside shows detailed conditions now and briefly tomorrow, flipside break down by 5-hours and later (or tomorrow if its in the afternoon). Of course you can chose traditional but useless 5-day forecast. I just love it. *It took some time to expect more from the weather app, but once you do, you'll find it just 5-star app.

Try updating to the latest version or reinstalling (Reinstall would be best). I fixed all of the problems with it, check the changelog: http://atmosphereweather.com/AtmChangelog.htm

I have an HTC Windows Phone and use the HTC hub as my weather app and Awesome Lock Screen to put weather and canendar on my lock screen. Works well.

The Weather Channel app has 2 versions. The one from TWC has not been updated since 11-16-2012. Yes. Almost 2 god damn years. The other one from Microsoft hasn't had an update sine 3-16-2014. Going on 7 months. How can you rate this so highly, when they lack update support for the WP platform?

Vieather! Gorgeous simplicity and great live tile

I really like Appy weather and Blue Skies. Used Blue Skies for a while but switched cause I didn't really like the main UI. I like the UI of Appy Weather but I wish it made the colors bleed over the edges of the screen instead of just being finite squares

If you have any suggestions on how to improve Blue Skies, just shoot me an email. I'd love to hear them!

I wish there was an option in Cortana where she can pull weather data from a 3rd party app of your choosing, instead of directing it to MSN weather.

I kind of want Amazing Weather HD, but it's not worth paying for it given NONE of the apps above will give accurate data for Australia. I'm actually getting to the point I'm contemplating leaving Windows Phone now the only accurate weather app available to Australians hasn't been updated since March 2012. American weather agregators can be 10+ degrees celcius out, especially when it comes to apparent/feels like temperature compared to the local beureau of meteorology.

I agree. the only one I have found for us Aussies is Weather and Surf Australia that's anything close to decent and it uses BOM data

Vieather is a bit slow. I prefer Prognoza

Atmosphere weather app for me hands down it is just nice.

One that's more accurate is the one I have to use. Weather and Surf Australia. NO other half decent App uses weather from Australian Forcasters (www.bom.gov.au) and the rest can be up to 10C out (especially in Summer) They have a decent Live Tile setup and Lock screen, but lock screen needs nicer pictures.

They use windows phones in Birmingham AL?

MSN Weather does have an animated radar. Article days it doesn't.

I use accuweather. I uninstalled Bing weather because it completely fails at providing an accurate forecast in Australia, sometimes as much as 6 degrees Celsius off.

What is he doing with this much weather apps...Weather forcasting....

For us here in Australia, go to http://www.msn.com/en-au/weather and click on Feedback and tell them to starting using proper BOM or Accuweather data. MSN Weather app is getting it's data from there now. Also it's saying hail for my location right now when it's clear and sunny. LOL

Actually been stressing about what weather app to use recently so kind of nice this article ran today. I found Forecast in the comments a couple of weeks back and loved it but didn't realize it was a trial. So many good ones for WP, still really tough to choose.

Brite weather is a good app too

I wish that had an update, I think it's the only app to update current location on the live tile!

I have 3 of the mentioned apps and during the short time I had have my Lumia icon in my country, at least two times I have wrong forecast for my city, so wrong that all 3 said that there were no possibility of rain and failed :-o
FYI: I have installed MSN weather, accuweather and the weather channel and I live in Santo Domingo, Dominican Republic. Don't use any of those if you're passing some days here.

Why don't weather app reviews include information about the weather sources used? For people who don't live in the USA this info is essential.
A beautiful app with lots of features is useless if the forecasts are not accurate.

Because of WPCentral must then remove or re-vote most of the apps they mention. There's a couple of keypoints which make an app if ever get a 3 star rating. Must work all over the globe is most essential. (poeple using WP do live all around the globe and do travel all around the globe. Must have at least 5-6 translations so that lots of poeple worldwide have it in their native language. So after having checked some of the mentioned app in that article ... sorry to say, most of them failed to ever get a 1 star rating from my side. The essentials are missing. Something I would love Microsoft would take into account before granting access for an app to appear in their store. They do sell their phones globally and thus have a look to not please 5% while 95% of the downloaders get disappointed and switch back to Android or iOS.

I read now this comment and have to reply :) i think you are saying the truth but here is my case and why developers dont want to translate apps. My app Prognoza supports now 15 languages, and one small change inside the app has to be translated by 13 people. Not every of them has time when i send the translations in so i send translations to them only once per week or every second week. Then we have like in my case a few new thing coming in the next update but it took 1-2 months to finalize everything. If we look now on just "english" based apps without translations, they just code and give the update out without the work with translating/testing in more languages. And for small devs an i'm one of them it is not easy to maintain 15 languages. This is also one of the reasons why Prognoza does not had an update for months. But soon is one coming ;)

Appy Weather is the best for me.

I like MSN Weather fine and also love the lock screen and glance support, but the live tile NEVER refreshes!!

For me MSN weather seems to keep everything efficient as well as simple right from periodic update till lock screen.

So, out of this list, what works with Cortana besides MSN weather ? I own a few of these (aka paid for then) but uninstalled them because its easier to just hit the search button and bring up Cortana..if I click on the weather it opens MSN Weather showing the 7 day.

I use MSN Weather but I've recently downloaded Yahoo Weather on my iPad and the app is great. They should port it to WP!

I've tried a few, free and pay apps alike, but Weather Flow is easily my favourite. I really like the clean design (it can do a graphical background of "realistic" weather, but I prefer the flat look), and the Live tile has great choices about what info you'd like it to display and how you want it to look. It might be a bit cramped on a small or low res screen, but I don't know as I haven't tried it. It looks great on my 920 though, and presumably even better on higher res screens.

I use WeatherDuck as it's the only one I've found that allows me to have the UK convention of Celsius for the temperature and mph for the windspeed. I also use LockTemp, which puts the current temperature on the lock screen in one of the notification spots. As a commuter cyclist, knowing the temperature and windspeed before stepping outside is very useful.

Weather bug,best out there!

I really liked 4castr but nothing works beyond that 3day trial!
No lockscreen icon, no live tile. Basically it becomes a useless app. Don't know why they call it free!
I'm using WeatherBug now, at least the live tile is good ;-)

MRLevel3 is hands down worth the price of admission. It was my deciding factor in actually keeping Windows Phone. If you're in the States, it's a great way to know everything (precip, wind speed, storm trajectory, etc...). I've saved all the neighbors on the block from hail damage to their vehicles over three times in the last year. MRLevel3 uses the same tech you see live on the Weather Channel when they're showing wind speeds, debris signatures and hail indicators during severe weather events. It's quite calming to be able to have all the info the pros have at your fingertips. Do yourself a favor and check it out!!

Weather Bug and MSN Weather for me

The Windows weather apps seems to be a great feature for the mobile users of today. It helps one to go with the best predictions either to move out or not with is apps. Its a great sensor!!

I have Atmosphere Weather on my Windows 10 tech preview notebook. The only one along side Weather Channel available now. I like it. Comes with tile and stuff. Good work!