NARR8 brings interactive ebooks to Windows Phone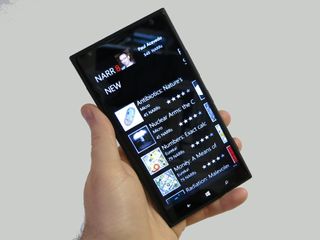 Last year we looked at NARR8, a unique interactive book app/platform for Windows 8. NARR8 comes from NARR8 Limited – a subsidiary of Game Insight, makers of mobile Windows games like Cloud Raiders and Big Business Deluxe. Although games are obviously the publisher's main line of work, they also create dozens of exclusive digital books to sell through their NARR8 app.
Seeing as how NARR8 launched on Windows 8 and RT, the question of a Windows Phone version naturally springs to mind. Game Insight confirmed development of a Windows Phone version a while back. Several months later, NARR8 has arrived on Windows Phone – just in time for some summer reading! The phone app offers several free books to read, works on devices with 512 MB of RAM, and shares purchases with the Windows 8 version. We'll show you how it works in our hands-on video.
Education comes first
The first time you launch the NARR8 app, you'll need to create an account or sign in with an existing accounts. One of the cool features of NARR8 is its cross-platform compatibility. If you've already purchased books or NARRs (premium currency) on other platforms, you'll have access to them on Windows Phone as well… If they're available, that is.
On other platforms, NARR8 offers a ton of book series in a variety of genres: space opera, kids stories, mythology, and more. Each series consists of multiple episodes (issues), one or two of which are free. NARR8 Limited continues to publish new stories in many of the series, allowing them to create lengthy and complex tales for readers to follow.
The Windows Phone version can't access most of those stories right now. Instead, it launches with six series to choose from: FIVE, Biographies, Eureka, Micro, Alma Mater, and Paradigm. All focus on educational topics such as science, government, and nature. Great subject matter for young learners and teens, but adults won't find much of interest at this point in time. NARR8 Limited promises to release new series soon. Presumably they have to be optimized for Windows Phone first.
Affordable reading
One of NARR8's best aspects is the amount of content it gives away for free. The first two chapters of every single book are free to download and read. That makes it easy to determine whether you like a series before investing in it.
Subsequent chapters if the series currently on offer cost 45-79 NARRs, the app's premium currency. The cheapest NARR package gets you 150 for $3 – basically 2 cents per NARR. Thus new episodes cost $0.90-1.60. Buying a larger package will get you a better deal, of course.
Room to grow
The Windows 8 version of NARR8 arrived in a slow and buggy state, with updates improving the app over time. History repeats itself on Windows Phone, as the new app has some obvious room for improvement.
Outside of the books, the menus and UI are clean and easy to use. But they're locked to a portrait orientation. Why is that bad? Because the actual books display in landscape. Designing a Modern Windows-style stark portrait menu is cool and all, but the app also needs to offer menus in the same orientation as the actual content. The Windows 8 app already offers a landscape menu design, after all.
Even though the Windows Phone app only offers a handful of series to choose from, the books it does offer are awfully buggy. I experienced numerous graphical glitches while skimming a couple of episodes for our video, such as the one pictured above. Screen elements flicker, and show up or fail to disappear at inopportune moments. If the books have to be optimized and tested on Windows Phone, they definitely haven't been tested enough yet.
Outside of the actual bugs, the books themselves could still benefit from additional optimization. Each book has interactive features on most of its pages. But there's no way to tell where the hot spots are, which leads to lots of blind tapping instead of compelling interaction. Text is sometimes uncomfortably small, even on the massive Lumia 1520. If we could zoom in on the text, it wouldn't be such a big deal.
Time to read
NARR8 is cool distribution platform for interactive books. The Windows Phone app needs a little more time in the oven, but updates will surely improve it over time. Book selection should also be a priority so that older readers can enjoy the app as well. But the current selection should appeal to parents with school-age children, which certainly isn't a bad start.
NARR8 – Windows Phone 8 – 1 MB – Free – Store Link
NARR8 – Windows 8 and RT – 1 MB – Free – Store Link
Get the Windows Central Newsletter
All the latest news, reviews, and guides for Windows and Xbox diehards.
Paul Acevedo is the Games Editor at Windows Central. A lifelong gamer, he has written about videogames for over 15 years and reviewed over 350 games for our site. Follow him on Twitter @PaulRAcevedo. Don't hate. Appreciate!