Tank Domination sets its sights on Windows 8 next year [Updated]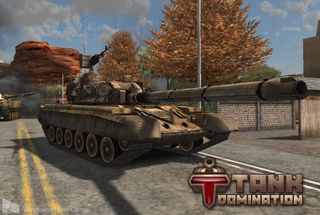 A few months ago, we interviewed Game Insight about their Windows Phone and Windows 8 offerings. The US- and Russia-based publisher has already released My Country and Rule the Kingdom for both platforms. Their sister company NARR8 also offers the NARR8 app on Windows 8. During our talk, they revealed that My Country 2020 would be coming over to Windows devices, as well as future titles.
Now Windows Phone Central is proud to exclusively announce another Game Insight title that will come to Windows 8 in 2014: Tank Domination. The tank combat genre is currently doing big business on multiple platforms, from PC to consoles to mobile. World of Tanks is going strong in beta on Xbox 360, for example. Tank Domination will bring that same style of gameplay to Windows 8. Head past the break for gameplay details, our hands-on video of the iPad version, and more Game Insight news.
Update: The game is currently planned for Windows 8 but not Windows Phone. More details after the break.
Preparing for battle
Like World of Tanks, Game Insight's Tank Domination is a free to play online-only game. After logging in, players arrive in their own personal tank hangar. From there you can manage your tanks, purchase equipment and upgrades, and hop into battle.
Every good tank combat game needs an armada of realistic tanks for players to drive, and Tank Domination doesn't disappoint. Each is based on a real-life vehicle or concept tank from the United States, Russia, and China.
Tanks falls into Light, Medium, Heavy, and Artillery categories as well. A tank's size determines its movement speed, durability, and firepower – the bigger they are, the harder they fall. Artillery are a special class, with limited movement and defense but especially high damage capabilities. A light escort can be essential to keeping Artillery tanks safe.
Various tanks and armaments will unlock for purchase as players level up. 30 is the highest level, at which point you'll have everything unlocked. You can own three tanks by default, with defeated tanks becoming unavailable for a short time. A fourth tank slot will cost Warbucks, the game's premium currency.
Tank you very much
Tank Domination on iOS currently offers a single game type for up to 20 players: Capture the Flag. Game Insight plans to add new modes over time, so the Windows Phone version could possibly launch with more.
Capture the Flag is a team-based game type. The two teams strive to steal each other's flags – by reaching the flag and staying with it long enough, you'll win the game. Matches can also be won by eliminating all of the other side's tanks; no respawns here.
Tanks are slow and deliberate vehicles. As such, touch screen controls work better in games like this than faster-paced shooters. A stick on the left side controls movement. A button beside it will set the tank to moving forward without the need to press the stick. On the right side of the screen, you'll find another stick for aiming, as well as buttons to zoom the view and fie.
The tanks in this game can use multiple types of ammunition. Each ammo type has its own damage rating, reload time, and other properties. You can actually switch ammo types during the match, allowing you to match your firepower to your opponents.
More to come
Game Insight has multiple titles in development for the first half of 2014. The publisher couldn't confirm, a specific time frame for Tank Domination's release, but it should arrive on Windows 8 sometime next year. It will be free to play.
After producing mostly casual games like city builders, Tank Domination will be Game Insight's most hardcore game so far. It's also proof of the publisher's excitement for Windows Phone. "Windows Phone will follow Android and become the next big thing," a representative told us.
Game Insight has seen a forty percent increase in Windows Phone users since publishing their first game in 2012, and the platform continues to grow. The same applies to Russia, the company's home territory. Game Insight predicts that country's mobile market will expand by 71 percent by 2016. Hopefully Windows Phone holds onto a big piece of that pie… The availability of Game Insight's software there certainly won't hurt.
Books too
Game Insight's interactive reading app NARR8 launched on Windows 8 earlier this fall. The app offers a variety of exclusive episodic interactive stories with animation, sound, and voice. Naturally, we wondered if a phone version would follow the tablet app. Turns out, it will! NARR8 will come to Windows Phone 8 in 2014.
We'll have more Windows Phone and Windows 8 news from Game Insight early next year!
Update
Game Insight originally told us that Tank Domination would be coming to Windows 8. It turns out that some wires had been crossed, and the game is planned for Windows 8 PCs and tablets - not Windows Phone. A Windows Phone port is still possible after the Windows 8 version comes along, however. Sorry to get your hopes up, Windows Phone gamers.
Windows Central Newsletter
Get the best of Windows Central in in your inbox, every day!
Paul Acevedo is the Games Editor at Windows Central. A lifelong gamer, he has written about videogames for over 15 years and reviewed over 350 games for our site. Follow him on Twitter @PaulRAcevedo. Don't hate. Appreciate!
Please don't post abt next year game

Windows RT ?? I mean it is a tablet game...

If it comes to Windows 8 (which is addressed in the article), it will also hit RT.

windows phone 8 is addressed in the article. "Now Windows Phone Central is proud to exclusively announce another Game Insight title that will come to Windows Phone 8 in 2014: Tank Domination."

Finally some solid windows phone multiplayer game.. Hope it will be free :)

Cheese in a mousetrap is free, you know. It'd be better $10 or more but no donate

Hope it is an Xbox title.

I really wish galaxy on fire 2, chaos and other serious games on W. Hope these like game insight and gameloft will lead others at last. "my country" has too few in common with grown-up city management, but this game looks promising. Better it is hi priced than donating kills it.

Every game of this type, including the granddaddy World of Tanks, is free to play. Not everybody likes F2P, but it works well with the genre.

The whole "X" series stays away from f2p somehow. Even with X:reborn. How do they do it being best game in its genre? BTW, remember EVE, too. And SimCity. Civilization. Best online games are not f2p. Few of them gave up: mechwarrior, Sims, age of empires, others stay priced.

I'm talking about the tank combat subgenre. Of course there are multiplayer PC games aren't all free to play. Charging $10 or more for a game purchase or subscription fees doesn't work too well on mobile (though Square-Enix keeps doing it); the markets are completely different. Anyway, this subgenre started with World of Tanks, which is one of the most popular free to play PC games in the world. A mobile version of World of Tanks is coming next year to iOS. In the meantime, a number of clones such as this game and Tanktastic have spring up to fill the void on mobile. Being that they are based on a game that does extremely well as a free to play title, they will of course use the same payment model.

I misunderstood you, sorry, thought you are talking about all that games with RPG elements and so on. Strange thing tis is after all, payment model that attracts ones completely distracts others, there are lots of people who literally avoid f2p. Kinda "paying ahead always comes cheaper".

My problem with f2p model is not that much of being cheaper to pay ahead, but because most often than not, game design is influenced by the need to monetize. I don't actually understand the thing with f2p, I mean, they are not free, nor people should expect it to be. It's to attract pre-teens ? Idk...

As to me, nice said everything except for "pre-teens" I'm afraid. It's to attract everyone who doesn't know exactly what he wants. If everyone did, f2p wouldn't've worked I believe.

Please be Xbox Live enabled!

Aaand lemme guess, won't support 512mb.

I think games like that should stay on a desktop computer... I mean WoT is awesome but i think only on a desktop.. but thats only my opinion.. I really hope Supercell is going to bring Clash of Clans to the WP8/W8RT Platform so i can finally get rid of that damn ipad :P

Being a very big world of tanks player i will have to look into this when it comes out

Yeah, i love world of tanks too *-*

Such a great game one of the only free to plays i feel it isn't pay to win and have no problem investing time and money in

I want World of Battleships! Everything in the world can be solved with a battlecruicer.

What ever does the trick. As long as I get to go boom on somebody with big guns :)

World of tanks IOS is shaping up nicely. Im biased but the progression is better in my opinion.

Love seeing love for wot :) check out the beta on 360!

Man... Reading this make me want to play WOT again... :D

Do it!!! Immortalblaze WGA

No, Game Insight titles aren't Xbox Live enabled. Also, there will barely be any new Xbox Live titles for WP next year unless a change in leadership occurs within Microsoft.

Well, that seems rather foreboding. That being said I seem to be enjoying the non-Xbox games more anyway, there just seem to be a lot more awesome games on that side of the fence.

I would love to see game insight bring mafia story to wp8
hope they can bring all their game convert to wp8

Im pretty addicted to WOT having 10K battles now and a garage full off English Tanks :) Love to see this coming :)

this game has one gaymemode - capture the fag :D sorry i couldnt resist.
Windows Central Newsletter
Thank you for signing up to Windows Central. You will receive a verification email shortly.
There was a problem. Please refresh the page and try again.