Game Insight brings Rule the Kingdom to Windows Phone 8 and Windows 8; more on the way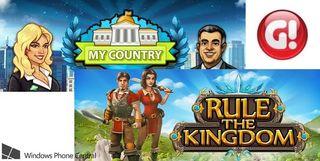 Casual Connect presented some great opportunities to get to know Windows Phone game publishers. One of those publishers is Game Insight, makers of our own Rich Edmonds' favorite Windows Phone 8/Windows 8 game My Country.
Game Insight has also recently published Rule the Kingdom, an exciting RPG/city building hybrid game for both Windows Phone 8 and Windows 8. And they have more games in the works for both platforms! Get the full scoop (and our video interview with Game Insight's PR director John Kopp) after the break.
My Country
Are Farmville-style city building games too simple for you? My Country is a full-fledged city (and country) management simulator, not unlike Sim City on PC. You'll start by choosing a base of operations, then it's time to build a taxi company so people can get around in your city. Fun fact: taxis are not very common in my state of Texas because most people own cars.
Starting a taxi company and other kinds of businesses isn't as simple a task as you might expect. You'll have to upgrade the city's housing and collect several items before you can hire a taxi driver. Once everything's ready, you can finally negotiate a contract and get some taxis on the road. Contracts last for set periods of time. If you want to upgrade the individual business, you'll need to do so after its contract expires.
Windows 8 version
The overall goal of the game is to grow your nation and level up as much as possible. Tasks and ventures (missions) you complete will reward you with money and XP. Take in enough XP to level up and you'll unlock new buildings and features with which to expand your city. My Country is actually super deep and complex, but it eases players in with helpful tutorials.
Buildings and tasks take time to complete. If you don't want to wait, you can always hurry it along by spending some currency. Two currency types are available: game dollars and country bucks. Like most free to play games, players can also enjoy the game without spending anything.
My Country – Windows Phone 8 – 37 MB – Free – Store Link
My Country – Windows 8 – 76 MB – Free – Store Link

(opens in new tab)
Rule the Kingdom
Windows 8 version
Managing a city is all well and good, but some of us also want to do some adventuring. Rule the Kingdom should keep us busy with its mix of city building and RPG gameplay. You play as a male or female amnesiac who stumbles into a troubled town and ends up as its protector. That's my kind of amnesia.
The city building portion of the gameplay is not as complex as My Country, but still engaging. As you create various types of businesses like a bakery and farm, characters with actual names and personalities move in to operate them. Your character actually moves around the town to talk to everybody, providing a more personal level of engagement than many god-type games.
Windows Phone 8 version
Being that Rule the Kingdom is also an RPG, it has the standard fixings like character customization and equipment. You can go on quests, explore new areas, and do battle with villains and monsters. The combat is straightforward enough; choose to attack, defend, or cast spells as your party engages the enemy.
Rule the Kingdom has an appealing nineties-era computer RPG vibe to it. Some of the production values such as character animation and artwork (look at that hideous wannabe Prince of Persia on the live tile!) lean towards the budget end of the spectrum. But otherwise it feels like a full RPG experience with a little town building thrown in for good measure.
Rule the Kingdom – Windows Phone 8 – 74 MB – Free – Store Link
Rule the Kingdom – Windows 8 – 86 MB – Free – Store Link

(opens in new tab)
Insight into the future
We stopped by Game Insight's San Francisco office, where they have a marvelous pool table.
Check out the video for the full skinny on Game Insight's Windows 8 and Windows Phone 8 plans, but here are a few highlights. For one, the publisher will be updating its existing Windows 8 games to make them look better on high resolution screens. Their current user interfaces and text look very small at the 1080P resolution used by the Surface Pro, as you can tell in this article's screenshots. Soon the games will be updated with more properly scaled UIs.
We also learned that Game Insight has multiple games in development for Windows Phone 8 and Windows 8 right now. The only one we can officially announce right now is a sequel to their first release: 2020 My Country. We'll have more details as it draws closer to release.
Windows Central Newsletter
Get the best of Windows Central in in your inbox, every day!
Paul Acevedo is the Games Editor at Windows Central. A lifelong gamer, he has written about videogames for over 15 years and reviewed over 350 games for our site. Follow him on Twitter @PaulRAcevedo. Don't hate. Appreciate!
Can they please make a Sim City game that isn't freemium? I'd like to pay once and get it over with.

I'd be willing to pay a premium app price so I wouldn't have to keep paying while playing.

Lets hope they get their games saving to the cloud when they update the UIs too. Its the main reason I stopped playing MyCountry. You're essentially limited to playing on one device if you want to save progress and pick up where you left off. It wouldn't be rocket science to have city save games ho to SkyDrive instead of storing locally, at least for Windows based devices.

I have got a thing for subway surfers.i so much want to play it on my Lumia.everytime i open WP central.. my eyes search for anything on subway surfers..i cant figure out how difficult is to bring this mega game on WP

My son one day that day will come n i will be very proud of you

Your links are bad. My Country Windows 8 link is not there and size is missing.
Rule The Kingdom has two Windows Phone 8 links.

My Country is currently one of the, if not THE best, causal game on WP, end of story. The game have also no bugs (at least as far as I can see). One almost perfect game. Cloud save feat needed badly in this one! I had a rather large city when I had to send in the phone for repairs and that killed the game pretty much. So much time! Just gone :'(

Agreed, I've refused to invest any more time into it knowing that any progress is silo'd on a single device.

Once again....to the developers...if your listening....we appreciate it.

Game Insight, please publish these games here in Brazil! You can use PEGI/ESRB to do that and I can help.

Paul, do you have some contact info from Game Insight?

My Country is fun, but very frustrating as I cannot seem to make any progress whatsoever without shelling out cash for country bucks. I keep building places but it never gives me the items I need to actually hire workers to open the damn buildings. If this game was $1-$5 I would buy it no problem, but I absolutely detest the freemium thing where they make the game almost fricken impossible without spending cash. I'm not spending $15 just so I can pass a few levels in the game just to get stuck again. As a result, I've abandonned it and never recommend it to any friends. :(

See jus go to date n time setting n change it n taaada ur building is complete

Building it isn't the problem. The problem is gathering the right items to hire a worker to OPEN the building. So I build more useless buildings for no other reason than to gather items, but the right items never show up. So I have a ton of finished buildings but none of them open. Irritating. These freemium games always say you can finish the game without IAPs, but the fact of the matter is, they are always too hard to finish without shelling out cash. I'll pay upfront for a no-BS straightforward game, but purposely making a game too difficult which forces one to pay, is just retarded.
It's like getting a car for free, and then... Oh wait, you mean you wanted BRAKES? Pay me! You want a heater? Pay me. You didn't tell me you wanted four tires instead of three! Pay me. Headlights? Pay me. WTF!

This x1000. It's fine for a freemium game to unlock extra features via IAP (like the extra spell slot in Royal Revolt, which I paid to get). But My Country was a massive bait-and-switch, because you get 99.9% stuck after about a week of playing, due to needing ultra-rare drops for everything. It would be one thing if you simply couldn't open some subset of the buildings, but instead the entire game just grinds to a halt. You could easily spend hundreds of dollars trying to build up a complete city, which is ridiculous. Kind of turned me off to this company as a result.

Boring after 2 months of continuous play

Ugh, not available in Indonesia..

I can't play PvP mode in Rule the Kingdom in my windows 8.1 phone..how could i fix it???
Windows Central Newsletter
Thank you for signing up to Windows Central. You will receive a verification email shortly.
There was a problem. Please refresh the page and try again.