Native Calendar app for Windows Phone 8.1 updated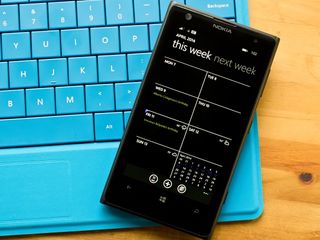 The native Calendar app for Windows Phone 8.1 has just been updated. One of the bigger changes in Windows Phone 8.1 is the ability for some of the 'native' apps to be updated independently of the operating system. This allows for apps, like Calendar, to get updated as Microsoft sees fit and without any interference from carriers of OEMs. What's new in today's update?
Head into the Windows Phone Store and you'll find version 1.0.14127.246 of Calendar. This is the second update for the Calendar app in Windows Phone 8.1. Like last time, Microsoft has withheld the changelog. So we'll need your help finding out what's new or improved in this update.
After updating, the app seems to crash on our Lumia 1520 when we try to add a calendar event. Overall, it does seem to be a snappier experience with this update.
Find anything? Sound off below.
Thanks for the tip SuGaRDaD, Fahad, David and others!
Not gonna update than I don't want it crashing on my 1520

Broken on my 920 with WP8.1.....

Didn't crash on my 1520. Works just fine atm.

Have you tried adding and appointment?

Can u please tell me how this calendar aap works on windows phone, how it got everyone birthday on the calendar(some of which are wrong) and why it showing the birthday 2 times in some cases plz help me
kashif007rke@gmail.com

I've noticed any all day event spreads over two days, from 2 pm day 1 to 2 pm day 2. Presumably the calendar on WP can't figure out your correct timezone correctly? It appears to be set to 0 GMT. Or, rather, it knows your timezone, but since it is stuck in the 0 GMT timezone, your all day events are offset by your timezone, and thus spread out over two days. It's the only explanation I have, and this doubling up every single all day event in my calendar makes the calendar on WP essentially useless for me, as the sheer amount of spam from it is just too much. Changing your timezone on your phone does nothing, other than changing the offset for your all day events, so instead of say... 2 pm on day 1 to 2 pm on day 2, it'll change to 3 pm on day 1 to 3 pm on day 2. Of course, the infuriating part is that any event you make with a specific time...that shows up correctly, at the correct time, so it appears the calendar operates on the correct time zone for those events, but on the 0 GMT timezone for all day events. It's so schizophrenic! The weird thing is how much fawning I've read over the calendar since 8.1. Either people simply don't use all day events...or was the calendar just that horrible pre 8.1 that people ignore all the doubling up of all day events? Or, does everyone just live in the 0 GMT time zone. :D Also, this "bug" appears to be beyond just the default calendar app. I've tried other calendar apps, like simplecalendar, and the same thing happens in all of them. It's really annoying. :/

Thanx for the info mate, doubling of birthday now resolve using ur method by removing the hotmail calendar from setting and just keeping the birthday on, one more thing I want to know is how can I sideload the app using windows 7 ultmate 32bit pc

It counts all day as 24 hours.

I have written a bug report a long time ago, but nothing has happened... http://answers.microsoft.com/en-us/winphone/forum/wp8-wpemail/wrong-weekday-in-the-calendar-tile/eaf80032-3278-4bc9-96f2-0386b15133ee

I'm suffering the same problem, but only for a Google account calendar. In addition to the two day spread of all day events, I'm also seeing old/deleted calendar items that were repeating events at one time, but were either deleted or edited to move them to another date. This update did nothing to fix this. I removed the Google account from my phone, did a soft reset, then updated the calendar app and nothing changed. Using a Google calendar account is impossible on Windows Phone.

I've figured out a temporary workaround. The calendar app has no issues with the Live calendar (Microsoft's free online calendar that's hooked into outlook webmail, etc, and tied to your Microsoft account). That's what it syncs if you've choosen to sync your Microsoft Account to the calendar. So, you can go on the web, login in to calendar.live.com and subscribe to your google calendar(s). This puts all your google calendar info into the Microsoft calendar. And, unlike the WP calendar app, the Microsoft calendar at calendar.live.com imports your Google calendar info correctly. Now, go back to your phone, force sync your Microsoft account, and all your google calendar info will show up correctly on the calendar app. It's an imperfect workaround, as you won't be able to edit the Google calendar events (not to be confused with the inability to edit any calendar events due to the last update). Just view them.

Add an event by tapping on a time slot in "day" view and add it that way. To avoid the crash, avoid hitting the + symbol until they get this fixed.

Thanks for theinfo. I have tried hitting the + sign. Will stick to adding an entry by tapping on the time slot in the day view as well as using the online outlook calendar as well til they resolve the bug

Crashes on my 920 if you try to edit a calendar entry as well :-( Hope they fix this soon.

Thanks for the suggesiton, works great until they get a fix in place.

It crashes on my Lumia 1520 too :/

Don't! App crashing on my 1520 upon creating a new event.

Can add via Cortana on 1520, but as soon as try to manually add it closes back to start screen. Hope Microsoft are rapid on a fix here else I'm gonna here some bitching from the wife after auto update as she uses the calendar all the time but refuses to use Cortana

Crashing on my 520 as I tap on + to add an event!

Well, your 1520 calendar should updated now, because native apps update themselves. :P

It crashes on my 1020 too :(

Can Confirm. 720. Should have listened to my friend and not update stuff immidiately.

Damnit, this makes me want to turn off auto-update! Can't easily create OR edit appointments now...

Work just fine on my Lumia 720, even i've tried add an event.

Hahahahahahaha...so funny and clever and original. I can't stop laughing. Hahahaha

Tiny death star just updated too. Some darker backgrounds, the number has moved in the speech bubble when the bitizen gets in the lift and, even though it still lags, it does, honestly, seem faster!!!

Seems like you just don't get it.

-925. Doesn't just seem faster, it is faster. Faster at crashing when adding an appointment, that is. WTH, Microsoft? I know, it's technically beta, but oy.

I have to agree that it feels quicker. Also, tried creating an appointment and the app crashed on my L920

Does it crash through Cortana?

It did add the appointment when I used Cortana. But crashes when adding things the regular way. L925

It only works with Cortana 4 me

It does not crash with Cortana on my 920 but crashes when manually adding something

+925 Redmond, we have a problem.

Also on my 928. It's insane to think that they would push an update that seems to crash such a wide variety of devices.

Don't wanna update it on my L920 :(
Also I hope OneNote and Office is separated from the OS that can be updated independently. It lack a lot of features :(

They do for me... Try to create a new Notebook in OneNote or change the formatting in an Excel spreadsheet...

Crashing on my Icon, too. I can't add or edit events. Dammit Microsoft.

Crashed on L820 Posted via Windows Phone Central App

Crashed upon trying to create/add a new appointment
Lumia 920 here

Crashes when trying to add appointment unless using Cortana

Crashing on my 920 when adding adding a new event. Boo.

Well I hope it syncs appointments now -.-

crashes on my 1520 as well with dev prev 8.1

crashes everytime? or just at first start?

Why does it seem like recently updated apps have been crashing a lot on the 1520. From foursquare to the native calendar people have been reporting issues on 1520 and Icon actually. Does anyone else notice this trend?

It took a minute or so to sync my calendar after the update. I'll see if it can replace my lovely Cal app :)

Won't replace my beloved Chronos Calender

No way. Chronos is pretty much perfection.

Agreed. I just wish that I could edit appointments and things but I know that that is a restriction of windows phone and not the fault of chronos. Webcal would be good too

I've tried other calendars and some are pretty dang good but Chronos got that WOW factor. And if MS ever gets around to opening up that API, I believe Chronos devs got some stuff cooking.

This MS Calendar app is built using the third party API in 8.1, no?

No. MS restricted thrid party apps from aspects of what a calander can and can't do in it.

WeekView8 has allowed you to create, update, and delete calendar entries for some time. Now it uses the native dialog in wp8.1.

Also crashes when creating a new event on my lumia 820

Restarting didn't fix the problem? Looks like I have to pass... :(

Restart did not fix the issue

Crashes as well in Lumia 920, and no, restarting not fixing it :(

Same on my 920. God damnit I should not have updated. Not being able to add appointments is a big problem. >.

Has agenda view been brought back yet? I love agenda view on wp8.

It's disappointing how MS lately thinks they need to remove something from their apps in order to improve something. Give us the option to use it or not, but don't just drop it. (Zune pc connecting to windows phone 8, hubs, calendar's agenda view, etc).

All I ever use is Agenda view. It's gone in WP8.1? Geez...

Time to move to Chronos Calendar. It has a way better implementation of Agenda view.

yes yes. bring back agenda view immediately: Microsoft, please rsvp asap.

You could always try my app - like you I really miss the old agenda view, so I decided to do something about that. I wrote this: http://windows-phone-agenda.com/ so I could continue using my calendar on WP8.1 in the way I was happy with on WP8.0

I think its time for roll out to 8.1 :/

I added and no crash. Must take a few things to reproduce.

A few things, like tap Start button, tap app, tap the add appointment button... Presto! Instant crash.

Crashes on my Lumia 1520 too

Crashed on 920 when tried to add new event !

Me five. Don't these updates get any testing before release?

With this high % in crashes you start to wonder.

Same here; very disappointed.

It crashes when you try to edit an event, too. Someone should be fired for publishing this update - was there no quality control?

Can't add new events on my 1520 :(

Use Cortana to add appointments. Worked on my L925.

There is no Cortana on my HTC 8X - how nice.
But please explain: Did nobody test the app at M$??? That is a VERY basic function....

I wonder the same thing. How did they not test this?

Snappier as in the app snaps shut when opened?

Also crashes on l720... Seems like Microsoft loves breaking his apps

Crashes on 928 when trying to add to the calendar.

Same, 928. Also when I try to edit an existing appointment.

Crashing on my 1520 as well. Would love to know why these crashes seem to be specific to the 1520.

They're not specific to 1520. Read the several posts above

Must have missed the first one, my bad. Thanks for the important correction!

I turned off my auto update to avoid any possible issues. I'm on a 1020

I didn't know it was a separate app now. Boy I like WP8.1!

I don't know it's separated

I'm nervous about updating cause of all of those crashes on few models and for god sake its a SIMPLE CALENDER APP, how can they make it crash?

That's actually not too far from the truth. However, if that intern project succeeds, he/she will get an offer.

I don't think this intern will be getting an offer.

...that was planted by a competitor apparently.

Crashes on my Lumia 820 as well.

Lumia 928. Crashes when making an appointment, too.

Did calendar have Facebook birthday and meetings before? Just noticed

Still no usable live tile, as no possibility to have more than one appointment displayed...

Exactly. I use Chronos for the live tile, but use the native calendar whenever I want to actually use the app. It's inefficient. I wish they'd just make the live tile better.

Updated and crashes when attempting to create an appointment.
Win Phone 8.1 Lumia 822

crash on my 520 when I add new event.

Faster right up until it crashed adding appt on Samsung Neo

Crashing on my 1520, 1020 and 625... All are on the 8.1dp...

Why this app is so slow to open (Like Xbox Music, Video, Games ...)?

Separating the native apps from the OS had lead to poor performance of those very apps. If you compare the apps like the new music app, Calender app to their previous version you will notice that the old version opens really fast, it doesn't even need to show banners or startup background (see the built in phone app for speed reference).

Oh, o know that. But my point is that have apps from store that is really fast to open, like MyTube, Fantasia Painter and others....

Yea those apps u mentioned opens fast but not as fast as apps coupled with the OS. Microsoft should go back to recoupling these vital apps to the OS and do what apple do, create a quality app without annoying bugs and couple them with the OS then update the apps if necessary only with new versions of OS are available.
The only reason y we think we constantly need to update our apps is because Microsoft is unable to produce a perfectly working app without any bugs. That's y dey made everyone believe that separating the apps is the way to go. But in reality it leads to a decline in performance.

In Windows 8 almost apps are separated. Same with Android.
But this is no excuse for them being slow, buggy, and (VERY) lengthy to open. I know a native app will always be more faster...

Crashes on my L1520 as well

Well, I know a few tests on a lumia 1520 handset running a developer preview is probably not helpful, but mine is updated and has not crashed while adding (successfully) calendar events.

Still worthless because of the tile. Does MS even listen?

Worthless? It has no worth, whatsoever because the tile isn't as you like?

Yes, for me it is unusable, I have three calendars with multiple appointments on many days.

This. Just update the dang tile!!! Seriously it is probably ten minutes of code

Agreed!!! A double wide tile showing only one event is EPICALLY absurd. I use a third party app (which I'd rather not....I favor native apps) just to get three events on my double wide calendar tile. Most all third party calendar apps have the capability of THREE calendar events on a double wide tile, how on God's green earth can't Microsoft achieve this?!?

Crashes on 1020 when using the "+" to add a new appointment. But, adding an appointment using the "Day View" and tapping on timeslot works...until you try to edit the appointment. Then it crashes. Hate to sound harsh, but doesn't anyone test this stuff before pushing it to the store?

Crashes on my 1020 too...
F'n MS. You're right to complain. Calendar is huge on a smartphone and now mine is unusable.

crashes on HTC 8X WP 8.1 dev preview when trying to create a new appointment :(

Lol at whomever tests these apps

I'm not LOLing; I use the calendar about as much as I triage email. Will wait to upgrade new 928 until these are fixed.

Too late for me. Saw these posts after the calendar app was crashing. This is crazy. Need to use Cortana now, which I cannot do in meetings or other situations where I cannot talk. Great.

You can write to Cortana tho. PS: Crashing on my yellow Lumia 920 too... SMFH

Just turned off auto updates in the store after seeing all these crashes. Hopefully they fix it ASAP. Calendar kinda needs the ability to create new appts.

It seems snappier. But crashes.

Crashes on my Icon when trying to add a new appointment.

Omg that's exactly what I was hoping for an update which is buggy and crashes, I mean I'm a massive fan of xbox music on wp 8.1 especially when it was slow and unusable. Thank you Microsoft.

My calendar on WP8 works as it always has. When you're a beta tester you should expect problems. If you wanna complain to someone go look in the mirror.

Beta tester? What beta tester? 630 and 635 are already out in market. Beta testing should be over a long time ago.

Are you using one of those?

The OS is not different and Calendar did not crashed before this "update"...
The OS is not a Beta, is RTM but not at GA... yet.

Well, there's no two ways about it. This does suck and should be hugely embarrassing for Microsoft. If they would only implement System Restore on WP (feature in Windows since 2000) stuff like this wouldn't be so painful.

Does it matter whether I'm using 630 or 635?

I was curious to see if the bug impacted those devices also. I searched the comments and it looks like they are impacted also. This is really bad. Software development has really gone to shit now that everything is free or near free.

Calendar app was not broken before this, it worked flawlessly; and with this update they have not added any features nor is there a drastic performance boost just an unnecessary bug. By the way, I wasn't complaining I was merely adding humour to the situation.

Downloaded. Performance has been improved.
PS: Not crashing on my Lumia 820 WP 8.1 DP.

Try adding a new appointment!!

Crashes when adding an appointment on my 925 as well.

It's just a little crash ;)

And also impossible to edit existing events

Crashes on 822 when trying to add event...

Crashes like described on Lumia 1520...

Can't add or edit events on my 1520. This sucks

Not updating, last thing I need is for my calendar to crash, I put EVERYTHING into my calendar and right now it is working just fine, I'll wait until the next update.
L925

Crashing on 1020 too. I'm sure they'll be updating again soon.

Love MS, but they need to learn to add release notes with every update.

LOL, yeah... "Added a bug that causes the app to crash when creating a new calendar entry."

6/30/2014
Added more crashes
New and improved crashing experience
Overall crashing system has been improved
Fixed bug where crashing didn't happen when adding events
Fixed bug where crashing didn't happen when editing events


That's an interesting changelog, seems crashier :P

Crashes on Lumia 925 also. Do they even test this stuff before they publish? That is a pretty big bug to get though the cracks!

It's broken, it crashes when I try to add a nee item to the calendar. Lumia ICON

Wow horrible. Yeah crashing here. Hoping to see the ability to limit recurring events when making the events on the phone.

Why is so difficult to show more that one appointment in the live tile??? Hope this time it syncs events that I am not attending.

Yeah, the tile could benefit from some attention.

The start screen on my WM devices showed my entire day's meetings. 5 years later this POS that is Windows Phone still can't accomplish that simple task. I've just learned to open mu Agenda view every day, but now I'm told even that is gone in WP8.1. Yikes. And when I had a real freaking keyboard I never once typed the word "mu" instead of "my". Fuck.

Faster but crashes on dual sim 630 also...

Separating the native apps from the OS had lead to poor performance of those very apps. If you compare the apps like the new music app, Calender app to their previous version you will notice that the old version opens really fast, it doesn't even need to show banners or startup background (see the built in phone app for speed reference).

Adding a new event crashes on my HTC 8XT. Great update Microsoft, was testing adding a new event not part of the validation process? I should also note I'm on latest 8.1 developer preview. I add events a lot from my phone, this will be a big loss, I guess I should look into other calendar apps for now. Boo.....oh yeah, seems faster.

MS Testing process: Does the app compile? Ship it!


How many more straws can the camel's back take? Test your crap BEFORE you release it Microsoft or pay us to be your beta testers.

I think I'm switching to Android, Windows phone is a joke

Been there that's why I'm here

That's good. Enjoy all the force closes.

If there was a viable alternative to WP I would definitely consider a switch. I don't want a consumer device. I want something to help me get work done first, organize my personal life second, then entertainment and social network last. And it can't be creepy and run anything Google.

Hahaha, yeah.... Can't add events :|

Crashes WP8.1 Nokia Lumia Icon pressing + to add appointment. Thank goodness Cortana can add my appointment
I'd be up a creek if I couldn't get it in at least one way.

Add appointment is crashing on my 1520

So apart from crashing does it still notify for every birthday?? I tried turning off the notifications through web calendar on outlook, but still I get 3 notifications for all birthdays...!! Two of them in the noon. :-/ I am not gonna update it anyway until this crash bug is fixed.

Thought i was the only one with this issue sometimes its noon sometimes midnight

Crashes everytime I try to add

928 also crashes when adding a new appointment.

the app seems to crash on my lumia 1020

Crashes on my 630 too. Expect another update tomorrow :)

Is the iCloud +2 hours sync issue resolved? can anybody check that....?

Crashes when I try to add an appointment too, L925

Seeing double birthdays and events from fb

Same here, crashes everytime I try to create an appointment on my 920.

Crashes when adding appointment too. 920 with 8.1.

It doesn't show the weather as well...

it shows it fine for me. do you have the checkbox checked in settings? are you in week or day view? you need to have the checkbox checked and be in week or day view to see it.

Is this "Suggested Places" feature new in the settings? Still crashes on Lumia 630. Feels like a beta test.

Feels like a beta test? It is a beta test. lol

You do know that Microsoft is already selling the Lumia 630 with WP 8.1 and Cyan?

I live on my calendar, I can't have it crashing. That's unacceptable...

Crashes when adding event on my Ativ S

I won't be updating then, I would expect another update today/tomorrow.

Sounds like "simple calendar" is still a keeper for my icon. Glad there are 3rd party apps to replace MS broken ones.

Give me Simple Calendar any day. Especially now with the transparent tiles.

Its broke, the only new thing I have found is in settings there is is an option to delete history

How the hell did this POS get released by Microsoft?!? Any attempt to edit an appointment crashes the app. Lumia 920.

They really need to fix facebook events that shouldn't show up on the calendar, yet do. i.e. events you've been invited to but either declined or deleted from fb shouldn't show up on your calendar. (like they used to on wp8)

Uncheck "invited" events in the settings.

In doing that, events that are in 'maybe' dont show up.

Why can't MS put changelogs zz
And how can this crashing shit get past the testing phase?

Does that apply to Photos as well?

Looks like the bug with time zone is fixed in week view. Before that I have 1 hour difference with real time of appointment.

Everytime I tried to edit it crashes. Lumia 520.

Still showing only one upcoming event on live tile. Disappointed.

Looks like they need an update for the update.

It wont let me update, it keeps showing me the error code 80860006. But this might be a good thing because the update is apparently bad lol

Crashed on my Htc 8s when creating an event too

Updated a few minutes ago, also crashing whenever I try to add na appointment. Running on my lumia 1320.

Crashed on my 1020. Able to create appointment through Cortana but unable to edit.

Crashing on my ATIV s neo when creating a new appointment.

When is 8.1 released to carriers?

Can you downgrade an app?

Honestly doesn't seem any faster to me, and now trying to add an event crashes the app. I'd recommend others avoid updating it until a patch is ready. (AT&T Lumia 1020)

anybody notice this? tuesday horizontal line seems giggle everytime you swipe through monthly view... :)

Crashed on my 920 as well, however I was able to create an appointment using Cortana.

Crashes on Samsung ativ s

Also crashes when I want to make a new event

This won't be what the community wants to hear, but 8.1 is still beta since it hasn't been officially released (or least here in USA) so expect every 8.1 app and 8.1 itself to be buggy. I can't speak for countries or phones that may already have 8.1 rolled out. It is clear that the QA staffing in the Windows Phone team is not at the level of staffing/proficiency of the Windows group.

Lumia 920. Adding a new item makes the app crash. The app is closed. No error message shown. :(

Crashes on my HTC 8x as well.

Updated on HTC 8x and crashes when adding a new event. The only feature I want is to chose whether the week starts on Sunday or Monday, and that's still not an option.

+1 Crashing on L925 when adding. Fantastic job on that quality control MS...

Me too. Why did I update it? Why???!!!

Crashing on Icon as well. Seems it's a 1080p issue.

Just turned auto updates off. I wish they would add more flexibility in recurring events

Still the calendar uses the region and not region format to display times. It's 18.00 not 6 PM... That's a beginners error damn it!

I think I'll skip this one lol, happy I read the comments before updating :)

Agree. Very nice MSFT. Obscure errors can slip through if the test plans are flawed. But it's not crashing some times on some devices. It seems to be crashing every time for everyone. Did anyone even test this before pushing it out. Its like amateur hour. :/

Indeed, I feel sorry for the others though....
It's good Microsoft updating much faster, but please at least do some more testing first, this Calendar update issue didn't just affect WP8.1 preview users, but also for Lumia 630 users here, a non-preview WP8.1.
This would leave bad impression to WP. :(

+920
Can't function without appointments for even one day :p

Thank goodness for all the wpcentral comments .

Crashes on my 1020 too when attempting to add an appointment...

This is stupid. I am considering dropping WP if they keep this up. These are CORE functions of a smartphone they are messing with.

Most annoying is when you travel through different time zones the appointments created in one time zone are moved by how many hours you're of from your home base. I always have to consider the time difference when entering a new calendar event. A 7am meeting entered in central time zone is 8am in the eastern time zone. Hope they are going to fix this soon.
Another issue is when I imported calendar events from a text or email they are entered but all the additional info is missing.

Crashes on Nokia 820 too :-(

Calendar is now useless on my 1020. Cannot even add appointments.

Just tested it on a Lumia 920 WP 8.1 (AT&T). Created a couple different appointments on my two calendars (Live Account and my work account) and it did not crash. It worked as expected, and yes, it feels quite faster after the update.

Not for me. WP 8.1 ATT L920. Calendar crashes when pressing the + button and trying to edit events.

App crashes on Lumia 1320 too when adding apointment

Crash on my Lumia 1520... damn.....

Crashes same.. Add event, poof. 928.

Crashes my 1020 when editing an appointment

also crashes on my 520... what's up Microsoft

Very much faster. When starting up the app I don't have to stare at the calendar splash screen for a few seconds anymore. But crash everytime I press the "+"button, I guess it is confused and lost its memory. So it behaves as a back button now. Lol

Crashes on my Lumia 820 when adding a new event :|

So now Calendar joins the Music app as things MS has busted recently.

Now it crashes when I edit an event. Nice

Oh boy, the editors of this article should remove the link for the time being, instead of getting users to install , get frustrated and then feedback. There is already enough feedback to go around.

Here Sports, 6tin, Health & Fitness News and Weather updated, so Bing Apps got updates too

Crashes on my 1520. I wish I saw this article but but for some reason my WPCentral app didn't give a notification about the article.

Something Amazing is Coming....!? Watch the space. Tectonic changes have just arrived, thank you MS!

Crashes on my 1520 whenever I attempt to create a new event or edit an existing one. The only workaround I've found so far is to use Cortana.

Did they make tasks easier to get to with this update? I want to use the native tasks since they sync so well with outlook.com and exchange. And all I want is to pin tasks to start with a live tile. I live by my task lists and OneNote or contana reminders just won't cut it.

Microsoft please set the example and use a proper change log. :D

Using Lumia 1520. Yes, crashing when adding an appointment. Tried setting one using Cortana and it worked.

I hope MS isn't planning on releasing this 8.1 shit bag the way it is. Shit crashes more than drunk people on weekends. If this is what their phone OS will be like I will move to IOS or Droid.

Can't add new appointments on 920!

Much Crash So Update WOW , i send some diagnostic file in case they see the mess in their code

Anything requiring the keyboard is making the app crash on my Lumia 920, 1020, and 1520.

when does microsoft add week number to their calendar... ive been w8ing that for many years on every smart phone original calendar app to add week number to their calendar, but no -.- ik there r apps that shows week number on calendar but what i want is original calender...

look, my Week Calendar looks close to the original as it was meant as a companion app, and got week number. it's funny to note that since it relies on the OS to add an event, by installing this update it crashes as well!

Crashing on my Lumia 1020 8.1DP as well. Restarting doesn't fix it, soft reset doesn't fix it. WHAT AN UPDATE!!!!

The app crashes when hitting + button

Needs to be able to open exchange shared calendars.

@winphonesupport is aware of the issue I sent them a tweet and they said they'll look into it

News, Weather and Health & Fitness are also updating. I don't have any of the other Bing apps installed except Translator, so not sure if it's a generic update, like when they dropped Bing off the titles.

Crashes for me on HTC 8S. also seems to have broken Facebook integration...

I hope they'll make the reminder longer than what it is. I always either miss my appointments or run late due to it

Crashing on my Lumia 1020 everytime I try to add an event or anything,release another update to fix issue

Sheesh, c'mon Microsoft, at least have your Calendar App make good use of Live Tiles. If you can't do it with your own Apps...

I'll disable automatic updates until the crash is fixed.

And that's how I learned that disabling automatic updates doesn't work... Adding appointments crashes my 920.

This lousy update makes the app crash when creating manually a new appointment... Cortana works fine instead... But after all, she always did! :D
I hoped this update would solve an issue about iCloud calendars, which are now experiencing the same issue Google calendars had before WP 8.1, that is adding an event and after the syncing with the server, the time of the event is shifted of two hours.
With WP 8.1 they solved the issue with Google, and I fear I'll have to wait wp8.2 to have icloud calendars fixed!

I'm going to buy a Moto G.

G??? If you go make wrong decisions, make good wrong decisions, buy a Moto x or the nexus 5... Rsrs

I'm going to buy an ice cream cone.

Just tap the "Add" (event) sign and it perfectly crashes everytime on my Lumia 1320.

Adding appointments crashing my HTC 8X. And it does own faster too.

Don't crash in my 625... Works fine, with Cortana and the regular way...

Crashing on my 925 8.1 preview when adding new appointment

Also crashing on my Lumia 920 WP8.1 dev preview when trying to add new appointment

1020 crashes upon adding an event.

Crashes on Lumia 1320 when attempting to add appt. That sucks.

Damn you auto update! Well now the only way I can add events is via Cortana

This calendar snafu is A good example of why to not have auto update enabled.

Crashing on add new appointment here too. L925

You can't even edit events either

Crashes when trying to add an appointment - 920

The easier thing would be to report on which phone it is working on properly? Probably the Nokia X

928 and now I can't add anything.

My 521 on 8.1 also crashed when trying to make a new appointment. When I used Cortana, it worked fine.

Updated on 1020 and didn't crash when creating new appt

Dont update guyz... It's crashing when i wanna add any event on my calendar lumia 620

Oops...I think we will see a new update being pushed through very shortly. What I like about my phone is that even the crashes look buttery smooth...

I can add event on 1020, just can't edit anything now...

L920 WP 8.1 DP
1.crashes when adding new event. 2. crashes when editing already existing events. 3. NO settings for repetitive events !!!!! WTF ????

+820...crashes....seriously need to turn of store auto updates....can we roll back?

Its REALLY FAST.. So Fast in fact, that when you try and add an appointment it crashes! On a Nokia ICON.

Crashes my 1020 when I try to edit an appointment I have just entered without details.

Shouldn't have updated on my 8X... It crashes when I try to make an appointment, which is all I use it for...

It crash on Lumia 1020... Ffs...

Glad I read the comments here. I'll wait for an update to fix this.

Downside to auto update, yeah it's crashing on my 1520. Hope they patch it soon. This is also the upside to having these apps update without needing an OS update, no long waits.

Same here, crashes on my 1520 when editing and i use the calendar for work. This blows.

How about bringing back TRUE AGENDA VIEW - so I don't have to use a third party app. How hard could that be to offer? Why is it every built in app is going to crap lately. First Music, then Calendar. They are CORE to a phone's OS and they moved backwards in functionality instead of adding it.

I need that badly, loved it in 8.0

They updated the camera to be broken -_- 1320 There is a Microsoft hater employee in their house!

Update Brooke Simple Calendar.

Wait a minute!! What the actual fuck??! They can update the native apps independently too? Then why did they have to completely screw us over with the Music app?? Bastards!

The "+" button now means exit, WTF

I don't have auto updates on and it still apparently updated and broke my calendar??????

Also crushes when editing existing appointments. What a mess. Also slower to open. WTF microsoft. Just getting horse shXt upgrades. So mad here. (L1520)

Crashes on my Icon running 8.1

Aside from the crashing, going into settings reveals something for "suggested locations" whatever that means

Crashing on my 1520. Why Microsoft?????

Don't know why all the birthday reminders it shows day before actual day and not on the actual day

Cortana adds the appointment. You can't change it as it crashes as well. Hope to see another update soon fixing the issues.

So, if some core apps can be updated independently of the OS... then why did they break the Me Tile and twitter/FB conectivity?

There is a way to add an event. Get into day view. Long press and add the event. At least you can temporarily make some calendar events.

Nice, thanks. Unfortunately you cannot edit this afterwards on the phone. Hopefully Microsoft fixes this soon.

Crashes on adding new apt. VERY DUMB... +8X

+925 crashes when I manually try to add an event

Until the app shows multiple events on the live tile and lock screen, it will remain useless just like the Windows 8 version. Simple Calendar is actually practical and it also displays legible events in the month view. The fact that this crashes is just more reason to write it off.

Crashes on 925 too. Why do they give updates to make a normally working app a disaster.

Damn it, auto-update installed the Calendar update before I could catch it. Cannot create an event on my925. Also cannot create an event using Simple Calendar.

I guess jumping on an update the second we see it isn't always wise. I'm glad I don't leave the auto update feature enabled.

Thanks larsuaga, long pressing works

Crashes on my 1020 when adding events. Microsoft has stuffed up big with this round of updates breaking multiple apps

I just added 2 appointments on my 928 and it worked just fine. I added one appointment that is linked to my work Exchange account and it updated it in seconds. I added another appointment that is linked to my personal Gmail account and it updated it in seconds. Adding both appointments from the native calendar app did not crash my 928. /shrug.

1020 crashing reporting in

Crashes for me. Lumia 1020. Do they even test before releasing. Wow.

MS is busy killing WP's reputation with their little updates to their apps. Unfortunately I've been forced my friends not to get WP because Microsoft is still such a lazy company to fix their flaws, as I'd someone in MS boardroom had very bad self-esteem and lives in a bubble where WP works just fine.
There are so many quirks in this OS that they never manager to get it to work before official release date.

Also, if their main excuse to break apps is that they're separated from the OS, why can't we simply delete these used-to-be-OK -apps?

Crashes on Nokia 520.... good update ....

So why cant facebook be integrated into the hub and updated seperately from the OS again? The main argument for seperating out FB was that the OS would need to be updated when FB API changes. Really its just an ad revenue thing then isnt it...

Crashes on Ativ S also :-( Get a fix working ASAP!!!!

I set my phone to use English as language, United States as country and Sweden as region format. The Calendar app is one of the only apps that shows dates in the wrong order (mm-dd-yyyy) and time as AM/PM. Quite annoying.
And when I create new events or edit old ones (app crashes),

Crashing on my Lumia 1520 too...

Add another 920 to the legion of woe. App updated as I read comments here :'(. Calendar is central to my usage and one of the strengths of Windows Phone. You can't afford this f'ckup, Microsoft.

Crashes when creating event on my Lumia 820

Mine crashes on my Icon, need this app really bad for my job.

crashing on my unlocked UK 820, come on MSFT lets not put out updates which have problems from out set. Calendar is useless if you can't add info to your day.

If these f*****g morons loose my calendar entries, like has happened with the sports apps where the favorite teams have been reset, that's it.. I am done with WP. I am switching to something else immediately..

Hey there, I saw the same thing in my sports, then went to the desktop and saw it wants me to log in and link to my MS account again. Once I did the fav teams resynced to the phone. Annoying, but at least it was still there.

I am really enjoying the advantages of removing integration. First, uploading pictures to Facebook no longer works in the background, and not at all over 3G. Now also the Calendar has effectively been killed. Any tips for which Android phone is the best replacement?

Any one of the flagships will do fine.
But I'd suggest waiting for the iPhone 6 in a couple months.
In the meantime, you can pick up a nice Moto X, for not much money.

Crashes also on my 1020 64GB

Crashes every time trying to add an event, task or whatever.. It is just not good, needs to be fixed..

Bloody great. Crashed my 920

I got my name in an article.. Yay!! Although yes, It crashes on adding an event. Microsoft updates are always patchy... Nokia Lumia 625

Looks like I want be updating anytime soon,,,,,,,,,,

Same crashing experience on 920 wp8.1

Crashes here as well when trying to create or edit appointments. Lumia 1520 8.1 dev. preview.

On Ativ crashes when trying to edit, is rollback possible?

Crashes on nokia Lumia 620

My calendar app doesn't open(lumia 520).How can I open it ?
Posted via Windows Phone Central App

Is the 'delete history' button in settings new?

Crashes during appointment creation or editing on my 1020 with WP8.1. Lame. Is there an "un-update" option?

Also crashing on my 1020 when I try to edit a calendar entry

Mine had it since launch of dev preview.. Appoinmnets sync well between my w8.1 and wp8.1 too

crashed after updating this mornong on my lumia 820,

Looks like another buggy rollout... given the insane amount of people reporting the calendar app is crashing. So glad I have auto update turned off!

Crashes on my 1520 running 8.1 DP AND my UK-model 630. You wouldn't sell Beta software on the High Street, would you, Microsoft?

They have fixed these issues: http://social.msdn.microsoft.com/Forums/en-US/a8ee579b-d6c0-48be-a1b0-1d... And added new ones, that cannot be worked around, unlike the above. I wonder if Microsoft gave up on testing what it releases.

Missing week numbers! strange why there has is no place for this obvious function - otherwise a useful app!

Crashes on my Nokia Icon....jerks!! I use calendar daily.

Crashes on my NL920. #GoodTimes

Do they even test before releasing??!!

Can't add or edit an appointment on my 925.

After today's update, app crashes while adding new entry (Lumia 920). Multiple entry display on tile is long awaited.

Seems that crashes faster on L820...

I suggest we use the diagnostic app to send Microsoft information on the crash. Might be a little more helpful if they can see the logs if what's happening. I can only assume that they're aware that there is an issue. By sending them the diagnostic I at least make them aware that there is a problem.

Crashes on my L630 :/ pff

Trying to add an appointment by using the "plus"-key crashes the app. Pretty dissapointing that they haven't found this bug before release, it is in a way a quite essential feature for a calender :-) (knowing that you actually can add an appointment by chosing day-view and then just click at the correct time)...

HOLY MACARONI - you cant even edit an existing event without the app crashing! What a bummer!!!

Well this is a disaster. Can't edit or add events without the app returning me to Start. *slow clap*. How is it possible to release an app that crashes for so many people without noticing?! I really worry for this platform if the native apps (like this and music) just can't do their job. :( OTHER NEWS: I notice there's now a setting for map locations within Calendar which wasn't there (at least in the UK) before. Finally getting Google-style actual locations in calendar events?

So the advantage of independent native apps is they can be updated quicker. Disadvantage is they don't work properly. Like Calendar and Xbox Music...mmmm

L820 WP8.1 Dev. Live tile didn't work and app crash


Folks do not forget that you are using WP preview for developers, so this problems happens

You've got to be kidding, right? Because this is "for developers," Microsoft shouldn't be called out for literally breaking a working mission-critical app by providing an obviously broken update? It should have taken 60 seconds of beta-testing this update to realize it was broken.

No longer works on 1020 and also doesn't sync with PC any longer also...anyway to undo this update?

Should have read the reviews before updating... now I cannot add or edit any appointment... well, sort of be able to add appointment with Cortana but what's point???

+1520 Seems that MS internal apps do not need to pass the certification process. :(

Bit strange that this bug was not noticed. All I can imagine was Tha the wrong build got uploaded by mistake?

Game over for me and windows phone. At least android and apple have some testing before apps are released

Looks like the new summer interns have arrived at Microsoft HQ.

..crashes on my HTC 8X....

Can't add anything other than a quick add from tapping on the day view. If I try and edit from there, still crashes. Samsung ATIV Odyssey.

App wouldn't install with the first dev preview, this update won't either. It's annoying because there's no way to uninstall it to fix.

Since what I read in the comments, I'd better wait Microsoft fix it before I update it...

Crashing on my Lumia 925 :-(

Crashing on L520 & L1520 for me!

Crashes when editing an event on my 1520.

Crashes when trying to add a new appointment. On Lumia 1020 And needs agenda view

Yeah, this crashes on my Lumia Icon as well! WTF????

Same issue as most people are seeing on my 928. Just takes me back to my start screen. Hope they release a quick fix!

All of my events suddenly were gone. I hope this update fix this and bring them back.

After thinking about it, this article was very poorly written. Although the article mentions seeing an issue with adding a calendar event, the spirit of the article seem to encourage people to install the Calendar update, even including the link to the updated app. If it were me, the title of the article would be TURN OFF APP AUTO-UPDATES AND DO NOT INSTALL THE CALENDAR UPDATE!!!! Many many of us depend on the calendars on our phones to help us manage our days. Shame on Microsoft for publishing this broken update, and shame on WPCentral for not trying to better help and inform their audience!

Crashing here as well on Lumia 920 - 8.1 Dev Preview. However, at least I can still edit/add/delete entries online through the Outlook Calendar. That's some sort workaround until Microsoft issues another update.

Darn, wish I didn't update! Broken now on my 1520 running 8.1 preview.

If you are QA- Tester for Calender app then this is nightmare. Every PM must be asking who tested it :(

Ok, scratch that. I got the update this morning and now, when I try an add a calendar item, it dumps me back to the start screen. 928 here. Dang it.

Why I'm thankful for the calendar bug: 1. Bugs are the beta testers' Easter eggs 2. Calendar is getting lots of attention right now. I suspect a broken calendar will in the end improve faster than a poorly functioning but stable calendar. 3. Imho, the latter is where core apps have been since Wp7.

What good is calendar if you cant add events. Why do Microsoft updates wreck stuff. First xbox music, now calendar

When you add something, it crashed

Crashes on both of my Lumias: 925 and 1520. Really hope, they gonna update soon...

Crashes when trying to edit a appt 1020

Crashes on 1020 when i try to add an event

Crashes when adding or editing an appt on my L920. I would like to see them add time zone support when adding appointments. Outlook for Office allows me to do so and the phone acknowledges them but no way to edit or add directly to the phone and I need this capability as I travel for work. What would be ideal is the ability to set a location for days that you travel so that any appointment you set during that time will reflect the local time zone.

Bug bug bug.. AI updated, big mistake. To bad their is no roll back. Don't install

Calander Crashing. Microsoft sleeping. Wake up MS, Wake up. Its time to react.

Crashed when editing previous event items

no crash on my 920 wp preview for devs 8.1...I use Cortana to do all my appts though...wonder why everyone else here is doing it manually when Cortana is available for that task?

Working fine on my Lumia 720, even i try to add an event.

Now crashes on Lumia 620 when adding event in Week/Day view. Switching to Day view enables event to be added. Attempt to edit any event in any view crashes the app. This behaviour just started today - 1 July. Do hope MS update/fix this soon.

Crashes on Samsung ATIV Odyssey. Did they not debug this app at all?

Ok so I've been on windows phone since December 2010, and I'm going to have to say I'm starting to get pissed with it. It takes far too long for MS to update things and when they do the introduce bugs. How the hell can we be at WP 8.1 4 years later yet the native calendar and music apps suck terribly. I cant even edit a songs title on the phone. I'm starting to feel like I'm being held back by WP. I dont really want to go android, but the power user features are starting to tempt me...

And this messes up 3rd party calendars ability to add entries as well. What a great update. :-(

I am happy it doesn't work for you guys either. ;) I feared it was only for me. But if not, well, a patch will come. Microsoft, it's funny how you encourage to code well and yet it seems there are absolutely no regression, integration or any testing at all, not mentioning zero-length change logs in your apps.

Lumia 630. Crashes also when adding appointment

And this is the reason why I don't have auto update enabled...

crashes on L620 too. They effectively made the Calendar read-only, I can't add anything without crashing,

wow, major bug not caught in testing? how can this be? not only has WP 8.1 been one of the most unsable pieces of software I've used but now even official store certified apps go down in flames like this? I don't know what the team at redmond is up to but if you watched IO we see two companies: -one is set on being the future -the other one can't even make an appointment for the future :)

The update crashes in my Lumia 920. How can I fix

Obviously Microsoft didn't do enough testing before rolling this update out. The Calendar app crashes everytime I try to add an appointment. I tried a reset, but still have the crash problem. Come on Microsoft!

Crashes when updating a recurring event

Microsoft fix the problem we need the calendar .... :/:/:/

Microsoft fix the problem we need the calendar ....:/:/:/

Hey! The update crash in my Lumia 920 WP 8.1 ...how can I fix? I need my calendar

Crashes for me too... 920/8.1
Wth!!! I had twelve appointments to add in and I had to use notes ... FML!
Hope a fix is on the way.... Like tomorrow!!!

Hmm.... Where did my comment go?? Crashes on my 920/8.1 as well.... Had twelve appointments to add in and just couldn't... Had to use notes :-S Hope a fix will be in this week...

Cortana works just fine on my 1520 with 8.1 That's pretty cool. I should be doing that anyway!

It keeps crashing on my 820 every time i try to add a new event -_-

it seems faster. You just click + and you're done. That's pretty fast.

+1020 PLEASE FIX! I live by my calendar and use it often.

Yep you can't edit an entry on 8.1

Crashing on 920 when adding or editing any event, including from other apps like Calleague

Bug corrected. Just click again on the link to the calendar update, update it and ... It works ! U can add and update events and no crash as for what I tested. Enjoy !!!

Well after updating my Lumia 925 to 8.1, I can't even get Calendar to open: the icon on my home screen is darkened, clicking doesn't open it. Nor does clicking on Calendar on the app list work. Very frustrated.

Why are my calender entries disappearing 2 weeks after the fact? The continueing entries such as birthdays do stay, all others disappear. Bernard
Windows Central Newsletter
Get the best of Windows Central in in your inbox, every day!
Thank you for signing up to Windows Central. You will receive a verification email shortly.
There was a problem. Please refresh the page and try again.