Native folder support coming to Windows Phone 8.1 Update 1 Start Screen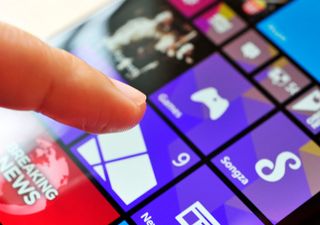 With the release of Windows Phone 8.1 Update 1, due later this year, users will be better able to organize their Start Screen thanks to folders. Much like on Android and iOS, folders are a way to keep your apps organized.
Creating and using folders is fairly straightforward. Just hold and drag one Live Tile on top of another one. Give your folder a name by tapping Name Folder. Add more applications into your new folder by dragging them to the folder, and remove apps by dragging them out. Folders can be moved and resized, just like Tiles.
The feature won't come though until Windows Phone 8.1 Update is released (aka GDR1), which should be completed in July with an over-the-air update due in the weeks/months afterwards. Windows Phone 8.1 is expected to get at least two OS updates in 2013 and heading into 2014.
These instructions had been posted on Microsoft's Windows Phone website (opens in new tab), but they have since been removed. What do you think of the native folder support coming in Windows Phone 8.1? Tell us below in the comments.
Source: Microsoft (opens in new tab) via: Nokia Power User
Yeee another crap like Xbox music coming.....

It takes someone really special to compare an app to a system feature

I'll have to agree with him, just because its now a App, it was a built in app aka part of the OS. So as far as I see it. The OS came with some feature (what WP came with at the feature set) part of the is a music app and games/xbox app, and right now, app or system, they suck and part of the OS. I think the Xbox music is ok, its the game hub / Xbox hub that sucks on 8.1...one of the reasons ingot WP is because of Xbox live...talk about getting screwed by MS on 8.1

Thank god you have an option to not create a folder right. :)
Come on, some people want it, including me. Options are good.

You could already use an app called AppFolder (http://www.windowsphone.com/en-us/store/app/app-folder/7d2e7de3-95e7-414...) which does give you an option (already) to create folders.

Appfolder is better then not having but you can not drag and drop apps to the folders which is a real pain in the ass. So its not really the same

I was excited when it was released. But after trying it I saw it was crap. It's very slow and not worth using. You are better off swiping left and finding your app on the app list. One of the reasons I wanted a folder was to put stuff like whatsapp, Kik and other messaging apps into it. But since the tile did not show that you had messages then it was useless. Mostly then since there was no action center before.

I thought 8.1 was feature locked. How can it have this unless its a stand alone app then in which case its going to be similar to the nokia folders app.

It could be another over-the-air update, or some back end update. Perhaps it was already included natively but needs to be utilized, like 3D touch.

The wording of the article's title makes it clear; Windows Phone 8.1 "Update 1". So, it's a future update to WP8.1, just like Windows 8.1 Update 1 improved 8.1 with some new mouse-friendly features.

I think it's just that what is now called App Folder (formerly Nokia Folder) will be "native" to the system rather than a separate download. ... just a guess.

Nokia App Folders is likely a complete and separate folder system unrelated to the system apparently coming to 8.1 GDR1. It will likely still function separately from the native folder functionality that is to come.

Windows Phone 8.1 Update 1 is not feature locked.

Update 1, not 8.1 that's shipping now.

Is this going to render the Nokia app folder useless or will be the same one with just added features?

The Microsoft Mobile (Nokia) folder thing was okay, but slow, clunky, not integrated with drag-and-drop, and it didn't show tile counters. I hope this new integrated folder feature fixes all of those issues.

it needs to illustrate tiles when you go into the folder on the start screen rather than a list that takes its time to populate. I would hope the folder tile would rotate its image of each tile within and when you open it it pushes all tiles around it out of the way. that would look a lot better!

If you read the instructions you'll see that the new feature is integrated into Start, and not just an app.

The whole point of the start screen is live tiles, I don't understand why someone would want a folder. Seems a waste, but I won't turn down more features...

I agree, what would happen to a live tile in a folder?

you'd only see the live tiles if you go in that folder. which is great, because if you group them by subject you really only want to see that when you're there and not scrolling 8000 pixels worth of stuff you don't care about to get to the weather region of your start screen for instance.

Tend to agree, I would much prefer a filter structure for the app list instead.

Just like Groups Live Tiles can show updates from everyone in that group I would think the Live Tiles for Folders would be able to flip and reveal the latest update or notification from any app contained in the folder. I also think the Update 1 will come OOB with the new flagship that will launch in November with the LiveView that supposedly will allow you to hover over a tile and allow it to expand and expose the contents within.

Maybe the tile notifications will surface for the app group, similar to the way people groups behave. But, I see the issue.

That's nice. Then don't. Thanks for your input. It was completely useless and i won't be using it at all.

Totally agree 100000000%!!!! I wish those who like Android features go buy a damn Android and stop trying to ruin WP bit by bit.

I depends on the app. I would not place Facebook in a folder, but I do have folder for the Nokia image apps like Cinemagraph, Creative Studio etc.

Because not every single tile is "live"? Some are just simply shortcuts from URLs, etc? In this way, it will provide better accessibilities to the users?

because all the apologists that made that argument just don't ralize that a list of live tiles that scrolls to china is useless. next on the list is start screen pages like on iOS and Android. Slowly but steadily MSFT is fixing their UX mess and that is only good news for the world.

Hmmm.... Did you mean 2014 to 2015? Since Windows phone 8.1 is not really out yet.

Windows Phone 8.1 is already out. The official start of support was 24 June, devices where being sold since last month.

Congrats on your achievement.. :-P

Too bad, you won't get a cookie

One potato, two potato.....;)

Copy cat, ok, I don't need this feature.

So because you don't need it that means somebody else doesn't.

Simple solution: Don't use it.

I need basic name folders in the app list. Otherwise the start screen should be live folders!!!! For the love of god.

I find it hilarious that whenever someone like yourself expresses their feelings about not wanting or not caring about certain things.. There needs to be people who come to question, not you, but the wants of everyone else. As if no one understood that only one person doesn't care about one thing for themselves. But eh whatever, people will get mad at whatever they want.

And its not copy cat, its something that has always been in windows for PC and was on Windows Mobile.

True, I want to rename stuff too because this alphabetical stuff is getting annoying if the best pencil is cool writing tool and not pencil, how am I to find it in a snap?

What about material design of google?

Then don't use it. Some people want it.

Coooool! Though I'll probably only use it for the three or four games I have... Haha

Same here, plus if these aren't live folders, then the current Nokia folder is fine for me

Games and photography apps in my case.

Photo and travel apps for me

First company to use folders last to implement in WP. Damn shame Posted via Windows Phone Central App

Not a big deal, I probably won't even use them but we'll see how it's implemented as to whether or not they'll be live. If so then WP will have the best implementation.

Exactly. Apart from the "live" feature it should list and open the apps instantly which "App Folder" currently doesn't do well. But I guess it will.

It would probably be similar to how the group feature works now but with apps.

Live in what way? The only thing I would find a live tile useful in a folder tile is allowing the apps you put into the folder push info onto the folder tile itself. Don't know how difficult that would be or I it is at all possible. I guess that's a feature that MS could allow devs to implement in their own apps.

That's exactly what we are thinking.

lol I know. such obvious thing. I would have love to have been on the meeting of a bunch of softies trying to rationalize how to remove a pivotal UI concept without offering a better alternative. ah MSFT. so brilliant, yet so uncategorically stupid.

Folders come soon I'm excited ;)

It make sense now that we have so many apps on our start screen, it will be great to get them organized.

Huh Posted via Windows Phone Central App

But now the link is pulled.

I took screenshots of those don't worry..

I love the way mine is laid out, see no need for it other than games, music & vids apps

Someone posted the link of this in one of the previous article's comments section..

Wow, so excited to see that Tom Warren of' The verge' has credited my tweet@ebin_5 in his article on WP 8.1 update. Was just tweeting while watching my fav Holland beating Mexico.

Wow!!Just take a screenshot and upload it on Facebook,,WhatsApp,,Instagram and also on 9gag!!

Sadly the credit goes to Joseph Keller..But am happy that they do read our comments..Kudos to both!!

No problem,tom warren of 'the verge' has credited me in his article.http://mobile.theverge.com/2014/6/29/5854858/windows-phone-8-1-update-fo...

You posted that on Twitter??

How will tile repositioning work if you just end up making a folder? the gesture they say is similar for repositioning...

To reposition you hold a tile in the gap between two other tiles. To group you hold a tile directly over another tile for an extended period of time.

Sounds potentially finicky...

Should be fine if the tonight is graded well and it's easy to cancel the motion. Eg, hovering over another tile may have some kind of indicator that it will create a folder, but you have to let go while that indicator is showing for it to happen.

Can still achieve the same function with the Nokia app folder which is now just folder, well it will be good if it was tied into the OS

No, if it's apped, it can only folder certain types. Nokia's only does apps and settings, even then only some are can be foldered not all. Samsung's goes further allowing bookmarks to be foldered but still not everything. Build into the OS and anything pinnable to the start screen should allowed to be foldered. What I want is live tiles within folders.

Hope it's not just an app that uses the whole screen to show its content, but a context menu-like thing. It'd be way faster in my opinion. Also waiting for it in Windows 8.1 Update X.

If you read the instructions you'll see that it's not an app. You can drag items from a folder back to Start.

After that I will be spending some more minutes to organize things... :D

With this will the App folder app be of any use?

No but you can use it if you want :P

MS is taking alot of time to implement such simple things which were implemented by other platforms long ago.

It was part of their OWN Windows Mobile before "other paltforms" even existed.

Why on the start screen? I'd rather have folders in the app list

Exactly what I wanted aswell I find having to jump from one letter to the next time consuming

So, the Start Menu for Windows Phone?

Don't see any reason why they could not have your folder appear on the app list too. However, given that it sounds like you will open the folder on the startscreen, it would have to take you back to the homescreen when tapped, or open in a diffeent type of view. Would not look very elegant.

This is huge to me. I hope these work well... I need to see this in action... I need to see things like how will I see notifications for items inside folders. Will expanding a folder actually expand it... shifting things lower or will it sit on top of the rest of my screen? If this is real... I need to see it!

Are you sure its coming in wp 8.1 or update 2 or maybe "threshold"?
coz Dan was saying wp8.1 is feature locked and no new feature will be added during official release.

It may come in GDR1 which should be out later this Summer.

No think late fall to winter for 8.1 rtm & below handsets

Tom Warren of 'the verge' has pointed out that MS may have readied the next update called Windows phone 8.1 update.http://www.theverge.com/2014/6/29/5854858/windows-phone-8-1-update-folde...

He did say Windows Phone 8.1 Update. That makes it more likely to come like a GDR1 update to WP 8.1

Looks like you'll need the final to get it working. If you try it now, it just moves the icon out of the way.

Honestly, I like the groups in Windows 8 better. Its more elegant looking. If the folders aren't live tiles you're loosing information.

Exactly. Pinch zoom out (semantic zoom) to see the tile groups would be absolutely great, and completely compatible with phone screen sizes. I honestly don't understand how that's not in there yet.

Thumbs up for every reasonable comment in here, sometimes you just wonder why doesn't Microsoft stand to their vision and unify the experience. I always thought that the Windows team was much better than the WP one. I suggested both features (tiles grouping + semantic zoom) for so long and got +10000 votes in the feature user voice site, but then they labeled it complete and removed voting from it. here is the link:
http://windowsphone.uservoice.com/forums/101801-feature-suggestions/sugg...

Pretty infuriating. Whoever is going nuts with the repeated 'not implemented' comments is not really helping though.. :)

Absolutely. Better, consistent with design philosphy, more useful, nicer looking. Folders is for Windows 3.1. It's crap, 30 year old idiocy.

App folder app. Just saying.

The only advantage I see in making this native is if the folders are also live tiles showing the info of the apps inside each folder. Otherwise I'd rather they kept it as an app.

Truth is that folders are mainly used for games and photography apps which most of them doesn't have a live tile.

That doesn't matter. If you're putting something in the core OS you should consider that other people may want to put apps with live tiles in them too. Otherwise, there's no reason to bake this into the OS instead of leaving the App Folders app as it is.

+820
I'm afraid too that it might not show notifications from the apps inside the folder. Still useful to have. I rather they improve the Hubs though.

We don't need folders with live tiles because we have action centre

Is the WP 8.1 folder app similar to the Nokia App Folder or will it have added features?

Much needed. I was looking for the app that does this just yesterday but forgot the name of it.

App Folder maybe? Under Nokia apps in the store.

Thanks 2tom. That's the one. Just downloaded. I need here drive, four square and a handful of others that will be useful while on vacation.

Awesome! Been wanting this feature natively for some time!

The INSTRUCTIONS are STILL LIVE on the Windows Phone website...
Check it out..

Read the comments and get the link!

Now can we get live tile for the apps we keep in the folder. I mean if i make folder of messaging apps like whatsapp, etc while i get live tile notifications which we don't get in Nokia's App Folder

Will app information still be displayed in the folder, the same was it is with live tiles? If not, then this is one more step towards making WP like iOs and Android.

Need it to be live, and open like folders in ios. Little animation and just pop up on screen..

Useless. If you have so many on your start screen, why not use the app list. WP is copying Android and IOS more and more. Soon enough, WP will be no more than a bad implementation of those two. WP should keep innovating. Android is getting actionable notifications when WP has only just made a very poor copy of Notification center. Which is taking way to long to release officially.

We need interactive live tiles.
Html5 fb integration back.

Looked at a Sony Z2 yesterday in the phone shop and the demo model has 4 tiles that flip on one screen. Wonder where they got that is from?

Exactly. Folders are a terrible idea to begin with, only used because it resembled a physical object that people were familiar with. Today, there is zero need to enocurage the use of folders. Keywords and other metadata should be used for organization instead, and the App list would be the proper way to organize by type, frequency of use, etc. The Start screen should have customizable but automated (optional) areas, so with "pin to start" you'd get a music app into an optional "music" area for example. Like in Windows 8.1. Folders destroy the very basis for the WP interface. But they seem happy to try to be a second rate Android instead of something truly innovative.

What about categorising the app list. Would have prefered that as opposed to having tiles on the start screen. Never the less this is an nice option to have, also the native support makes the app folder apps redundant now lol.

'App Folder' is a decent app that does this perfectly already

Through this will probably work much faster.

Not all phones can support that app

Tried it and deleted it. Don't see the point, it looks rubbish and what's the use for live tiles....

Hehe, maybe the term 'perfectly' is a bit strong... Its not bad. I like the fact that it supports transparent tiles. It looks better for me than placing all those non-transparent tiles on my front screen.

Too late Posted via the WPC App for Android!

Watching soccer right now Netherlands Mexico 0-0
So I can't react now ;)

Mexico to win, asked Cortana :-/s

Oh hallelujah! I would love this

I hope the tile of a folder acts like the people hub, but then with pictures of the tile instead of avatars.

Now if they could only come up with a way to group related apps together in the Apps menu...I could take all of my games...put them into a folder, a repository, a "hub" if you will, and I will call it "Games".

A Games Hub, brilliant idea. You could include an avatar and achievements etc...

Did tell you what Cortana said :-)

Will this be a way of mitigating some hub functionality?

I'm enjoying the best of both worlds on my dev. preview of WP 8.1 on my 920! Bring it

There are only a few tiles I worry about being Live. This will help with a even more minimalist Start screen. For me anyway.

Interactive live tiles would be better. Don't need an app folder. If want to use an app which I haven't pinned to I can quickly swipe right

Yes, hopefully it's fast opening up

As with a lot of functions that aren't or weren't in Windows, it should've already been there to begin with.

"
1.To get to any of the apps in the folder, just tap the folder to open it, and then tap the app you want. 2.To close the folder, tap anywhere outside it." wow. so this means that this folder works like an IOS folder.
Well it should work this way since its easier.. OVERLAY.
im smelling chatHead support!!

No, the instructions have not been pulled!

A welcome addition. More options are better than less options as long as it is done well.

It would be an awesome addition....

Hope this will do the job, nokia app folder sucks!

Awesome if I'd come actually..

If you don't come it's still awesome.

Nice one. I will use for photo editor apps and games !

The way they word this on the site makes me about certain it will come out in the GDR1 release.

Excited about it because I like having, say, all of my photo-related apps in one place but not on the Start screen. App Folder looks good on the Start but it's just too slow.

Nice news!! I hope it'll be faster than Nokia app folder

Didn't Nokia create the app folder? So what's new about this?

It'd not an app. It's a feature of the OS. It's more integrated.

Excellent.... Another step closer to being Android!!!! Who is in charge of WP at MS, they seem to be running out of ideas, or maybe just taking all the bad ideas from WP users who can't use their phones. Another half baked idea!!!!! RIP Windows Phone......

And they don't understand that being a second rate copycat offers no incentive to switch. Android offered some real differences to the Apple model early on and found its niche and grew. Halfheartedly emulating Android and thinking you will get 80% market share at this point is some kind of delusional folly, but it seems to be the path they are on.

They are actualy taking the ideas from windowsphone.uservoice.com...

Yeah, that's a terrible idea too. Users don't know what they need. And they certainly don't know what will make more people buy WP.

"Good Artist copy, Great artist steal."

Let me understand this...this is basically the app folder app from Nokia, no?

Would have been better to have a panorama layout start screen like windows 8..

Hmmm...nice it is officially implemented. Though I rather have sorting options on the applist and Start group like on Windows 8.X first.
I would be nice though if its also a Live Tile, not just static tiles inside the tile. I might use this on some tool apps and photography apps, since Photos "Hub" sadly remove shortcut feature.

Will be nice to use here and there as others have mentioned. One less criticism of the platform too! I won't use extensively

This reaaly have to be added to any 8.1 update

In my opinion, folder support for the starscreen is not needed, or even a bad idea.
On of WP's unique feature is Live Tile support, to have the important things on the screen. Folder support will weaken the Live Tile feature. Because: The Folders itself won't support Live Tiles, probably. The new Notification Center in WP 8.1 has already weaken the Live Tile feature. Because: Why do I need my Email, Skype, WhatsApp, etc. Live Tile, if the messages are displayed in the Notification Center?

If one has a large enough screen, having wide tiles display information is still a quicker way to see everything in one glance than pulling down the Center and scrolling through it. Since I have a small screen (3,8", sadly) I'm using Live Tiles as a reminder of unread messages/articles/whathaveyou, and the Center for a more in dept way to see what a certain app wants or has to say, because I don't have a lot of screen real estate to make all of the relevant Tiles wide. Still, it's an elegant system (Tiles + Center) if you organise it well :) But I agree with you on the Folders front, unless MS makes it Live, which would be nice, but highly unlikely.

Ok but photography apps, games and music don't have live tiles. If you don't want it, don't use it. Same with the action centre. If you want to use live tile for notifications, disable the action centre. Plus, more option don't kill.

When you disable the action center for an app, you also lose banner, sound and vibration. So unfortunately: NOTusing the action center isn't an option.

It's called options. You don't have to use the folder feature. For me, I'd use it to make a Music+Videos hub. This folder wouldn't need live tile support because I don't have any multimedia apps that support live tiles. Also, how does having a notification center weaken the live tiles? You can still use the live tiles just the same.

+ HTC 8X (and well, Nexus 5)

Don't want it? Don't use it. I will never understand the point of comments like this...

In my opinion, the resources (Time, Money, Developers, etc.) should be used for other things.

Nothing wrong with having this feature. This will be useful for games, photography apps, nothing that needs live tiles. Live tile would be nice if you could assign a live tile priority.
They need to get all of the games off the app list and put them only in game hub

Already separated my start screen into sections with headers so not much use for this...but would like it if they are love folders with rotating ingo of apps contained inside the folder.

Nice one. A WP user who undertands how to use the Live Tiles effectively. Kudos, man!!!!

If its available for official 8.1 the it shud have been there in Lumia 630. It should be included in another OTA

Will be completed in July so when will developer preview get it? July itself?

If it's completed in July, I'm guessing developer preview will become available in either July or August. Windows Phone 8.1 was RTM'd in March and the developer preview came in April.

I will use this if the folders support live tiles. That would be awesome.

Windows Phone 8.1 is expected to get at least two OS updates in 2013 and heading into 2014

Wow, we are living in the past here :)

Finally someone said something about it. I noticed that too.

Cool, I'm sure a lot of people will find it useful, never had the need for it on WP or felt it was missing though.

Yuck. What a stupid ass update. We don't need folders!

If you don't need folders, then the update won't affect you. Just don't make any folders. That doesn't make it a stupid update.

Update in 2013? Are going back to 2013?

Yeaaaaaa Westley Snijder scores 1-1

I'm using the App Folder for now, seems good but a bit laggy. Would be nice to have the built in one!

I like it, this was one thing I did use when with Apple and it will be one feature that can be used for the tiles that don't flip

Good ...now put Xbox Music, Xbox Video, and Game Hub back to native and we are all set.

I hope tile counters work within a folder like ios notifications. That's why I don't use Nokia folders.

I think this feature would be very welcomed by users. I think it would be nice to have a WPCentral "app folder" that contains the app itself, plus a deep link directly into the forums, and also maybe some of your other favorite places. You can choose where you want to go before you enter the app. Love it!

It's much better than the Nokia App Folder because when you press a "tile group" it expands to show the actual live tiles of the apps in the group at whatever sizes you had them pinned. It is part of GDR1.

Yes Netherlands wins 2-1 against Mexico :):):)

Yea....she's a real #####

It better be snappy, I don't want it to have to load for 5 seconds.

How about Microsoft actually release 8.1 to everyone. Taking too long.

Typo. Its 2014. Do you mean 2014 to 2015

Exactly. Not sure how that one escaped the robust proof readers before these articles are posted (tongue firmly in cheek)

Cool now we just need call blocking and some minor features and we would be on par with the other oses

It already has call blocking

I'm all for more features that give people the ability to customize their layout to their tastes. If people don't want to use it, no big deal. I can see myself using it for apps without live tiles like accessories or photo editing apps. The truth is that many people coming from Ios or Android will want this because that's what they're used to.

It's as simple as this people. If you don't want folders on your start screen then don't use it... Don't see the need for complaining...

Should that line be 2014 and 2015 instead of 2013 and 2014 in the near last

Until they fix Xbox music I just can't get excited about anything Windows Phone related. I won't even be around long enough for update 1 if they don't address the outstanding issues.

Ditto. There's a plethora of other options in the marketplace, rather than stick with a device or OS that isn't meeting your needs. I played with a Sony Xperia Z1 at a Sony Store in NY, and must say, I was impressed. From what I hear, the Xperia z2 is iterative but even better.

What I really want is actionable notifications that were leaked at the end of last year that was supposed to be for gdr3

Wow that's interesting...hmmm

BlackBerry had this many years ago. Windows Phone is taking too long to come up with basic features.

Yeah, Symbian had this since forever. I had it on a Nokia N95, back in 2007.

I tried the Nokia folders for a bit and then got rid of the app. But I think the UD1 will probably bubble up live tiles in a better way.

I like this. Should be good for pinned map locations which seems to build up on my start screen.

where'd you get the transparent games tile?

Awesome! One less thing for the haters to bag on WP about. Doubt many true Live Tiles fans will use them, but glad we will have the option. Agree that it might make more sense for the app list view than Start Screen.

I think the dates are wrong...2013 into 2014.....

Does not excite me much!
Am I alone?

Release 8.1 first along with cyan then we will talk about new features.

It would be a charm, if it would work like a live-tile in combination with the "calendar-weekview-expanded-taskview" :)

You said it should get updates in 2013 heading into 2014. I'm pretty sure you meant 2014 to 2015 ;)

I believe its expected to get at least two os updates in 2014-2015 not 2013 unless I somehow missed that 8.1 was around then.

I have a feeling I'll get 8.1 Update thru DP first instead of Cyan in my country.

Looking more asked more like ios...

I think it is 2014 & 2015

Is that similar to Nokia folder app?

YAY TY Microsoft... good choice!

This should be released in Windows 8.1 first

I think, it's cool feature. Less moves to add app to folder.

I'd rather be able to save tile layouts and switch between them.

I hope this also allows the folder-ization of my favorite webpages that I have pinned to start.

Sorry but "Windows Phone 8.1 Update" isn't simply the update we are waiting to come these days? Why should it be update 1?

(waves hand) This isn't the update you're looking for...

I have seen the said 'App Folder' on a upcoming Lumia device. When you tap on the folder it expands on the start screen itself showing its contents, while the other tiles are pushed above or below. It is different from the Nokia App Folder which opens up on a different page. I thought it was a very useful feature for people who need a lot of apps on the start screen. I did not spend enough time with the device to see if and how Live Tiles work in the App Folder.
Another feature I saw on that device was a small 'Down Arrow' at the extreme left of the Navigation Bar (the 3 buttons at the bottom of every Windows Phone). Tapping the arrow would make the 3 buttons disappear leaving a full clear screen which will be useful while playing games or for other full screen applications. The Navigation Bar can be brought back by a swipe up from the bottom bezel. Obviously, this feature would only be available for devices like the Lumia 630 which do not have a separate capacitive Navigation Bar or harware buttons.
Since these features were already working in a phone under testing, they should be available soon. The OS version was 8.10.14xxx.xxx as far as I can recall. I just got a fleeting hands on with the device.

If they were smart they would make it so that these foders works like the old hubs. Opening up a panorama where you could pin anythng you wanted. Imagine having a "folder" for a vacation you were going on. When you click on it you open a panorama where you have pinned stuff like map locations for your hotel, onenote with stuff you want to see, emails with hotel reservations, flight information etc. Or you could create your own custom Music Hub where you can pin your muaic apps, playlists etc, links to Youtube videos and so on. You should be able to pin whatever you wanted inside each folder/hub but developers should be able to push content to the folder/hubs livetile so that it could show "playing now" etc.

Sweet. Much needed feature.

Hope they'll add data toggle switch in the notification panel too. I've no idea how they can missed out something like that..

I don't understand the purpose of this.

Instead of folders, they should use groups. Similar to how it works on Windows 8 with a group headline. Swiping down very fast would scroll the Start screen to the next group – so it would be possible to "flick" through your groups. Tapping on a headline brings up a quick jump list similar to how long lists work on Windows Phone already.

One thing I've been craving for WP to do is move multiple times at once, rather than one at a time -- just like on Windows 8.1.

Not all apps have lives tile

I probably won't use this myself as the swipe to the right for the app list is sufficient for my liking.

Think you got those dates wrong at the end.. It's already 2014 ;)

I'd rather have folders or categories on the app list, than on my start screen. And while they are at it, they should organize the settings page a little: add some icons and a logical order.

Some of you just don't read. Here's how it works... 1. It's not the Nokia App Folder thing, it's way better. 2. You can create a "folder tile" and size it how you want it... small, medium, large. 3. You can give a custom name to the folder tile. 4. You can put ACTUAL live tiles in the folder, and they too can be any size supported by the app itself. 5. The folder tile cycles through a collage of the live tiles contained in it when pinned to your screen. 6. When you click the folder tile the "group" of tiles expands immediately below it. Click again to collapse. That's how it works.

More and more cool features keep coming to WP, and yet, the only device that fits my needs is my beloved Lumia 925. Sadly, compared to the last Lumia generation, its hardware now feels too outdated.. I would like to make the switch to the Lumia 930, but it seems to be a direct successor to the Lumia 920, therefore is big and heavy. Also, the Lumia 930 don't support Nokia Glance, and that is a deal-breaker for me. Hopefully, some day we will see the Lumia 935: thinner and lighter than 930 (I don't mind to have 16GB of storage, like the Lumia 925). Oh well, I'm just dreaming

"Heading into 2013"
Seriously?

I am ok if MS make it look nice but it is really questionable if they can do or will do.

Cool. Better late than never.

I don't find it interesting. First improve your Music, Game, Video, File etc.

Would not this method of creating folders be counter inuitive to how you resize and move your live tiles around?

I really like the idea of implementing the folders directly into the OS rather than making a special app for it. Tried using Nokia's App Folder but it kept crashing all the time. And i feel this is better than the app which keeps crashing all the time for no reason.

The Tortoise is catching up with the Hare!

now that will be a cool factor in it!!!!

I hate the idea of folders, and am disappointed that it becomes an official part of the OS. What should've happened is that the start screen got "areas" which could be named and organized, like in Windows 8. Terrible idea to enocurage folders. Insteasd of Windows 8.1 forward-minded thinking, they revert to something that was in Windows 3.1. You'll see in two years iOS will annonce that it will no longer use folders, but organize based on metadata... and everyone will think it's brilliant. And WP will sit there with its folders.

We need folders which don't open like an app and are fast not folders which show notifications because we do have the action centre for notification

Lol "Windows Phone 8.1 is expected to get at least two OS updates in 2013 and heading into 2014". I guess Joseph has a Crystal ball and forgot to publish the article last year :P.

Yeeeeeeeeee!!!!!! This feature is so waited!!!!!!!!

I wish I could say great but it was such an obvious design flaw that I hope the bone headed managers that thought they could do away with something even apple had to give up on go out the door asap. folders are a thing and we're missing them in WP both in the start and all programs screen and in windows 8 all programs list too. microsoft "War on Users" ® needs to come to an end and give them the things that have been proven to work. The fact we had to wait for MSFT to eat crow on folder shows how much off the rails their UX is.

Just put the games back in the games hub instead of applist. Also it'd be nice to have mesenger/skype fb chat back in messaging hub

Urgh, folders? I just want support for more of the basics, features I had on a flip phone almost ten years ago. I bought a Lumia 1020 for a part time venture.....and I find out that Windows Phone doesn't do missed call/voicemail reminders. All you get is the glance screen and live tiles, and there isn't anything in the app store to fill that functionality. Which would be fine if I were a teenager who looked at their phone every fifteen minutes. But you know, I have a life to lead. I put my phone in my messenger bag and forget about it, until I get sound notifications. Ready to flip the thing on ebay.

I'm expecting it to work as flawlessly as the folder support works on iOS and Android. The Nokia Folder app is a disgrace and ridiculously slow.

@ Joseph Keller "Windows Phone 8.1 is expected to get at least two OS updates in 2013 and heading into 2014." 2014 and 2015, I think you meant.

This is far, far down the list of things I want in Windows Phone. First: restore the stuff that was removed for no reason: http://wp.me/p1fLW2-8L Second: Add in features that iOS/Android have: parallax backgrounds that shift when you move the phone, weather lock screens with motion (see HTC 8X's HTC Hub's weather motion), restore Zune hub with a social feed (Zune Social), microSD standard on all phones, 64GB Windows Phones on each carrier in the US, camera buttons and real physical buttons on the face of the phone, restore the Photo hub with a 'places' list so you can see all the places where you took pictures, restore pre-Mango search behavior (in-app contextual; long-press to get Bing Search), restore voice assistant to long-press of Start, local sharing (iOS has this to send files to nearby iPhones), restore use of Zune desktop for music/tv/movie/music video/podcast purchase, organization, and synch, since XB Music/Video is a complete screw-up. Do this before adding folders.

I am a folder person so I am glad for the possibility, app folder has been a pain for me. But I agree, these changes and sorely needed. And a double agree re the microSD being standard on all phones, the lack of it should be a deal breaker.

This will be nice, especially if it works with all Tiles (including pinned from Websites). That's the one main drawback of Nokia Folders - Nokia's only works on apps.

Anyone else realise that with every update WP is starting to look more and more like Android? One of the reasons I loved WP was the unique, simplistic UI. And now they're cluttering it up with all these "features" just because other competing systems have them. We're not far from the day WP will have multiple home screens, custom launchers and apps lined up in grids.

I hope this drag and drop will not be the only way to add to folder. What happens when you need to add 20 apps which are not sitting on your home screen? Will I have to pin all of them to home screen then drag them in? And I am crossing my fingers that there will be a way to order the folder contents.

Seems more like Groups on Win8.1 than Folders.

It will be great to organize your desk top in Start screen to have less tiles than the current position for example we can put all GPS tiles such as Nokia Here Maps, Here Drive+ etc.. in one folder. I think the folders feature is mandatory in start screen.
Windows Central Newsletter
Get the best of Windows Central in in your inbox, every day!
Thank you for signing up to Windows Central. You will receive a verification email shortly.
There was a problem. Please refresh the page and try again.