NDTV's app for Windows Phone now lets you read articles in Hindi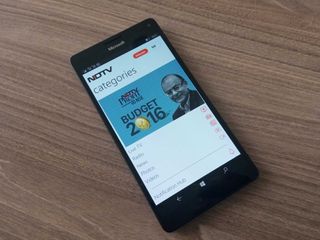 NDTV has had an official Windows Phone app for a while now, but the layout wasn't the easiest to navigate. It was packed with comprehensive features, but an overall rating of 3.4 on Windows Store is a validation that it wasn't well-received by users.
A few months ago, NDTV completely revamped its Windows Phone app, although there were some glaring UX fails. That's all fixed with the latest update, which features a well-organized home screen and a new menu button that can be accessed from anywhere within the app, enabling users to find the content they want with ease.
The latest update also introduces the option to toggle the language between Hindi and English. It's not just an app language toggle, but switches between two different editions complete with news features, special sections, videos, and more. There's a new Favorites section too. The UI refresh is pretty good, offering a neater, more organized browsing experience, but there's still no way to share a story you're reading – that's an abominable miss, really.
With the latest update, the NDTV app looks great – both in form and function. I would've liked it if NDTV worked on making this a universal app for Windows 10, but for the moment, it is much more functional than what it was a few months ago. Check it out from the link below, and let us know how you like the changes in the comments.
Download NDTV from the Windows Store (Free)
These guys are crazy. They still gonna ask "But, when in India?"

But now most of the times the non-indians are using this phrase

How do you know they are not Indians?
हिंदी से? नाम से? How?

It's become a troll on this site. You see people commenting this on the article about Free Basics banned in India.

Wen in India...... O wait. LOL

When you get pregnant.... O wait. LOL!

Hahaha ,, any app for pakistan

Yes. Numerous. But they will never show up here because there is no Pakistani writer on WC panel. Just like Japanese, Chinese, Arabic, Swedish, Dutch etc app never shows up.
And I don't take "population of India" argument as an excuse. Because majority is below poverty line and can't even afford a smartphone.
So why the obsession with India, you ask? Your guess is as good as mine.
It has been mentioned that the traffic this website gets from India is the reason. In that case, how about South America, European countries, Middle East, Canada, or even Spanish apps for Americans?

Other regional apps do show up in the articles like Bank apps, airline apps, train apps, etc.

Few things for your info. 1. India is one of the 2nd largest market for smartphone market 220 million active users, more than US. 2. India does have larger windows phone user which you should be happy if you are windos phone.

Its obvious you are a Pakistani.. Who told you that most Indians cannot even afford a smartphone ? Indias per capita has grown the fastest among developing countries in the last 10 years. Also, smartphnes are available here at dirt cheap emi options. defeats your entire argument !!

To answer your question, here are some Pakistani apps:
1. Nokia Kuch Kar Dikha,
2. Nescafé Basement,
3. Flightzer,
4. KiaSceneHai.pk
5. FamilyTracker,
6. myGrocery,
7. EatOye!,
8. Zameen No.1 Property Portal,
9. Pakistan 24/7,
10. Dramay,
11. SAMAA News Live,
12. UrduPad,
13. Advance Telecom Fantasy League Pakistan,
14. Green Volunteers,
15. Karachi Cinemas,
16. Kulyat e Iqbal, Etcetera, etcetera... There are hundreds of apps from Pakistan on WP, if not thousands.

You changed your comment. Lol. Anyways. @Daniel_Rubino or @John_Callaham or @Abhishekh_Baxi please post an article on Nokia Kuch Kar Dikha and Karachi Cinemas and KiaSceneHai.pk next time xD

Don't underestimate India... World top ceo are from India origin

Junk is now available in Hindi.

atleast NDTV's new presentation is better than others.

Presentation better doesn't mean the content is good. It can presented well but its **** in the end.

There should have been a default page. Always making us click news. I would have also liked the heading section a bit smaller. It occupies lot of space.

MSN News is all that is needed. It is useful and easy. But it is good to see new App updates.

NDTV is Fox News of India xD

Really...? I think ndtv is better off than the rest of them...cnn ibn's standard degraded somewhat after rajdeep sardesai left...times now wins comes to exaggerating stuff though....king of sensational news...!
Overall...ndtv is definitely better off I think...

Best is DD News. They don't over excitedly broadcast incorrect election results within few minutes of commencement of vote counting and also they don't broadcast silly stuffs such as Saas, Bahu and what not! And also the famous habit of ending news bulletins 10 minutes ahead of schedule and showing ads for the next 15 minutes! No other news channel is better either. All are the same. The difference creates the content. Aaj Tak is very advanced in the field with so many different interesting news shows followed by Zee News, India TV and ABP News. The worst thing about Zee News is that they show Headlines for like 2 seconds and the sponsors for 20 seconds or so. NDTV has never evolved. It even doesn't have the simplest concept of Speed/Fast/Non Stop News which people like to watch the most at primetimes. Even DD News has it. I am not saying that NDTV is like Fox News instead it is the Fox News of India.

MSN news app is brilliant. My favourite though is qz.com

Yeah, MSN News is very good indeed. I keep opening it every hour.

well those screenshots do look promising...

Are the articles about WP getting more and more boring or is it just my impression?

In blinding white theme? No thank you

Comeon where is zee news app on windows 10 mobile I don't like these paid media channels like ndtv,abp news
Windows Central Newsletter
Get the best of Windows Central in in your inbox, every day!
Thank you for signing up to Windows Central. You will receive a verification email shortly.
There was a problem. Please refresh the page and try again.