Neon Battleground is an awesome multiplayer shooter that goes to Windows Phone first, Android and iOS later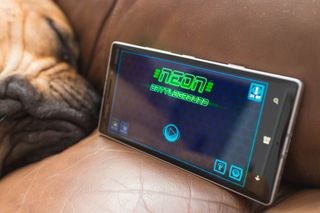 If you like playing games against other human players, you are going to love Neon Battleground. It's an online multiplayer shooter that has just released on Windows Phone, and will be going soon to Android, iOS, and the Web. The game is simple. You pilot a ship that can fire lasers. Shoot down other ships and collect coins.
We have installed it on our Nokia Lumia 930 and we've been having a hard time putting it away. Check out our gameplay video to see if it's something you might be interested in.
The controls are very straightforward. The left side of the screen has the directional pad while the right side of the screen lets you control where to shoot the lasers. You'll have both thumbs on the screen to tactically shoot other ships while dodging other ships' lasers.
There are two ways to earn upgrades for your ship. Destroying another ship gives you XP points. These points can be used to upgrade your ship's health, fire speed, accuracy, or damage. When a ship is shot down, coins are left behind. When you collect the coins, they can be used to buy new ships or equip boosters. The boosters only last one round, but they give you some advantages over the other ships like double life, more accuracy, faster fire rate, and more. Each booster costs 300 coins.
In every round there's one nuclear booster that gives one ship double the damage. It also turns that ship red. When the ship is destroyed, the nuclear icon becomes available for the other ships to take advantage of. Keep in mind however, that being the red ship makes you a big target for everyone else.
Also placed within the arenas are shields. The shield level will decrease first before your health level. When the shield level hits zero, the health level goes down after getting shot.
The end of the round displays each player's kills and deaths along with pings. It just takes a few seconds before another round starts.
We really like Neon Battleground and we're currently addicted. We have some tips to help make you play this game better than most players. First of all, those coins are really important. Make it a priority to collect coins. Let ships kill each other and swoop in to collect! If you need XP points, it means getting credit for the kills. A great way to do this is to target ships that are already getting shot. Another tip is to master moving around enemy ships while keeping the lasers pointed at them. Even if you have a weaker weapon, you will usually win the fight if they keep missing you.
Neon Battleground is a free download from the Windows Phone Store, but there are in-app purchases available to gain more coins or XP points. For example, 500 coins cost 99 cents and double coins for one day costs $4.99. You absolutely don't have to spend real money to enjoy this game. Check it out and let us know what you think in the comments.
Get the Windows Central Newsletter
All the latest news, reviews, and guides for Windows and Xbox diehards.