Netflix rumored to announce expansion to India at CES 2016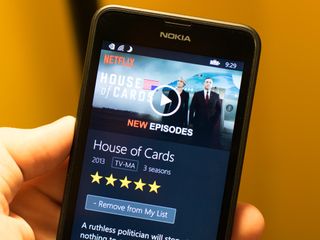 Netflix could be close to announcing its long-awaited launch in India. A new report claims that the streaming service could reveal its plans for adding India to its list of countries next week as part of its CES 2016 announcements.
The rumor comes from The Hindu Business Line, citing unnamed sources. It adds:
Previous rumors claimed Netflix could offer local content in India as part of its launch plans. Netflix first launched in Asia in September when it started service in Japan and has already announced it will expand to Hong Kong, Singapore, South Korea, and Taiwan sometime in 2016.
Netflix CEO Reed Hastings will be a CES 2016 keynote presenter on Wednesday, January 6th. Typically a company like Netflix doesn't take the stage for a CES keynote unless they've got something big to announce.
Source; The Hindu Business Line
Windows Central Newsletter
Get the best of Windows Central in your inbox, every day!
Yay! Soon Netflix and chill.

The true reason India awaits netflix..cause popcorntime and chill just doesn't cut it

I've already had seen joke but never understood.

How about some Hulu and hang?
https://youtu.be/PFbpcPh-TfY

They need more Thai content and better filters. Plus it's stupid how there is no share button in the app.

Amazon Prime and commitment. That's what the ladies really want. ;-)

If the censor board doesnt play spoilsport.
The censor board will probably censor out most of the shows. I mean if they can censor out a mere kiss scene from Spectre i dont have high hopes for the tv shows on netflix. For example all the sex scenes in Jessica Jones will be cut out or the show itself wont be available. Not to mention any violence which they find inappropriate or gory will probably be cut out, even if it is a part of the story.

Wen is CES? :P Posted via the Windows Central App for Android

The article clearly states that the CES is next week.

People don't read anymore.

It was a joke on the retarded "wen in India?" comments. :) I guess the ":P" wasn't clear enough. ;)

I didn't know Netflix had such a narrow market. Since it is already established in Brazil I thought India too. Good to know guys.

so how much is Netflix stock? i might want to make an investment

Anyone* wanna Netfilx andd Chill? * - girls only pls..

I doubt there are any girls on Windows Central

Speak for yourself. We exist.

Pics or it didn't happen ;)

Haha, nope. Besides, I have seen a number of ladies around here (with them in their av or just by related statements alone), who are regular enough around Windows Central.

Oops sorry, my bad :P There's really no way of telling just by the username :)

@SumairB, well best not presume :). Treat everyone as equal and you'll be fine :).

Good but Indian Internet Connections.... Grow Up and get developed in Semi Urban areas like places in 30km circle of developed cities like Bangalore , Hyderabad , Chennai etc...

It will be Mumbai or Delhi first..Sad part is cities like Hyderabad and Bangalore have more potential still they don't plan anything there..

Most Indians don't have a good internet connection to stream Netflix though. And competing with all these DTH giants will be tough. But I would really love to get a subscription. Hope they add Indian content too, so maybe my family will agree to jump from Tata Sky.

Hope they don't stream saas bahu shows :P

Finally, hotstar's getting a competitor.

Windows tells a different story, cause we don't even have hotstar :(

But it still accessible using browser. Believe it or not, websites offer much better experience than apps. Which is why I hardly use Flipkart's app.

It depends greatly on app. Some are superior to websites

Do we even have Netflix app for Windows 10?

A really great one actually, that became universal recently

I think its not available for Indian store. Hopefully we will get it soon.

Yeah, when Netflix launches in India, the app will then obviously be available in India.

Netflix, where old the crappy movies and stupid netflix tv shows go. ​Last christmas was so silly, everyone watching it, crappy violent tv shows. good news for people who want to waste their time and money, I am glad I am moving soon and I won't have to see this service again.

Stupid Netflix tv shows? I think you are in the minority since a number of Netflix's original series have won awards and are talked about a LOT.

I have never seen such a nonsense and sad comment before.
Netflix has old and new movies/shows, bad and amazing movies/shows. And violent? Where does that come from? There are all types of movies there, violent and not. And for $7.99, what more can you ask for?
Plus their shows are actually great. House of Carda and Narcos are top notch
Seems like you have some internal anger towards them that you havent named. Or you just couldn't afford to pay the $7.99

@Azizelh, or possibly that regional library is nothing on par to to you guys in the US. For instance the UK library... is pretty much so-so. Don't even have the harry potter series for instance.... Which currently is taking up ALOT of space on the DVR - adverts and all.

Terrible comment.
So clueless Posted via the Windows Central App for Android

Netflix has alot of ****** stuff but its exclusive shows are gg, bo jack horseman and trailer park boys for life

Really only considering it for the exclusive shows lol

Without unlimited highspeed broadband Netflix will not do much in India

Even with unlimited we indians do have fup limit for it. So it does not make any sense

Awesome...! Would love to try out their services in India...:)

Looking forward to this if it happens.

Meh. No no. Not for Netflix coming to India. But for the stupid and greedy telecom companies and their data plan costs. Only if Netflix could bring down the data costs significantly by their partnership, it will see anyone subscribing. Otherwise their customer base will only have the stupid Indian billionaires who has gathered a lot of black money. But anyway, they will surely find a lot of stupid customers here. At current rate, ₹ 250 or $ 5 for ~1 GB or a ~30 min 720p video makes no sense at all. Lets see.

Exactly. Internet in India is a joke. Expensive and slow. To get a good Netflix experience you'll have to pay ISPs at least 3 times more than what you would pay for Netflix.

Wow great news but I hope they don't start censoring here too. There's no point then

I'm using iFlix in my country. Posted via the Windows Central App for Android

Yay, go to a 3rd world coutry instead of the EU first.

Why am I seeing so many tech news things regarding india lately? Recent tech boom over there or something? Honest question not trying to be smart.