New CellarTracker Windows Phone app keeps track of wine collections and reviews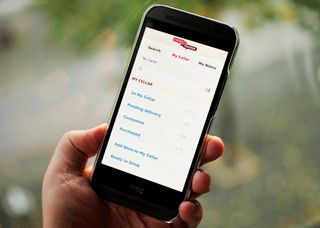 CellarTracker, which claims to have the world's largest online collection of wine reviews, has just launched its Windows Phone app, which will allow users to keep track of not only its reviews but also their own wine collections.
The app gives the user access to reviews of 1.7 million wines along with 4.5 million tasting notes. It also offers a tool to track a personal wine collection via scanning barcodes. It adds, "CellarTracker allows you to track what you've been drinking — from your cellar, a restaurant, winery or anywhere — and add your own tasting notes, ratings and label images."
Interestingly, Cellar Tracker is launching on iOS, Android and Windows Phone all within the same timeframe, so it is worth giving the company some thanks. More information can be found on the Cellar Tracker blog.
What do you think of this latest wine-themed app for Windows Phone? Thanks to Andrew and Dustin for the tips!
Windows Central Newsletter
Get the best of Windows Central in your inbox, every day!
that's because you are probably drinking bad quality wines.

Has nothing to do with the quality of the wine, depending on who you ask it has to do either with sulfites or histamines and tyramines all of which are present in wine naturally

That's because taxes are damn high

Do you live in Brazil? Because here we pay like 5x more for a good wine while in other parts of the world they are cheap as shit. That's why here we try to avoid cheap wines and I always get headaches drinking them.

No, I live in Turkey. I think Turkey and Brazil have a lot of things in common. Similar economies.

Alcohol is wrong. There are childeren or teenagers who follow this site, fpr example i am 16

Alcohol on its own is not wrong. Substance abuse is.

Hey Kid, the mere fact you stated that 'Alcohol is wrong' then you should back it up with self responsibility when you'll be drinking. Stop whining. The app is not intended for you anyway. Go play with your games.

No reason to sound ageist towards that poster, set a good example. As yours is wrong. He is not wrong for what he said. It's his opinion.

I was part of the beta. It's the same skin across all OS. It does the job, but so was the mobile site. It's a good effort.

Oh and the reason it is all the same skin, they are using Apache Cordova framework which enable them to code once and deploy all. Smart "get to market" move, now let's see where they go from there. I have been using Cellar Tracker for years and couldn't be happier to see them provide a solution for windows phone.

I've been looking forward to this! I've had a collection on CellarTracker for about 8 years. It's always driven me crazy that I don't ave an app for it. This is fantastic news for me....Although I also love Vivino, CellarTracker is SO much more. I'm also glad that Eric has remembered his roots and got a WP application out of the door!

Nice to see more apps of this kind. Staying on Vivino though!

Vivino is great. Going to try this. Really proud of my cellar. It's kinda funny collecting good wine has become a hobby as fun as drinking a great wine with friends!

I like Vivino too. On first impressions, I think Vivino looks nicer too. Good to have choices though, so, the more apps, the merrier.
Good luck with your collection

Vivino was a niché app that I missed dearly, its well done on wp8.1 still could use some tweaks but happy with the first version. I am try to build a collection but I keep drinking it as fast I can get it. Especially since I'm starting out with this wine thing trying to find a vineyard that we love it way easier with these types of apps.

Hey editors @Daniel @Sam should you be doing an article about the Disney games on the WP store being free for a while.