New data shows an even more popular Lumia 520; Windows Phone 8 overtakes predecessor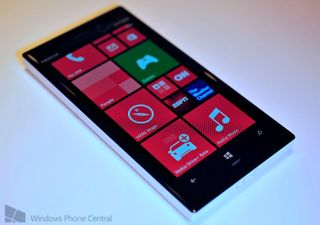 Advertising network AdDuplex has released data for the month of June and while little has changed, there are positive signs throughout the report. Namely, the Lumia 520 continues to grow in numbers as more consumers opt for the cheap (but cheerful) Windows Phone and version 8 of the OS has finally taken over its predecessor. Sitting comfortably? Jolly good. Let's have a gander at the numbers.
We'll kick-off with the versions competing against one another.
As one will be able to see with the above chart, the Windows Phone 8 operating system is now dominating its predecessor. While this data isn't accurate enough to take into account each and every Windows Phone out in the wild, it's a great indicator to show how the platform is progressing. With the latest hardware being pushed by Microsoft and manufacturing partners, we're likely to see this trend continue.
Compared to last month's report, which had Windows Phone 8 on 49 percent, the new version is increasing its lead with more momentum.
Nokia Lumia 928 off to strong start
The Lumia 928 was announced by Nokia last month and is an exclusive flagship Windows Phone for the Verizon Wireless network in the US. What's interesting to note is how far the handset has come already. Take a quick look at the following chart of Windows Phones in the US:
The Lumia 928 has already taken 2.1 percent of the Windows Phone market, coming in just behind the Lumia 521 (which is also new) and Samsung Focus Flash. While it's nothing to get excited about, to see the two devices appear on the radar so soon is a positive sign indeed. Let's quickly more onto mobile operators since we're talking US.
AT&T isn't in the lead, despite its exclusivity with the Lumia 920. Verizon Wireless currently holds the cards and with the Lumia 928 appearing to be rising quickly, this lead will continue to grow. Should Sprint finally launch a Windows Phone 8 handset on its network, we may well see a fourth US operator listed in the chart (outside "Other").
Lumia 520, 720 performing well in India
We previously looked at the Lumia 520 launching itself into Indian space and taking over the show, but the Windows Phone is continuing to increase its lead. The Nokia device has been joined by its more advanced brother, the Lumia 720.
In last month's report, AdDuplex saw the Lumia 520 sat comfortable on 16.9 percent, which has now increased to over 20 percent. The Lumia 720 has leaped from just 4.2 percent to 9.6 percent - quite the increase. All other markets featured in the report showed little signs of changes and / or improvements.
Here are some unidentified hardware AdDuplex spotted in the report:
NOKIA RM-955_apac_prc – seen exclusively in China (sports an WXGA screen)
NOKIA LC4301 – probably a version of the test device we have seen before (P4301). Seen exclusively in US. It has an interesting firmware version - redmond_121012_123259. Runs various builds of WP 8.10.
NOKIA P5238 – probably another test device. Running 8.0 though. WXGA screen.
HTC HTCPO881 Sprint – seen in Taiwan and US (not surprising). WVGA screen.
HUAWEI H887L – seen in US and China. WVGA screen.
HUAWEI W2-T01 – this is obviously a Huawei W2 we've seen in multiple leaks. Apparently it was supposed to be a high-end phone, but from what we see (only four sightings) it has a WVGA display.
SAMSUNG SGH-I187 – not sure what this is. Seen in Korea and US only 10 times. 720p screen.
You'll be able to read through the full report, once it has been published on the AdDuplex blog tomorrow.
Rich Edmonds is Senior Editor of PC hardware at Windows Central, covering everything related to PC components and NAS. He's been involved in technology for more than a decade and knows a thing or two about the magic inside a PC chassis. You can follow him over on Twitter at @RichEdmonds.
as Frank implied I am inspired that some one able to make $5990 in one month on the internet. have you seen this web page ---------> Rich6.comREAL

Cheap Indians?? It's a growing big market and the 720 isn't that cheap. Good news for Nokia again

One thing I think people from abroad might miscontrude is the lack of high end devices being bough in the Subcontinent market due to people not being able to afford it. Quite the contrary, its actually the high number of mobile snatching that takes place that causing low end phones to soar in popularity. I can easily afford a top end phone, but never really felt secure carrying it with me. My brothers S3 was just stolen at gun point a month back, and now he's back to an E63 lol. So yea. Just a random thought.

Phone stolen at gun point in India? Now thats new. Which wilderness was your brother in?

Off topic, but I actually like IOS 7. Microsoft better have something great at the windows phone announcement.
And yes, IOS 7 has some similarities to windows phone.

Me too. I love the new UI changes of iOS 7. But WP has better interface. :D All we need are better features so that we can give others a reason to choose WP. Oh... And I think I saw Bing Results in iOS 7 Siri!?!?

Yes, all of our sheep are saying they ripped us off. But I don't see it,

Lock screen? Multitasking?

Probably hard to see stuff when you're blind.

Okay I see it now. That's good, maybe it will bring familiarity to our OS.

Don't you think iOS 7 looks like a China knock off OS or somewhat girly ?

I am glad that I am on WP ship after watching iOS 7.

It looks and feels little like Jellybean and WP mashed together.

u Vergian! thought you were going for the Galaxy Note 2?

I already got WP and have been using my 820 for 5 months

I somewhat agree while apps and photo library look way better in WP8, the multitasking screen, thhe calling screen and calculator all look better in ios7, though iTunes Radio looks like shit!! I just love Nokia Music's design..!

well .. i'm in India and here it's hard to buy expensives phones like 920 because there is no carrier subsidized phones here or contract system... all phones are unlocked and you have to pay the full price.. guess that's also the reason for the low sales of 920..

I agree. 180 people i know have windows phone (did the survey for my project), out of which only 17 own Lumia 920, 29 own 820 and the rest have mostly 620's and 520's surprisingly only two 720's were there.
PS. I am an Indian.

frankly speaking :in india its all about ..."WHAT MY COLLEAGUE HAVE ,I WILL ALSO OWN THAT" kinda that ..they dont study much before purchasing a phone ........ANY OTHER REASONS ??? , thats why samsung s4 ,s3 outsells lumia 920.

What rubbish. Don't post such generalizations. Your attitude may be that way but don't say all Indians are like that!!!

stupid a mery cants you guys spend more than twice the money for the same product in those subsiduary and contract shit and 2 year contacts. you even live in mercy of operator. Cdma shit. i spend $2 for just 1gb 3g internet. and i can talk more than 2 day with 1$, we do earn less but we earn the good way. we want best value for money phone, money just dosent fall from sky

LG Quantum FTW!!! I just replaced my battery for $7 and will be using this bad-boy until WP8 is ready. I will be that last WP7 device standing!

i bought a 720 2 days ago in india.........loving it !!!!!.............just seriously missing notifications centre as i get a lot paranoid when i cant find the notification after missing the toast.....later found out the app was yuilop *facepalm* lol

Alright "Aryan Angel" you hate indians we get it. Nevertheless, the word "cheap" is not really offensive. Everybody should just calm the fuck down.

Based on wpcentral's heavy WP8 focus in articles, I'd have thought WP7 was more like 10% of user base.

I'm honestly really surprised by how well the 822 sold. It's such a boring phone. Must be really cheap or free.

surprisingly i see a lot of them here in South Carolina. saw three in my 2,500 people town so far and the town is like Appleville.

It's a solid phone. Expandable memory and removable battery are nice things to have. Plus, there were only two choices for WP8 phones on Verizon when it came out, it and the 8X.

But.. but what about support for 7.8??? Oops wrong thread.
Nice to see wp8 making progress

I've been trying to buy the Nokia 520 and its sold out everywhere.

just to show it to the racist haters in the comments and in support of the patriotism Aryan Angel shows: 'MURICA! GO AMERICANS!

Finally WP8 takes lead!! This should have been made into a different article.

I live in India. I love my India. India loves Nokia.

What a silly statement. The 822 has all of the power of the 92X phones, and only gives up screen size/res and camera performance. But you get replaceable battery, SD card storage, and it's free on contract through Verizon. You can buy one new off-contract for under 3 bils. Factor in Big Red's coverage advantage, and the fact that the 822 is dominating right now should come as a surprise to no-one.

They should have released the 620 here in the US broadly. Ya now it's on Aio but thats not a huge launch right now. Anyway it is a great device, easily all around beats any midrange Android ive ever used & ive used quite a few. Unlocked one I got is running great on Tmobile.

Agreed... I really wanted one but in the end with no official release here I decided the accessories and things that made it cool make it too expensive compared to getting an AT&T 820 at $215. Plus of course the specs are much better... just love the design of the 620.
Windows Central Newsletter
Thank you for signing up to Windows Central. You will receive a verification email shortly.
There was a problem. Please refresh the page and try again.