Here are the 6 new features inside Windows 10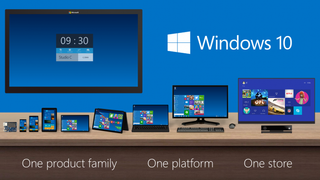 Microsoft announced Windows 10 today at a private event in San Francisco. There were a handful of new features announced that we think you'll like. While the focus was on enterprise (and getting enterprise to upgrade to Windows 10), we think a lot of you going to enjoy using these six new features inside Windows 10.
Here are the new features
Start menu: The familiar Start menu is back, but it brings with it a new customizable space for your favorite apps and Live Tiles.
Everything runs in a window: Apps from the Windows Store now open in the same format that desktop apps do and can be resized and moved around, and have title bars at the top allowing for maximize, minimize, and close with a click.
Multiple desktops: Create desktops for different purposes and projects and switch between these desktops easily and pick up where you left off on each desktop.
Find files faster: File Explorer now displays your recent files and frequently visited folders making for finding files you've worked on is easier.
New task view button: There's a new task-view button on the taskbar for quick switching between open files and quick access to any desktops you create.
Snap enhancements: You can now have four apps snapped on the same screen with a new quadrant layout. Windows will also show other apps and programs running for additional snapping and even make smart suggestions on filling available screen space with other open apps
We didn't learn anything about the rumored Cortana or Notification Center, but Microsoft plans to share the more consumer focused aspects of Windows 10 early next year.
Out of the six new features above, which are you looking forward to the most?
Don't forget to sign up if you want to play with Windows 10 tomorrow!
Source: Microsoft
Windows Central Newsletter
Get the best of Windows Central in in your inbox, every day!
April 2015
Lumia 1030 with Windows 10.
One can dream........

I really hope they don't take that long to release the Lumia 1030... Windows 10 looks awesome though. :)

Well assuming that only 1030 and 1530 are left in x30 series (also the 1330), so I really expect at least one of them to be the next windows 10 flagship.

By the time 10 launches, they'll probably be launching it with the x40s. Believe me, the 1030 and 1530 will be 8.1 devices and will probably launch sooner rather than later.

Well I believe you.
Whether the 1030 will be 8.1 or 10, I want an updated version of it with S805,1080p,5",3000mah,SD card and LCD panel etc

Same here, I just want the 1020 with updated hardware, but I'll take mine with Samsung's SuperAMOLED display instead of LCD. :p

Apparently you didn't know that the 1020 already had an led screen and not an LCD? Well now you know.

No, no, no... I know that the 1020 has an amoled display, I was responding to the dude who wants an LCD display on a 1030.

S808 or S810 with WiPower would be even great..

what are you trying to make ? a super computer.? lumia works good even with a low spec processor

Right. April 2015 is exactly a year after 930's announcement and i think it's the right time for announcing next flagship. 940?, i don't think they will use "4" number....

Yeah, Nokia never had phones with 4 in its series number, so it would probably be x50

It's Windows 10, so it'll be called Lumia 1010 ;-) 1010 binary is 10 decimal, with 4 bits. Bring on the 4-bit operating system!

OR Affordable Lumia 1520 Mini :D

Lumia 1030...oh, I can't wait! Posted via the WPC App for Android!

why windows 10 ? and not 9

Because 10 means Microsoft can stop putting numbers in Windows.

It also means they can take the OS X route of doing .1 updates.

loved the new start menu ... and idea of having 1 app store :)

So they said, but that doesn't justify why they skipped 9 for 10. Ten is some magic number in the world that means all updates end? Huh?

According to the verge article, they said they skipped 9 because they view this as a new platform that will unify desktop, tablet, and smartphones. It will run universal apps. 7 is viewed as the keyboard and mouse OS. 8 is the touch OS. 10 is a jump forward where all devices will use the same core OS but will have a ux that fits the device.

That still doesn't make any logical sense. A 9 would've indicated a leap forward as well.

Old ones are the best lol

That was my first thought....

Because MS are idiots. Seriously, this is so dumb. Pretty much could have thrown anything after "Windows" other than a number that wasn't 9.

seriously mate ? thats all you have to say

yeah they are idiots for making Windows better and easier for everyone in the Microsoft ecosystem like phones and tablets and PCs and consoles, etc.... and then with a big change they want to progress faster and show they can do it because this is not a simple plus 1.0 release this is bigger than that and windows sounds greater and bigger and better than "9" you are smarter than them? I am glad. where is your OS used by billions of people? where?

Not at all! Windowable metro-apps alone is sufficient for an upgrade cycle. If they do nothing else, this will transition store apps from mostly useless to quite usable, for mouse and keyboard users. I am super excited the other changes promised, too, like the smart snapping. But the name? Nope. That is seriously, seriously stupid. The "MS can't even count" meme has already started, and it's right on the money. It also screams Apple Envy more than anything else. And that's sad and pathetic.

The "MS can't even count" meme has already started" - How strange. You're the only person I've seen mention this 'meme'. Literally. The. Only. One. Out of thousands of people I've seen. Don't overstate your importance, kid. You do not equal the world. Just because you think MS can't count, doesn't mean to say everyone else sees the same thing. "It also screams Apple Envy, and that's sad and pathetic" - How? It's just a name for crying out loud. Whether they called it 9, 10, Threshold, Windows or anything else, you'd probably say the same thing anyway. I did not associate the name 'Windows 10' with Apple whatsoever, so I think you're cooking some bull.


out side of XP, Millenium, and vista, Microsoft has always used numbering, so why break away from it now? However, as someone stated above, after 10, they can move beyond numbers if the choose

You forgot NT. Let's look at the numbering as well. 1,2,3,95,98,2000,7,8 Not exactly a pattern there. THey started with version numbers then went to years with a new OS every 2-3 years, then went to XP, and finally back to version numbers. Really they should just use windows and forget about numbers. The average users gets the OS with the computer and doesn't really care which version thry have. The more advanced users and it staff can look up the version number in the system panel. With fast update cycle, windows would have a number similar to chrome and firefox. Chrome is on 40 and firefox is on 32.

Don't listen to emi. She or he or it or whatever is just here to make sure her opinion on anyone or anything is broadcasted while condescending to anyone that doesn't say what he she or it thinks. Emi doesn't even come back to argue with you, it just likes to start quarrels

Perhaps it means 1 "o"perating system to unify.

If Windows 10 = Apple OS X Then
iOS 7 = Windows 7
iOS 8 = Windows 8
iOS 8.1 = Windows 8.1 go and bend yourself

It's a marketing scheme. It makes the enterprise consumer realize how far back and outdated their software is. Faster upgrades Posted via Windows Phone Central App

During the Q&A, he said this update is so big it deserves to go up 2 version numbers. They only showed a little, but apparently the updates are so substational that it goes up 2 versions. I LIKE IT :D

because they want to? also Microsoft said they want to build the best version, the version that will change everything for the devices, running from 4 inches to 19283190 inches. from phones to Azure. so calling it 10 means it will be bigger change than what 9 means... also who cares about name? 9 doesn't sound better than 10, in fact 10 sounds fine. why 95 and 98, but later we get 7 and 8?... means mean nothing and in this case at least they just want to depature from small windows updates and make 10 bigger than what we can imagine. "We're delivering one application platform." "One store, one way for applications to be discovered, purchased, and updated across all of these devices." "Windows 10 will deliver the right experience... at the right time." "Windows 10 will be our most comprehensive platform, ever."

If it's any console, just think like one windows connected every where(windows 1 and all devices easily connected like 0) :-P
there is an article with 100 odd words and you are worrying about the name? ;-)

Why Windows 10 you ask, because 7 8 9, get it? No? Okay how about 7 ate 9? ;)

Maybe it's 1.0 which is One:) I know it doesn't have dot between numbers

In Chinese it is an unlucky number

True... 9 sounds like "dog" in Chinese, just saying....

I'm surprised it has a number at all. I can see their vision and I'm surprised they didn't just call it "Windows" and offer it as subscription, with lower prices for multiple devices (desk-top, phone, tablet, Xbox etc...). With one OS for multiple devices it screams subscription licensing. I'm cool with that. Developers will benefit significantly as one solution will run on multiple platforms, increasing exposure. Now release a successor to my 925 and I'm set.

I want this now!!! But i dont want to install it on my only PC(Surface Pro 3) :D But i like the multi-snaps

Virtual machines are a thing my friend

Yeah it would be awesome if they fixed the incompatability with Connected Standby and Hyper-V. Then I might install in VM. As it stands, I'm ready to image and make it the default OS on my SP3.

Understandable, but what better device to trying it on that a hybrid to demo its dual capabiltiy? I know its a lot to ask, but as stated above, I'll be purchasing one and diving in as my company laptop is the primary. Once I've used W10 on the SP3 for a while and I'm confident it works well, I will use it to demo what the future brings for my organization as far as Hybrid device are concerned. This will also encourage BOD (bring your own device) with employees and save the company thousands! People will be rushing to store to purchase what Apple called putting a toaster and fridge together once the realize the potential and saving......Microsoft needs to continue bringing official apps on windows/windows phone/RT

"Everything runs in a window" is my favourite from these six features because it bothered me a lot on Win8

Mehhhh, not all that exciting; waiting for consumer stuff

The new snap is something i've been wanting for a while now.

Yeah that's pretty cool. I love that desktop apps are included in the Snap party now :-)

Oh snap, you beat me to it. I also think that will be really nice.

Really liking the multiple desktops

Can you explain to me what people use multiple virtual desktops for? Why not just open more applications in the same desktop rather than creating a whole new one? And how does it work in regards to the hard drive? They're separate partitions? Or the things you do in one (e.g. delete a file) affect the other desktop too (and if so, in real time?)? Confused.

It's useful for grouping applications together and keeping them all visible. Imagine IE maximized on one, VS on another, and Music on a third. None of them hiding the others. Once you use it and see how nice it is, one workspace is extremely limiting and annoying.

Sorry, but I still don't get it. I already have those things grouped together, don't I? For example, my tabs are all in one IE, or I can open another IE. And I have a taskbar on the bottom of my desktop that allows me to easily switch between applications.

Hyperthreading. Each desktop can utilize a single processor core, allowing all of your applications to run simultaneously without siphoning CPU power frrom the others. Lag switiching between applications in multiple desktops becomes nonexistant and no 'spin up' as the now primary app requests resources to start running again. OS/2 did it way back in the early 90s, and it was probably one of the few things that worked really really really well.

The desktop thing sounds awesome!

Finally looks like the touch version on smaller tablet devices will look and act like the phone and scroll up-and-down. If the first graphic's mock-ups are accurate that is.

Wondering what hot keys I can use for snapping and moving apps between desktops. Also hoping we can tweak file explorer history...cause you know...

Waiting for its phone variation.

Oh, very nice. I'm glad Multiple Desktops is confirmed. That and the return of Start Menu in it's former glory (rather than just being a setting menu) are perks for me. The name is a little odd.

The multitasking abilities that come with the windowed apps are the thing im mostly looking forward too

The other great thing is the task view

I'm just hoping there is a way to get rid of the title bar at the top of the Windows. I love the minimalistic nature of the w8.1 apps. Borderless and clean.

Yup if you look at the demo video you can see what they did with the charms bar for when you are using a mouse and keys, besides the minimize maximize and close buttons on the right, on the left side you have search, share, play To, Project, and FULL SCREEN :D

And do I see a WP10 In one of the pics o:

I think "one platform" says it all.


Great! Looking forward to having desktop-like resizable MS store apps.

It's a trial version isn't it?

Don't forget keyboard cut'n'paste in command windows!

One good marketing team, One dream.

Well, this picture is all you need. Phones, tablets, convertibles, laptops, desktops and Xbox. Didn't really need the conference, they could've just released the picture

Of this batch of new features: Multiple desktops and improved snapping are my favorite. I don't care about the Start Menu, my Start Screen is where it's at.

My favorite feature is shortcut keys in the console. Great for CMD and PowerShell.

I think the new dynamic start menu is actually better than the start screen AND the old start menu. You get best of both :) I've already seen videos where they keep pinning tiles onto it and it looks great! and you still have the taskbar view plus the desktop right there on the same screen, win-win

Not to mention it's a better transition. This should've come BEFORE 8, to allow the late baby boomers (who are the main decision makers at most big companies now) a chance to understand things before you switch it around. Those of you in IT remember the Office 2007 fiasco with the ribbon bars. Same thing. If the senior members of the company can't use it. They won't buy it. If the staff has to be retrained - that makes it a less desireable product to purchase. It's all about money. And time spent teaching everyone how to utilize a new operating system where everything is different than it was can cost businesses MILLIONS of dollars in lost productivity.

That's true, which is nice that Microsoft is now offering users a choice. It helps ease the transition, so they get the familiar Windows 7 experience, but with all the under-the-hood enhancements brought by Windows 8! And personally, I've always loved the ribbon SOOO much more than the old way. All the features that I use the most and need to access most frequently are RIGHT THERE, as opposed to digging through a menu. So I understand it was a big shock for users, but I still found it ridiculous. I can understand how Windows 8 was overwhelming, but I'm still baffled as how Microsoft putting all the features and settings you need and want to use the most, front-in-center, as opposed to digging through menus: Was a huge crime. But it is what it is. Power users get so used to using those hotkeys and respectively clicking those menus, that I guess it becomes a hard habit to break. Still, I feel front-and-center > digging through several menus just to change the text size. :/

Ehh, I honestly think it looks ugly. One of the biggest complaints about Windows 8(.1): The transition between Metro and desktop was jarring, and they didn't look good side-by-side. And now they're being forced right next to each other? Yeah, no... The Whole Metro philosophy was clean design, free of extra chrome. It focuses on the content, and the content only. No distractions! As such, I don't like the new Start Menu hybrid. I won't always use the Start Menu, but when I do: It'll be free of live tiles. Those are for the Start Screen only! Same thing with Metro apps. I'll only be using them in their full screen glory. I'm happy to see the old windowed way of doing things die. I don't need a desktop, I don't need a Start Menu. Sure, I still need desktop programs, but the sooner I can be rid of the desktop (aside from brief excursions to change some settings deep in the OS, of course ;) ): The better. Likewise, back on Windows 7: I ONLY used the Start Menu to quickly search for a program or file... Which the Start Screen is also capable of. So I appreciate the improvements, and I like that Microsoft is giving users a choice, but for me: The Start Menu remains dead, and my Start Screen shall live on.

But exactly as you said lol the main issue in Windows 8 IS the transition between desktop and metro apps. Did you see the 40 min presentation on youtube already? Take a look at Joe using it and it is miles ahead better. Now i am saying this as a touchscreen user who wants to see Windows 10 adopted as fast as Windows 7. And it sucks that this will be the only way. The enterprise wouldnt bite otherwise and MS realized that :/ the world wasn't ready for Windows 8 sadly

Nice features! Modern apps running in windows is the best one IMO.

They suggested putting the preview on a secondary computer. The problem for is only have one. What do you guys think about DOWNLOADING IT ANYWAYS?

you can install it in your computer and your primary SSD or HDD, but if something goes wrong... don't go and complain and say "windows sucks I lost all my information and now I can't get it back" it doesn't mean Windows it's unstable, it means windows it's not recommended to be used as a main OS for important stuff. even if many people will use it that way, and they won't have any problems. Microsoft still want people to be careful! it doesn't mean you have to listen to them.

What exactly are you saying? If you mean buggy, I' fine with that. If you mean it could delete my data, that's a no-no...

No. VMs are Virtual Machines. Essentially a computer inside your computer. You create a virtual computer, give it space, format it, and then you can put whatever OS you want on it. IT departments (good ones) have virtual machines set up of different variations of the systems they run on their network so that they can run upgrades and patches on those, see how they react BEFORE they push it out to the network. Once you're done with playing around with it - delete the virtual machine, and it's gone. But it doesn't do anything to your actual Windows install. Here's a good primer on VMs. http://www.wisegeek.org/what-is-a-virtual-machine.htm

With 8 I used VMs, but it was a pain because at the time of release it didn't work on any of them. This time I have such a computer to put it on. I think Windows 8 has built in VM support anyway. You could probably do that.

Honestly, this is where the cloud and in the corporate enviroments (cloud or network shares) come in to play. Technically, all items docs, pics, music, etc should be stored at, therefore minimizing the risk of data loss. The only thing affected would potentially be .exe's installed locally.

The upgrade is going to be free to Win7/8 users right? A BGR post says we'd have to pay a small fee.. http://bgr.com/2014/09/30/windows-9-upgrade-price-2/

Four of six, already present in KDE. Nevertheless, this is great on its own, this feature list means I won't break my workflow if I switch back to Windows.

I tried KDE for a while, but I like that Windows just works. Installing stuff is so much easier on Windows.

Windowed metro apps is the big winner here for me! I pretty much avoid metro apps simply because it is a pain to multi-task with... but in a window then I can have a metro game or media player up, while browsing the web and doing work much more easily. I really wonder how this will work with my convertable tablet. My understanding now is that the different start menus will appear depending on if you touch or click the start button... But I would rather keep the same expierence for both if possible (metro or otherwise).

The demo video at The Verge shows that you get a toast notification (down by the time) when keyboard is added/removed from touch enabled system to toggle views between keyboard / touch centric.

Features which Apple will copy after 5-7 years :D

OSX already has some of these features.

OS/2 had them back in the 90s. Solaris had them a few of them back in the 1980s. Eventually, even old ideas look new again. We thought we got rid of boy bands after New Kids on the Block faded out in 1987. Nope. They just went dormant for 10 years.

On a scale of 1-even, I can't.....

I realize today might not have been the day to address it, but I would have liked to see some mention on what this means for apps on Xbox One

Wow.....
mean now all windows phone os will update to windows os
I am very happy

Targeted at desktop users, nothing really interesting for me as a Surface Pro 3 user.

what about ONE store for every windows device? isn't that good enough for you? you know, whatsapp and Rudy apps, and other apps that are in WP (and never in Windows Store) will be available for you? doesn't that make your "surface pro" automatically better for tablet use (since it will have apps that should be in the tablet) and desktop use (apps that were meant for mobile can also be used for desktop use)? also surface pro 3 was meant to be used with mouse and keyboard and run desktop apps, well that's the concept behind it, not being just "a toy tablet device" so how wouldn't these futures work for you? task view and Snap view seems nice, virtual desktops, one store... the only thing that doesn't work for you it's the start menu, and yes... there will be a big version. http://d35lb3dl296zwu.cloudfront.net/uploads/photo/image/18154/VRG_1110.jpg

I also see a new tile size in the picture to the right of the Windows Phone :D

I am hoping for the upgrade to come to my work soon. Where do I sign up to preview?!

At first I thought the new features were strange (task mode?), but after watching the video of how it works I gotta say it looks pretty nice.

Did any one notice the new Xbox OS looks awesome cant wait

I can only imagine how cleverly Microsoft is playing this out...
One store for all its devices? That's freakin awesome, I know this was available on a small scale for a while now but totally implementation is a great idea.
Developers should die to make apps for windows now because s**t just got real :D and if this doesn't make them develop apps for windows then god help them and us all.

Right-Click > Paste is too hard?

When you're in a console, typing and shortcut keys are way more efficient. It's not a question of "too hard" it's a question of breaking a workflow by having to reach over or down to a mouse / touchpad / touch point. A true keyboard samurai dies a little inside every time he has to use a pointer.

I suppose. I have CTRL-V'ed in console but I've been training myself to use the mouse. I do use lots of shortcuts and understand what you mean.

Actually I have mine set to right click to paste. Click the Icon at the top left part of the window and select properties. Under Edit Options check the QuickEdit Mode. To copy highlight an area of text and hit enter to copy. Right click to paste. Although I welcome Ctrl+V as well.

Definitely looking forward to windowed apps, followed closely by multiple desktops. Having to give up an entire vertical slice of my screen for some things has always been annoying.

Multi desktops will be fun!

Why can't I sign up and download today... Even Joe in the video says to do so, by following the URL in the video, but that routes you back to the coming soon page. When will we be able to actually sign up and install?

Multiple desktops, hands down! B-)

Implementation looks much better than NT4 PowerToys.

Proudly a microsoft user. Microsoft is getting better every time. As a student im excited to try window 10!!!

Consumer. That's the next preview iteration a few months from now. Odds are that's where you'll see Cortana too.

Would love to see it here for the Federal Government but we can't even upgrade yet to IE 11 we are still stuck with IE 9

At my govt building we're about 50% 9/10. I'm one of the few on 10. I wish everyone had 10 because many features I need as a developer are missing in 9. Unfortunately even 11 manages to screw up datalists, but at least they are there. 9 doesn't even support them. Unfortunately we're 100% office 2007. I would love to upgrade to a newer version.

ctrl-v in a command prompt. I can't even start to estimate the number of times I've accidently done that. Now it will finally work.

Use quick edit mode. It allows you to highlight->enter to copy and right click to paste. Its similar to linux.

Cisco IOS has been doing that since...what...ever? The ironic thing is that DOS is actually a stripped down CLI of Unix (hence the overlap in commands) and you can Ctrl+V in Unix, but not DOS. Never made any sense to me...

Desktops looks to be a really, really useful feature...

Yeah, it's useful in OSX, KDE, Gnome, etc, X-Windows, Windows NT 4.0. Glad it's finally core to the OS though.

Is the preview only enterprise? I'd assume so,since other sites have stated that there will be a consumer preview early next year. However when you guys ask are any of us hoping on board tomorrow,it seems like anymore can get in on it as I would imagine that the vast majority of us reading are probably consumers rather than enterprisers'..

I'm both, as Joe pointed out to Tom Warren in th Q&A session, the same people that use phones, computers, and tablets at home are the same ones that use phones, computers, and tablets at work.

WP 10 preview for developers

be interesting to see if this will replace windows RT as well then as theres mention of the surface pro 3 but no other surface tablets

I really wish that they gave 3 options for the hybrid menu, the classic one, and the Windows 8 one. You may be able to remove the tiles to make it look classic, but it still won't have the same feel with the libraries on the right and shutdown button on the bottom. Cortana is needed too and they need to update internet explorer so that it can support ALL html 5 things and other things like stuff in Java. Posted via Windows Phone Central App

I suspect you can probably pin libraries and everything in that area to emulate the win7 bar. It will look different, but it will have everything there.

I love It! Will download the preview and install it on a separate partition to test it. Can't wait!

This is legit. Better than anything MAC OS has...

The multiple desktops is huge for someone like me who routine work on multiple design and writing projects. Heck it will allow me to quickly click into a desktop set up for my kids.

Those snaps features are just awesome. I just wished today,and they made it already... Sweeeettt

What I really want to know...... Will there be Intel powered smartphones that seemingly can run desktop applications?

Even if there was, would you want to run desktop photoshop in a tiny 5" screen? I certainly don't.

yes, if you can dock the phone into a keyboard/mouse and monitor. A PC in the palm of your hand... imagine that.

Yeah, but you'd have to wear the battery pack on your back. Kinda ruins the ergonomics..

Looks cool on the phone pictures if you ask me.

"Find files faster" Actually this feature cannot be considered new, since jump lists can do just that if your File Explorer is pinned in the task bar. I consider this the best feature introduced in Windows 7.

Microsoft copying multiple desktops from Apple. No?

Yeah, this was in Linux a LOOONNNG time ago... that would mean Apple didn't get that feature first.

Actually, you mean OS/2. OS/2 was using multiple desktops in 1989 with their 1.2 version (which at the time was a Microsoft/IBM collaboration, and even Microsoft was calling OS/2 the operating system of the future) Linux wasn't even released until 1992.

I think I have to drop Microsoft... Windows 10 do they get anything right? Were was 9? How am I to explain that? I have a foul taste in my mouth. Forza Horizon 2 launch did not happen for preorders at 12:01 EDT. Some time in the middle of the night they fixed it. Will they fix windows? Well I like it now. I enjoy 8. I have learnt to love it. I feel like the XP user of 8. Or is this what happens in your mind when to for 30?

I think because 10 sounds more exiting then 9? When i saw Windows 10! I jumped with excitement! Because 9 would be very predictable and boring. They have to do everything in their power to attract people to the new OS because windows 8 didn't do so well, probably most of you guys commenting are probably using windows 7

So what happens to the Start Screen? Is it going away?

I hope not. I love the start screen.

I don't see the start screen in the pictures above. I hope that hasn't disappeared. I hate the start menu!

Start screen is still there for tablet mode and it adds an AWESOME new feature where the app list is shown as a vertically scrolling list (think WP8.1 style) in the left quarter of the screen instead of as a new screen below. http://www.engadget.com/gallery/windows-10/#!slide=2980795 Not sure if this will be available as an option that overrides the start menu, but the start menu can be resized somehow so perhaps you can achieve essentially the same result.

I'm still struggling to get my head around the "Task View" and how it allows you to scroll through both multiple desktops and multiple open apps. There's basically a nested tree structure there that a simple scroll/swipe won't be great for.

I actually like the quad-snap feature. Should make multitasking easier.

If these are the major new features, this upgrade better be free...

David Pierce at the verge has began his bashing campaign against Microsoft with an article titled, "What's Old is New again, and that's the problem"......I wonder why he doesn't stick to what he does best; Covering and hyping up Apple products"

Because if he did, it would be titled: "Polishing an Apple with someone else's old ideas: 50 obsolete ideas turned magical by Apple."

I will miss the 8.1 metro design on my pro 3. I think it should be smart enough to know if there is a physical keyboard, then default to desktop, else, on tablet, default to metro start.

That's what they are doing. That's why there is a option for "Use start menu instead of start screen"... Tablet auto use the start screen, computers auto use the start menu, and hybrids (Such as the surface pro series) use the start screen and desktop (Like the current current 8.1)

I hope multiple desktops works similar to the way that Expression Studio works -- being able to design a desktop for one task and quickly call it back up (if that's how it works) would be a great benefit. Other than that, I'm looking forward to getting the start menu back and hope it finally brings consumers back to Windows.

It's not just "some" it's a lot of idiots sadly

Wether it be 9 or 10, it's no big deal...

Are they retiring the black background on Windows for phones?

Multiple desktops, finally!!! I had that in Linux/Gnome in 2006.

NT 4.0 had it back in 1994. OS/2 had it in 1989. Nothing is new.

Like NT 4.0 didn't come out till 1996, I used it exlusively at the time, and I don't remember that feature being part of NT 4.0. And while it may be nothing new, it's not been a part of Windows ever or at best for a long time, and it's a feature I've wanted all that time. I don't really get your point. I wasn't saying it was new in general, but new to Windows since 2000 or earlier. Unless you are talking about mulitple monitors, which is nothing new of course. Multiple desktops is a different feature. This link says Windows has never supported virtual desktops natively. 3rd party apps have been around for a long time but they are always lacking I've found.

My mistake. NT 3.51 was in 1994. I've been doing this for too long. And you're right, NT 4.0 used a third party app for multiple desktops. And again, you're right - it sucked. But, NT had an isolated kernel, so multiple desktops were simulated but all of the processes had to be routed through the API to the kernel, creating massive latency that caused many apps to hang. But...OS/2 was a microsoft/IBM collaboration back in the late 1980s that utilized multiple desktops, and Microsoft even mentioned it in it's own documentation as "the OS of the future." That is until IBM and Microsoft had a falling out ala IBM and Lotus. "Windows isn't done, until Lotus 123 can't run." Just some fun MSCE trivia from the 1990s that used to appear on tests.

I hope they provide option to stay in tabet mode even if you have a keyboard/mouse plugged in. These are nice enhancements nevertheless. Cortana shouldn't be seen as just a consumer experience .. lots of opportunity there to improve productivity.

It just looks awesome. I love 8.1 and this is the natural successor. It makes OSx look like something from the dark ages

Sign up? How?! I only get redirected to the page with Joe Belford doing the demo? What's the sign up page link?

I just really really hope the bloat of win 7 stays buried but I'm definatly cornered it will come back. I loved how fast easy and intuitive 8 was vs the older Win OS's

What about the Xbox One? Will receive the new core of this windows too?

As a long time Windows user I'm really excited about Windows 10. I think it's going to be great, solves probably all of the problems the average user has with win8 and I'm not talking about the start menu only... it looks like a big improvement over the current release and running apps in windows just the way .exe programs do may be a great incentive for the developers to develop new apps for windows (hopefully universal apps). I mean, they would have a huge user base as soon as Win10 starts getting installed on PCs and I'm pretty sure a lot of people will make the switch from 8 or 7 to 10. I'll do it for sure. And late spring will be time to change my Lumia 920 as well, so I hope they release a new flagship phone too in the next months. As far as I'm concerned, way to go Ms!

I'm getting a surface pro 3 this weekend I hope win 10 enhances it and doesn't make the tablet aspects less useable.

Windows 8.1 must really be Windows9. I hope this excels Windows Phone !

Windows10 will finally over power Apple !

Apple OSx was never in power. lol.

I like the multiple desktops feature.... But does it also mean that we will need more rams as well??

I am the only around here than doesn't like this? I mean, since I'm using metro apps I rarely use the desktop (only for homework) and I don't know why that obsses with the start menu, we have already a "start button" in metro UI. And I'm doesn't even using a touch PC! So, for me, win8.1 gonna be my OS for a while.

You got one up vote from me buddy. :)

my usage pattern is same is yours, but I do miss the start menu. It is still a pain to open a file as I am normally used to. So I guess W10 is the best thing that they could have done

Consumer focused features? XBox ONe update can now run 1080p with 60FPS easily and developers with the new SDK can develop for the ESRAM more easily now? :D

I'd love to see Pushbullet like features: share notifications between devices and answer calls and messages from my desktop.

Awesome! I can't wait to try these features out tomorrow.

For me the most interesting feature is that of multiple desktops. Taking a cue from iOS and Android there, han?

Will consumers of Windows 8.1 be able to upgrade to Windows 10 for free?

This version of Windows will not only make Windows what was lost over the past few years but grow Windows Phone market. Microsoft message should be "Apple comes out with a new Phone every year, a tweak here a tweak there, our OS takes a Windows Phone and finds new and innovate ways to expand on the technology on the phone you already own" It will be Windows Phone year in 2015 and beyond !

Multiple desktops is a great feature..

Why is everyone harping about the name? I don't care what they call it as long as it works better for what I need it for. I love the idea of a more universal O.S.

The three desktops and the app integration suits me just find.

I may like the multiple desktops. Being a heavy Onedrive user, I would rather see a new filesystem for all devices that is designed and build for synchronization and all that comes with it like resolving conflicts in a much better way than today and a file property edit not resulting in syncing the whole file. Also, standard aps should support all back end functionality; this is lacking since Windows 8 introduction. Not to forget proper, full feature replacements of legacy apps such as Windows Photo Gallery.
Windows Central Newsletter
Thank you for signing up to Windows Central. You will receive a verification email shortly.
There was a problem. Please refresh the page and try again.