The new HTC One M9 gets reviewed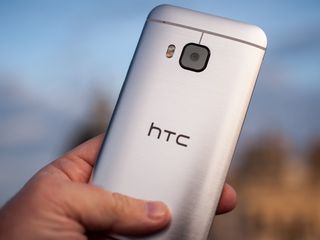 HTC's last flagship device, the One M8, is something we're quite fond of. Despite seeing a limited launch and coming after the Android version had already hit the market, it was a great example of a high-end Windows Phone.
Now, HTC is back. The One M9 has so far seen no mention of a Windows Phone version, but until someone at HTC flat out says it's not happening, we'll live in hope. And our pals at Android Central have just reviewed it.
So grab a comfy chair and head on over and check it out. Anyone got a hankering for this with some Windows Phone all over it?
Windows Central Newsletter
Get the best of Windows Central in your inbox, every day!
Managing Editor - Tech, Reviews
Richard Devine is a Managing Editor at Windows Central with over a decade of experience. A former Project Manager and long-term tech addict, he joined Mobile Nations in 2011 and has been found on Android Central and iMore as well as Windows Central. Currently, you'll find him steering the site's coverage of all manner of PC hardware and reviews. Find him on Mastodon at mstdn.social/@richdevine
Looks like M8. They've learned nothing with Galaxy S line?

They certainly haven't learned how to sell enough phones ;) HTC is such a joke to me.

There's more to life than 'selling enough phones'.. HTC makes beautiful Ones and Windows phones (One, 8X, 8XT). All metal! The Samsung Galaxy line has always been cheap, plastic-y, same-ol-same-ol every year, and boring for me. #Samesung To each their own. Hope HTC makes a One M9 with Windows.

Yeah that logic makes sense. You need to sell phones in order to remain profitable lmao.

I'd rather sell 100 beautiful phones, than a 100 million boring phones. But maybe I'm a dreamer.. Microsoft is a dreamer, no matter the cost.

I guess profitability isn't in your game. Such a tragedy plus beauty is in the eye if the beholder. The M7 still had the best design of our either the M8 or 9 Posted via the Windows Central App for Android

No high end Windows Phone excepted until Windows 10. With iOS and Droid receiving Cortana, Office, Here Drive, etc. what reason would anyone jump to Windows Phone?

Because Windows Phone is better. Period. I use an iPhone 6 at least once a week and try to fiddle around with an Adroid device or two every couple of months. And still nothing comes close to as an enjoyable UX as WP. It's just better.

Windows phone have wireless charge, Glance, double tap feature, live tiles, coming universal apps across all devices, Some Lumia have dual sim and better camera such as 1520-930-1020.

None really. Having had a WP, the thing I miss the most are Live Tiles and how efficient the battery on WP is in comparison to Android. Other than those 2, everything is greener on this side.

For me, Live Tiles, deep tile pinning, glance, and drive mode are the features I missed the most when I tried switching to Android. Android does music way better, though, when it comes to dealing with personal large music collection.

You forgot to mention that Android is also getting Windows 10 tiles, if owners can be bothered going to the effort of installing them. Personally, I just switched to Android once my 1020 died. So much for Nokia "build quality". Microsoft is just not getting there with WP, especially down here in NZ. Got tired of waiting. Wtill use Windows on onee of my laptops, though. Posted via the Windows Central App for Android

Samsung let you swap the battery, or used to as the latest version of the galaxy doesn't. I like my Nokia 930 as changing the battery is pretty simple even though its not supposedly user servicable.

Is Microsoft a joke then? They don't make money on phones either lol

How do you know? They don't break it out in their income statement.

Phones is not a main dependency like it is for Apple and yet they are making money from the royalties. So when you say they are not making money that's not completely accurate.

Just like Nokia was a joke who didn't sell enough phones and Microsoft was first in line to buy them out when they were approaching rock bottom? Right...

Nokia was killed.... They could do crapy androids, but they didn't. So before talking nonsense, learn about facts.

Uh the facts are there. Nokia reported slumping sales before the Microsoft acquisition. Proof of the facts: http://www.computerworld.com/article/2486882/windows-phone-os/lumia-sale...

I like my HTC one m8 windows phone

I like my HTC m8 for windows as well. Its a great device.

I am wondering if Microsoft and Samsung have a deal in place to use wp10 on the new Galaxies which would expand the product line for these phones.

I like M8 too. But, do we need another one?

Joke or not, there is a M9 windows in the pipeline...when the M9 was submitted for ...whatever reason it was I forget, I saw a list of options and windows was one.

So you recognise that Nokia / Microsoft is an even bigger joke?

Why do people, especially Windows Phone fans, hate on HTC? They are the only company, Microkia included, that has ever released a Windows Phone flagship, and they've done it twice. We should be singing their praises and hoping other companies, Samsung, LG, OnePlus, etc., follow suit.

Don't fix what's not broken. Simple
They kept their award-winning design and improved the specs all around. This is basically a One M8"s" but it is a good update to the M8.

from the front it looks just like the M8

If we think like that, we'd be still using square wheels made of stone. You know, it weren't broken.

Except they didn't improve ANYTHING. Lol. The screen is the same. The boom sound speakers haven't been changed. The battery life with the S810 has been appalling. Some reviewers are getting 4 hours screen on time. Never mind that the new 20Mp camera is quite poor for stills & records awful looking video. I'll wait for the 940 thanks.

The M8 is a very good design. If not for the slipperiness being it's only knock and perhaps it's camera. Basing the followup is logical and sensible.

Asus zenfone 2 is way better and less expensive Posted via the Windows Central App for Android on my Oneplus One

Learn from "S" series? :D cheap plastic shit. Well, they give features that's that. Htc build is way too awesome when compared to Samsung

Nokia is dead to me.... Oh wait.... lol

Nokia is also dead.
And I am waiting for it's Reincarnation.

The HP ipaq is dead to me...

Packard Bell is dead to me.

Evil CrApple is dead to me for EVER.

Those were some gorgeous PDAs, especially the last ones with 640x480 screens.

Calling things "dead" is dead to me.

iSHEEP is dead to me. Oh no, CrApple is dead to me that INVENTED the iSHEEP. CrApple greates and ONLY invetion.

Just watch out for the "reinvented" iSheep lol

Radio Shack is dead to me......I wish my ex was dead to me!

Atari ET is definitely dead and buried in New Mexico...

Have you seen the lightest laptop in the world NEC makes? I saw that at 2015CES in Vegas. all i can say is WOW, ad LIGHT. that No one EVER talks about. IF that was CrApple's OMGosh, we would NEVER hear the end of it.

Wish for thinking. No Windows Phone here

Actually not all that much better than the Snapdragon 805

Good thing the one m8 has the SD 801

I don't care anymore. I just want something that just works. My $40 L630 fits that bill for now.

Nailed it! I really feel like I am wasting away my phone's potential by browsing the web and messaging...needless to mention lack of space in my pockets ;). Posted from Nokia 930 on T-Mo.

True, that. I've wasted so much of my time trying to find, buy and then "fix" the "perfect" smartphone that I really, really want all of that time back.

You are speaking behalf most of the people that have migrated from Android..! I am one of them and I absolutely agree with you. I have played around with roms, kernals, freaking task killers, launchers, cheat engines, mods for killing commercials, dpi changers and after countless hours all of my Android devices became more and more barebone but still laggy/ choppy/ chaotic.. 9 months with WP (Lumia 630) and I simply can't look back no matter how great an Android device may be (spec wise). On a side note my friend changed from a Galaxy S3 to an iPhone 4 (yes 4!) and it seems to him like it is worlds apart better! I think in the next couple of years Android will only be used by the nerds who like to constantly brag about their phones specs ,change roms and messing around with their phones don't give them a headache! The only mobile OSes I care about at the moment are WP and iOS because of their overall similarities and almost same principles. Having iOS out of my pricerange league, WP is the only way. Android is nowhere near in those aspects.

I hope its one of those phones that you can also install windows 10

HTC One M9 Windows 10 ROM :)

Nice idea. I'll need something to upgrade my 1520 to, something faster

Don't do it. The new 20mp camera is really poor. The battery life with S810 is also pretty bad. It's not an upgrade in anyway.

My camera is broken on the 1520 so idc about the camera

Every new phone might seem interesting... But none of them will be exciting to me unless it's a Lumia 1030

For the record, based on MS naming structure, it will likely be a Lumia 1050

I don't think it will be named 1030 if it releases as with the arrival of 640 and 640xl it might be the end of x30 series.

Microsoft has some trouble with numbers. :p I doubt that they will mess the names up. :/

Ms is not making a new version of the 1020...that's it. Now, if it was low end we'd be shitting them out like diarrhea.

Just looked it up and your right :(

Yes. Love my M8. Just was hoping for a bigger screen

M9 looks exactly the same as M8 except for the camera.

Upgraded to 20mp with sapphire crystal lens for better clarity. You can also do Lytro-style focusing even after the photo has been taken.

Sapphire lens glass doesn't mean better clarity. How do you mix it up?

It could be for better clarity since sapphire will resist scratches better. Certainly a scratched up camera lens is going to give you less clear pictures than one that isn't scratched, which is the key benefit of having sapphire on a camera lens. Especially in cell phones which have a tendency to be exposed to all sorts abuse. Out of the box, sure, there may be no noticable difference, but over long term typical use, one would expect the sapphire lens to keep its clarity better than a basic lens. I welcome the HTC M9 camera improvements. It may not be enough to get me to consider it given the poor quality I've experienced first-hand on the 8X vs Nokia, plus the fact that it doesn't have a camera button. But it has a lot going for it, and would be a good consideration for many looking for a upgrade to their 920s. Of course, all that is provided we see a Windows version of the M9. Otherwise, it's just an Android.

Have a look at the reviews. It might be a 20mp sensor but unfortunately it's just as bad if not worse than the M8's camera. Video quality in particular is terrible. Saw some samples on Pocket Now & Techno Buffalo. Really dissapointing.

No I think the overall design went back to the M7 which I prefer

HTC is irrelevant in the windows phone arena. Bring on the king of windows phones, Lumia :D

Haha funny statement there as HTC had been making Windows Phone longer than Nokia.

Samsung is moving in too....thanks to litigation relief by MS...I love strong arm tactics.

If it wasn't for HTC we wouldn't even HAVE Windows Phone. They were the biggest supporters of Windows Mobile and almost single-handedly ensured it's survival until Windows Phone came along. They produced some solid devices until being trounced by Nokia (who saved the platform from dying off completely)

schlubudub is correct. Even though their WM phones were laggy and unreliable.

It is? Walk into a Verizon store you won't find any WPs...and online it's only HTC and Samsung (1 each). HTC, as far as VZW goes, is holding up the better of only 2 options.

That camera still appears to be crap.

You haven't even bothered to read the review on it so your stupid shortsighted comment is full of crap.

I did read the review and the camera still sucks.

He's actually right. I've already seen several reviews all confirming that the camera is below average and produces pictures and video with lots of noise and artifacts even in ideal lighting. Of course this gets even worse when there's very little light.

I would've loved an internationally launched m8. It's cute that Samsung and HTC windows phones arrive in sua but there is a word outside of it that could use their windows phone efforts. I hope that m9, if ever comes with windows, will get released worldwide.

I totally agree with your statement. It needs to be made available worldwide if released in a Windows version. Limiting it to a lone region, which has very low WP market share, is suicide.

Well since this is Microsoft I predict it'll be released exclusively on sprint who will retire it after 3 months thereby making sure there are no flagship WP devices in the US. Anything else and the WP team has been replaced by droids!

No, this is HTC. Not Microsoft.

One colour on one carrier, seems to be the WP way!

I'm not going to watch a review about an Android phone sorry but not sorry . Also could someone from windows central add support for posting emoji from windows central app

Totally with you. Thought it had windows installed but then read " Android Central" and I was like Nah. gg though

So your not going to read a review on a phone if it doesn't have windows on it? :D Its a review on the PHONE not the OS

Then I'll be sure to check the phone out when it's relevant here on Windows Central running the windows OS

It will have windows. I saw the tech sheet they submitted via the verge...there was a Window Phone line item.

Your not gonna read a review of a non wp yet u write a comment to bitch about it?

Seems pretty cool. If you unlock the boot loader, this seems like it could be a nice Windows 10 device.

I don't think I'll every buy a phone that doesn't have capacitive buttons on the bottom and a dedicated camera button on the side. Lumia has that right. The HTC One design is okay--it's certainly better than the iPhone 6, which I think looks atrocious, and the Galaxy S6--but I think the Lumia designs are the best on the market, particularly the 925 and the Icon/930.

I agree, I love the capacitive and camera shutter.

I didn't think I would like not having capacitive buttons either but it's actually not bad at all. Cuts down on accidental button presses too.

Agree, that with wireless charging and the coming led notifications would be perfect.

No. I will not go to Android Central and waste my eyesight to see a phone that will probably never come to back to Windows Phone. #keepingitreal please just keep me and possibly others up to date with the Here and Now news of Microsoft. Sorry

I agree. I find this article to be silly. While I find HTC irrelevant, going to go read a review about a phone we are not even sure is even COMING to windows phone in the first place

Damn it people it is coming to WP...do some research.

Yeah months later and much like the m8. Nobody will care by then except a small minority within a minority OS.

I'm quite enjoying my M8 so I wouldn't mind seeing an M9 Windows 10 variant later this year if HTC can make it happen.

Yeah, I'd consider it if the 1020 successor doesn't come by October. I've had several HTC phones from the WM days that there is still a soft place in my heart for them!

Its not in the planning atm sp don't hold your breath.

It would be nice but MS has issues they need to address with w10 before this conversation can even start. I just want to see a stable version of what so far looks to be a promising and potentially game-changing OS and ecosystem. Hardware is an afterthought. Throw it on a snapdragon 8xx(whatever version it's up to when the time comes), dress it up and let the rest work itself out.

New trend: Buy a super high end android phone, then flash the windows 10 rom

Praying that they make a windows phone version of it!

Unrelated note I wish palm was still around and making WP I loved my Treo 700wx and Treo pro

They haven't said it's not happening, but they won't say they are going to do a Windows version either. https://twitter.com/HTCUSA/status/572139395152814080

Get the camera right HTC. Just get it right. That's all. Posted via the Windows Phone Central App for Android

Anandtech's intital review is showing some disapointing results for the Snapdragon 810 (battery and performance). Hopefully MS can get the 820 but sadly I think that is a longshot. Problem is WP seems locked in to a single processor for a year, whereas android devices really aren't. I wonder if it may be better to stick with the Snapdragon 805 because it has much better battery life and the performance isn't significantly lower than the 810.

It doesn't look too hot either

Indeed, this does not bode well for Microsoft who is locked into using Qualcomm SOC's. Perhaps they can get a price break for these defective 810's and actually have an "Affordable Flagship" this time.

The minute you learn how to burp and fart simultaneously

Imate one best phones I owned

Nice specs, wonder if it'll make it over to a WP version. Camera looks to be more advanced than the one on the M8.

I say let's give them a chance.

As the owner of an M8, not impressed.

HTC and windows doesn't have to worry about selling phones. With all the millions coming in from licensing on Android, they're just raking it in.

If they do bring it to windows unlocked and they do it right Ill make that move.

I think I like the gold trim on that phone and hope the new Surface Windows phones. (assuming there will be one) will come out with a line of phones with similar colors in that aluminum finish. I think with the exception of its camera, HTC did a good job with the M8. One can hope they are spending time on the camera on the M9 and hope they bring it to the Windows platform.

I'm of to android as soon as the m9 is released. WP is a joke

Shame the camera seems only middling, I have no doubt this will come to WP10 and choice always good but despite the latest specs there is nothing here that would make me want to change my 930 or work 1520 for it. Of course all a matter of priority but camera is mine (assuming phone also works well which they do). Still, more decent spec WP10 phones from multiple vendors will go down with corporate purchasing.

I tried the device but I found the camera of Lumia 830 is better and comparing worth m8 still m8 performing better no matter how many ram and processor are there who care....

I don't know why would i buy an htc...

Dang the phones when, Windows phone apps = dying breed. Now ESPN score center has left the app store. The wound never heals!!!

Windows central? Last I checked, the M9 runs Android. Did Microsoft make a ROM like there making for the Mi-4 in China?

That's Microsoft hope not Nokia hope.

I agree with everyone who dislikes HTC. I swapped my Lumia 925 for the One M8 with Windows, and I rather regret it. HTC dropped the ball again. They always do. Remember the HTC evo? That phone alone nearly crippled androids reputation, and did cripple HTCs credibility. My one m8 isn't a terrible device, its just a short coming. 4mp camera....really? On top of that HTC uses some stupid restrictions. "Flash unavailable...battery below 15%" what...? Can't wait to pick up a new Lumia and never look back at this train wreck we know as HTC.

Here's my phone inventory for personal use a iPhone 4s, HTC One max, HTC M7 AND 2 HTC WP 8S A620e, which I have updated to 8.1 update. I suppose you could say I like HTC products and you'd be spot on. There terrific. These days my little HTC 8s' get quite a workout as my preferred everyday choice herein the outback, in my chopper or in my jeep. Unfortunately the HTC M8 WP is unavailable outside the U.S.
Cherrio from DOWN UNDER.

Waiting for 1020 successor!

Nice article, enjoyed reading.