Survey says 50% of Americans are interested in foldable phones, while Samsung boasts about its future
By Daniel Rubino published
Smartphones and devices with foldable screens are gaining popularity, but there is still a long way to go before more people buy one.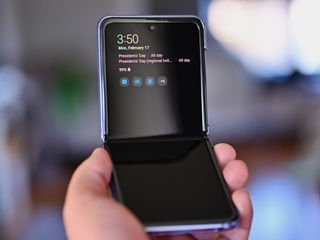 (Image credit: Daniel Rubino/Windows Central)
I began writing about dual-screen PCs right around when Senior Editor Zac Bowden broke the news about Microsoft's 'foldable mobile device with a focus on pen and digital ink' back in 2017. That foldable device reality is slowly but surely coming to life with — ironically — Samsung leading the charge and Microsoft way in the backseat.
Today, the South Korean firm wrote a blog post (opens in new tab) doubling down on foldables. Citing its own internal consumer study, Samsung noted, "Galaxy Z Fold2 has 96% user satisfaction, and nearly 9 in 10 say they would purchase a foldable phone again." The company remarked that it had lowered prices, offered its Z Premier support service, customer referrals, and more to drive user adoption of the nascent technology.
In another recent survey referred to by Samsung, YouGov asked 2,000 people about foldables, and precisely 50% were either 'very interested' or 'interested' in the tech.
Samsung owners were even more excited (52%) and Apple iPhone users less so (47%), which is unsurprising. It turns out, if your brand does not make a foldable phone, you are less thrilled about owning one (once Apple "invents" folding screens for the world, we're sure that will change).
Indeed, a lot has been happening in this burgeoning market. Huawei now has its Mate X2 Pro and Xiaomi has Mi Mix Fold – both of which iterate off Samsung's Galaxy Z Fold2 design. Microsoft has its Surface Duo, which doesn't have a folding display, but it is dual-screen, and we're expecting an overhauled v2 design with modern smartphone features (better cameras, 5G, NFC, etc.) later this year.
However, the market also still has a long way to go. I haven't yet reviewed Lenovo's exciting ThinkPad X1 Fold mostly because Windows 10 is just a bad fit for the concept-defying device. I also think "defined real estate" with two screens is better than one that folds (the exception being the Galaxy Z Flip). Durability is still a concern, with 50% of people worried about things breaking, according to YouGov. So far, we have not seen many app optimizations for Android for either folding screens or dual. Pricing is also a significant factor, with 37% of Americans thinking the $1,000+ cost is too high, and companies need to do a better job convincing people the technology is not just a fad as 43% now believe.
But it is also evident that pushing the foldable form factor forward is still the goal for 2021 and beyond. Smartphone sales rebounded this quarter, but the industry is still looking for its next big thing, and all eyes are on foldables to reignite interest — and that is what is happening. Samsung Galaxy Fold3 and Z Flip 2 should drop sometime in July, Surface Duo v2 later this fall, and more are on the way.
For more deep-dives into the tech, make sure to watch MrMobile's Into The Fold video series, which explores state of the art in foldables including what works, and what doesn't.
Daniel Rubino is the Executive Editor of Windows Central, head reviewer, podcast co-host, and analyst. He has been covering Microsoft here since 2007, back when this site was called WMExperts (and later Windows Phone Central). His interests include Windows, Microsoft Surface, laptops, next-gen computing, and arguing with people on the internet.
As the screen technology's durability improves I'm sure we'll see more adoption. Hopefully now that Windows 10X is "indefinitely delayed" the Neo's current design will be skipped altogether long enough for folding screens to become more acceptable and we'll see a new Neo design with a single folding screen. Two screens are ok, but having a single screen is more versatile because you can have a bigger screen but still use software to digitally create two screens if needed.

More versatile when converting to tablet mode, but less versatile in terms of being able to flip the device around. One of the common forms of the Duo is as a single screen device, which requires flipping the screen all the way around. If you could still achieve that with a foldable single screen, I'd agree with you. Until then, I'd rather have 2 screens that work like the Duo with all of its postures.

"Two screens are ok, but having a single screen is more versatile because you can have a bigger screen but still use software to digitally create two screens if needed."

I disagree with this. My experience with the X1 Fold is it's not great because it's single screen. A dual screen, like on Duo, is much better defined for work and easier to manage. Now, the argument could be made that the

software

will make things better. Maybe. That's the challenge, even for Samsung. But right now, I see foldable good for things like Z Flip. Z Fold2 is also interesting if you want that pocketable tablet experience. But Windows ... no matter what they do to it is just never going to be a tablet OS. That's the problem. Right now, I wish X1 Fold was dual screen. I think I'd use it much more often. The "using software to recreate dual screens" is not that great on Android. Android split-screen multitasking is there, but I'm not sure many are actively using it. I sure don't.

I know some people are big on the idea of virtual bezels. Do you think an option to make a device like the X1 Fold act as if it had two screens would help? Or would that just come off as a gimmick?

I'd think it would look odd. I think Microsoft's patent where it curves the display inwward (like how a book bends paper at the seam) is a better middle-ground approach and one we'll see soon.

I'm interested in the rollable prototype phones. The current folding screens just make thicker devices with compromises to durability and usability. Once they have rollable devices at sub $1000 price points then I will be interested.
Windows Central Newsletter
Get the best of Windows Central in in your inbox, every day!
Thank you for signing up to Windows Central. You will receive a verification email shortly.
There was a problem. Please refresh the page and try again.