New Treasure Tag app update ditches the 'Nokia' brand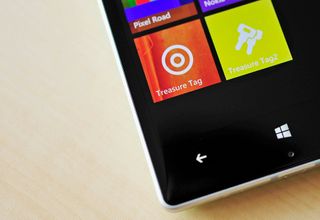 Yet another Windows Phone app originally developed and released by Nokia has now been renamed by its new owners at Microsoft. This time, its the Nokia Treasure Tag app that Microsoft has updated to cut the "Nokia" part of the title in a new version released today.
There's no change log for the new update, so aside from the name alteration there's no indication that there's been any additional features and updates that have been added to the app. It was created and released just a few months ago as a companion to the Nokia Treasure Tag hardware accessory for Lumia smartphones, which allows owners of the device to quickly find it if it becomes lost or misplaced.
In fact, the app was updated twice this week, so it's possible the name change was made earlier. However, the new store description focuses on it being developed by Microsoft. The new name for the app follows Microsoft's recent moves to remove the Nokia brand from other Windows Phone apps, such as MixRadio and Nokia Care, which was renamed as Lumia Help+Tips.
Keep in mind that the Treasure Tag app, no matter what it's called, still won't work with the Windows Phone 8.1 Preview for Developers because it disables Bluetooth 4.0 LE. It will be enabled with the Lumia Cyan update that began its roll out this week.
You can download the rebranded Treasure Tag app right now in the Windows Phone Store. Thanks to John for the tip!
Get the Windows Central Newsletter
All the latest news, reviews, and guides for Windows and Xbox diehards.
It has to be happen sooner or later

Really need to get a Lumia. Fed up with all these apps not being available for the 8x

Yea Men you're right, I love the 8x but it's high time you get a Lumia if you're gonna stick to the WP Platform. Cheers :)

Lumia is where it's at man other OEMs have the options and resources to do the same but choose not to

Mate it is the crappiest app... You are not missing anything.

Why? All of Nokia's app till now is very useful for me.

And Treasure Tag is now gone from my phone. Next...

Was thinking about buying one, but I do not know if I want to surport microsoft even though technically Treasure Tag is a Nokia product. But the money goes to MS, so....

Did you even buy a treasure tag in the first place?

No. I had the app only to keep up with development of it. I have no use for a treasure tag as the thing I tend to leave behind the most is the phone itself.

I thought the treasure tag also has feature to find the phone too....

As far as I can tell, the Treasure Tag doesnt actually exist.

Doesn't connect to my L925, Nokia help on twitter is ok. But it should be better...

Can all phones with older hardware support using a Treasure Tag if they are legible for Cyan Update??

Yes it is for every lumia device with cyan update

Only if it specifically supports le. Mini on the other hand I believe doesnt have that restriction because of the lack of nfc

if your phone supports Bluetooth 4.0

Microsoft you ruined Nokia you motherfuckers :@

This might confuse some people as the packaging for the treasure tags which are in the shops are still nokia branded?

Which shops? Is it for sale in the US anywhere?

Shops do exist outside of the US you know...

odd why this changed this app, Nokia added iOS and Android support to the tressure tag. So I would have assumed this was one app that was staying under Nokia control,

Haters gonna hate. MS have bought Nokia out get over it! MS haven't ruined anything Nokia based. All they've done is remove Nokia from the name of a few apps. Treasure tag now works on preview with cyan update.

Still not in Canada finally just eBay and import!

After the absolute mission to buy a tag (here in South Africa) and finally having taken the pain to get 8.1.1+ Cyan on my 1020 (I was on 8.1 DP, so had to use NSU for retail), I have the WS-10 working on my phone. It works pretty well, essentially it does what it says on the box: as soon as you move more than a few metres away from the tag, you get a toast notification (you can set this behaviour up in notification center). If the tag loses connection, then the treasure tag app presents you with an option to locate it on a map.The tag also appears on device hub. I have had a few false notifications (where the tag is literally lying next to the phone), but as I said in general it works pretty well. Mark.