Nokia Treasure Tag finally announced, coming this April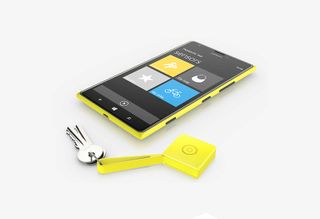 It's been long rumored and speculated, but it's finally here. Nokia has just announced the next accessory you'll want for your Bluetooth 4.0 LE enabled Lumia device – Treasure Tag. It's coming this April to retailers around the globe. More details below.
We first caught wind of the Treasure Tag last summer when it reports of its existence surfaced. More recently we saw the Treasure Tag companion app sitting in the Windows Phone Store.
The Treasure Tag is an accessory for your Lumia that you attach to anything valuable. Things like your wallet, purse, backpack or anything you frequently leave behind. The Treasure Tag will send an alert to your phone when you leave it behind. The Treasure Tags can be connected to your Windows Phone through either NFC or by doing a Bluetooth search. Once connected, they'll emit a loud tone when separated. Don't hear the tone and completely lose the item? You'll be able to see its last location on HERE Maps.
You can connect up to four Treasure Tags to one Windows Phone handset. If an item a Treasure Tag is attached to isn't going to be with you for the day you can deactivate it within the app. Alerts can be sent to the tag or your phone. You can toggle them within the app as well.
It measure just 30 x 30 x 10 mm and weighs only 13g. It'll be available in four colors: black, white, cyan and yellow. So odds are you'll be able to match it your phone. Battery in them lasts for up to six months can be replaced with a standard coin cell battery. They'll retail for about $29.99 and are expected globally in April.
Anyone else looking forward to using Treasure Tags? What are some unique ways you'll use them? Feel free to download the Treasure Tag companion app In the meantime as you wait for the actual Treasure Tags to hit stores.
Source: Nokia Conversations
Thanks for the tip Adrian R!
Windows Central Newsletter
Get the best of Windows Central in in your inbox, every day!
This looks like a sweet little device! Might get one!

It is, i have been waiting for this beauty for months now. I will put them on my keys since when i lose them it's a real pain in the ass...

Get one for a cats collar, see where they go in thier spare time lol! :D

Or give it to your kids and don't tell them what it is, or to your girl, or to all your friends and turn into stalker lol

I dont think you´ll be able to do that. For what i know, it will only show the last known location of the item. It doesnt have a gps attached to it. So no cat finding or gf stalking allowed!

Or ON my kids so I don't keep losing them. They are never where I left them...if I can remember where I left them that is!

so how does this help you remember your phone?

These are too big to be practical for me. But its a nice idea.

What couldn't you fit it onto?

Your pocket for one, unless you wear cargo pants. Pretty much makes this only worthwhile to women with handbags. Pretty dissapointed at the huge size.

Huge size? Its smaller than my key fob for my Honda! If you can't fit this in your pocket, I'm not sure you can fit a phone either.

This, plus garage remote, plus key fob, plus wallet = too much for a pocket. Other pocket gets off easily, phone only = no scratches.

I guess if you only have two pockets, but why wouldn't you keep your wallet in the back pocket? I also don't see how a tiny cube is going to not going to fit still.

Also, it would be nice for Nokia to provide us even more detail on how it works. The article on Conversations was a little too vague. Like do you need one per valuable item to connect to? What's the point of this if this connects to your valuables? More information would be appreciated.

How do you mean? How would it work for all your valuables if you only had one tag, unless all the valuables were together?

I'm just really confused about this.

All it is is a keyring that can detect when it's too far away from your phone. If you get too far away then it beeps loudly so you can find it. If for some reason you can't hear it, you can use Here Maps to show where it is.

It's basicly just a fancy keyring.

How do you think it works? You attach it to something you care about, and when your phone moves away from it, it beeps to let you know. It's a simple way to keep track of your possessions. Look at the picture, it should tell you everything.

Yep. I will get 2. One for me and one for my daughter.

So that You never loose your daughter? Or yourself for that matter? ;)

Thinking about it. Could a Treasure tag be paired with multiple phones or just one phone per tag/one tag per phone? I know it's a joke, but she actually lost here phone a couple of months ago. So, a treasure tag could be something really usefull. Most gadgets aren't.

It will only show the last known location for the item. Useless to give it to your daughter unless shes a baby that cant walk yet ;) Sadly, i find this Lumia Tag ALMOST useless. the only thing that is almost always close to my phone is my wallet, but its easier to forget the phone than the wallet, then the phone will be making huge sounds telling everyone : "Hey, my owner isnt anywhere near, take me with you now, please!"

Perhaps I wasn't clear: my daughter has her own Lumia. Whether a Treasure Tag is useful or not depends on the application. And according to Nokia 4 tags can be paired with one phone.

Six months battery life and non rechargeable. Really?

Most replaceable batteries are like this. Have you used at least AA batteries? Because once it runs out, you go buy a new one.

And the reason for not having a rechargable battery is because of the extra size that would add to the device. Besides, these batteries are cheap. And 6 months on one battery is pretty good considering it spends every second of every day wirelessly connected to your phone.

Dunno if I buy that argument. I had a Creative Zen Stone MP3 player in 2007 that had a rechargeable battery with 11 hours of music playback lifetime. It was 53x35mm compared to 30x30mm for this treasure tag thing that does a whole lot less and is 7 years newer. Rechargeable batteries and the electronics to charge them can be very small. They probably went with the coin battery to simplify the design and cut costs. Profit margin on these things must be incredible!

Yer so, 7 hours of playtime = 6 months of tag battery life.
Got it. Have you enquired about a job with Mr Ives over at Apple, he'd love a genius like you to work with.

Um ok dude. A CR2032 coin battery only has 225mAh of capacity. The Zen Stone's battery had 800mAh... and that was back in 2007!

So, have you considered this is not about capacity? Maybe best not to cyber stalk Jonny after all, I was joking. Put the twitter down... down...

Oh no, you have to replace the battery only once every 6 months? How terrible ...

It is. why not supporting wireless charging and have no problem?

Cause 1. Not everyone has a wireless charger and 2. It would make this device bigger..
People are always trying to find problems and disadvantages in good things.

3. you would have to charge it even more often than 6 months. 4. I can't even remember to charge my phone... I like it, Nokia, take my money!

Lol, nope. If it was at least rechargeable and six it would be better. Imagine if your car key battery lasted only six months. Don't have blind Nokia love. This is terrible for a basically idle device. Shit you'll only lose it the day the battery dies.

Your car key batter isn't in use 24/7. And they're not stupid, it wont run out without you knowing it. I'm not saying charging wouldn't be great, but for the combination of size and price it's not possible. A bit bigger and a bit more expensive and they could put it in; maybe that will be version 2.

Are you serious? How big do you think the coils for inductive charging are? the tag would be huge

I can see myself picking a couple of these up in a nice discrete black, one for my keys, one for my backpack. I took delivery of my BH121 earphones Monday and I already love them. The NFC works well, so the TTag seems easy enough to save me some hassle.


Ditto in the BH121 EARBUDS. Love then! Let's see... Cyan 920, Check. Cyan Monster ear buds. Check. Cyan BH121 Bluetooth headset. Check. Cyan touch cover on my Surface. Have I missed anything besides the Treasure Tag? ;)

I ordered a red BH121 to go with my 920, but there were delivery problems, so I had to settle for black and tell myself that at least they are discrete.


Where are you folks purchasing the BH121? I only see a listing on Amazon for ~$75. Is it possible to order directly from Nokia?

I'm in the UK, so I got it through amazon.co.uk. It isn't a cheap option, but I get a full day's use out of it.


Where did you find them? I've been looking for it Posted via the WPC App for Android!

Interesting but can't at the moment think what I would use them on. If I put one in my trouser pockets, might remind me to wear some I guess..

Keys? Your bag? Kindle? I can think of a lot of things, but I understand it depends on the user. EDIT: 1MiNo2 below mentions attaching it to their dog while on a walk. That's a cool use for it.

so everytime you are further away from your bag and keys than 10 meters they start to beep. great :O

Who knows, maybe that round thingy in the middle of these tags is a button which enables you to swiftly turn off the sound while you do not need the tag to go off. The App already has the option to turn off the sound of the tag (but also on your phone [as well as the vibrating]). Sounds logical to me having a multipurpose button on that Tag.

Good for my wife she always losing her car keys, but she also can never find her phone...

If she is like my wife her car keys are in the car locked and so is her phone. Oh and that's without leaving the house.

She should put a tag on herself. The phone will beep when she'd get too far away from it.

Gotta love her, when that happens she gets mad at me.

I will certainly get several of these for myself and my family. Thank you!! I can't wait until I get my hands on one of these!!!

Looks huge compared to those keys in the pic. I understand with time/age comes compactness of product. I assumed it would be more like a keyfob In size. I'll still want one or two of them though for the geek factor.

I want to see the first hands on video and then I will decide whether to buy it. But so far it looks promising.

Yer, Nokia so stupid at marketing. If you simply cannot look up a product on YouTube its a mega fail. Even if its not available, reviews, size, buzz generation. Smacks of a company run by old farts, thank the lord MS bought them just in time ;)

wow, impressive, so I can attach treasure tag on my Labby and when she get lost I can find her on HERE maps. Freaking cool

That is actually really intelligent way of using this tag. Nice idea dude! I think it would be to big for a cat though. Bad luck for cat owners.

Im not sure that is how this will work. From what I understand, the GPS position of the tag is only recorded when the tag is close to the phone. Once the tag is too far from the phone, the GPS position is no longer recorded. The description says "You'll be able to see its last location on HERE Maps." Please correct me if I am wrong.

Sam,some problems with the first sentence.capitals

Whoops. I went back in to add something and must have deleted those words. Fixed. Sorry!

I Wonder if you can get your phone to alert of it's presence with the tags, if you lost the phone, but had one of the tags :)

Haha, otherwise you could just walk around and around until your tags stop beeping :D EDIT: the screenshot shows an 'alert on phone' option alongside 'alert on tag'. So depending on what kind of alert it is, what you suggested may be possible.

This is good I can use this to make sure I don't lose my wife :-P

I hope it can be used as a distance reading device for example when you are out for a run or a long biking session:)

Gonna strap one to my girlfriend, I've been losing those rather frequently.

Please don't. I don't want her beeping everytime she comes to my house.

Nice collar pendant for my dog. Wonder how robust it is though.

Or, for the same price, you could get a device that has quadruple the functionality. http://www.indiegogo.com/projects/wisebutton/x/3134118

Yep, because a funding campaign is the same thing as a product coming to market

SERIOUSLY. I paid for 4 "tiles" and have only a couple of emails to show for it. ANNNNND it will not likely work with WP.

CYAN ! :D oh how i missed thee

I'll say it, someone needs to build this tech into the bottom of a pint glass. Never again will you need to worry about where your drink is at a party... well, at least where your glass is :P

Nice device indeed, i'm sure many will grab it; i definitely will , what are people's views concerning it being available for other devices also?

What's the name of the Nokia device that allows for Bluetooth playback idk what its called, its the same size as a iPod nano but u plug ur non Bluetooth into and control ur device via the attachment

BH121. If you locate a place to purchase it, please post the source.

I was set on getting a few of these, but if the pictures are representative of the actual size they're way too large to be of any real use.

Guess you could leave one in your car and use it as a cheap version of a Tracker device?

Okay, so let me see if I understand this. It's possible to turn off the beeping alert, right? In that case, you can still find its location using HERE Maps, right?

I can totally see the parents of a teenager tucking one of these little things under the lining of their kid's car trunk or something and it becomes a makeshift tracker. Heh...

No, the device is literally a wireless field. It does not have it's own GPS. So you can't track it, just see the location your phone last recorded being able to see it.

That's great :)
Thinking about attaching one to my bosses key ring :P

Umm.. Yeahhh... Xap, I'm going to ask you, to, ummm, come in on Saturday... Yeahhhh

Yyyeeeaaa that would be great

Does the tressure tag make a live update of the GPS location or just save the latest location while connected to your phone. i believe its the second one

yeah thats what I think so it WON'T work like a tracker

It should be the GPS location of your phone the last time the two were in close proximity. For the tags themselves to track they would need GPS and a network connection of some kind back to the servers. It's the phone that's doing all the tracking work. All the tags do is start beeping when they haven't received a "hey don't beep yet" ping from the phone for 15 seconds or whatever.

Exactly, the tag does not have GPS built-in. So you connect track objects/people/animals (unless they also have your phone). Adding GPS would make it a lot more expensive, larger, and battery life would be extremely short.

This is going on my dogs necklace and on my keys. Great :)

This they offer in yellow...but not the 2520? :/

I think I might get one just because. I am very prone to routines so seldom do I lose or forget anything. But one never knows... But with this announced now... I wonder what the hell is Nokia's other non-Nokia X MWC pamphlets about...

I want this, please nokia, make available in Indonesia :(

So technically--its GPS tracker?

Its definitely not a GPS tracker. All you "clever" people forget this is basically a Bluetooth device. I repeat, BT device. It works as long as the tag is max. 30 feet distance (theoretical max, real life values are usually less than that) from your phone, it doesnt work if you move it further. Because of the Low Energy version, it may be even less than the normal BT 30 feet range. As for the GPS part: it happens to work with the assistance of your phone. How? Simply because the whole idea of using this device assumes that your phone is in close promixity to your tag. So whereever your phone is -located via its built-in GPS- in a max. of 30 feet distance your tag should be located as well. If you move further, your phone remembers where the phone was when the tag was still discoverable, so you can find its PAST LOCATION via Here maps (the location where your tag was left). Unless somebody moved it, or stole it! The tag itself does not seem to have a GPS builtin, as that single coin-cell battery would not survive not for 6 months, but even not for a day, if it used constant GPS tracking. Simple as that, there is no scorcery in this thing, so I really dont understand the 30EUR price. Okay, it smells cool and geeky for a couple of months, so Nokia can rip off the first wave of customers, to get back some money wasted on R&D. The marketing department dont usually tell you these, as it would involve your brain and THINKING.

Rant full of "it may" but you truly don't know do you? When you get some facts, then talk. Until then, STFU and let us evaluate our phone accessories.

Re: Jazmac,
I think "ricip" did a great job of detailing out logically how this device likely works and what the range is. (It definitely was a rant. Hope today is a better day.)

Perhaps. And please, don't defend that. Its the condescension that was uncalled for, thus my reaction.

@RICSIP LOL way to go on being condescending. BTW, we look forward to seeing the prototypes to your much cheaper and "clever" treasure tag like device. I bet it will be brilliant, based on the incredible intellect you have shown in your post.

What I really want is something like this, but with better range and something that can track moving objects. Check this out: http://www.blutracker.com/ Those guys seem to have managed a half-mile range somehow! This may sound wierd, but what I want is a small device I can stick in my kid's pocket when we are out in public or at the playground. As a parent, losing your kid in public places is scary thing and it happens all too often. If I lose my kid, I want to be able to simply open up an app and easily find him. If he's on the move, I need to track him and standard bluetooth range may not be enough. Even if the device needed regular charging, I'd rather have something with a more powerful radio, maybe even GPS.

I should attach one of these directly to my ears cause I tend to lose my head easily ...

It is operating Bluetooth LE, right? Still a bit too expensive. I expect this kind of thing to be under $15.

Same here. Guess I'll be waiting until the new smell wears off to buy.

Is the price for one or for all four?

Price for all four except u won't get the strap with the other three except yellow.
DUDE,use some common sense.

Wtf common sense? How should it be Common to know whether you get one or four? -_- The article only says it. Comes in a variety of colors

Cool down.you will get only one.and the article says you can buy the color you like and how could you expect 4 for 30 dollars.

4 for 30 would be a lot more reasonable that the ridiculous price of 1 for 30. With this pricing I don't know why Nokia even bothered making these.

At least they should've priced it at 15 dollars for one.

+1, that would have been more realistic

I think I will invest in at least two of these!!! Wonder if I will be able to get them at a store locally or will I have to order them online? I'll get white if I still have my L925 by then...if not....I will get whatever color that matches my next Lumia!

good they use battery coin it would last forever then can't imagine if it use recharge battery and must top up for 1-2 days :(

Too big for keys IMO and it'll be one scratched up box in a week. Maybe bag...but I can't imagine walking away from my bag and losing track of it. Best use I can think of is maybe on a umbrella.

Or a car in a mega parking lot. Easy W/ here maps.

I'm looking forward to using this.

Too bad no red option would like to have it match to my 920, I guess I'll go with white for contrast.

Wow I don't know why I kept skipping over this story about treasure tags but after reading this, I will definitely be getting one of these for my keys in yellow of course to match my yellow 920.

How such a big device would attach to a wallet?

I hope a smaller one comes out like a credit card size to slide into one of the slots in a wallet. Now, my wife's purse on the other hand... The treasure tag itself is apt to get lost in there on it own accord.

This is nice...looks cool too !

Nokia Treasure Tag app supports 3rd party sensors :) XtremeMac Backtrack Tracking Device from CDRKing + Nokia Lumia 1520 XtremeMac Backtrack http://www.cdrking.com/index.php?mod=products&type=view&sid=18658&main=167

What happens when you leave your phone somewhere? :o

Or if your in the UK 211 or w.e it is lmao

Go to: http://www.windowsphone.com/en-US/#
then click "my account" (sign in your MS acct)
then in the box, click: " find my phone"
then find it on HERE maps, ring, lock, or erase.
:)

I'll get one and attach it my exwife's car as a proximity alert.

Thanks for the tip Adrian R!

Should have been - "Yo Adrian!!!! Thanks for the tip!!"

I will get more then 5 if it were cheaper Thank Sam for the article

Too expensive, you'd be looking at $60 to tag just two items, that's ridiculous. At $10-15 it would be at disposable cost levels and would sell truckloads. And its huge as well. I'll pass.

Ya... $30 is a dick price. Id feel uncomfortable paying $20. But, the plan is to get all the rich ppl to splurge and when sales drop than they'll offer "discounts" which is a friendly way of saying "come on poor suckers, its your turn". Smart business tactic. Almost every business does it whether you see it or not.

On the other hand, ill get one. And if I love it, when prices drop, ill get another. Definitely has potential, especially if there's a SDK option for devs to take advantage of it.

Could be shorter. But I suppose it makes it easy to point at stuff

Might need two of these, one for each car. The location service apps like Locate My Family don't work half the time.

U can locate ur car with here drive+

Is it possible to use it on the checked luggage when you travel?

So, does it work on phones without bt 4.0 le? Such as my 925 from T-Mobile?

I will use this for the remote control.

I've wanted something like this for a long time

I wonder will it give me a notice when battery is low so I know that I have to change the battery

http://www.youtube.com/watch?v=iwZvVjlXCoM same thing.....

This is great news. I travel a lot for work and check baggae when I fly so this will for sure be added to my luggage. Then if it happens to get lost I can tell the airline exactly where my bag is located. But I will put it on the inside so that sticky fingers don't wind up taking it.

How will that help you? It has to be close by! The likely last time it will check in to your phone will be on the plane (if the bag makes it on board)...once you're out of range of the bag (ie. when you exit the plane), this will be of no help to you. If it doesn't make it on the plane...the last known location will be 50ft away from you as it disappears behind the ticket counter at the airport. This isn't a GPS enabled device...its bluetooth...50ft or less.

Following up on my own comment. I think that the Air Marshal's/Airline Staff would take an electronic device beeping in luggage pretty seriously...and not a conversation I'd want to have with them.

Thanks for the info. It beeps? Oh hell no. And I didn't realize that it always had to be in close priximatey. NOt of any use for me then as I thought it was GPS enabled as well.

I'm getting two one for keys one for my gf :)" so she is never too far"

HTC Fetch does the same thing...just for HTC phones. The achilles heel of these devices is that they have to be attached to a non-stationary item to provide any value, even then its value is suspect. Leave you keys in the other car...which your wife took to work...useless...can't attach them to a pet, they tend to not stay in a 50ft radius. It has to be something like keys, if they're dropped they tend to stay...however, the second someone picks them up and turns them in...again, useless, the last known location is now wrong. (Although I would agree it would give you a starting point.)

It was my idea , which was given by me in windowsphone user voice. Here is the link. http://windowsphone.uservoice.com/forums/101801-feature-suggestions/sugg... I have given this idea on december 13. 2013.

You realize this has been in development long before 2 months ago right? HTC Fetch has been around longer than that and other 3rd party versions have been for sale years before this. We used to have a radio based key finder years and years ago that would sound an alarm when we'd lose our keys...just had to press a button on the main transponder. Sorry bro...this idea has existed for years.

What happened to the augmented reality function? Knowing my keys are in my apartment isn't nearly as useful as knowing where in my apartment they are.

Perfect for my yellow1520. All i need is to buy a yellow pant...

Hope there will be SDK to add functionality to it. I think of an wp-app that notifies my home automation server when I leave or arrive home (treasure tag stays at home) and set up some things like light, music, etc.

Any info on how long the battery will last? Wouldn't be much of use if you had to charge it every few days.

Might want to reread that article there QD...literally took 2 secs to find it...

Oops, my fault. Thanks for the hint.

Actually, this is a better product. Smaller, cheaper and has some interesting features the Nokia one doesn't. One of which is the locating of stolen items. Basically EVERYONE with the app can help find the tag. You can also login with other mobile devices, not just your own. Very well thought out. http://www.thetileapp.com/

Is the app on WP8? I cannot find it in the store...
edit: aaaaaand its only on iOS. Thanks.

This is going on my surface pen

Hm. Depending on the range of this (thinking bluetooth is about 30 ft?) it might actually be a handy thing for parents as a safety measure. Ie if shopping with the kids and they wander too far away either by choice or involuntarily, it'd let both of you know and maybe call attention to a lost or abducted child.

WHERE IS 920 RED COLOR?!? :(

Does the tag beep when you leave your phone? My phone is worth hell of alot more then my keys

Only 5 days left in April. :(

Is this it in the US? https://www.windowscentral.com/e?link=https2F2F...
Windows Central Newsletter
Thank you for signing up to Windows Central. You will receive a verification email shortly.
There was a problem. Please refresh the page and try again.