Nokia releases Treasure Tag Windows Phone app, expect to see the accessory released soon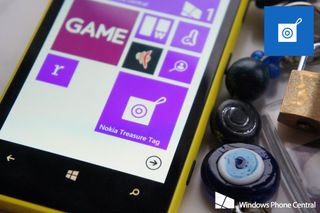 Nokia has published its Treasure Tag application to the Windows Phone Store. The app enables consumers with treasure tag accessories to set up and track said devices, which can be attached to anything from a keying to bags and other belongings. While the app is readily available, the accessory is yet to be make it through retail so don't get too excited as there's still some waiting to do. Pop past the break for more details and store links.
The concept behind the Nokia Treasure Tag is a small Bluetooth device, which can be attached to valuable possessions, be it an important keyring with your car and house keys connected or even your gym bag. The companion app enables you to keep track of said belongings with both visual and audio guidance. Should you be unaware as to where you last had your car keys and have the Treasure Tag attached to the keyring, the app can help lead you to its location. It's pretty neat, especially if you're prone to forgetting things.
Setting up the tags is simple enough. Connect your tags to the Windows Phone via Bluetooth and the phone will alert you automatically if you're about to leave them behind. Should you wonder off and need to trace your steps to locate the missing item, the app utilises HERE Maps and LiveSight to accurately show where the tag is through augmented reality. Each tag can be pinned to the Start screen as Live Tiles for status updates and more convenient access.
That's the app in a nutshell, but like we mentioned above the accessory itself is not yet available through retail. While it's good to have the Windows Phone app available on the store before the Treasure Tags are released themselves, this is hopefully a sign that the imminent release is not far off. Let us not forget that Mobile World Congress is just around the corner and with a Nokia press event being held, we're hoping to see something later this month.
It's worth noting that a phone reboot is required post-installing the app and you'll need the Lumia Black firmware update. You can download Nokia Treasure Tag from the Windows Phone Store. via: Plaffo; Thanks, guyjkh, for the tip!
Windows Central Newsletter
Get the best of Windows Central in in your inbox, every day!
Rich Edmonds was formerly a Senior Editor of PC hardware at Windows Central, covering everything related to PC components and NAS. He's been involved in technology for more than a decade and knows a thing or two about the magic inside a PC chassis. You can follow him on Twitter at @RichEdmonds.
Ooh this is cool. I could use this for when I lose my keys lol which is like daily

I just hope those tags are not as big as pictured...

That's my biggest concern... To be vaguely useful theyll have to both be tiny and have very long lasting batteries (like at least a week). I already have to remember to charge two phones, a laptop and my Bluetooth headphones daily and these will be hopeless if you have to charge your keys every night too...

They are still "useful" even if they don't meet your personal aesthetic standards. I'll pick up a couple, regardless.

Useful yes, but the bigger they are the fewer practical uses there will be. I think the highest problem will be battery life I fear. I will get one if they aren't stupidly expensive, but only time will tell if it gets used frequently.

Heck, I will use it to tag my elderly mom so I know where she is at the mall. Sure hope the tags themself do not require frequent (or any) recharging.

People who get this accessory will not google "where is my key?" anymore..

Now I'll never lose my phone again!... wait... is that how it works? I could keep one on me and the phone would ring if I leave it somewhere and move away. My pet hen could use one too when I take her to the park.

I think it can make the phone sound an alert to be able to find it.

Can this be use like GPS Tracking? Say you put TAG inside of your kid bag or car?

I don't think it has a GPS, and if it did it wouldn't be able to communicate with your phone over a specified range (maybe 30m) via Bluetooth. it also doesn't have wifi or a mobile network to do so over a longer range.

Would need to be in Bluetooth range.

I am so gratified to be a part of this Nokia life. This is amazing. You know they're confident with Windows Phone when they continue to provide accessories. Im just as excited as I was when Nokia Drive came out. This is beyond cool. Ill buy one for my keys obviously and play around with it and maybe stick one in my Glove Box? Haha. (I know Nokia Drive saves my cars location but I don't always need GPS where I went). I go to large malls often. Handy handy handy. I hope Nokia doesn't push too high of a premium for these :/ more money to support devices I suppose?

This is so cool!! Hope it comes to Brazil!

I'm gonna get one and put it on my next girlfriend. 8p

Hey, what's my gf doing at my bff's house?!

Sweet, I'm gonna get this...OHHH YEAH, I DON'T HAVE BLACK ON MY 928.

I'm thinking i might put one on each of my dogs collars... They're forever running off into the undergrowth on walks and reappearing from somewhere completely different!

I'm gonna put one on my phone so I don't los...wait a minute. Never mind.

Can't wait to get hold of one of these things, been craving one since it was leaked last year. I'm always losing my keys! :P

People"wander" off. Not"wonder" off.

Do you know where Mr Incredible is? Would you like to find out?

Been waiting for this ever since we first saw it. Just tell me where I can put it in my cart.

Bluetooth...You'd have to forget things in front of your nose :Þ

I think the general idea is that it STOPS you from forgetting them by alerting you when the tag moves out of Bluetooth range.... But the idea is worthless if the battery has run out...

You are right, and that's actually not a bad idea :)

I want this to connect to my keys :). will buy at least one tag when they come out.

zzom or zoom or zomm already has a bluetooth keytag doohickey, as well as one made by them available from Tumi.

Nice - downloading and waiting for the hardware to show up in stores!
A quick offtopic question:
Is there any chance that the QR-Code could be scaled inside the Windows 8 app of WPCentral? On my surface pro the lumia 1020 can't read it without loading the image full-screen =/
(Just a request :) )

I wish I could use this on my T-Mobile 925 but I don't have the Black update available to me.

If this is a new app then why does it say last updated 13/12/2013 on the store page?

Very cool. I've got some ble modules and tested this. Works very well.

Sweet not long to go now i hope, I'm going to wait until i can verify the size of the tags. Hope they are the same size or just about the size of a nano 2.0 usb flash drive. :p. But then again it may not be, if its to small it would defeats its purpose i guess..

I am going to put one on everything I own....maybe even my dog.

It will be great if Nokia does not overprice the tag, as it does most of their accessories.

This would be great so that I don't forget my wallet when I go out.

How accurate is this? Does it just remember where it was last within range of the phone? That doesn't do a whole lot of good in an apartment. "It's somewhere in your apartment!" Thanks phone. :P
Windows Central Newsletter
Thank you for signing up to Windows Central. You will receive a verification email shortly.
There was a problem. Please refresh the page and try again.